Detroit Tigers Debate: Should Jim Leyland Use Closer-by-Commitee Plan?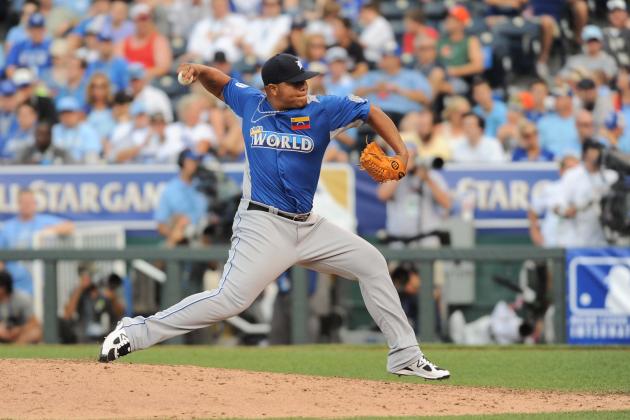 Denny Medley-USA TODAY Sports

It's become common knowledge that the Tigers are more than comfortable going into spring training with 22-year-old rookie Bruce Rondon as their closer.
The Tigers have chosen Rondon over former closer Jose Valverde, a couple quality free agents and a closer-by-committee model that made sense to most Tigers fans after the end of last season.
Valverde was an easy decision after his meltdown in the 2012 postseason, but the decision to put so much faith in Rondon has a lot of people—myself included—hesitant to support because of so much uncertainty.
Rondon has only pitched in nine games at the Triple-A level, and he has only had a cup of coffee or two in Double-A.
The Tigers insist Rondon is their guy and have continued to knock down rumors of employing the closer-by-committee option.
Is it the right choice?
Here are the pros and cons of a closer-by-committee plan.
Begin Slideshow

»
Leon Halip/Getty Images

Phil Coke proved he has the ability to be the Tigers' closer during the playoffs last season.
He spent the whole regular season as a setup man and was mediocre all year, but when Valverde suddenly started struggling, Coke was asked to come in and close on short notice and elevated his game to another level.
During the regular season, Coke turned in a 2-3 record with a 4.00 ERA, 51 strikeouts and 18 walks in 54 innings and 66 appearances.
But when the bright lights of the postseason turned on, Coke turned into a completely different pitcher.
In 10 games and 10 2/3 innings, most of which were as the closer, Coke earned a 0.84 ERA with 13 strikeouts and only two walks.
He proved he can be the closer in the most crucial situations, and if he's given the opportunity to get experience as the closer during the 2013 regular season, imagine how good he could be in the playoffs.
Jamie Squire/Getty Images

If you're giving Rondon the keys to the car, you have to allow him to drive.
Such a young, inexperienced player needs to feel that his team, coaching staff, front office and fans all have confidence in him, because if he is worried about losing his job every time he steps on the rubber, his mind will eat away at him, and there's no way he'll be able to concentrate on getting outs.
If you're afraid that every time you make a mistake, you're going to not only get pulled but possibly lose your job, there's no way you'll be able to efficiently concentrate on everything needed to be the closer of a team in a pennant race.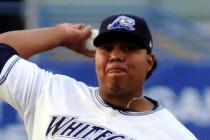 Photo Courtesy of TigsTown.com
Of all the situations for a player to begin his major league career, Rondon's situation may be the most stressful I've ever heard of.
The Tigers will be runaway favorites to repeat as American League Central Champions again, and anything short of a World Series victory will be a disappointment in Detroit.
And here you have a 22-year-old rookie with very little professional experience coming in as the closer.
But if the Tigers allow Rondon to develop slowly, with other relievers taking over closing duties every now and then, and putting the rookie into the game in different situations—especially in easier situations—he'll be much better served not only later this season but down the road in his career.
It'll be a lot easier for Rondon to develop his pitches and his in-game mentality if he's allowed to pitch with some freedom.
If he is the sole closer, he'll only come into the game in the ninth when the game is close, and he won't have any margin for error.
Having no margin for error isn't the easiest recipe for an unproven rookie with such little professional experience.
The Tigers should do their best to help Rondon develop—not just throw him into the fire right away, and risk losing games early and falling into a hole in the division in May.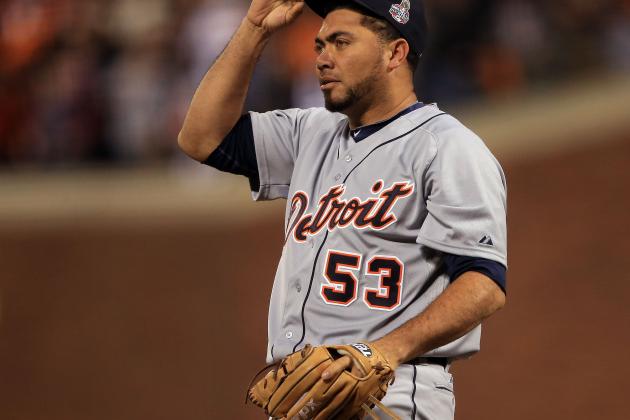 Doug Pensinger/Getty Images

Closers are a special breed in the major leagues.
It takes a special kind of crazy to be able to embrace a role where you're asked to sit and watch the action for two and a half hours and then step into your office in the ninth inning when the game is on the line.
Good closers are hard to find, and dominant closers are even more rare.
It's so important that relief pitchers know their role so they have a proper game plan and mindset to compete at the highest level
Employing a closer-by-committee model wouldn't allow relief pitchers to know and accept their roles, because they would constantly have different roles, and they would be unaware of when they would enter the game.