Creating a Blueprint to Rebuild the Miami Marlins Around Giancarlo Stanton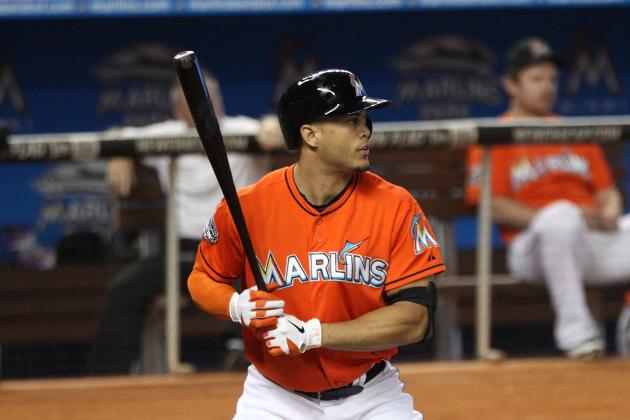 Marc Serota/Getty Images
If the Miami Marlins truly intend to build their franchise around Giancarlo Stanton, then they must follow the following blueprint.
It seems all Giancarlo Stanton ever wanted was to play for an honest organization.
Hours after the 12-player fire sale in November, which saw Stanton's Miami Marlins dump Jose Reyes, Mark Buehrle, Josh Johnson, John Buck and Emilio Bonifacio for a collection of the Toronto Blue Jays' prospects, Stanton blasted the following tweet: Alright, I'm pissed off!!! Plain & Simple.
"I can deal with losing as long as one is trying to win," Stanton told MLB.com's Peter Gammons a few days after the trade."If you're losing and you're not trying to win, that is not fair. I play to have fun, I play to win, I play for my teammates.
"Then to say it's not about money, what is the motivation? Where is that winning philosophy? How many times do you have to be told something and have it change before you realize what's going on? It's like the boy who cried wolf."
Ever since then, rumors have swirled about potential Stanton trades, but here we are, less than a month before the start of spring training and the Marlins are intent to build their organization around Stanton—for now.
Last month, Marlins assistant general manager Dan Jennings told ESPN's Jim Bowden the club is not actively shopping Stanton, but they will listen to offers for the 23-year-old slugger.
"We've never not listened to a deal on any player," Jennings said.
Although Stanton is unhappy about the direction of the franchise, this can be fixed. All the Marlins have to do is build Stanton a winner before it's too late. Luckily for Miami, they have time on their side as Stanton is under team control for four more years. In reality, though, the Marlins probably have two, maybe three, years to construct a winner around Stanton's prodigious talents and convince the star outfielder to sign a long-term contract extension.
For the Marlins to accomplish such a task though, they must execute the following blueprint.
Begin Slideshow

»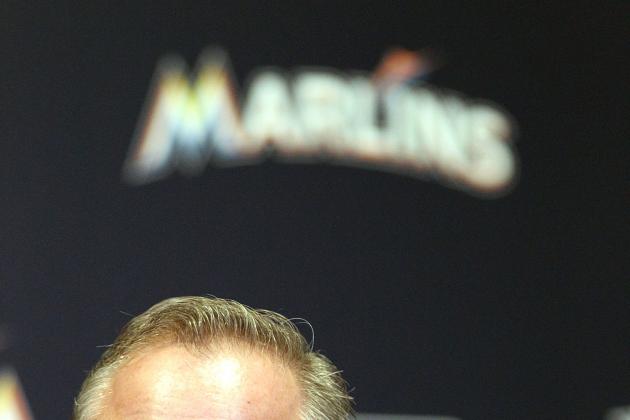 Marc Serota/Getty Images
Larry Beinfest, the Marlins president of baseball operations, could be a busy man this year if he builds Giancarlo Stanton a team that could win as early as 2014.
Forget about 2013.
The Marlins should take every dollar of taxpayer money used to build Marlins Park calendar at Marlins Park, stack them in center field and burn them. They shouldn't spend one second looking at the standings, whether they finish in the cellar or miraculously win the National League East.
Outside of the MLB Draft in June, which the Marlins own the No. 6 and No. 34 picks, what they should worry about in 2013 is to improve to the point where they could contend for a playoff spot, or at least finish .500, come 2014. For that to happen, every move the Marlins make from this point should be with the intention of being ready to compete by 2014.
That means if and when starting pitcher Ricky Nolasco is traded, the Marlins should net a major league-ready prospect or a Peter Bourjos-type deal, as Bowden tweeted. This approach also means Larry Beinfest, the Marlins president of baseball operations, should trade veterans such as Placido Polanco, Juan Pierre, Greg Dobbs, Jeff Mathis, etc., by the trade deadline once the Marlins fall out of playoff contention.
With an eye toward 2014, the focus should be on player development, and some of those prospects could get a preview of the major league experience come September.
Now that the Marlins have returned to their frugal ways, prospects are to the organization what oil is to the world.
In other words, quality prospects, especially those on the cheap, are valuable commodities.
If the season began today, the Marlins would start five everyday players (Stanton, Logan Morrison, Rob Brantly, Adeiny Hechavarria and Donovan Solano) and three starting pitchers (Jacob Turner, Nathan Eovaldi and Henderson Alvarez) age 25 or younger whom the Marlins still have at least four years of control over.
And that just might be the tip of the iceberg.
During the 2013 season, the Marlins could promote prospects such as Christian Yelich (rated No. 1 by MLB.com on the Marlins' Top 20 Prospects list) to play left field, center fielder Jake Marisnick (No. 3) and third baseman Zack Cox (No. 7).
Then, in 2014, the Marlins could call up a pair of left-handed starting pitchers in Justin Nicolino (No. 4) and Andrew Heaney (No. 5). And this doesn't even include right-hander Jose Fernandez, the Marlins' 2011 first-round pick and the organization's No. 2 prospect, who is not expected to be ready until 2015.
Assuming owner Jeffrey Loria will increase payroll—the Marlins began the 2012 season with a $112 million payroll before slashing it to $90 million by the end of the season, according to USA Today— and keep his homegrown products to build a winner, then the Marlins everyday lineup could look like this when the 2015 season begins:
CF - Marisnick
LF - Yelich
1B - Morrison
RF - Stanton
3B - Cox
C - Brantly
2B - Solano
SS - Hechavarria
Meanwhile, the Marlins starting rotation could look like this on Opening Day in 2015:
RHP - Turner
LHP - Nicolino
RHP - Eovaldi
LHP - Heaney
RHP - Alvarez
In a perfect world, the team the Marlins could comprise of in 2015 is the best case scenario.
But in reality, the projected 2015 team would need veteran leadership because none of the homegrown players know how to win at the major league level and more importantly, veterans would be needed to fill positions and/or roles prospects couldn't handle. After all, prospects are never a sure thing.
As an example, let's say the Marlins have jobs available at second base, center field and in the starting pitching rotation. Obviously, the best route to fill those holes would be through free agency. It would be in the Marlins' best interest to find players who would take a 3-year, $20 million contract instead of burning money as if they had money for a Rodeo Drive shopping spree, such was the case when they spent $191 million last offseason to sign Reyes, Buehrle and Heath Bell.
After the 2013 season, here are some potential free agents the Marlins could target, theoretically, should they need to shore up their roster.
That said, when it comes to free agency, it takes two to tango. After the fire sale became official, Beinfest admitted free agents might be reluctant to sign with the Marlins.
"It'll be a factor," Beinfest said. "I don't think we're happy about this at all. I understand there may be some disdain in the marketplace. We won't know until we get into those negotiations with free agents. It's definitely not great for the club, and we're going to have to deal with it."
What the Marlins should do when wooing a free agent is focus their campaign on what they can sell, which is spanking new Marlins Park, the beaches and night clubs of South Florida, and the young nucleus veterans can help shepherd to possible World Series titles.
Then, Loria and Beinfest should cross their fingers and hope there are enough fishes in the sea that, eventually, one will take their bait.
If all else fails, the Marlins still have one final chip they can use to convince Stanton to stay in Miami.
That chip: Shower Stanton with the biggest contract in franchise history.
How else can the Marlins rebuild around Stanton if the 23-year-old All-Star is not around? Therefore, the Marlins should offer Stanton a six-year, $110 million contract extension with a no-trade clause after the 2014 season. That deal will buy out the final two seasons of arbitration and the first four years Stanton would be eligible for free agency.
The last time the Marlins were in this situation, they lavished Hanley Ramirez with a six-year, $70 million extension in 2008, months before he was eligible for arbitration for the first time in his career. Then, Reyes topped Ramirez's contract when he signed a six-year, $106 million deal last offseason.
The Marlins should offer Stanton $40 million more than what Ramirez received because a) Stanton has all the leverage, b) it would be a good PR move, and c) Stanton is a better player.
Stanton has already admitted he's unhappy with the direction of the franchise, and it's up to him if he wants to stay in Miami if the Marlins present him with a contract extension. And unlike the NBA, where a free agent can get more money and years by re-signing than by signing with another team, there will be suitors who can match—if not top—what the Marlins can offer. But, if the Marlins come out of the gates with a strong proposal, at the very least, it should be met with approval since it isn't often Loria breaks out the piggy bank.
Furthermore, consider the following comparison:
Player A's first three seasons: .308 batting average, 79 home runs, 207 RBI, .907 OPS (on-base plus slugging percentage) and a 135 OPS+.
Player B's first three seasons: .270 batting average, 93 home runs, 232 RBI, .903 OPS and a 140 OPS+.
Outside of batting average, it looks as though Player B had better numbers through his first three seasons than Player A. Player B just happens to be Stanton while Player A is Ramirez. Moreover, Stanton did his damage in 600 less plate appearances because Ramirez played three full seasons whereas Stanton didn't make his major league debut until June and played in only 123 games last season because of right knee surgery and an oblique strain.
As far as the no-trade clause is concern, Miami should only offer it to Stanton if he demands it. Yes, the Marlins have had a long-standing policy of not including no-trade clauses in their contracts, but if they want Stanton and the rest of the baseball world to believe they want to build a team around the slugging outfielder, then they will probably have to make an exception for Stanton.
It's just the price of doing business.