2013 NFL Draft: Teams That Should Try to Trade Down in the 1st Round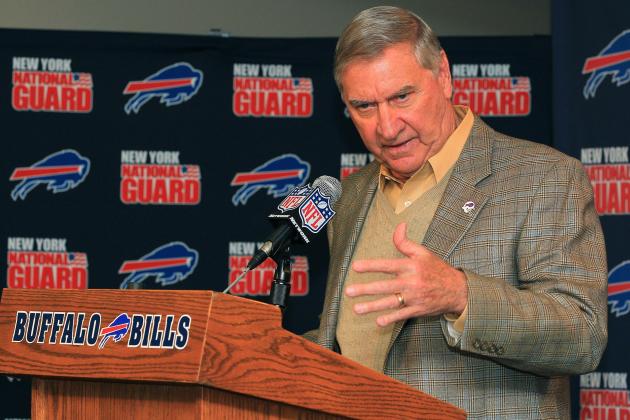 Kevin Hoffman-USA TODAY Sports
The Buffalo Bills enter draft season with a number of options.
It's reasonable to expect some Round 1 trades to occur before, or during the 2013 NFL Draft.
We saw this occur last season and it's happened plenty of times in previous drafts as well. Simply put, this is not uncommon.
As for this year's draft, the Buffalo Bills are one team we'll examine ahead.
In need of a stronger franchise quarterback, this class entering pales in comparison to Andrew Luck, Robert Griffin III and Russell Wilson. So, the question: Does Buffalo want to risk reaching for a prospective signal-caller?
Well, that certainly depends on who else is available when they select at No. 8 overall. The same can be said when other teams mentioned here go on the clock.
Begin Slideshow

»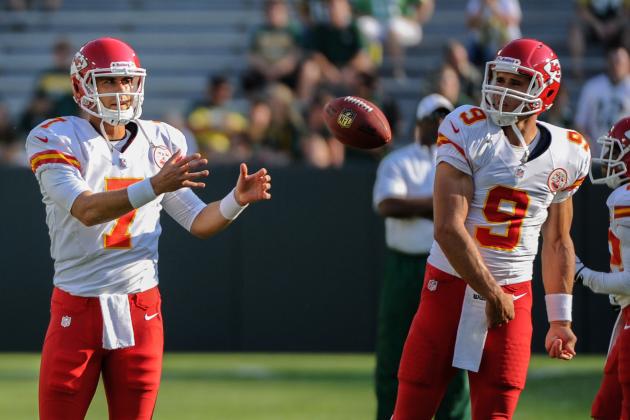 Benny Sieu-USA TODAY Sports

The Kansas City Chiefs could change the entire complexion of the 2013 draft.
If they take West Virginia's Geno Smith at No. 1 overall, that's great. Then their future is invested with the best quarterback in this draft.
Should K.C. decide to move back, however, would be quite intriguing.
For starters, holding the top pick will get the Chiefs stocked up on some additional selections. Obviously, the further they move back the greater the deal.
Aside from a quarterback, Kansas City needs another receiver as Jon Baldwin has yet to step up as a consistently reliable No. 2 target. Defensively, a No. 2 cornerback such as Alabama's Dee Milliner or Mississippi State's Johnthan Banks to complement Brandon Flowers would suffice.
Given that K.C. was last in passing offense, not all that can fall on the quarterbacks.
The defense gave up 29 passing scores and recorded a measly seven picks (three from Flowers). Quarterback is definitely a need, but trading back and getting some extra picks will allow the Chiefs to address multiple needs.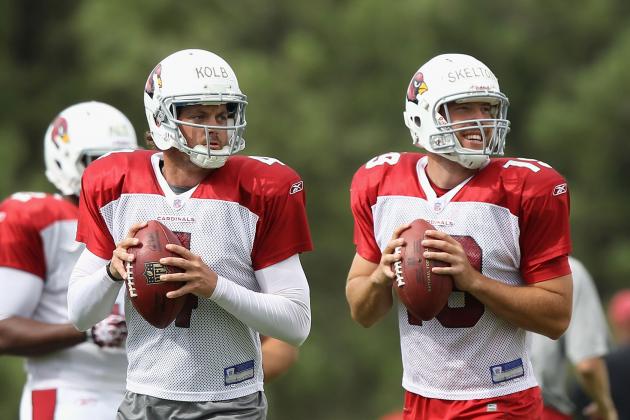 Christian Petersen/Getty Images

Holding the No. 7 pick, the Arizona Cardinals have plenty to consider.
On offense, quarterback, running back and offensive line are desperate needs.
Unfortunately, Geno Smith is the only quarterback worthy of a top-10 selection. His destiny currently sits with the Chiefs.
Also, there are no running backs of high-pick potential. At best, we're looking at the back end of Round 1 with Eddie Lacy or Giovani Bernard. So that takes us to the hogs up front.
With Michigan's Taylor Lewan (via Kyle Meinke of MLive.com), and Texas A&M's Jake Matthews (via ESPN's Joe Schad) remaining in school, 2013's offensive line class has dwindled. As a result, Arizona must strongly consider Alabama's Chance Warmack and Central Michigan's Eric Fisher at No. 7 overall.
Allowing 58 sacks and ranking last in rushing offense, the Cardinals have to improve at controlling the line of scrimmage. The same can be said defensively, because Arizona allowed 137 rushing yards per game and managed only 38 sacks.
The Card's must check out trading down as well, since there are other offensive line talents in North Carolina's Jonathan Cooper, or Alabama's Barrett Jones and D.J. Fluker. Certainly Texas A&M's Luke Joeckel would be the ideal pick should he be available, but preparing for the worst-case scenario can help Arizona adds some picks and still upgrade the offensive line.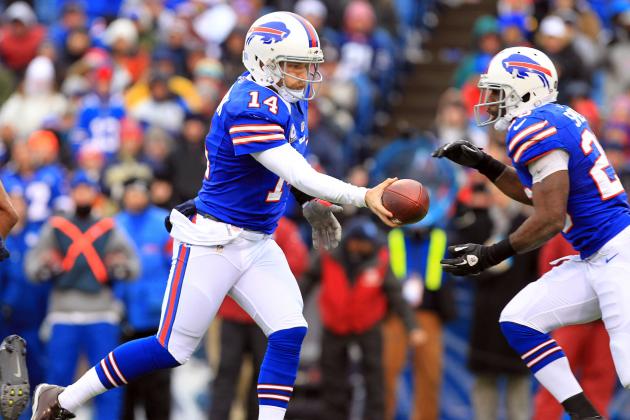 USA TODAY Sports

Provided Geno Smith is available at No. 8, the Bills can take the Mountaineers' conductor.
When the time comes, though, if Smith is not available Buffalo can ponder an array of moves.
One is to select a linebacker, whether it's Notre Dame's Manti Te'o, LSU's Barkevious Mingo or a hybrid defensive end/linebacker in Oregon's Dion Jordan. Other feasible defensive selections would be Texas A&M's Damontre Moore, Florida State's Bjoern Werner or LSU's Sam Montgomery.
In short, there are a solid number of prospects to help bolster the front seven by getting more quarterback pressure, stuffing the run and/or creating a better coverage shield at the intermediate level. Any one of those aforementioned defenders would make an immediate impact.
The dire need for a quarterback is much stronger, however.
Buffalo could reach for USC's Matt Barkley, NC State's Mike Glennon or Arkansas' Tyler Wilson. Each possess the strong arm and pocket awareness to make every NFL throw, the risk comes from decision-making and reading pre-snap.
Barkley had two of the nation's best receivers and still tossed 15 picks. Glennon threw 17, a career-high, and completed only 58.5 percent of his attempts against a weak schedule. Wilson was intercepted 13 times in 11 games and struggled when facing the better SEC defenses.
Each are a risk at No. 8 overall. To minimize the risk, trading back is a viable solution. Not to mention there are teams behind the Bills that could address a key defensive need by moving into their spot.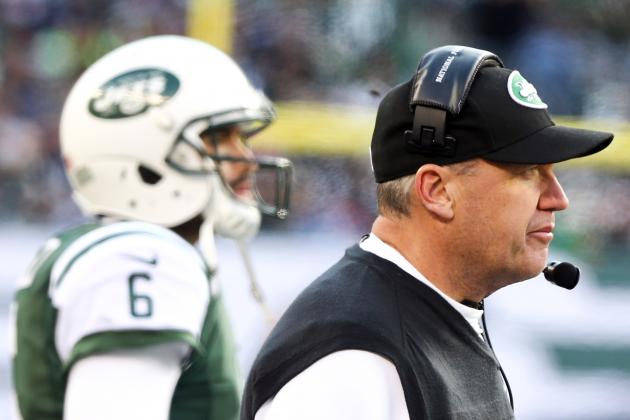 USA TODAY Sports

The New York Jets are currently suffocating from Mark Sanchez's contract situation. It's quite enthralling.
Factoring in Sanchez's unreliable play and this draft season can provide New York with some room to breathe.
At No. 9 overall, Gang Green can take a linebacker or hybrid defensive end to spruce up their defensive front, such as Dion Jordan, Barkevious Mingo or Damontre Moore. Last season New York ranked No. 26 in rush defense, allowed an average of 4.3 yards per attempt and recorded a mere 30 sacks.
The Jets can also assist Sanchez by taking another receiver. The risk obviously lies within Sanchez continuing to fail miserably and that receiver not hitting top-10 worthy production levels.
On the bright side, Rex Ryan's team doesn't have many other areas of need. Because the rushing offense has been consistent, Shonn Greene and the line provide a focal point to build. Not to mention the pass defense was solid.
Trading back just gives the Jets a broader perspective in this draft. Russell Wilson proved that quarterback talent resides in the middle rounds and an additional selection there would greatly benefit New York.
There's no need for Ryan and Co. to reach for the previously mentioned quarterbacks and it's a slim chance that Geno Smith becomes available. Plus, moving back would make Matt Barkley, Tyler Wilson or Mike Glennon more appealing toward the end of Round 1.