Minnesota Vikings: Players to Watch at East-West Shrine Game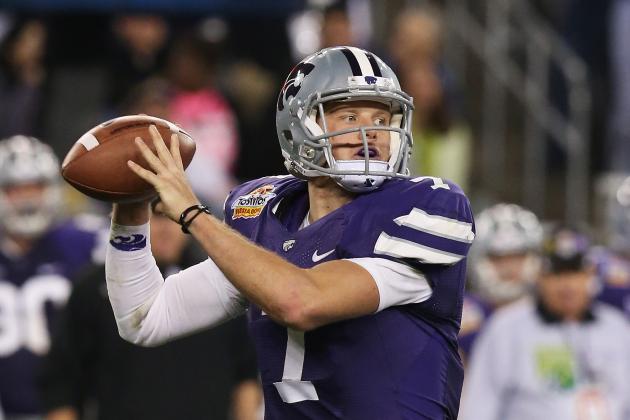 Stephen Dunn/Getty Images
Collin Klein is one of few marquee types at this week's East-West Game
The Vikings regular season, and playoff season may be over, but it's time for the second season, known as the off-season, and the Vikings scouts who have been working year round, will be busy this weekend at the East-West Shrine Game.
Although the East-West Shrine Game doesn't garner the marquee players that the Senior Bowl welcomes, there are many players the scouts and coaches will be looking at at Tropicana Field.
There are several need areas for the Vikings, and you may disagree with those I prioritized, but it's anybody's call as to where the Vikings will go and who they will draft. If you have the inside track then your name must be Spielman, Studwell, Frazier, Williams or Musgrave, and others inside the organization.
All we do here is make guesses for positions, but analysis of players within those positions is researched and studied to hopefully a degree acceptable to fans of football.
So, as you click through the slides, maybe don't think so much about the position being offered, but rather the players associated with that position.
Begin Slideshow

»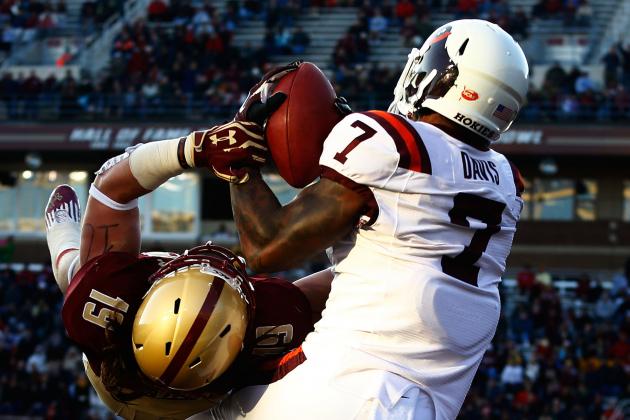 Jared Wickerham/Getty Images

If you google Minnesota Vikings draft needs for 2013, the first 10 pages will chronicle how much the Vikings need a WR, or two, or three.
There have also been many articles written about their quarterback Christian Ponder, some good, most bad. The argument can be made for both sides, but one thing is clear, Minnesota had one of the worst receiving corps in the NFL in 2012. When Percy Harvin went down most thought the Vikings might not win another game, let alone 10 total and a surprising Wild Card Spot.
But don't be fooled, this team needs help in a few areas and here are a few names to watch for at this year's East-West Shrine Game.
Now, let me state up front, I am not predicting the Vikings will draft any of these players, but I am saying that the following young men at least warrant an evaluation.
Marcus Davis, Virginia Tech: 6-4, 225, 4.5/40.
I have chronicled Davis in past Vikings articles as a big, deep threat. He is more suited for the outside, is a big body and good blocker. His year was marred by Logan Thomas's terrible year. He has the potential to be a starter in year one, definitely year two as he adjusts to the NFL game and speed. Davis could go anywhere from round two to four. Much depends on team preference and likeability.
Corey Fuller, Virginia Tech: 6-3, 200, 4.5/40.
Fuller had somewhat of a breakout year for the Hokies with 45 catches for 834 yards and six touchdowns. An 18.5 YPC average will get a lot of attention and Fuller's 4.5 speed will garner some attention as well. He is not as polished as Davis but upside is there. Fuller is probably a later round draftee, but a good East-West game and strong combine could elevate his draft selection.
Dan Buckner, Arizona: 6-4, 211, 4.6/40.
Buckner definitely missed Nick Foles this year, and sometimes when the stats aren't there the draft stock can drop. Buckner took over in the Juron Criner position and had a good season. He lacks burst, which makes him a mid to late round pick. He could go anywhere from round 4 to seven. That much disparity raises questions about a few areas, most notably, attitude. But with his height and decent speed, Buckner is a receiver to watch this weekend.
Keenan Davis, Iowa: 6-2, 215, 4.5/40.
Davis is ranked No. 32 in nfldraftscout.com and therefore would place him as a late round selection. Iowa had a poor season, but Davis did his part by leading the team in receptions with 47, but the 12.1 YPC average is down from the 14.2 the previous year. He had an opportunity to be a breakout guy with McNutt's departure, but it didn't materialize. Davis looks to be a late round selection, maybe.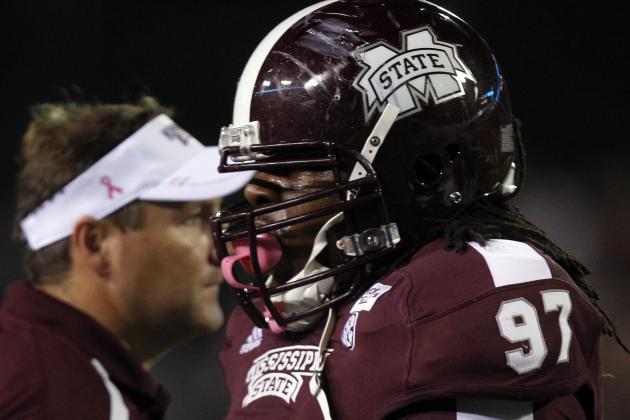 Butch Dill/Getty Images

Several columns have chronicled how much the Vikings need that big run stuffer, the likes of Pat Williams, or as Kevin Williams successor. I cannot disagree with either, but it is unlikely the Vikings will find a first or second round guy in the East-West Shrine Game, but there are some notable guys who should warrant a full evaluation.
Josh Boyd, Mississippi State, 6-3, 300
Boyd is not the pass rusher that Fletcher Cox was, his playing partner a year ago and No. 12 overall selection, but Boyd can certainly hold his own in the run stuff department. He is a good physical player who shows good quickness with a 5.0/40 speed.
Anthony McCloud, Florida State: 6-2, 322
All ACC Honorable Mention, was considered every down player at FSU having equal value and skill in both the run and the pass. However, an All ACC Honorable Mention sounds like a mid to late round selection. His 5.5 rating puts him as a strong back up and nothing more.
William Campbell, Michigan: 6-5, 310
Despite Campbell's size, his career has been marred by weight and conditioning issues. He shed 20 pounds for his senior year, but still couldn't live up to being one of the top preps coming out of high school. He is a Big 10 Honorable Mention, but again, like McCloud, his draft stock depends on his play this weekend and the Combine.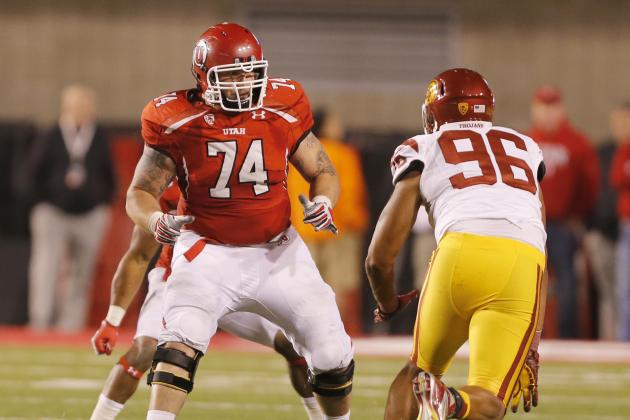 George Frey/Getty Images

I sound like a broken record, but many Vikings fans obviously had issues with the offensive line this year despite Peterson's 2,000 plus yards, but I understand where the fans are coming from because we expect much from our beloved teams.
In defense of the offensive line, this group, with some minor tweaks during the season, did a pretty solid job as run blocking and at least giving Ponder some time to look at his "covered" receivers down field. Two players who were roundly criticized were Charlie Johnson and Brandon Fusco, but here is the upside. Fusco was only in his second year, and Johnson didn't play as poorly as some may have seen. Remember, every chain has a weak link.
With that said, let's look at a few guards in the East-West Shrine Game.
Sam Brenner, Utah: 6-4, 305
All PAC 12 Second Team. Brenner has been referred to a player who has tremendous heart, and whatever he lacks in physical traits, he makes up for in his desire to play hard every play. According to nfldraftscout.com, "During his career, he played in 50 of 51 games with 25 starts. He allowed just two sacks total over the past two seasons."
Jeff Baca, UCLA: 6-3, 295
All PAC 12 Second Team. Baca is known for his consistency and moves well. Weight may be an issue with NFL defensive tackles, so he will have to add weight to compete.
Blaize Foltz, TCU: 6-4, 315
All Big 12 Second Team. Foltz' senior year was hampered by an aggravated ankle injury, but his record as a starter and for making second team in an injury riddled season still warrants a deeper evaluation. A strong combine could push him into the second round.
Small school player to watch: Earl Watford, JMU. At 6-4, 295
Watford played for a Div 1-AA JMU, but dominated his position and Minnesota has shown that it is not afraid to dip into remote areas to find nuggets. Matt Birk comes to mind, and even Brandon Fusco out of Slippery Rock is another.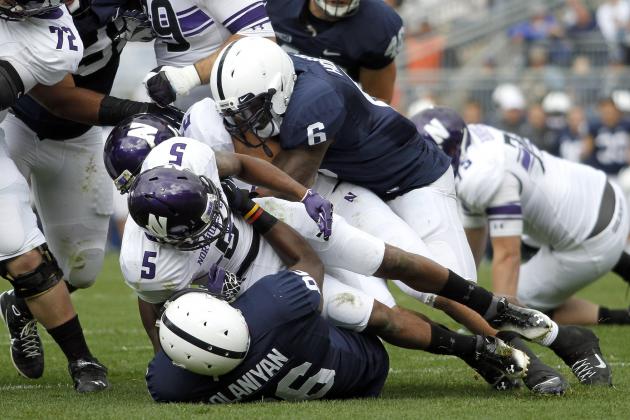 Justin K. Aller/Getty Images

I'm sorry — I am just not sold on Erin Henderson or his back ups. I even have some issues at MLB with Brinkley, but benefit of the doubt goes to Brinkley because MLB is much more difficult to play than OLB. Henderson just disappeared at times and didn't really make many splashy plays. I am not saying that any of these guys described below are the answer, but they are worth a look, for at the very least, special teams.
Gerald Hodges, Penn State: 6-2, 251
Hodges is yet another in a long line of Penn State linebackers, and though Hodges doesn't get the recognition of Mike Mauti or predecessors, but Hodges is a very solid player and could be a real surprise and find for some NFL team. Big 10 Honorable Mention, Hodge moves well, but might be limited by his 4.7/40 speed. A strong game and combine may lift some eyebrows in Mankato.
Sio Moore, UConn: 6-2, 229
I have to admit, I am always interested in UConn players. For some reason it could be the consistency they have on defense, or if the defense is having an off year, the incredible individual talent that stands out. Moore is an intriguing player. He runs in the 4.6 area, so speed is NFL solid. He is an All Big East First Team. Moore had eight sacks and 15.5 TFL, which means he can get into the backfield.
Keith Pough, Howard: 6-3, 240
Pough comes from a small school, but he was an impact player. His Howard career: MEAC Player of the Year, recorded 349 tackles, and set a new NCAA, FCS career record for tackles for losses with 71. Nfldraftscout.com says that Pough has "excellent flexibility and agility for the position." The only concern is his 4.8/40 time, which could pose problems in space.
A player on the periphery: Nathan Williams, Ohio State, 6-3, 250, but 4.8/40 is a concern.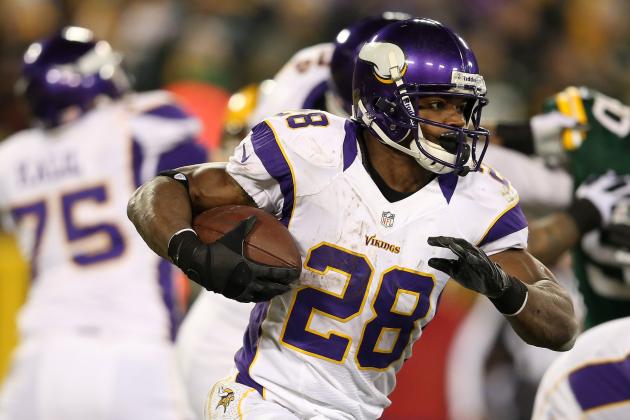 Andy Lyons/Getty Images

Some may argue the Vikings have greater needs than the one's I mentioned, but in looking at players, depth, and age, I came up with those four need areas.
Other positions the Vikings will certainly look at are: SS, CB, RB and ILB.
In all honesty, there were no strong safeties of note for the East-West Shrine game, and the corners have too many concerns to be considered. I have a few strong safeties in mind, but they are not playing in the East-West Shrine Game. Just a few names for you to Google: Drew Frey, Cincinnati, and Brynden Trawick, Troy. Both these guys bring the wood, and both had very solid college careers. More on them later when I do a Vikings Mock Draft after the Combine.
I am reserving a deeper look at running back for later. Why? Well, Peterson's season, as remarkable as it was, only had Toby Gerhart as his legitimate back up. Gerhart will be a free agent in 2014, and if the Vikings don't lock him up for a contract extension, looking at a possible successor could be a consideration.
Notice I did not mention quarterback even though some Vikings fans are ambivalent toward Ponder. I say be patient. Next year will be a bell weather year to make more of a call on Ponder. I feel the Vikings may move in the free agent market for a veteran to back up or maybe even push Ponder.
Enjoy the game, my next player analysis will be the Senior Bowl.
As for ILB, I have made my point on Brinkley. I think he deserves another full year as starter. Whether Audie Cole will or can be moved to MLB, and whether the Vikings are satisfied with their depth, I would venture to say the MLB position is a position the Vikings will consider.