3 Items New Washington Capitals Coach Adam Oates Must Address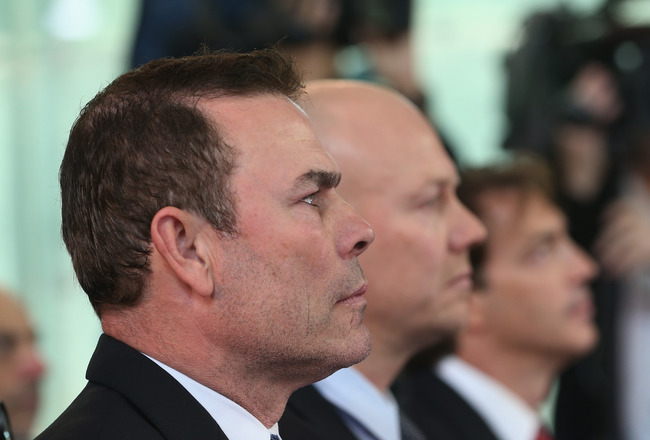 Bruce Bennett/Getty Images
It is almost time for the new coach of the Washington Capitals, Adam Oates, to make his debut and see how far he can take this talented team. On Saturday night, the Capitals travel to Tampa to take on the Lightning in the season opener for both teams.
Oates' rookie season will be an interesting one, to say the least. He has already had to weather the storm of a long lockout that eliminated almost half of the 2012-2013 NHL season.
Oates and pretty much his entire coaching staff endured the lockout better than most as they were co-coaches of the Caps' AHL affiliate, the Hershey Bears, for a six-week span (Washington Post).
That will come in handy. The Caps had only a one-week training camp to try and learn not just a new system, but to get to know their new head coach, prior to the season opener against Tampa Bay.
By all indications, the Caps' abbreviated training camp went as well as could be expected (Washington Post). It sounds as though the players—and in particular the defense—have bought into Oates' system, and they have embraced his philosophy.
As the season is almost upon us, and despite all the issues that Adam Oates has already had to deal with, there are a few more for the Caps and for their chances for success this season.
Here are three items that new head coach Adam Oates must address now, and in the coming weeks.
1. Repair Locker Room Harmony and Chemistry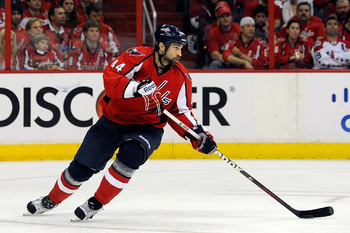 Will comments made by Roman Hamrlik during the lockout have any carry over effect during the regular season
Patrick McDermott/Getty Images
One item Adam Oates must address right away is whether there is a rift in the Caps' locker room between some of the players.
During the lockout, comments made by Caps defenseman Roman Hamrlik set in motion a situation that could have ramifications for the Caps' locker room on the eve of the season opener.
For those who may have forgotten, negotiations had taken a turn for the worse right around Thanksgiving and a series of tweets from Hamrilik appeared through Jedlicka that questioned the leadership of Donald Fehr and the rest of the NHLPA, such as the following:
Are players still united? I don't think so.
That was just part of the message. As reported by outlets such as SBNation, when all of the tweets were pieced together, the total statement from Hamrlik certainly suggested there was dissension in the ranks amongst the players:
I am disgusted. We have to push Fehr to the wall to get the deal. Time is against us. We lost a quarter of the season, it is $425 million. Who will give it back to us? Mr. Fehr? There should be voting between player. Four questions—yes or no—then count it. If half of players say lets play, then they should sign new CBA. If there is no season, he should leave and we will find someone new. Time is our enemy.
In the wake of such incendiary comments, there was little question that replies of all varieties would be forthcoming. And the replies from Hamrlik's teammates have to raise concerns that the Caps locker room might be divided.
Goaltender Michal Neuvirth vocally supported Hamrlik. Neuvirth told TVA Nova Sport of the Czech Republic via NBC Sports the following:
I agree 100 percent with Hammer. This lockout is not about majority of players, I think. It is about several superstars with big contracts.
Hamrlik and Neuvirth's comments were not well received by Troy Brouwer, one of the Caps' representatives to the NHLPA. Brouwer had a lot to say about the situation to the Washington Post's Katie Carrera:
For me, I think those guys selling us out, being selfish like that and making those comments …Me being on their team, how am I going to trust them as a teammate from now on? Because you know they're not going to support players in the big scheme of things when you go and you play on the team with them; it's going to be tough to want to back those guys from now on.
That is a troubling quote from one of the more respected members of the Capitals, no doubt about it.
Oates will have to address this situation right away. If the Caps' locker room is divided, the team's chances for success are not good.
He is going to have to sit down with all of these guys and get them to clear the air as to the comments and responses made. I suspect that with two veterans like Hamrlik and Brouwer, getting the two men to understand that things were said out of frustration should not be too big of an issue.
With Neuvirth though, that might be a bigger challenge. It was not just his agreeing with Hamrlik that is an issue. Neuvirth made some negative comments about both Braden Holtby and Alexander Ovechkin over the summer when Czech website iSport.cz conducted an interview with Neuvirth.
The interview was translated by several sites, and one in particular, Russianmachineneverbreaks.com, posted the interview.
Some of what Neuvirth had to say raised more than a few eyebrows:
It's true that until now, I have never been an official number one. But I have played just over a hundred games in NHL. That's nothing. I'm starting the season sure that I want to play forty/fifty games and I am really sure that I have the weakest competition (Braden Holtby) I've ever had. I will try to be number one goalie this season. Finally!
No, it is not good to have your goalies bickering like that just before a shortened season where Oates will have to count on both of them to carry the load.
But Neuvirth also took aim at the face of the franchise, Alexander Ovechkin.
In the same interview with iSport.cz, and as again translated by Russianmachineneverbreaks.com, Neuvirth had this to say about Ovechkin:
He isn't what he used to be, that's for sure. And if a team like ours wants to have a chance at the Stanley Cup, we need Ovi to be the best. We all expect that from him; he has to be the real leader. But it's hard you know, he achieved everything as a player. He was on the absolute top, and then one can only fall down. I just hope that Ovi will stop falling and instead stops and maybe tries to get back on top. As for his attitude in the locker room, he is still the same guy. Even when it's not working out for him, he is in a good mood, he celebrates with the others. He is the right team player. He will stay like that forever.
Now, to be fair, there were some concerns over how the interview was translated. Nevertheless, those are the types of comments—particularly the ones about Ovechkin—that can cause some real locker room discord.
Hopefully, Oates has already tried to smooth over any ruffled feathers.
If not, that locker room discord is just the sort of thing that could really hurt this team's chances this season.
2. Figure out How Best to Use Alexander Ovechkin
Can Adam Oates get Alexander Ovechkin back to elite status?
Evan Habeeb-USA TODAY Sports
If Adam Oates and the Washington Capitals are to succeed this year, it will be imperative that they get Alexander Ovechkin back to the level of play he enjoyed when he was widely considered to be the best player in the world.
Even casual hockey fans have heard of Ovechkin. Many of them have probably also heard, from any number of sources, that Ovechkin is not who and what he used to be.
Statistically speaking, Ovechkin's numbers have been down the past couple of seasons. Compared to his 65-goal, 47-assist onslaught during the 2007-2008 season, Ovechkin's numbers are way down. But when compared to the rest of the NHL, they are not so terrible.
Ovechkin's 38 goals a season ago could be considered a major disappointment—at least by Ovechkian standards.
Still, Ovi was fifth in the league in goals.
Ovechkin can still score with the best of them. What has to be a bigger point of concern for Oates has to be the Great Eight's overall play, and how that translates over to the Caps offense.
For instance, where Ovi's numbers fell off badly were in the assists and points departments. He only had 27 assists last year (a dismal 122nd in the NHL) and his 65 total points ranked 37th in the league. Without question, those numbers must improve and Oates must figure out a way to do so.
Apparently, Oates is already on the job. ESPN recently previewed the Caps 2013 season and in that article there is some enlightening information about Oates' mindset as far as Ovechkin is concerned:
We talked to Oates about his plan for his captain and it's simple, he's going to turn him loose. As he said during an interview, you don't pay Alex Rodriguez to hit singles and you don't pay Alex Ovechkin to have a good plus-minus rating. We're guessing Oates gets Ovechkin back into the hunt for a Rocket Richard Trophy as the league's top goal-scorer and perhaps even an Art Ross.
So it seems that Adam Oates is intent on letting Ovi be who and what he is—a dynamic goal scorer and one of the best players in the world.
Oates also seems like he is going to get creative to accomplish this goal. Katie Carrera of the Washington Post has reported that Oates and Ovechkin are contemplating having Ovi play right wing.
Ovechkin became one of the best in the world by playing on the left wing. But, as the article notes, Ovi has become too predictable, and teams have learned how to defend him.
The switch to right wing could be exactly what Ovechkin needs to get going once again. It creates matchup problems for the defense who may have to reconfigure their own lines to deal with defending Ovechkin. This could free up other players, such as Nicklas Backstrom or Marcus Johansson, for scoring opportunities.
That top line of Ovechkin, Backstrom and Johansson played together quite a bit last season but with Johansson on the right wing. By flip-flopping the wings, with the ever present possibility of flip-flopping back the other way, Oates, Ovechkin and the Caps can keep teams guessing and remove predictability from the Caps offense.
It is a great strategy and one that could really help Alexander Ovechkin get back to being the Ovi so many of us remember.
3. Figure out How to Achieve Balance Between Offense and Defense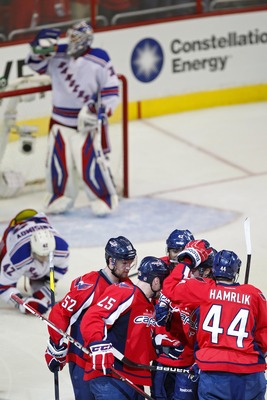 If Oates can figure out how to create offense without sacrificing defense, there might be more scenes like this
Geoff Burke-USA TODAY Sports
Probably the biggest challenge Adam Oates will have is trying to balance the super-charged and up-tempo style of the Bruce Boudreau era with the conservative, grind-it-out style of play employed by Dale Hunter a season ago.
Figuring out this mystery will be the key for the Caps. Boudreau's style served the team well during the regular season but was largely ineffective during the playoffs when tight checking—and even tighter overall defense—was critical.
Hunter's style served the Caps tremendously well during the playoffs as the Caps were able to knock off the much deeper Boston Bruins, and pushed the equally deep and talented New York Rangers to a seventh game of their playoff series.
In the end though, an argument can be made that the Caps lost to the Rangers because they could not score enough goals.
This is what Oates must figure out to get the Caps to the next level. If Oates can figure out how to get the Caps to score more goals without sacrificing solid defensive gameplay, then there is no telling how far the team can go.
As Katie Carrera of the Washington Post has reported, Oates is going to call upon his defensemen to be something really special in his system.
Oates is going to place immense trust in his blue-liners by giving them the discretion to jump up into the offensive zone with the forwards.
Now, that might not sound like any big deal as far as Mike Green or John Carlson is concerned. But Oates is giving all the defenders the green light to do this.
It is an immense leap of faith on the part of Oates and new assistant coach, Calle Johansson. They are trusting players who have never been given a chance before to make the right choices, jump into the play when the situation presents itself, but not sacrifice position and expose the team to odd-man rushes.
That's a lot of trust, indeed.
Overall, Oates seems intent on creating a cohesive overall system that almost organically creates offense out of the flow of the defense. Oates wants to utilize the same sort of pressure-based and aggressive defense that Dale Hunter used, but with a higher emphasis on puck movement and using turnovers to create scoring opportunities.
As Oates said to Katie Carrera:
The system is really based on keeping the D from taking as much contact as possible. They are the lifeblood of the team. I really believe that. They got to obviously help us in our own end, but they got to help the forwards score. The way teams back-check now and play all three zones, our D [is] vital to us. So the system really is based on them.
In theory, it sounds great, especially if the forwards get adept at back-checking so that the defense is not hung out to dry if a mistake is made.
The only downside is that the Caps have not had much time to see how this flows together before the season opener against the Lightning.
If it works, the Caps should score in bunches and still be stout enough on defense to win more often than they will lose.
If it does not, there might not be enough time to make adjustments before it is too late.
Keep Reading

Washington Capitals: Like this team?