WWE Royal Rumble: New Stats, Facts and More for the 2013 Rumble
Credit: WWE.com
The Royal Rumble is just over a week away and it is hard not to be excited about the event.
The 2013 Royal Rumble has certainly breathed life into the company lately. Just the excitement of the title match between The Rock vs. CM Punk alone is massive for every fan, a match that could headline any pay-per-view.
The Rumble itself is unmatched in many ways. Thirty men fight for a title shot at WrestleMania, and history is made for one man who will always have a Royal Rumble win under his belt.
But there's much more to it than that. There's the intrigue of who comes out when, which legends make an appearance, which stars return and the momentum gained from the events in the ring.
Then there are just records and stats that come and go, trivial in many ways but still enjoyable.
Here, I take a look at some of those records that could be broken, and some of those that may not be, in the 2013 Royal Rumble.
Begin Slideshow

»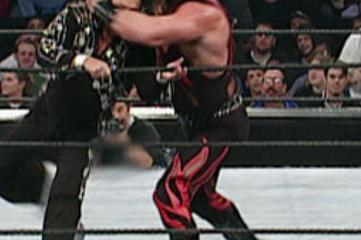 Credit: WWE.com
In 2001, Kane was still a rampaging monster and showed less of his vulnerability than his modern day character has been laced with.
At this point, he was less manageable as a character and had a loose screw type of attitude that would never be joked with by a psychiatrist and a man-goat.
The Big Red Machine eliminated eleven men in this Royal Rumble, most notably getting rid of The Rock and the Honky Tonk Man, to set a new record. All this could only win him second place to the master of the Rumble, one Stone Cold Steve Austin.
This is a record I could seeing going.
There is a man that the WWE are putting over as an unstoppable monster, who they feel needs the rub of something noteworthy from this PPV.
If any entrant is to go on a spree this year, it would have to be Ryback.
He seems unlikely to win the event, but giving him this record could do enough to keep his momentum going, something for the commentators to bring up for the next month or more to underline how much of a force he can be.
With three members of The Shield on his radar, and the ability to take on multiple foes, it is easy to see him coming in around No. 10 and clearing house, and sticking around for a good amount of time too.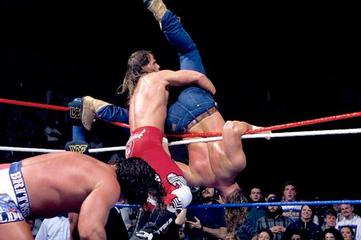 Credit: WWE.com
An all-time great who stole the show on numerous occasions at the Royal Rumble, even in the times he didn't win it, Shawn Michaels sits atop the pile with the most cumulative eliminations.
With two wins and twelve Rumble appearances, it is no surprise that HBK has forced the most men over the top rope.
Whilst it is great to see him hold such a record, I think it there is a man who deserves to take his crown.
Shawn can be remembered for his two wins and for being the first man to win from No. 1, but Kane deserves to take the eliminations crown.
Sitting narrowly behind with 37 eliminations (counting his time as Isaac Yankem and the new Diesel), I think this is the time to give him the record.
With Ryback taking a shot at matching his eliminations in one Rumble record, it would be fitting for Kane to take out four men here before being eliminated by Ryback as his 12th victim. It's always nice when WWE do these little things to note such moments, and that would be a nice touch.
Kane will most likely never win a Royal Rumble now, but the most eliminations record would be a nice accomplishment for him to be remembered by.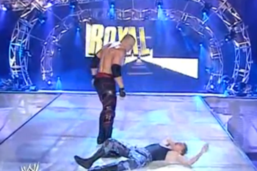 Credit: WWE
Over the years, there have been quite a few superstars drawn into the Royal Rumble only to not make it into the ring.
Mostly, this is a spot for lesser names, not the big stars, although it may surprise some to see that Macho Man Randy Savage was chased out of the arena by the Ultimate Warrior in 1991 and missed his slot.
My personal favorite has to be Finlay in 2008, who got disqualified for entering before his number was called.
I bring this rather nonsense stat up because I do wonder whether this might be something WWE will try again with The Shield.
It would be rather suitable for The Shield to force their way into the Royal Rumble. Both Spike Dudley (2004) and Scotty Too Hotty (2005) were attacked on their way to the ring, whilst Test was taken out backstage in 2004.
Someone like Santino found beaten backstage, resulting in an open spot for Dean Ambrose, and then Rollins and Reigns emerging from the crowd to attack another face on their way to the ring, even those already in the ring slipping under the ropes to help one of the others steal a spot.
This would fit in with them being an entity not controlled by the company, and also finding it an injustice they were never entered.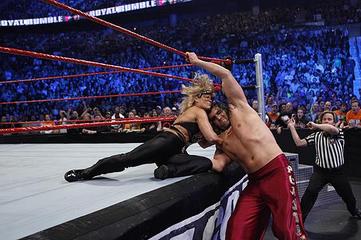 Credit: WWE.com
Women, or Divas depending on your mindset, have not been represented that well when it comes to the Royal Rumble.
Only three have actually entered and their impact is never too keenly felt.
Beth Phoenix possibly stays strongest in the memory after eliminating The Great Khali by kissing him over the top rope.
Chyna made two consecutive appearances in 1999 and 2000, while last year saw Kharma enter.
This year, I expect we may just get another.
WWE has not really shied away from using Miss AJ Lee in big stories and created many standout moments for her in 2012.
She has remained a focal point of WWE's programming so far in 2013, and I imagine we may see her skipping around John Cena at some point in the Rumble this year.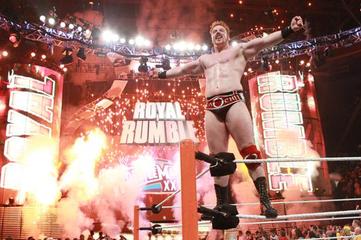 Credit: WWE.com
Since 1993, when the Royal Rumble became a No. 1 contender's match for a shot at the title at WrestleMania, it has generally been a successful route to gold.
From 2001 to 2007, each winner took the belt at WrestleMania, but each of the four winners that followed were surprisingly unsuccessful when it came to their shot at the gold at WWE's biggest PPV of the year.
Until then, only 1995, 1997, 1999 and 2000 had seen the winners lose at the Granddaddy of Them All.
Sheamus broke the lean spell last year after his Rumble win, which then saw him beat Daniel Bryan for the World Heavyweight Championship.
This time around, it would seem that the winner is destined for gold.
The likely title holders after the Rumble set look to be The Rock and Alberto Del Rio, both of which you would expect to lose come April, although for entirely different reasons.
This is especially true given how much competition there is in the Royal Rumble match this year, and how much of a rub it is to be victorious.
John Cena, Ryback, Randy Orton, Sheamus and Dolph Ziggler would each be a big man to defeat in this match.
Given that Cena was one of those to fail (2008) after winning the Rumble, could this year be his payback?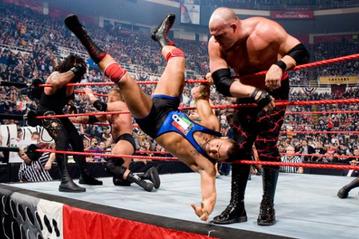 Credit: WWE.com
There are some Royal Rumble records that will take a hell of an effort to ever be beaten, and some I just do not see going this time.
Santino Marella (2009) holds the fastest elimination, maintaining his place in the Rumble for 1.9 seconds. Watch that elimination again and you'll see how hard it would be for someone to beat that. He only just beat The Warlord's record from 1989 (officially, you can count for yourself).
Another of those I cannot see going for a good long while belongs to the sexiest man in professional wrestling history.
In 2007, it took eight men to force hunk of love Viscera over the top rope, one more competitor than another of Nelson Frazier's alter ego's in Mabel (1994) and two more than Rikishi (2000).
There just isn't a man of that size going at the moment. Big Daddy V did leave All Japan Pro Wrestling in 2012 though, so maybe we'll be treated to his return.
Equally, I would be very surprised if anyone lasts longer than Rey Mysterio's record time from 2006.
One hour, two minutes and 30 seconds, beating Chris Benoit's record by 29 seconds, is such a long time, and whilst the masked luchador may return at the event, I cannot see him sticking around for that long.
My final point will be to note those who have eliminated themselves, which eight people have done.
A year after not showing for the Royal Rumble, the Macho Man had another night to forget as he eliminated himself in 1992.
Drew Carey did the same thing in 2001 when he saw Kane coming to the ring, a wise move considering the mood he was in that night.
The best one would be Andre the Giant, who flung himself over the top rope in 1989 after Jake "The Snake" Roberts introduced his pet snake Damien into the ring.
I hope this has evoked some memories of the uniqueness of the Royal Rumble!
Let me know your predictions for the Rumble, including winners, stand out moments and any records made on the night.
I must thank James Tooze for the Royal Rumble Stat Pack I found all these moments on, which can be found here: http://www.606v2.com/t39486-royal-rumble-stat-pack-2013.
Like following people on Twitter? Look for me: The_Wilkerson
And enjoy the Royal Rumble; it's one of the special nights of the wrestling year that is as fun now as it was in our younger days!