UFC on FX 7: A Fan's Guide to the Belfort vs. Bisping Fight Card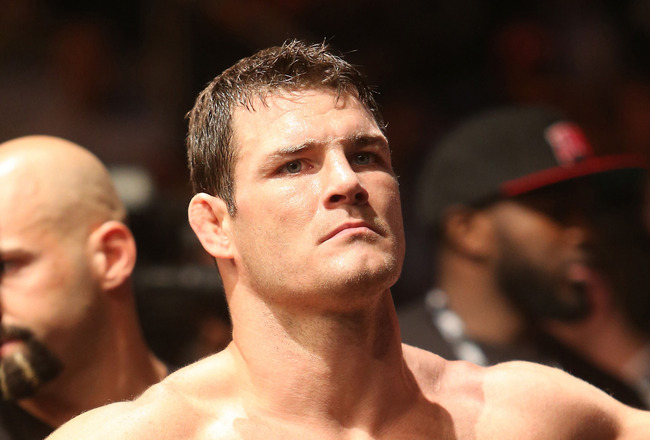 Tom Szczerbowski-USA TODAY Sports
On Saturday night, the UFC kicks off 2013 with its first event in Brazil since Anderson Silva demolished Stephan Bonnar last October.
The fact that the world's premier MMA promotion has returned to the South American country so soon is a reflection of how crucial Brazil will be for the UFC's fortunes in 2013.
But aside from that, UFC on FX 7, a free-to-air event, will feature some outstanding Brazilian talent, top to bottom, to electrify Sao Paulo on Saturday night.
Headlining the night is a crucial middleweight bout between Michael Bisping and Vitor Belfort.
Here's a fan's guide to that fight and the rest of the main card.
Anderson Silva's Next Opponent Could Be Decided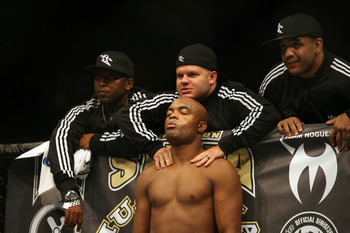 Tasos Katopodis/Getty Images
Michael Bisping has come close to being considered the next 185-pound title contender several times in his career, but he has consistently come up short in the past.
After a highly successful move down to middleweight in 2008, he was stopped in his tracks, first by Dan Henderson and then by Wanderlei Silva.
After the Silva loss, he was again able to mount a solid winning streak, taking four straight victories, before falling at the crucial moment to Chael Sonnen this time last year.
However, he bounced back quickly with a win over Brian Stann at UFC 152, leaving him with a 5-1 record in his last six fights. That has finally, after almost seven years fighting in the UFC, put him on the precipice of a contest against incumbent champion, Anderson Silva.
Gabriel Gonzaga Fighting for the First Time in a Year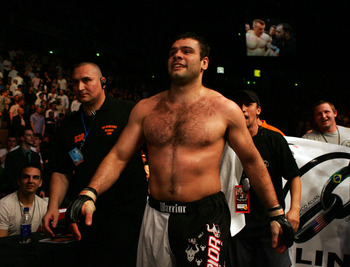 Gary M. Prior/Getty Images
It came as a shock to most people when Gabriel Gonzaga was roped back into the UFC last year after being cut from the promotion in 2010.
The once promising heavyweight had gone 1-3 in his last four matches and the promotion no longer had any room for him in its increasingly competitive heavyweight division.
But then, Brazil came beckoning. As the UFC opened up the South American market, the need for Brazilian talent to promote the sport became apparent, and Gonzaga returned after only one win against an unknown opponent fighting in an obscure promotion.
He made a successful debut last year against Ednaldo Oliveira, winning by first-round submission, and big things seemed to be coming his way. However, fate left him on the sidelines for the rest of 2012.
He was expected to face Roy Nelson in May, but had to drop out at the last minute due to injury; the same happened to his opponent, Geronimo Dos Santos, in October last year, forcing Gonzaga to be pulled from the card.
Now he's back and will face talented but inconsistent heavyweight, Ben Rothwell.
Vitor Belfort Could Give the UFC a Serious Headache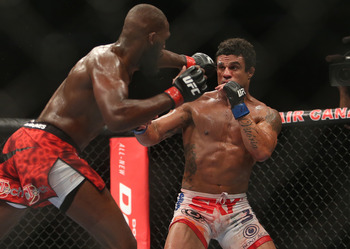 Tom Szczerbowski-USA TODAY Sports
Vitor Belfort has enjoyed years of incredible popularity in his home country of Brazil.
He burst on the scene at just 19 years old and went on to capture the UFC Heavyweight Tournament title in his debut.
He called wasn't called "the Phenom" in the early part of his career for nothing.
At 35, with 16 years in the sport behind him, he's still at the top of his game. On Saturday, he will face title hopeful Michael Bisping at UFC on FX 7 in Brazil.
Despite losing to Jon Jones at UFC 152 in September, he's only lost once as a middleweight, and that was due to a highly unpredictable first-round knockout.
However, that loss was to Anderson Silva for the 185-pound title, which means the UFC will be reluctant to pit him against the champion again. But the promotion might be forced to consider him as a title shot if he beats Bisping.
Two Highly Touted Brazilian Fighters Looking for Redemption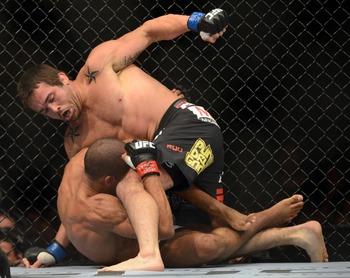 Ron Chenoy-USA TODAY Sports
Both Edson Barboza and Wagner Prado were undefeated as they entered 2012, and both were considered serious threats in their respective divisions.
Barboza was being talked of as the next big thing at 155 pounds before he was stopped in the first round by Jamie Varner; Prado was expected to upset the odds by defeating rising light heavyweight Phil Davis before he was pummeled by the latter at UFC 153.
They both have a chance to redeem themselves as they fight on the undercard against two relatively unknown Brazilian opponents.
Undefeated Khabib Nurmagomedov Could Become the Next Lightweight Sensation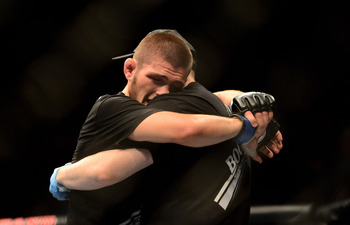 Mark J. Rebilas-USA TODAY Sports
Another man considered the next big thing at 155 pounds, Russian Khabib Nurmagomedov will be testing his undefeated streak against Thiago Tavares on Saturday night.
Tavares has been in some absolute wars in the UFC, but has often come up short in crucial matches. Nevertheless, he's only lost once since 2009 and will be a stern test for Nurmagomedov, who is undefeated in 18 pro fights.
The Russian has fought twice in the Octagon before, and a win against Tavares will be his third in a row for the UFC, instantly putting him in the reckoning of an incredibly stacked lightweight division.
Keep Reading