Why French Ligue 1 Deserves More of Our Attention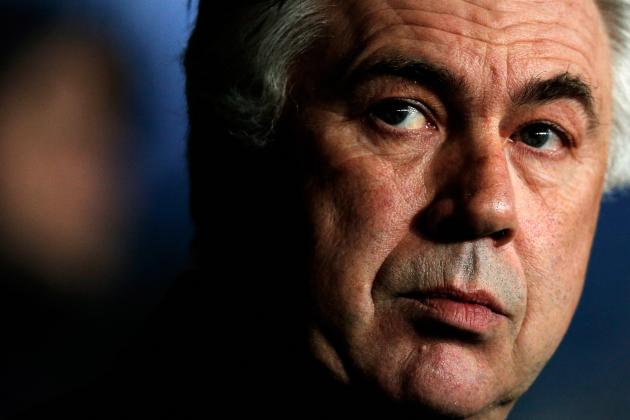 Dean Mouhtaropoulos/Getty Images
Ancelotti's PSG are not running away with Ligue 1 this year
Ligue 1 is an exciting place to be right now. France's top-flight has regularly been throwing up an increasing number of surprise results over recent seasons, whilst the number of goals scored has risen sharply.
In France more than anywhere else in Europe right now, anybody can beat anybody.
Take Paris Saint-Germain, for example. You'd think that, given the copious amounts of money that they have spent in the past 18 months, the playing field would be extremely uneven.
It is not so.
Having a giant like PSG in the league has made every team in Ligue 1 raise their game...even the minnows.
To those familiar with Ligue 1, the intensity on offer each week and the high quality exhibited in French domestic football is nothing new.
To those unfamiliar with it though, sitting down and watching a game from France will likely come as quite a shock. Despite being largely unheralded and oft-maligned when talking about top European leagues, people quickly forget that France is the largest producer of domestic talent in Europe.
Add to that vibrant, exciting teams challenging the previously established hierarchy and a mix of styles from all over the world, and you have a potent mix.
This season more than any other is showing that.
PSG are not running away with the title, and teams who looked to have been completely usurped by the capital club are still in a position to challenge for domestic honours.
With the emergence of enterprising sides such as Saint-Etienne, FC Lorient and Nice looking to break into contention at the top end of the table, France's most decorated and well-supported club sides in Olympique de Marseille and Olympique Lyonnais are fighting for their lives.
Admittedly the league needs better representation in Europe. But that will come.
For now, PSG have given Ligue 1 the shot in the arm it needed.
Here's why it matters.
Begin Slideshow

»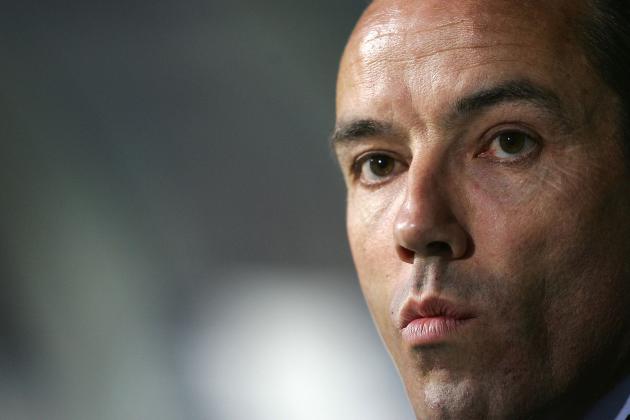 Jamie McDonald/Getty Images
Paul Le Guen's Lyon side were France's last dominant force.
There is something unfashionable about French football.
Many people claim that the style of football exhibited is boring and that there are only a handful of sides worth watching in the league. They say this without having actually watched a game.
However, the unfashionable eventually becomes fashionable.
Since the early 2000s Lyon dominated French football. Ligue 1 was synonymous with OL and vice versa. Paul le Guen's side were also France's best representation in European competition.
Following the break up of that domestic dominance of seven straight title wins in 2009 by Bordeaux, there have been four different champions.
Still unpredictable? That is as many as the English Premier League has been able to muster in 17 years.
The entertainment stakes have been raised, too. Four-, five- and six-goal encounters are now the norm in France, and you'd be hard pushed to find too many goal-less draws over the course of an average weekend.
With title races decided on the final days of the season and wide-ranging, frantic battles to decide the relegation places, France actually offers as many, if not more, thrills and spills as their European rivals. Montpellier sealed an incredible underdog title win on the last day of the 2011-12 season, whilst eight clubs battled against the drop.
Semi-professional teams are also challenging the hierarchy on an annual basis in the domestic cups—third-tier outfit Quevilly even made last year's Coupe de France final.
For the average armchair supporter, Ligue 1 and French football represent great entertainment.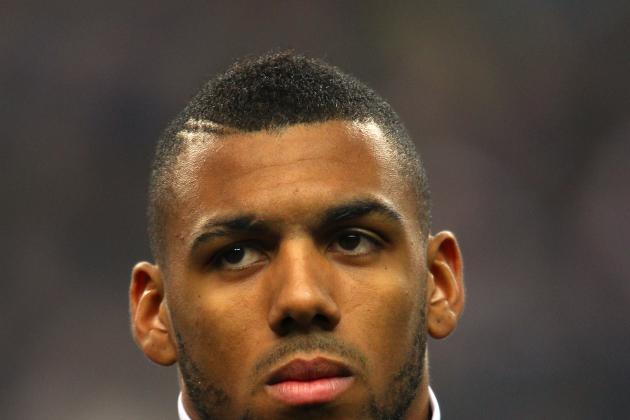 Alex Livesey/Getty Images
Rennes' Yann M'Vila: one of the brightest graduates from France's most productive youth academy.
Outside of Brazil and Argentina, France provides Europe's highest number of domestic representation in Europe's top competition, the Champions League. It has been this way for a number of years.
French teams are densely populated with domestic talent, more so, perhaps, than most of their continental rivals.
Ligue 1 is also the subject of high levels of interest when it comes to teams looking for outstanding value in the transfer market, with a number of players regularly leaving to test themselves in the Premier League.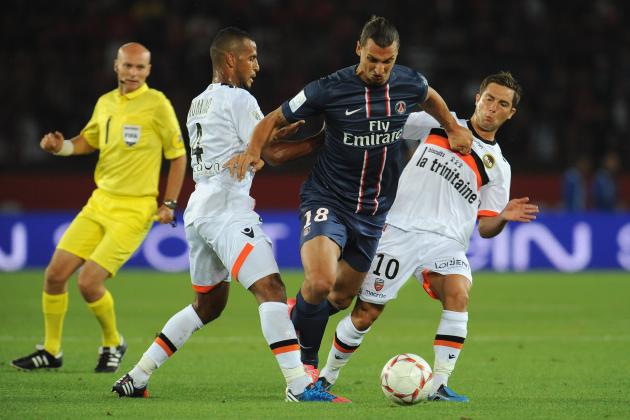 Valerio Pennicino/Getty Images
Zlatan Ibrahimovic has already noted how physical Ligue 1 is in comparison to its European rivals.
Ligue 1 is a mixture of styles varying from French and African to South American players, which creates a physical and athletic brand of football.
This style contributes to an entertaining style of play, one that also requires tactical intelligence. With PSG now looking to become a European power, they will first have to conquer their own difficult domestic league.
If the capital club should be successful and can learn how to dominate both Ligue 1 and continental competition, they will have succeeded where others such as Lyon in the early 2000s failed.
Ligue 1 is a hard competition to master, given its competitive nature. If PSG can gain a stranglehold on it, then French domestic football's product will be better demonstrated to the rest of Europe.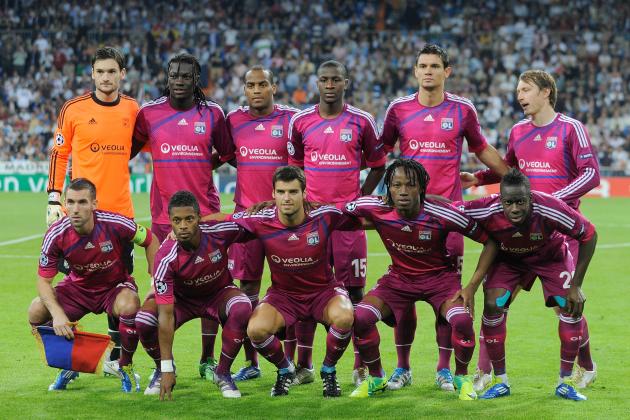 Denis Doyle/Getty Images
Lyon have recently been France's best representation in Europe. Is that about to change?
In the past two seasons, Ligue 1 has grown massively and has started to catch up to its European rivals. Although it is still some way from being on the same level as the EPL, La Liga or the Bundesliga, French football is still in the process of reshaping itself.
The competition from upcoming leagues such as Portugal and the fantastic development of the Bundesliga have put pressure on France, particularly in European competition, to raise its game.
That means that in the coming years, Ligue 1 will continue to go from strength to strength and will be a league to watch in terms of progress.
Particularly in Europe now, where the emphasis has to lie.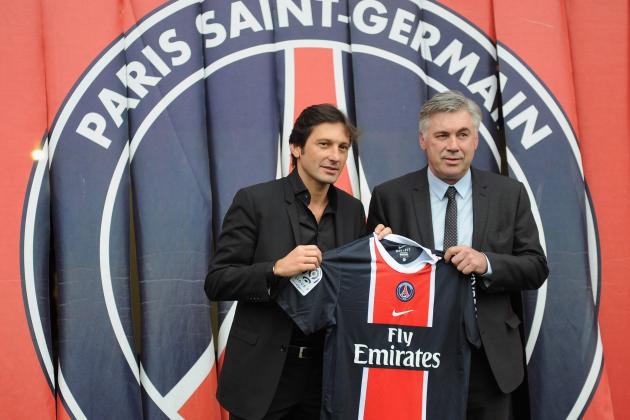 Antoine Antoniol/Getty Images
Leonardo, Carlo Ancelotti and Co. are now carrying the weight of expectation for Ligue 1.
This is where PSG come in. The arrival of the Qatari millions in the capital is exactly what Ligue 1 needed.
Since Lyon's domestic hegemony ended in 2009, French football has been without a truly dominant force. Although it will take PSG time to establish this domination on the league—and in some ways it is not to Ligue 1's benefit—an ultimately healthy capital club will help to create a prosperous league.
Only with domestic domination will Carlo Ancelotti's men be recognised as France's most important club.
So to a degree, Ligue 1 needs PSG to be successful. With that dominance though comes attention and respect, which the club will have to earn on the pitch as well as off it, most notably in Europe.