Playing Fact or Fiction with Each New Orleans Hornets Player as a Building Block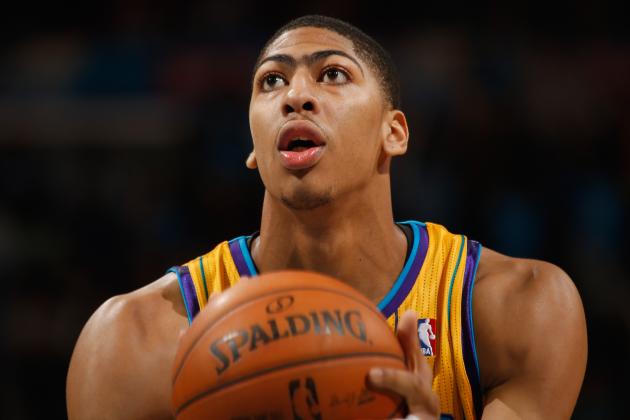 Chris Graythen/Getty Images

The New Orleans Hornets are a nice collection of young talent, but which ones are worth hanging onto and which ones are just roster filler? With the team a long shot to make the playoffs this season, the focus must turn to trimming the fat and building around a core of potential stars.
The Hornets got off to a slow start, going 6-23 in their first 29 games. On Dec. 29, the team welcomed back star shooting guard Eric Gordon from a knee injury and, since then, have gone 7-3 (as of Jan. 17). The team is 6-3 so far in January, with four of those wins coming against last year's playoff teams (Dallas, San Antonio, Philadelphia and Boston, with all but the Spurs victory coming on the road).
Even with the hot start to 2013, the Hornets still find themselves 7.5 games behind Houston for the Western Conference's eighth seed. New Orleans' recent play is inspiring and it gives fans hope going forward, but it might be too late. The team must continue to grow and get a better understanding of what needs to be addressed this offseason.
To help get a better grasp of the team's needs, we're going to play fact or fiction with each member of the Hornets roster. The statement at hand is "(Insert Name Here) is someone the Hornets should build around."
If the statement applied to the player is a fact, that means he is someone worth keeping going forward. If it's fiction, it means the player is a glorified seat-filler and can easily be replaced.
Let's take a closer look at the 13-26 New Orleans Hornets.
Begin Slideshow

»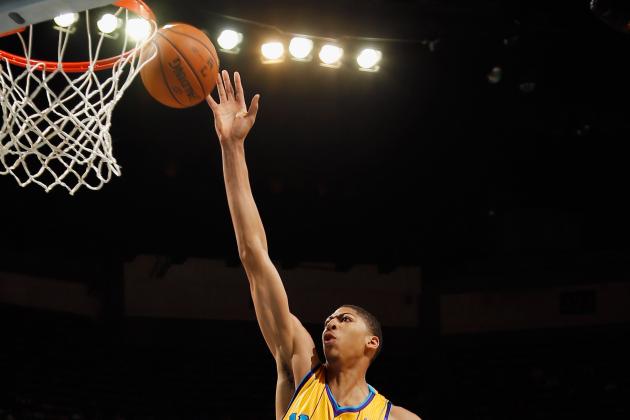 Chris Graythen/Getty Images

No. 1 overall pick Anthony Davis has had his moments of brilliance during his rookie season. He leads all Hornets in rebounds per game, averaging 7.8 boards per night. He has 46 blocks in 26 games and his scoring is coming along as well. Davis is averaging 12.9 points per game, while shooting a little over 50 percent from the field.
Davis' designation as one of the team's building blocks is indisputable. With his freakish wingspan and the rare combination of quickness, athleticism and uncanny ball-handling skills, Davis is the kind of rare talent that teams dream of making the face of their franchise.
The keys for Davis going forward will be staying healthy and progressing offensively. Davis has missed a few games this season, first with a concussion and then with a foot injury. Davis has had some good scoring nights, like his 25-point performance on Dec. 28 against Toronto, but needs to become more consistent on offense.
It will also help Davis' future if he can add some bulk to his rail-thin frame. It will keep him from getting bullied inside by the league's stronger interior presences as well as make him less susceptible to the pounding of playing in the paint for an 82-game season.
For now, Davis has a lot going in his favor. He's on a team that will only get better over the years and he's developing a nice mid-range game to make him more versatile. His ability to take defenders off the dribble is also a nice wrinkle that you don't normally see from NBA big men.
The Hornets aren't far away from being a playoff contender and Anthony Davis is one of the big reasons why.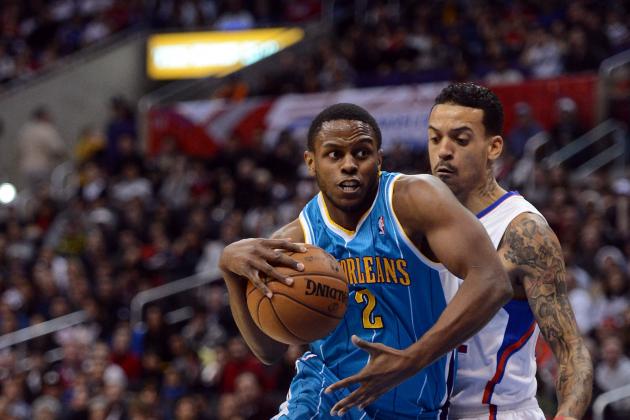 Harry How/Getty Images

Given how thin the Hornets are at small forward, rookie Darius Miller's inability to break out is a bit disappointing. The second-round pick out of Kentucky is averaging just two points per game, while logging just over 13 minutes per night.
With starter Al-Farouq Aminu having a hot January, Miller's future with the team looks uncertain. Could he develop into a decent backup for Aminu? Sure, but the team could probably find someone in free agency or the draft that could contribute more than Miller has.
Miller left Kentucky with a reputation for being a solid role player. He was decent in various aspects of his game, but he wasn't particularly good in any one area. This season, Miller's shooting 35 percent from the field and 33 percent from the three-point line. Those are modest numbers, but they are easily replaceable.
With the Hornets likely picking in the lottery again this summer, New Orleans will probably give Miller's minutes to someone with a bit more promise. UCLA's Shabazz Muhammad or Kansas' Ben McLemore could fill the team's need for an athletic, scoring wing.
Given Miller's lack of production and playing time, it appears his days in the Big Easy are numbered.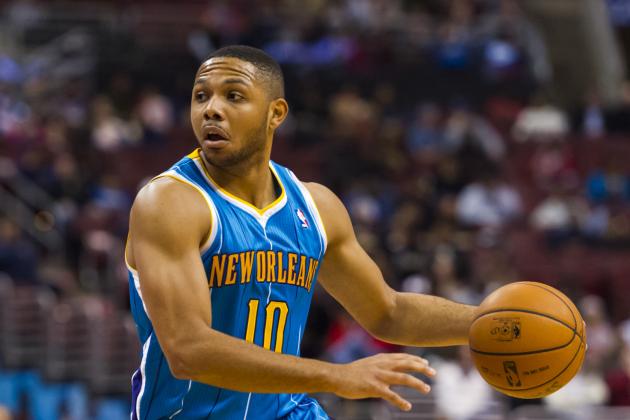 USA TODAY Sports

It's hard to ignore the change in the Hornets' play since Eric Gordon returned from a knee injury that sidelined him for the better part of 2012. The team has won more games since Gordon's Dec. 29 return (seven), than they did in the two months he missed this seasons (six).
While the averages are a bit skewed from the small amount of games Gordon has played, it's worth noting that Gordon's 16.9 points per game leads all Hornets. In eight games this season, he's failed to score in double-digits just once and has scored more than 20 points twice.
An offseason flirtation with Phoenix and skepticism over the severity of Gordon's knee injury didn't help the former Clipper endear himself to Hornets fans. However, the turn for the better this team has taken since Gordon's comeback will certainly help fans warm to the idea of having their franchise guard around a few more years.
When healthy, Gordon is one of the best guards in basketball. He's an exceptional scorer, who is as adept at attacking the basket as he is hitting the occasional jumper. He's the best offensive weapon on the roster (with Ryan Anderson a close second) and he's integral to the team's future aspirations.
The big thing with Gordon will be staying on the court. Injuries have plagued Gordon throughout his career and have been the focal point of his short tenure in New Orleans. Since coming over in the Chris Paul trade in December of 2011, the former Indiana Hoosier has played all of 17 games in a Hornets uniform.
As proven by their turnaround this season, the team's success is contingent on Gordon staying healthy. He and Anthony Davis are the faces of this franchise and the team must continue to build a strong foundation around them.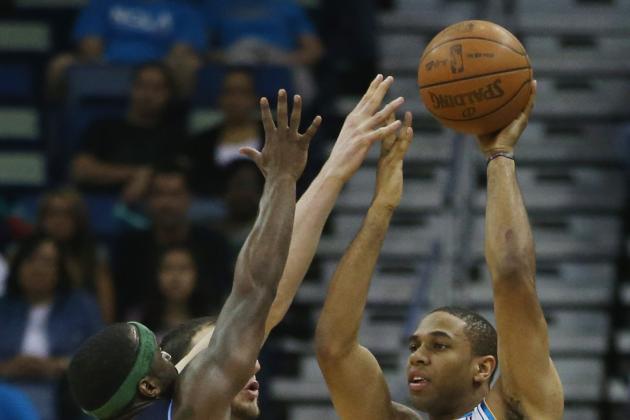 Chris Graythen/Getty Images

Much like Darius Miller, Xavier Henry failed to take advantage of New Orleans' need at small forward. Even with current starter Al-Farouq Aminu struggling during November and December, the Hornets felt more confident with converted power forward Lance Thomas starting at the three than either Miller or Henry.
That doesn't bode well for Henry's future prospects with the team. The former Jayhawk is actually averaging less playing time than Miller, logging 12.5 minutes per game. He's been more productive than Miller, but he's still only averaging a little over four points per game.
Henry's inability to live up to his potential as a lottery pick in Memphis is what led the Grizzlies to give up on him a couple years ago. The Hornets should follow suit. If Henry couldn't capitalize on Aminu's struggles early in the season, he's really out of luck now that Aminu has started to heat up.
The problem with Henry isn't a lack of talent, but a lack of aggressiveness. He's shooting 43 percent from the field and 57 percent from behind the arc, but is only averaging four field goal attempts per game. On a team in need of scorers like the Hornets are, it wouldn't hurt Henry to get more involved offensively.
Small forward is an area the Hornets are sure to address in the offseason. Aminu's a free agent at the end of the season and the team has the cap room to keep him, provided he doesn't price himself out of the market.
As for Henry, he's in the same boat as Miller. The Hornets' high draft selection in June will likely give them a player that is far superior to Henry and Miller, rendering both men unnecessary.
Henry could still take another shot at rejuvenating his career elsewhere, but the numbers suggest he won't be very productive wherever he lands.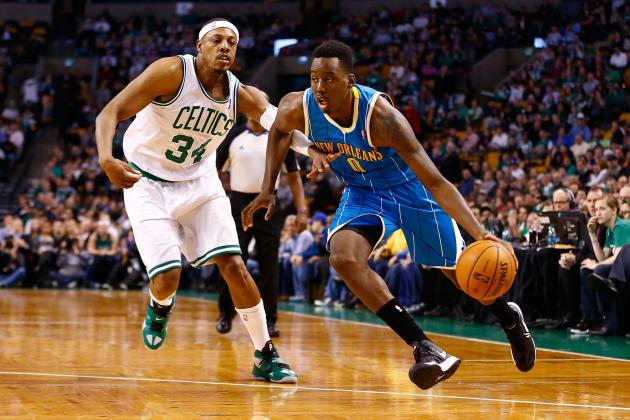 Jared Wickerham/Getty Images

Truth be told, I've been back and forth with my evaluation of Al-Farouq Aminu this season. I thought this would be his breakout season after finishing strong last year. Instead, Aminu got off to a bad start and lost his starting job to Lance Thomas.
The second half of Aminu's December left much to be desired. After playing 25 minutes in a Dec. 14 showdown with Minnesota, Aminu played longer than four minutes just once the rest of the month. During that span, he scored a total of six points.
The new year has transformed Aminu into a different player. While still needing to make strides offensively, Aminu has carved his niche as an excellent rebounder. The former Wake Forest star had a five-game streak in January where he recorded double-digits in rebounds.
Even after the streak snapped against Philadelphia on Jan. 15, Aminu has barely missed the double-digit mark. He grabbed eight boards against the Sixers and followed that up the next night by recording nine rebounds in an upset win over the Boston Celtics.
There are still reasons to be skeptical over Aminu's future contributions to the team. A couple weeks of solid performances doesn't erase his dreadful first two months of the season.
Aminu's a free agent at the end of the season. He could be brought back at the right price, but the team would be wise to bring in some legit competition to keep Aminu motivated. Using a draft pick on a small forward like UCLA's Shabazz Mohammad might be a nice safeguard in the event Aminu's struggles aren't behind him.
The best case scenario for New Orleans is that Aminu builds off of this recent hot streak and becomes a bonafide starter at small forward, shoring up their weakest position. At worst, Aminu becomes a solid defender and rebounder off the bench and the team could dangle him as trade bait.
The future depends on which Aminu decides to show up.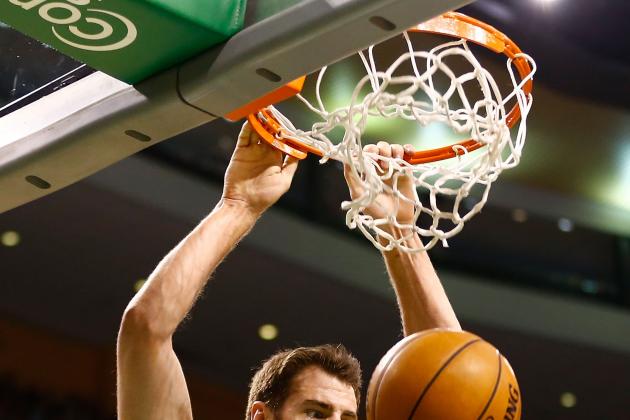 Jared Wickerham/Getty Images

Jason Smith is a serviceable backup center, but he doesn't excel in any one area to warrant the team not looking for potential replacements. Smith is signed until next summer at a reasonable $2.5 million a year. He has had a couple of nice games this season, with the most obvious example being his double-double against Houston on Jan. 9.
Still, the team would be better served finding a backup center who is a more productive rebounder than Smith has been this season. Smith is averaging 3.7 rebounds per game, despite getting a healthy share of minutes (17.6 a game) as Robin Lopez's backup.
His 10-rebound performance in the aforementioned double-double against the Rockets is the big man's only double-digit rebounding performance this season. While the team can certainly do worse at backup center, they can clearly do much better.
Smith has a nice mid-range jumper and he's a decent shot blocker, but that's pretty much the only positive. You can find seven-footers who can hit the occasional 15-footer and swat a shot here and there almost anywhere.
The team should draft a small forward with their first pick in June and then try to find a center they can develop in Round 2. Smith has been an adequate backup, but it wouldn't be that hard for New Orleans to find someone with a little more potential who could make the same contributions.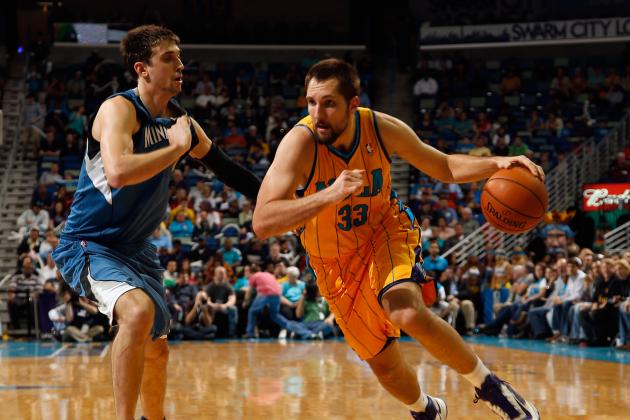 Chris Graythen/Getty Images

Ryan Anderson has earned his paycheck this season by putting the team on his back while Eric Gordon was nursing a knee injury. Anderson led the team in scoring before Gordon's return. Even with their franchise guard back, Anderson barely trails Gordon in scoring (16.6 points per game, compared to Gordon's 16.9).
After leading the category last season, Anderson is once again atop the leader board in three-point attempts with 296. The next-best shooter, Portland's Nicolas Batum, trails Anderson by 24 attempts (stats as of Jan. 17). Anderson's excellent outside shooting for a big man gives the Hornets a unique weapon on offense.
The biggest questions regarding Anderson are his porous defense and the lack of a defined role on the team. Anderson doesn't have the quickness to be a true small forward, but the Hornets' power forward spot is currently held by rookie Anthony Davis.
With the emergence of Robin Lopez as the team's starting center, Anderson can't even fall back on the hope that Davis could eventually bulk up and become the team's franchise center. At best, Anderson is a scoring option off the bench that could occasionally see time on the floor with Davis and Lopez in a big lineup.
Anderson needs to work on being a better defender, so he can become a more complete player. For a big man, Anderson isn't much of a factor blocking shots and he doesn't impose fear into opposing scorers whether he's defending on the perimeter or in the paint.
With so much emphasis on protecting the rim in a league filled with athletic wings who love to attack the basket, Anderson would benefit from making strides defensively.
For now, he's an All-Star caliber forward who can shoot, rebound and play numerous positions. He has a decent contract (four years at roughly $8.5 million a year), even for a glorified sixth man. He gives the team a huge boost offensively and he's proven he can carry the team when injuries ravage the lineup.
All in all, he's a nice young piece to have on the roster.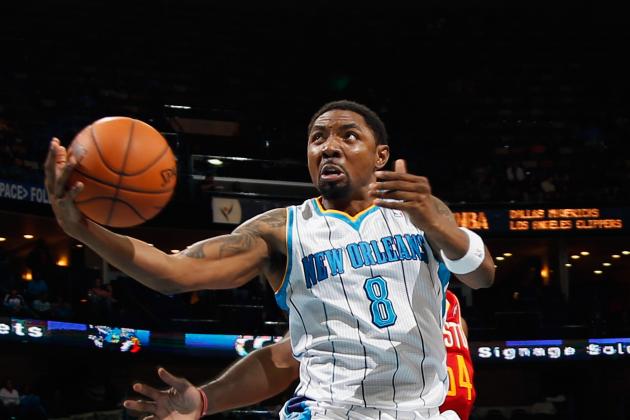 Chris Graythen/Getty Images

On the surface, Roger Mason Jr. is a proven shooter who brings a veteran presence to a young Hornets team. Beyond this season, however, there really isn't much of a reason to keep the 32-year-old around.
Mason's best contributions this season have come off the bench, including a 17-point performance in a win over the Houston Rockets on Jan. 9. He's shooting 44 percent from the field and 41 percent from beyond the arc. He's even made a few spot starts at shooting guard while Eric Gordon was out and Austin Rivers was struggling.
That being said, the Hornets' backcourt is pretty set. Gordon and point guard Greivis Vasquez are the team's starting guards for the foreseeable future, with Rivers as the third guard off the bench. Rookie Brian Roberts might have a chance at sticking around as the Vasquez's backup.
That leaves Mason as the odd man out. The only area Mason provides any production in is shooting and the team already has a plethora of marksmen. Even if Roberts isn't the guy leading the second unit, the team would be wise to go with someone younger than Mason at backup point guard.
Mason has been a nice insurance policy for the oft-injured Gordon and he can still contribute as a scorer or mentor for Rivers, but it's hard to see him in the team's future plans.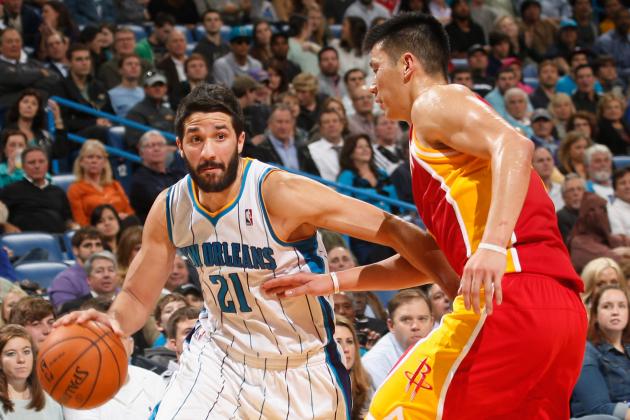 Chris Graythen/Getty Images

When Chris Paul was traded to Los Angeles, the question became who would fill his void as the team's starting point guard?
That question has been answered emphatically by third-year guard Greivis Vasquez. Vasquez has been one of the NBA's biggest surprises, emerging from the end of New Orleans' bench to the third-leading assist man in the league.
Vasquez's great size for a point guard (6'6") combined with his court vision and abilities as a scorer has made him the total package for the Hornets. He nabbed Western Conference Player of the Week honors in late December and he's been on a tear in January.
Midway through the first month of the year, Vasquez is averaging 16.8 points, 8.6 assists and 5.2 rebounds a night in nine January games. For the season, the University of Maryland product is averaging 14 points, nine assists and 4.6 rebounds a game.
Those are solid numbers for a guy some thought was only holding the seat warm for rookie Austin Rivers. Vasquez's breakout season allows Rivers to stay at his natural shooting guard position and gives the Hornets stability at point guard. At 26-years old, Vasquez is also a young guy the team can build around.
The team no longer has to find a suitable replacement for CP3. That person was already on the roster. With the seasons had by Vasquez and Robin Lopez, two of New Orleans' biggest needs have been addressed in-house. That will make things a little easier for the team this offseason.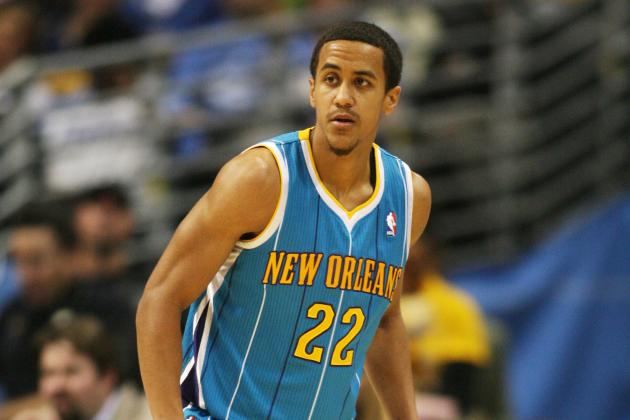 Chris Humphreys-USA TODAY Sports

After inspired performances in the Summer League and preseason, Brian Roberts' regular season exploits have been rather ho-hum. He's averaging a decent 6.6 points per game and was playing about 14.5 minutes a night before suffering a left ankle sprain against Boston on Jan. 16.
He's a decent backup and there's a chance he can stick around as Greivis Vasquez's caddy. Roberts has proven that he can be productive when he gets a fair share of playing time. In ten games where Roberts has played at least 20 minutes, he's scored in double-digits nine times.
So, why is Roberts in the "fiction" section, you ask?
The main reason is because it's hard to see where he fits in the team's guard rotation. Roberts' best games have come with increased minutes. How is he going to get increased minutes in a backcourt that already has Vasquez, Eric Gordon and Austin Rivers on the roster?
For Roberts to get the amount of PT needed to produce, the team will have to cut someone's minutes. Gordon is the franchise's best player, so cutting his minutes is out of the question (even if it might benefit his health). Vasquez leads all Hornets with an average of 34.5 minutes per game, but he's been far too productive to consider playing him less.
The team could pair Roberts with Rivers in the second unit and just scrap the idea of the Duke rookie becoming a point guard. Still, if Roberts is at his best playing 20 minutes per game, that means Vasquez is only playing about 28 minutes per game. That's going to be a tough sell for Hornets fans.
Roberts has a cheap team option for next season at $788,000. It's worth picking up mainly because of the price and the reasonable production that comes with it. Beyond next season, however, Roberts would be better served playing for a team that will give him more playing time.
The Hornets would also be better off finding a backup point guard who doesn't need a high volume of minutes to put up modest numbers. Brian Roberts is a promising, young point guard, but he's going to have a tough time breaking out on this roster.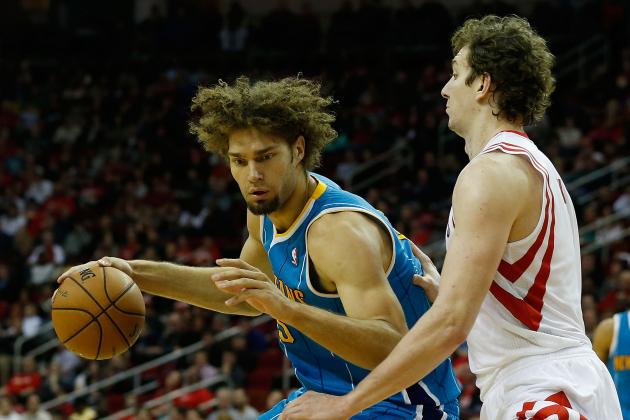 Scott Halleran/Getty Images

Robin Lopez was brought in to crash the boards, provide solid defense and keep Anthony Davis at his natural power forward spot. So far, he's done all of that and then some. The Hornets didn't give up much for Lopez, but what they got in return was their answer to their needs at center.
Lopez is posting career-highs in points (11.8 per game), rebounds (5.7 per game) and blocked shots (team-leading 1.8 per game). His progress as a scorer gives the Hornets an option inside as well as the team's first real productive center since Tyson Chandler left.
Making matters better for New Orleans, Lopez has a team option for the next two seasons at a reasonable $5 million a year. The team should reward Lopez for his career year with a raise and long-term extension, but it helps that they have their starting center under their control for at least two more years.
Lopez's presence has turned a need into a strength. His success gives the team three productive interior players, along with Davis and Ryan Anderson. The biggest positive about Lopez's emergence is that it keeps Davis from getting pounded by playing center before he's ready.
With Lopez now in the fold, the team has two excellent, young shot blockers inside. The key for the former Stanford big man is to improve on his rebounding numbers while continuing to progress offensively.
New Orleans made one of the year's biggest steals in trading for Lopez. He and Greivis Vasquez are clear examples of the benefits of giving young guys an opportunity to show what they can do. Those kind of savvy moves are what helps build a successful franchise.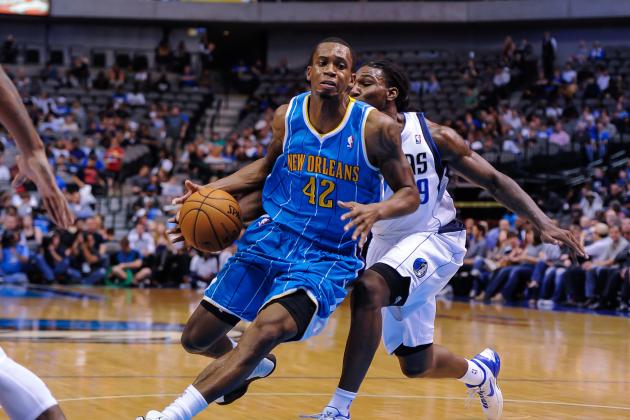 Jerome Miron-USA TODAY Sports

There's a lot to like about forward Lance Thomas. He plays with great energy and he hustles every second that he's on the court. He has the kind of intangibles that you can't teach and you wish more young players had.
If only he was a couple inches taller. For all of Thomas' heart, there's no escaping the fact he's a bit undersized for his natural power forward position. The Hornets have tried to remake Thomas into a small forward, but he isn't gifted enough offensively to make that transition work.
With Ryan Anderson and Jason Smith already on the roster to go along with Robin Lopez and Anthony Davis, Thomas' chances of being a viable power forward for the New Orleans Hornets are pretty slim. The playing time isn't available and the production by Thomas just isn't there.
Thomas has scored in the double-digits just once this season. That's despite making nine starts this year. That big scoring performance came on Dec. 3 against Milwaukee and it was a 10-point outing.
With so many talented big men on the roster, there's no place for Thomas on the team. He's not a true small forward and he doesn't bring enough to the table to justify trying to make the experiment work.
The Hornets need help at small forward, but Thomas isn't the answer. The team has an option on him for next season, but they'd be wise to let him walk and use the roster spot on someone who can fill other needs.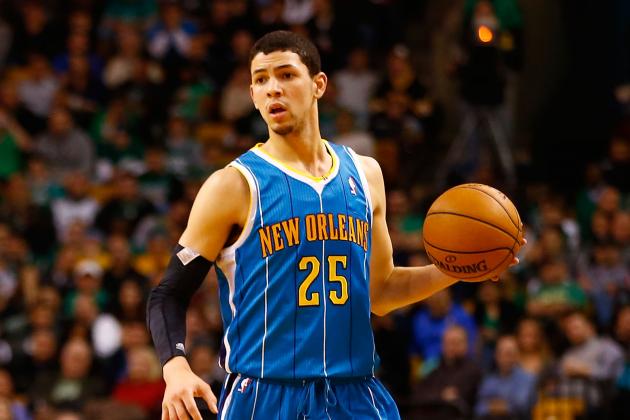 Jared Wickerham/Getty Images

The emergence of Greivis Vasquez allowed the Hornets to dodge a bullet by not forcing the Austin Rivers point guard experiment. Rivers has had enough struggles being productive at his natural shooting guard position.
Despite Eric Gordon missing the first 29 games of the season, Rivers couldn't take advantage of the uptick in playing time. The result was veteran Roger Mason Jr. taking over the starting two-guard spot. Rivers eventually took the job back, but Gordon's return relegates Rivers back to bench duty.
For the season, Rivers is averaging just 6.4 points per game, while shooting 33 percent from the field and behind the arc. Those are modest numbers, but probably not what some had hoped from a kid who often displayed a knack for scoring in his lone season with the Blue Devils.
With that said, it's too early to give up on the No. 10 overall pick. Rivers has had his moments this season, including a 27-point performance on Dec. 14 against Minnesota. Those flashes have been few and far between, but they are reasons for hope.
With Gordon back, there's less pressure on Rivers to carry the offense. Gordon's return also gives Rivers someone to model his game after as well as a veteran to help mentor him. At only 20 years old, there's still time for Rivers to develop into a solid guard off the bench.
Once he develops a comfort zone, the team can pair him with Gordon in the backcourt to give New Orleans a nice one-two punch offensively. The key is Rivers becoming more like the kid who lit up Minnesota and less like the kid who has scored only 18 points in all of January.
Hopefully, the time spent under Gordon's wing helps and Rivers becomes the offensive spark he was drafted to be.