Chicago Bulls vs. Boston Celtics: Postgame Grades and Analysis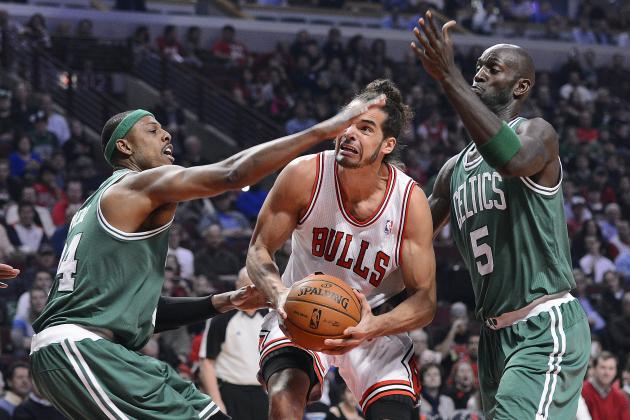 Mike DiNovo-USA TODAY Sports

The Chicago Bulls traveled to TD Garden to face the Boston Celtics on Friday night, and they didn't disappoint. It was a marquee matchup on ESPN featuring physical, gritty play, and it was only fitting that they needed overtime to decide it.
Ultimately, the Bulls came away with a thrilling, hard-fought victory, 100-99.
Carlos Boozer powered the Bulls with yet another huge double-double (19 points and 20 rebounds), and Rip Hamilton led the team in scoring with 20. Rajon Rondo was the star of the night with 30 points, but he also fouled out late in OT.
Some players who had struggled turned into potential heroes with late buckets. Kirk Hinrich tied it at the end of regulation. Jason Terry gave the Celtics the lead with only 12 seconds left in overtime. And Marco Belinelli snatched victory from the jaws of defeat with a game-winning circus shot.
It was a huge victory for Chicago, especially considering they lost Luol Deng in the third quarter to a strained hamstring. Overall, the Bulls committed way, way too many turnovers (21), especially in the early going (eight in the first nine minutes), but they still led for almost the entire game.
Surprisingly, Boston excelled at scoring in the paint and on the fast break, but they were outshot by the Bulls 48.0 percent to 41.8, which made all the difference. Rebounding and free throws were about even, and that's why this game was so close.
Still, after Kevin Garnett woke up from his slumber in the fourth quarter, and behind Rajon Rondo's stellar play, Boston finally tied the game at 74 with seven minutes remaining in the fourth, and it was a slugfest from there until the final buzzer.
Chicago came into the game in fourth place in the East with a 22-15 record. They are just 11-10 at home, but have an 11-5 record on the road, the best in the conference. In fact, over the last two seasons, the Bulls are 35-14 on the road, the best mark in the NBA (per Elias, via ESPN Stats & Info on Twitter).
Their offense has declined from last season due to the absence of Derrick Rose (knee surgery), but their defense has remained stout. They allow 91.7 points per game, with only the Indiana Pacers and Memphis Grizzlies allowing fewer points.
Also, Rose is getting closer to returning with each passing day, and he could make Chicago the favorites in the East (that's right, I said it).
Bulls coach Tom Thibodeau used to be an assistant with the Celtics under current coach Doc Rivers, and Rivers credits his former colleague with Chicago's current success, despite playing without their former MVP point guard (per Marc D'Amico of Celtics.com).
It's obvious that Rivers has tremendous respect for Thibodeau, but his C's are no slouches. After taking the Miami Heat to a Game 7 in last year's conference finals, Boston stumbled to begin this season. They were just 14-17 on January 3.
But they rattled off six straight victories after that, before falling to the New Orleans Hornets on January 16. They find themselves tied for seventh place in the East and have battled back into the playoff picture.
Now, let's put on our school teacher's cardigan and give our grades for each player.
Begin Slideshow

»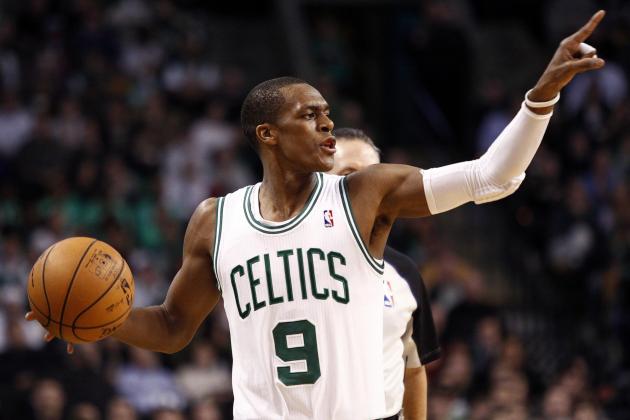 Mark L. Baer-USA TODAY Sports

Rajon Rondo, Celtics: A

Rondo was typical Rondo, powering the Celtics through a poor shooting first half. Through 24 minutes, Rondo had 12 points on 6-of-10 shooting to go with four dimes, but he also committed three turnovers.
And he wasn't done there. While he didn't post the gaudy assist totals that we're used to seeing from him (he finished with seven), he scored very efficiently from the floor and cut through Chicago's defense like butter on numerous occasions.
Rondo posted 30 points on 12-of-21 shooting, which was his season-high scoring total. He also stole the inbound pass coming out of a timeout in the final 90 seconds of regulation and then gave Boston a two-point lead with a jumper in the final minute.
He was whistled for a loose-ball foul with 1:16 remaining in overtime and fouled out for the first time this season. He also did a face-plant into Jimmy Butler's knee on the foul, which added to the sting of the disqualification.
If it weren't for Rondo and the potent rebounding of Jared Sullinger off the bench, Boston might have lost this one by 20 points.
Kirk Hinrich, Bulls: C+

Hinrich committed three turnovers in the early going, but he settled down after that. Tom Thibodeau has been giving Hinrich the starts at point guard over the more erratic Nate Robinson (though Robinson has turned the ball over just four times in the month of January so far).
Hinrich's contributions often cannot be gleaned from the stat sheet because he offers so many intangibles. He typically plays with a very high basketball IQ, but he made some boneheaded moves in this game.
He committed his fourth foul with over two minutes left in the third quarter, which demanded more playing time off the bench from Nate Robinson.
That being said, Hinrich found the ball bouncing to him in the final seconds of regulation and drained a game-tying jump shot. It was only his third field goal of the night, but it was a huge one. He finished with eight points and five dimes.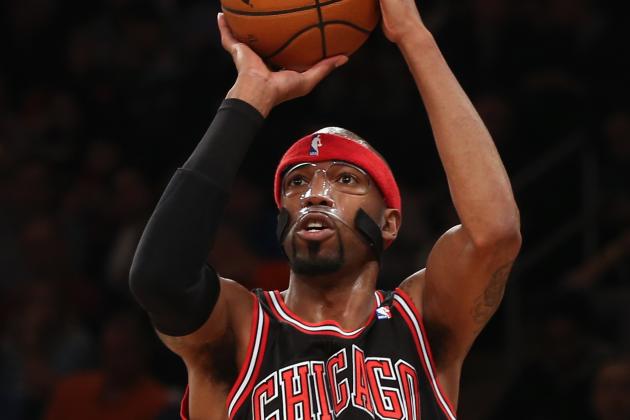 Bruce Bennett/Getty Images

Richard Hamilton, Bulls: B+

Hamilton combined with Carlos Boozer to score all of Chicago's first 15 points through the first six minutes, giving them an early 15-7 lead.
And it didn't stop there. Hamilton poured in the points and also got to the line. He even drained a couple of long jumpers with good defense in his face. It was a real treat to watch the 13-year veteran play like a youngster.
While he did produce on the offensive end, he also committed seven turnovers, including a couple of utterly careless passes to surprised-looking teammates. But he more than made up for that with his scoring.
Hamilton finished with a team-high 20 points on the night.
Leandro Barbosa, Celtics: C-

Barbosa got the start because Avery Bradley was ailing with a rib injury, but he picked up two fouls in the first four minutes and gave way to Courtney Lee. Lee remained in the game and led Boston in scoring through the first 14 minutes.
Barbosa came back in during the second quarter, but he was unable to score a point in the first half, though he did notch an assist, a steal and a block. Barbosa finished with five points and three rebounds in just under 15 minutes.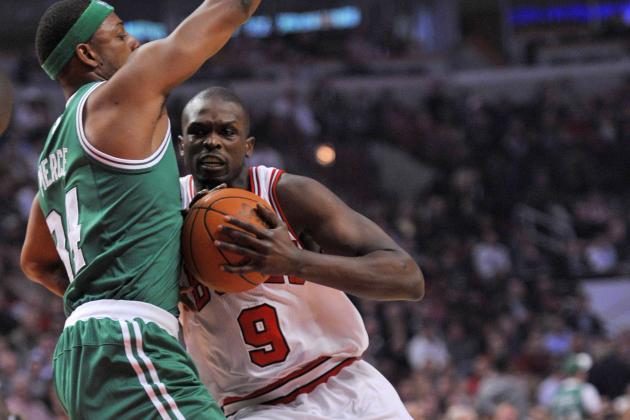 Rob Grabowski-USA TODAY Sports

Luol Deng, Bulls: C+

Deng actually led the Bulls in assists in the first half with three, but he also committed three turnovers and had just three points in that span.
Nevertheless, Deng did a nice job on defense and was a big reason for Pierce's struggles.
Unfortunately for the Bulls, Deng limped off late in the third quarter after straining his right hamstring. He headed for the locker room and was pronounced questionable to return, though he did not come back to the court.
His hamstring had already been barking at him before the game, and that should be no surprise. He is currently leading the NBA in minutes played and is also a consensus All-Star reserve. We'll have to keep an eye on the injury going forward.
Paul Pierce, Celtics: C

Pierce struggled to start the game, shooting just 2-of-9 in the first half, including a couple of ugly line drives from downtown.
Unsurprisingly, The Truth just kept shooting, though without much success. Through three quarters, he was 3-of-12 from the field for just seven points, along with four boards, a steal and two turnovers.
Of course, he made a couple of key buckets in the fourth quarter and overtime, finishing with 13 points on 5-of-17 shooting with three turnovers, but it wasn't a strong night overall from Pierce.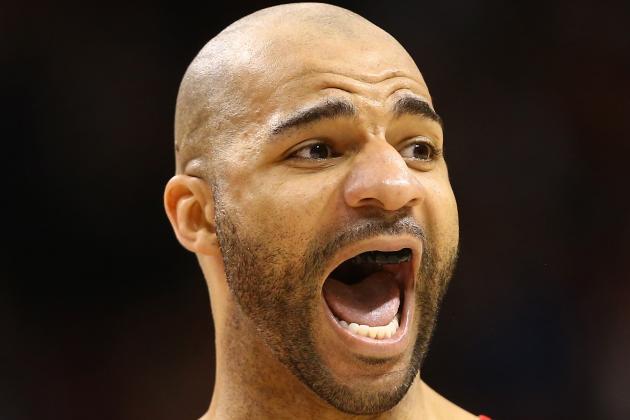 Tom Szczerbowski-USA TODAY Sport

Carlos Boozer, Bulls: A

Boozer started strong by hitting his first three shots, and he outscored the entire Boston Celtics team 6-4 through the first three minutes.
He continued his strong play throughout the first half, leading the Bulls with 13 points on 6-of-10 shooting and snatching nine boards, including three on the offensive glass.
He finished with huge numbers to the tune of 19 points and 20 rebounds (six offensive). The only knock on his game had to be the missed free throw when Chicago was down by two with just 22 ticks remaining on the clock.
It's hard to believe fans were calling for the team to amnesty him last year. Boozer has excelled all season long and has been playing All-Star-caliber basketball (certainly better than All-Star frontcourt starter Kevin Garnett).
Brandon Bass, Celtics: B-

Bass quietly had six points on 2-of-3 shooting in the first half and also played solid defense, getting two steals and a block.
He combined with Sullinger and Garnett to play decent defense against the extremely talented frontcourt of the Bulls, and he was efficient on offense.
Bass finished up with 10 points (on 4-of-6 shooting), two boards, two steals and a block, but he also committed two turnovers.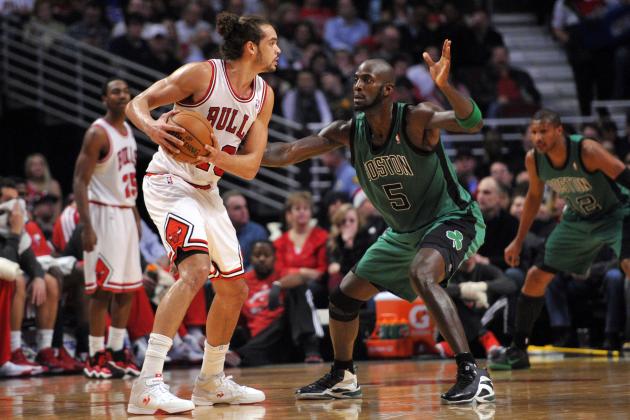 USA TODAY Sports

Joakim Noah, Bulls: B+

Noah was blanketed on the interior for much of the first half, but he still notched six points and six boards. He also drew attention away from Boozer who made the most of his opportunities.
With most of the noise coming from Boozer and Hamilton, Noah quietly had a double-double after three quarters. He finished the game with 14 points, 13 rebounds, two steals and a block. Noah also had four assists, including a couple of pretty passes for key buckets down the stretch.
His biggest play of the night, however, was probably the jump ball he forced on a Celtics inbound play. The Bulls trailed by two points with only nine seconds remaining. It led to Hinrich's jumper which sent the game to overtime.
Kevin Garnett, Celtics: B-

Garnett did not exactly look spry in the first half, shooting just 1-of-5 for three points in his 13 minutes. The Eastern Conference's starting All-Star center also managed only one rebound.
But KG got it going in the fourth quarter, scoring four points in the first two minutes of the final frame, surpassing his total from the first three quarters in those 120 seconds.
Garnett finished with 16 points on 5-of-16 shooting, as well as seven rebounds and a block, but it wasn't enough to overcome Chicago's frontcourt production and the scoring of Rip Hamilton.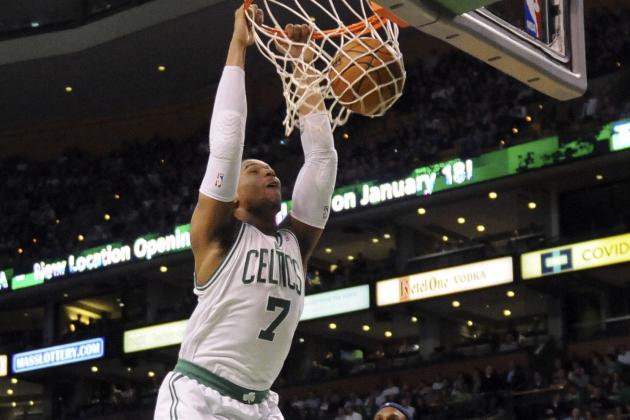 USA TODAY Sports

Jared Sullinger, Celtics: B+

Normally this spot would be reserved for Jason Terry, but he only played eight minutes in the first half and did not attempt a shot.
Sullinger, on the other hand, was a force in relief of Garnett and played big minutes. While he only had two first-half points, he dominated on the glass with seven rebounds and also added a steal.
Sullinger finished with seven points and a staggering 15 rebounds off the bench (five offensive). Rivers rode the hot hand and the C's went with a big lineup of Pierce, Garnett and Sullinger for much of the second half.
But Sullinger fouled out in the final minute of overtime, which has become his bugaboo.
Marco Belinelli, Bulls: B-

Belinelli played 14 minutes in the first half but could only eke out four points on 1-of-4 shooting. While he did contribute to Chicago's good ball movement, he wasn't much of a factor.
He finished regulation 2-of-5 shooting for only six points, but the big night from Hamilton made it hard to give Belinelli more playing time.
He also threw up a truly awful shot with fewer than 30 seconds left in overtime, and the Bulls clinging to a one-point lead. It hit the top of the backboard.
Nevertheless, he remained unfazed. With the Bulls trailing by one, Belinelli got the pass in the paint and drained a turnaround, fadeaway jumper with only three seconds left. It put the Bulls ahead 100-99 and was the game-winner, which single handedly raised his grade up by a full letter.
He finished with 10 points on 3-of-7 shooting, but no field goal was bigger than his final bucket.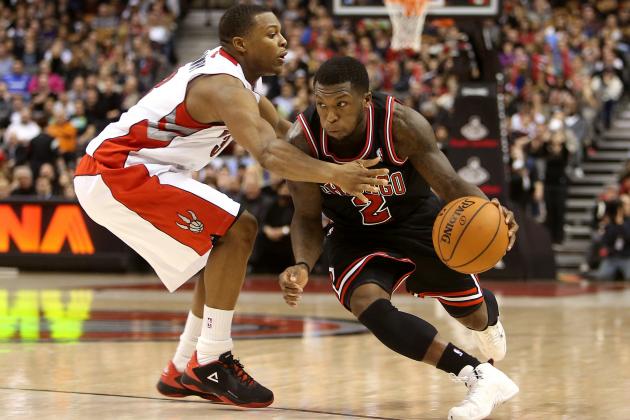 Tom Szczerbowski-USA TODAY Sport

Rest of Bench, Bulls: B

Nate Robinson played well in relief of Hinrich, avoiding turnovers and contributing seven first-half points. When Hinrich got into some foul trouble, Robinson saw a little more time in the second half.
Despite taking some ill-advised shots, "Little Nate" also drew contact and got to the line, which helped him score in double figures, finishing with 11 points and a pair of dimes.
Taj Gibson has been good of late, but he wasn't a factor in this one. He did not even attempt a shot until late in the third quarter, ending the game with two points and three boards in his 18 minutes.
Jimmy Butler hit both shots he took, which was good for five points through the first two quarters. He also found himself on the court in crunch-time. He moved well without the ball and worked his way to a double-digit scoring night.
He ended with 13 points on 4-of-5 shooting (and hit all four of his free throws) plus four rebounds, but also had two turnovers.
Rest of Bench, Celtics: B-

Courtney Lee came on after Leandro Barbosa got into foul trouble early and was actually the Celtics' second-leading scorer for much of the first half with seven points. He also pulled down five boards and had two steals through two quarters. Lee wasn't much of a factor in the second half or overtime however.
Jeff Green played 19 minutes but had just two points on 1-of-4 shooting. His name was barely even mentioned.
Jason Terry didn't even attempt a shot until the final minute of the third quarter, and he missed it. But he drained a big three-pointer in overtime to briefly give Boston the lead, and then hit a jumper to put the Celtics ahead 99-98 with just a dozen seconds left.
You wouldn't know it from the stat sheet, but Terry's five points in overtime almost delivered a victory for Boston. Mr. Clutch helped make this one an instant classic, but Bellinelli delivered a thrilling victory to the Bulls.