6 Minnesota Timberwolves Who Are Keeping Injured Team Afloat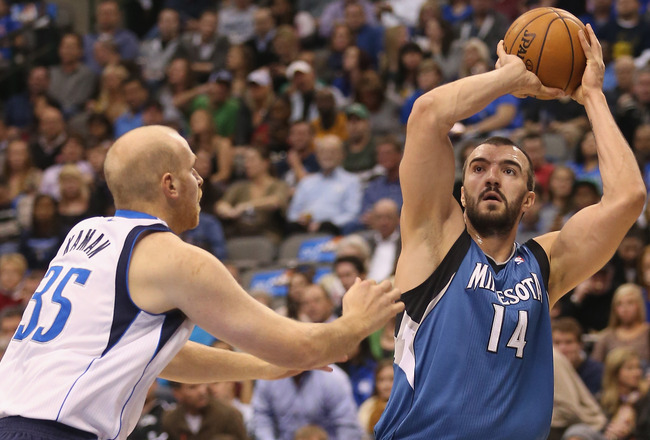 Ronald Martinez/Getty Images
With all of the players that have gone down this season, it's a wonder that the Minnesota Timberwolves are even in the position they're in.
The Timberwolves have shown tremendous resiliency despite all of the injuries they've incurred, earning a winning record before Kevin Love's second injury despite playing most of their games without Love, Ricky Rubio, Brandon Roy and Chase Budinger—just to name a few.
After Kevin Love refractured his hand, though, the team has started a rapid decline. In the last 11 games, the Wolves are 3-8, including the most recent five-game slide. Head Coach Rick Adelman has missed the last six games, of which the Wolves have won just one.
The Timberwolves have done nothing but play scrappy all season, and it's appearing that they're going to have to continue that trend if they have any desire to win games.
In the absence of players like Love and Rubio, others have had to stand out to win games. With Love again out of the lineup, it's time that we see the rest of the team start to play big again.
Note: All stats are accurate as of 1/17/13
Nikola Pekovic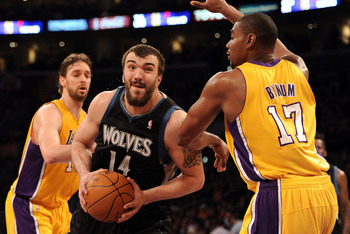 Harry How/Getty Images
After a less-than-ideal rookie season from Nikola Pekovic, people wondered if big man would ever amount to much more than a backup in the NBA.
As it turns out, Pekovic had other plans, starting in his second season, when he averaged 14 points and 7.4 rebounds per game.
This year, he's at times been a force. His 16.4 points and 8.6 rebounds per game place him among the best centers in the league.
Passing the ball to Pek in the post has been the most efficient way for the Wolves to score. With Kevin Love out for the next 6-8 weeks, Pekovic is the player who the Wolves need to rely on the most.
Note: Pekovic left the game vs. the Clippers with a quad contusion.
Andrei Kirilenko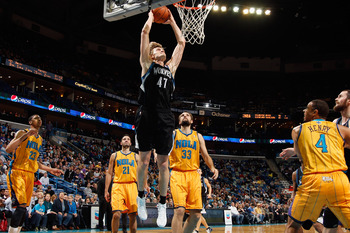 Chris Graythen/Getty Images
Andrei Kirilenko has been absolutely fantastic in his role with the Wolves.
In addition to the fact that he's a defensive monster, he averages almost 14 points per game and is third on the team with 6.1 rebounds per game. He's been a huge factor in the team winning—with or without Kevin Love on the floor.
Kirilenko has been a defensive presence over the course of his NBA career. He leads the team in both blocks and steals, and he makes the entire team better with his interior defense and ability to defend any position.
His leadership has made him a staple on the team, but his defense—and that of the entire team really—is what has won games when the Wolves can't generate offense in Love's absence. Andrei Kirilenko brings that to the table, and Minnesota is going to have to rely heavily on his defensive leadership.
Luke Ridnour/J.J. Barea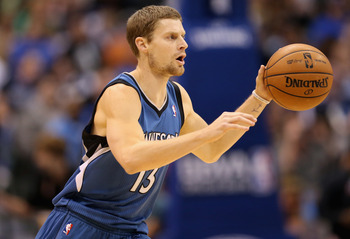 Ronald Martinez/Getty Images
Without Ricky Rubio, Chase Budinger, Brandon Roy and Malcolm Lee in the lineup for the majority of the season, the combo of J.J. Barea and Luke Ridnour has been relied upon to score, defend and keep the rest of the team involved.
Both Ridnour and Barea average 11 points and 4 assists per game. Rubio's return from a torn ACL made their jobs easier—but definitely not less important.
Head Coach Rick Adelman has always employed intriguing lineups, and having two great backup combo-guards allows for a surplus of that.
Ridnour has excelled as a combo-guard in the starting lineup, and Barea makes a great reliever for Rubio coming off the bench.
Without Kevin Love, the Timberwolves are going to be lacking in the offensive department. Until Rubio is back at 100 percent, Barea and Ridnour will be heavily relied on.
Derrick Williams
At his best, Derrick Williams is an electrifying forward who can score from anywhere on the court. He can burn you with his endless range, but he's also a freakish athlete, with the speed and power to make moves towards the basket.
Unfortunately, we don't see enough of D-Will at his best.
With Kevin Love injured, the Wolves simply can't afford to have Williams play nice. They need him to be on the attack, because he truly is a scary player when he wants to be.
He was granted the opportunity to start against the Clippers, now he just has to seize the opportunity.
Williams absolutely has the potential to be a formidable scorer, but we've got to see more of his nasty side.
Alexey Shved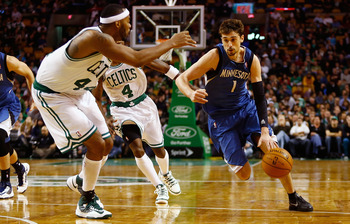 Jared Wickerham/Getty Images
Alexey Shved has been rather difficult to figure out over the course of the season.
We've seen a lethal scorer and very willing passer, but we've also seen a ball-hogging, trigger-happy side to him.
There are many observers who believe that Shved could be a terrific player in the NBA; he simply has to get his offense figured out.
It's more important now than ever that Shved can harness his talent. With Kevin Love missing games, Shved could easily become the leading scorer for the Timberwolves.
Note: Shved left the game vs. the Clippers with an apparent ankle injury.
Keep Reading

Minnesota Timberwolves: Like this team?