20 Most Overrated Players in Baseball Right Now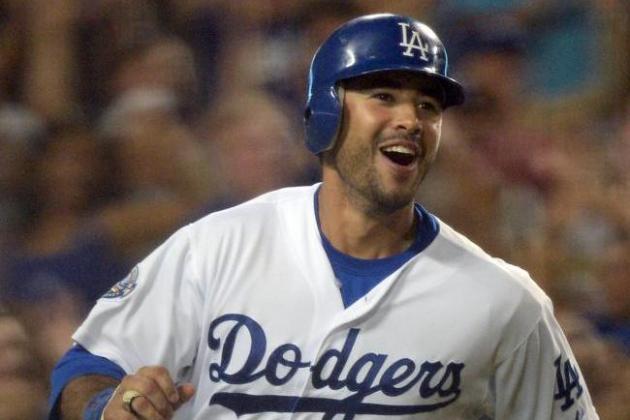 Andre Ethier shouldn't be any everyday player, yet the Los Angeles Dodgers gave him an $85 million extension. Harry How/Getty Images
MLB players who are being overrated as we approach 2013 get too much credit for team success or late-season hot streaks. Let's take a closer look at guys currently held in inappropriately high regard.
Perception is everything for these individuals. They have already received huge contracts—or will in the coming months—because fans and insiders alike believe them to be very effective.
But though surface statistics reinforce those reputations, meaningful information suggests that they won't enjoy on-field success in 2013 and beyond.
Here's the truth about Andre Ethier, Derek Jeter and 20 players who are not as great as they seem.
Begin Slideshow

»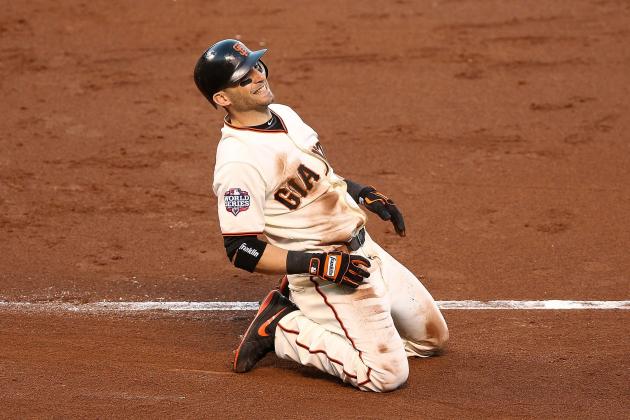 Ezra Shaw/Getty Images
Marco Scutaro.
Seldom do you see everyday players sign better contracts at age 37 than they did at age 34.
Thanks to a torrid .362/.385/.473 batting line during his stint with the San Francisco Giants, Marco Scutaro is one of those rare exceptions.
He will continue to be one of the league's finest contact hitters. Scutaro has never struck out more than 75 times in a single season.
With that said, declining range makes him an ordinary defender and his off-the-charts BABIP from this past August and September is bound to normalize.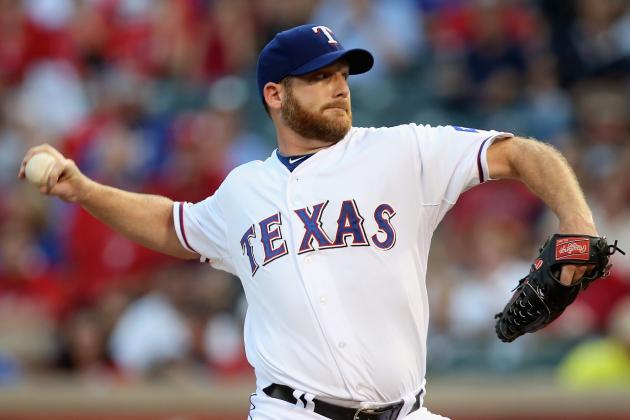 Ronald Martinez/Getty Images
Ryan Dempster.
Another graybeard who was overpaid in free agency based on a portion of his 2013 campaign.
Ryan Dempster led the National League in earned run average before a midseason trade sent him to the Texas Rangers. His only effective outings from then on came against relatively weak AL lineups.
Though Dempster's durability is certainly important, he won't find success against top competition without throwing more first-pitch strikes. Opposing batters sit on his underwhelming fastball once he falls behind in the count.
This two-year, $26.5 million investment is tough to justify.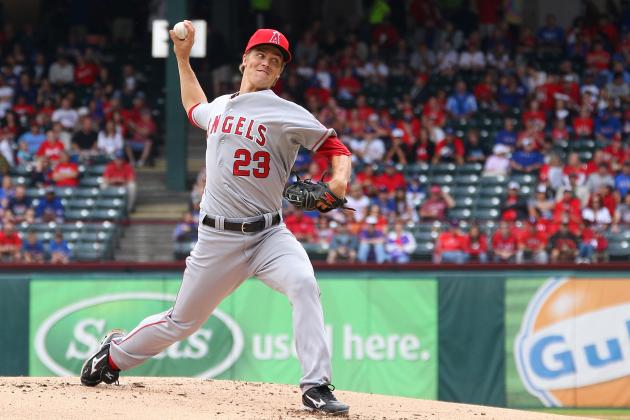 Rick Yeatts/Getty Images
Zack Greinke.
Earlier this offseason the Los Angeles Dodgers signed Zack Greinke to the richest contract a right-handed pitcher has ever received.
There's no doubt that the 29-year-old eats innings and has sufficient secondary stuff to record timely strikeouts. Unless Greinke reverts to 2009 form, however, this won't wind up being an intelligent deal.
He annually struggles on the road and has not tossed a complete game over the past two seasons. Moreover, Greinke's postseason experience is both limited and forgettable (6.48 ERA in three games started).
He'll be a steady member of the rotation for years to come, but putting him in the same class with L.A.'s Clayton Kershaw is simply incorrect.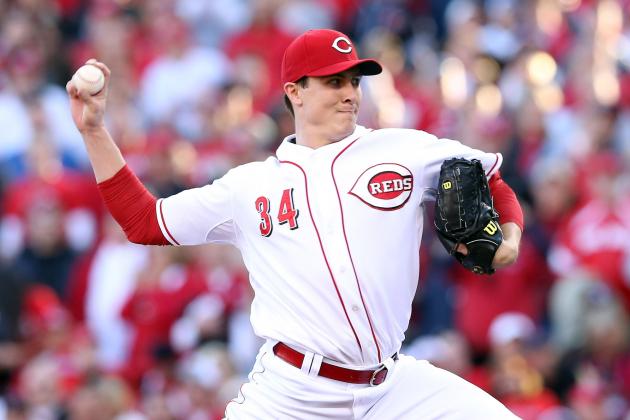 Andy Lyons/Getty Images
Homer Bailey.
Mark Sheldon of MLB.com reports that the Cincinnati Reds are eager to lock up Homer Bailey.
Not smart.
The homegrown starting pitcher utilized center fielder Drew Stubbs during his breakout season by generating a lot of fly balls. Now, the Reds have Shin-Soo Choo at that position, who lacks outstanding range.
It's worth waiting a few months to determine whether Bailey was a product of the old environment or a trustworthy No. 3 rotation option.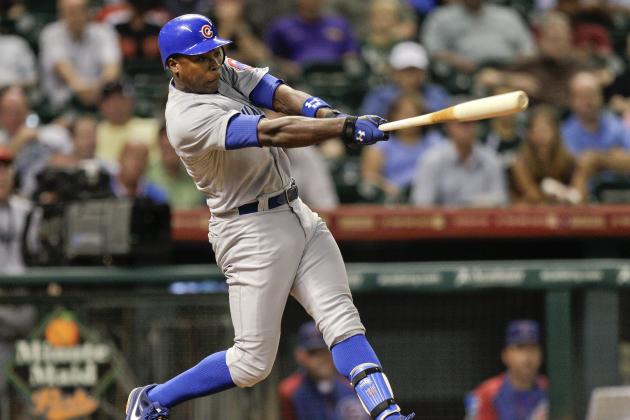 Bob Levey/Getty Images
Alfonso Soriano.
Alfonso Soriano rebounded from a miserable 2011 campaign, but he certainly doesn't belong in the heart of a contender's lineup.
The 37-year-old always has—and will continue to—struggle to reach base consistently. Soriano's upper-cut swing often leads to unproductive outs, and he's no longer a threat to steal his way into scoring position.
Let's not ignore his defensive deficiencies. Though the left fielder possesses a great arm, he judges fly balls poorly off the bat, which causes outs to turn into extra-base hits.
The Chicago Cubs reportedly want a reputable prospect in exchange.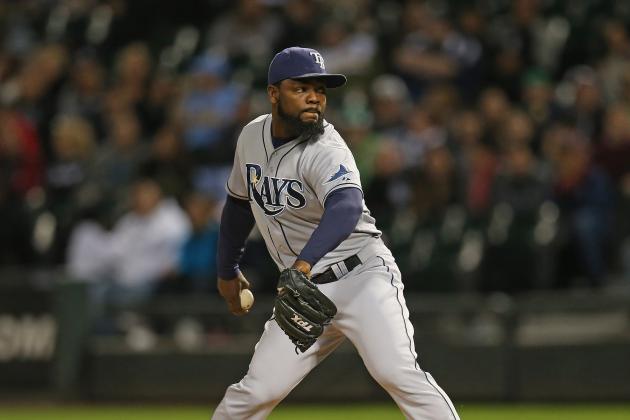 Jonathan Daniel/Getty Images
Fernando Rodney.
Fernando Rodney simply got better in his age-35 season.
The keys to his record-breaking 0.60 ERA were an improved strike percentage and nasty speed differential between his fastball and changeup.
But don't believe he'll be nearly as effective in 2013.
The Dominican veteran was extremely fortunate to surrender only two home runs while stranding about 90 percent of baserunners. Those stats are not sustainable.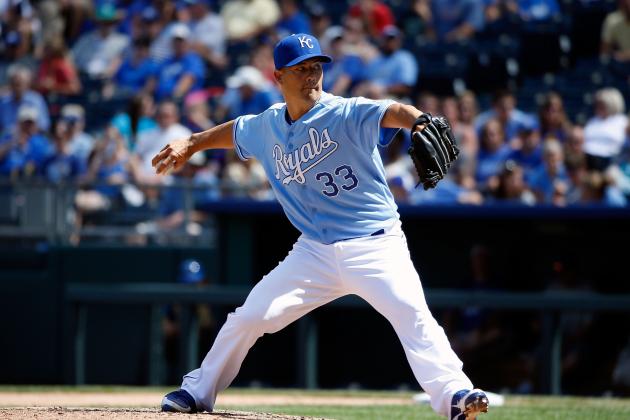 Jamie Squire/Getty Images
Jeremy Guthrie.
Judging by the $25 million deal Jeremy Guthrie ultimately received, it's clear that the Kansas City Royals didn't care about his first-half awfulness with the Colorado Rockies.
His pitching style suits Kauffman Stadium, but left-handed power hitters have always given him trouble. Right on cue, Victor Martinez will return from a torn ACL, Justin Morneau is going through a normal offseason and entering his walk year and Nick Swisher has signed long-term with the Cleveland Indians.
The AL Central should be a nightmare for Guthrie, and the Royals will be disappointed, regardless of how many innings he pitches.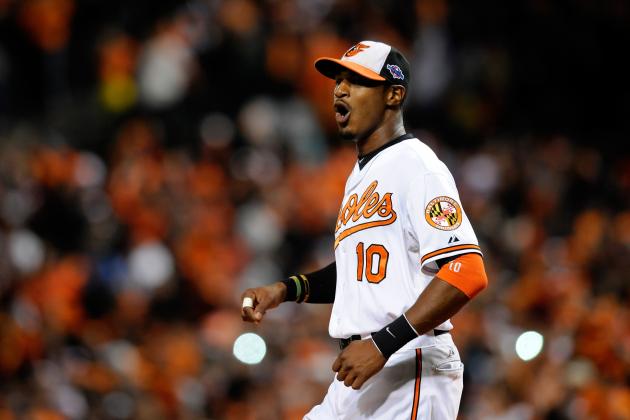 Patrick McDermott/Getty Images
Adam Jones.
Mesmerized by Adam Jones' extra-inning heroics, BBWAA voters selected him as the sixth-most valuable player in the American League.
That's a laugh.
His error-prone play in center field and reluctance to draw walks will come back to bite the Baltimore Orioles this season.
Stephen Dunn/Getty Images
Brandon League.
Most of us were taken back by the three-year deal Brandon League received from the Los Angeles Dodgers. They guaranteed him $22.5 million based on just one month of dominance as interim closer.
Despite impressive velocity, League relies on ground balls.
There's a huge drop-off in defensive quality from Seattle's Brendan Ryan to L.A.'s Hanley Ramirez/Dee Gordon. The right-hander will struggle if he doesn't adjust to his new personnel.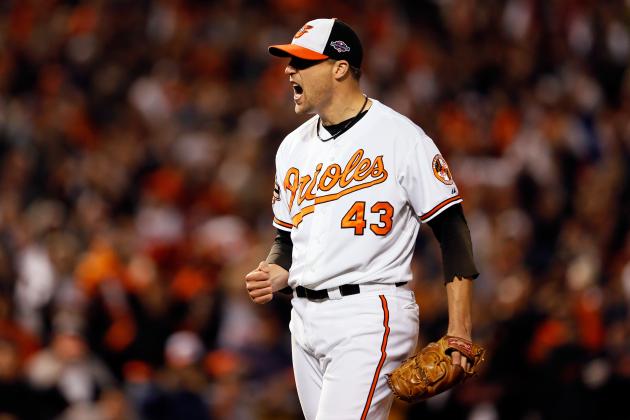 Rob Carr/Getty Images
Jim Johnson.
He's a baseball clone of Brandon League: same age, role, handedness, strategy and velocity.
Jim Johnson wouldn't be a competent closer—much less the MLB saves leader—without J.J. Hardy and Manny Machado on the right side of the Baltimore Orioles infield.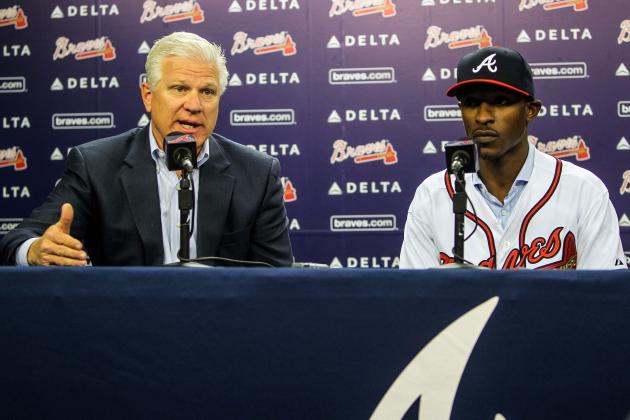 Daniel Shirey-USA TODAY Sports
B.J. Upton.
The Atlanta Braves are taking a huge risk by investing $75.25 million in a 28-year-old who hasn't put it all together yet.
B.J. Upton's career-best home run total distracted many of us from his .298 on-base percentage. He swung at half of all first pitches and whiffed more often than former Braves center fielder Michael Bourn.
Through nearly 1,000 MLB games, Upton has been totally inconsistent. There is no indication that he'll ever realize his All-Star potential.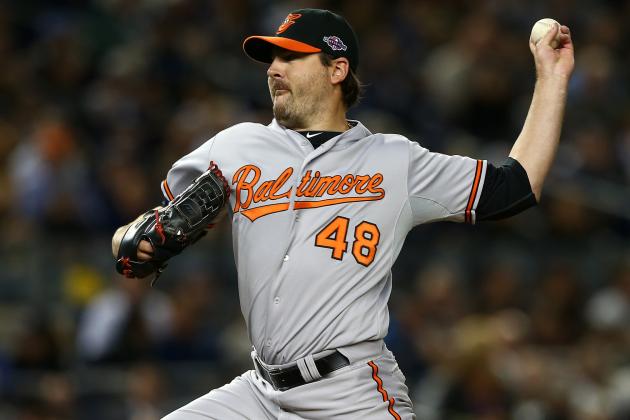 Elsa/Getty Images
Joe Saunders.
Aside from age and handedness, there's essentially no difference between John Lannan and Joe Saunders.
So why does one settle for $2.5 million guaranteed while the other has his choice of eight-figure, multi-year offers?
The starters have an identical 103 ERA+ in the majors, yet teams put Saunders on a pedestal because he is a lefty with playoff experience.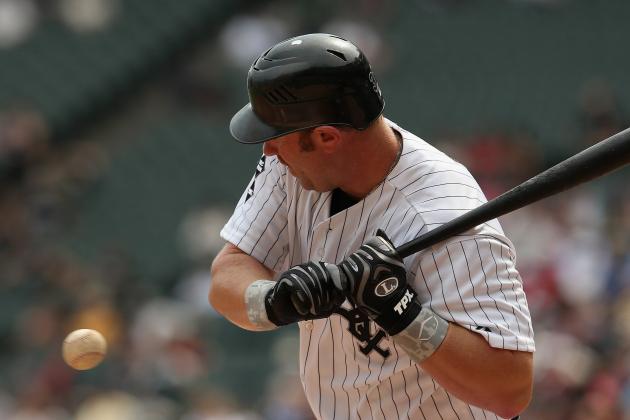 Jonathan Daniel/Getty Images
Adam Dunn.
Nice bounce-back year for Adam Dunn and the Chicago White Sox, but he's still a strikeout machine and a pathetic fielder.
Overreaction to his home run total led to Edwin Encarnacion being snubbed from the All-Star game.
No other player in the league with a comparable salary who avoided the disabled list produced such little overall value.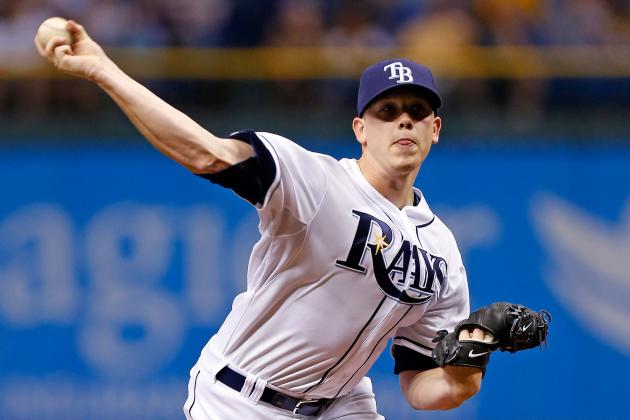 J. Meric/Getty Images
Jeremy Hellickson.
Jeremy Hellickson masterfully upsets the timing of opposing batters. As a result, his BABIP will always be significantly better than the league average.
But that's only part of the story.
The right-hander has poor command of his fastball and doesn't consistently get ahead in the count. He often misses up in the zone, which leaves him susceptible to home runs.
Earned run average clearly isn't a tell-all stat.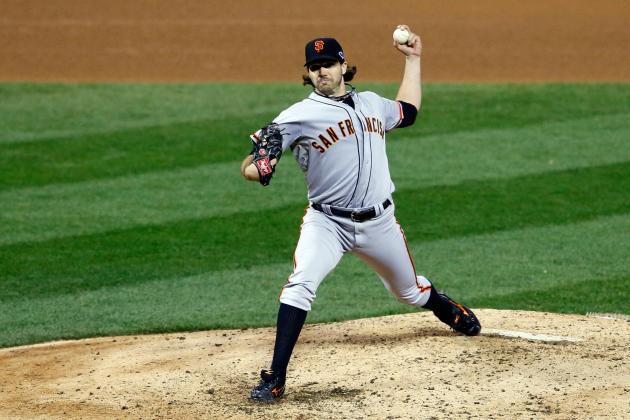 Kevin C. Cox/Getty Images
Barry Zito.
Barry Zito's 15-win season and clutch playoff pitching do not come close to validating his $126 million contract.
He has become increasingly dependent on balls in play bouncing the right way. And he can thank AT&T Park for protecting him with its cavernous dimensions.
The San Francisco Giants would be better off signing one of the available over-the-hill free-agent starters. Unlike Zito, at least several of them can average six innings per start.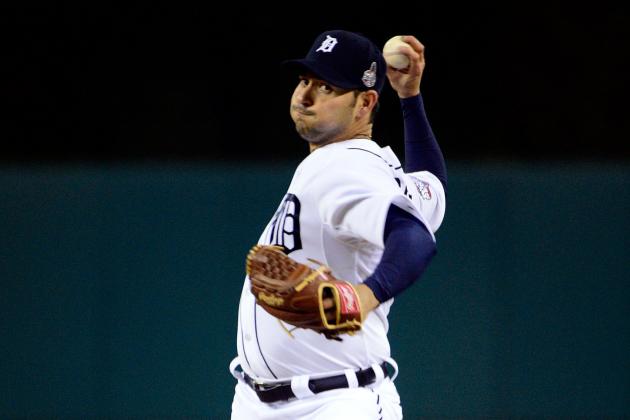 Pool/Getty Images
Anibal Sanchez.
To his credit, Anibal Sanchez has gained better command of his repertoire each season. In 95 regular season and postseason innings with the Detroit Tigers, he issued only 19 unintentional walks.
A five-year deal is understandable for a young starter trending in a positive direction, but $16 million per year?!
That's just foolish considering Sanchez usually hits a wall in the seventh frame (via Baseball-Reference.com).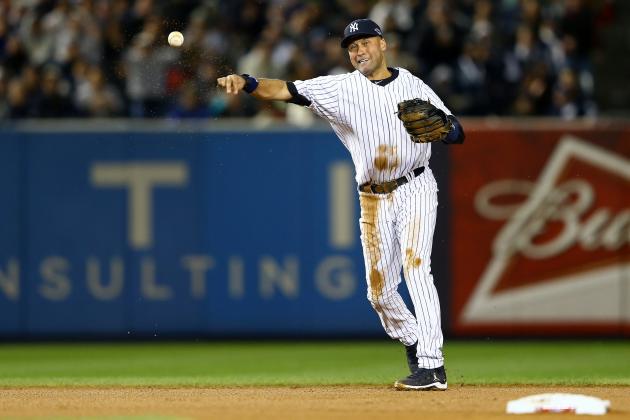 Al Bello/Getty Images
Derek Jeter.
Derek Jeter is the face of the sport's most popular franchise. Anybody in that position with his amazing resume would get unwarranted praise too.
The New York Yankees didn't consider moving him to third base while Alex Rodriguez recovers from hip surgery, even when all the evidence suggests that Jeter stinks at shortstop.
The future Hall of Famer impressively led the sport in hits last season, but he no longer runs the bases as well as the typical leadoff man.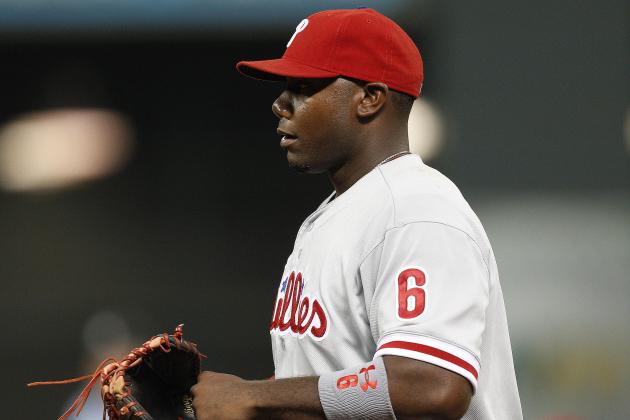 Bob Levey/Getty Images
Ryan Howard.
Once upon a time, Ryan Howard's power masked his miserable defense. As his offensive skills deteriorate, we are slowly beginning to take notice.
He still has supporters, though. Fans and professionals in the baseball community believe that another year removed from an Achilles injury could get Ryan Howard back to All-Star form.
Those people are delusional.
Howard's opponents have figured out that he can't track pitches from left-handers. And no amount of Subway foot-long sandwiches will help with that.
Victor Decolongon/Getty Images
Josh Hamilton.
Sure, Josh Hamilton has extraordinary talents, but a franchise player needs to be so much more than that.
The Los Angeles Angels cannot rely on him being healthy. Hamilton silenced the skeptics in 2012 by avoiding major injury, but a handful of minute aches and pains limited his effectiveness as the season wore on.
His I-can-hit-anything mentality contributed to a miserable strikeout rate. Opposing pitchers will keep on baiting him if he continues to chase off the plate.
Thankfully, L.A. has Mike Trout, because watching Hamilton patrol center field isn't a pretty sight.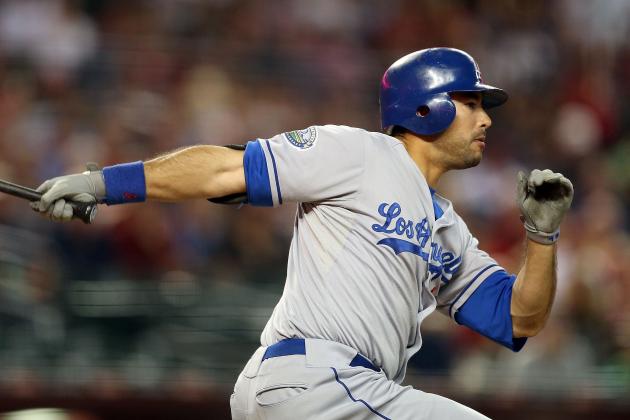 Christian Petersen/Getty Images
Andre Ethier.
Under new ownership, the Los Angeles Dodgers have spent hundreds of millions of dollars on ugly contracts.
The worst decision of all was Andre Ethier's $85 million extension.
He's totally overrated as a outfielder. He ought to ship his 2011 NL Gold Glove to any of the half-dozen players who were more deserving of the honor.
Baseball-Reference.com reveals how useless Ethier has been against southpaws. The seven-year MLB veteran belongs in a platoon situation.
According to Ken Rosenthal of Fox Sports, two American League teams expressed interest in him earlier this offseason. The Dodgers will regret deflecting them.