4 Current Chiefs Who Fit in Perfectly with Andy Reid's West Coast Offense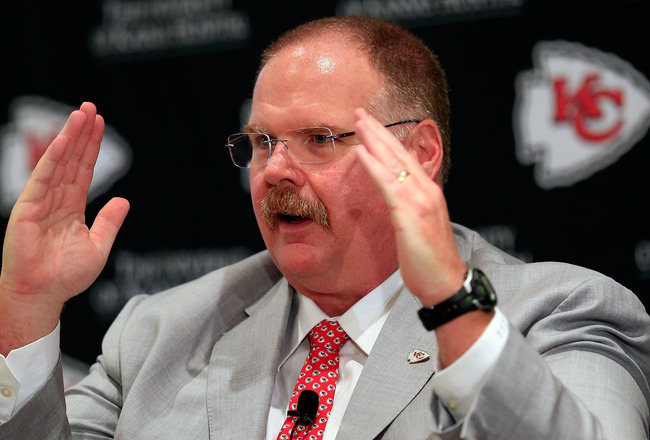 Jamie Squire/Getty Images
Former Philadelphia Eagles head coach Andy Reid signed on to the same post with the Kansas City Chiefs just a couple weeks ago. And with him will come his version of the West Coast offense.
Based on this past year's results, one would assume that the Chiefs have a lot of work to do this offseason—most of which began with a complete facelift of the coaching staff and front office.
However, aside from a few key players that should be re-signed—Dwayne Bowe, Branden Albert and Dustin Colquitt, among others—Kansas City will return a stable of talented players in 2013.
Let's take a look at some of those returning who could benefit from the new offensive system in Kansas City.
Dexter McCluster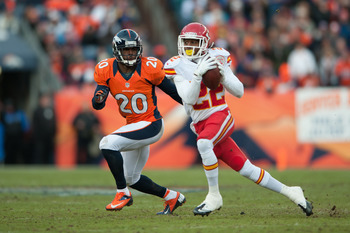 Dustin Bradford/Getty Images
Back when the Kansas City Chiefs selected Dexter McCluster with the 36th pick in the 2010 NFL draft, another team had its eyes set on the Ole Miss running back: The Philadelphia Eagles.
Now that Andy Reid is the head coach in Kansas City, the NFL might finally get to see why McCluster was revered so heavily at the top of the second round coming out of college.
The West Coast offense is a quick-tempo scheme, highlighting a short-passing game that allows the ball-carrier to work in space. This is an offensive system that McCluster could thrive in.
McCluster has been all over the field for the Chiefs since coming into the league.
He filled in nicely for Jamaal Charles in 2011 and saw his most productive season as a receiver in 2012, so Reid should look to find plenty of field time for McCluster this season—whether out of the backfield or in the slot.
Under the new offensive system—and with 2013 being a contract year for him—McCluster could raise a lot of eyebrows around the league.
Devon Wylie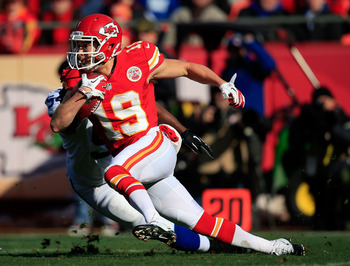 Jamie Squire/Getty Images
The Kansas City Chiefs selected wide receiver Devon Wylie in the fourth round of last April's NFL draft to come in and return some kicks and to provide a quick, dependable option out of the slot for the offense.
Much like his injury-plagued college career at Fresno State, however, Wylie missed most of his rookie season with a nagging hamstring issue and was never able to gain much traction in the NFL.
While he did see nominal time in the final three games—tallying six catches for 53 yards—it won't be until 2013 that the wide receiver will be able to prove his worth in this league. Luckily for Wylie, the Chiefs' new offense should cater to his strengths.
Similar to Dexter McCluster, the West Coast offense should afford Wylie to maximize his smallish frame with quick hits in the passing game.
While Kansas City should be active in finding viable receiving options this offseason—via the draft, free agency or in-house—there is certainly a place for Wylie on this team. If healthy, expect a huge increase in production out of the wideout.
Matt Cassel...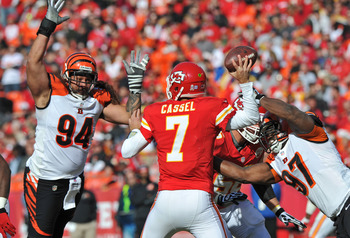 Peter Aiken/Getty Images
…assuming the Kansas City Chiefs can't find a replacement at quarterback via the draft, free agency or through a trade.
Matt Cassel's four seasons in Kansas City haven't quite gone as planned, and the organization is under as much pressure now as any time to finally find its own franchise quarterback.
If Cassel must stay put and actually returns as the starter, Andy Reid's presence could allow for a much smoother season under center for the quarterback.
The West Coast offense takes pressure off the quarterback by utilizing shorter throws and forcing the pass-catcher to do most of the work. While the scheme may eventually open up downfield opportunities, those will come as the opposing defense starts to creep up—creating more one-on-one matchups in the secondary.
Cassel will never be accused of having a strong arm and certainly isn't the most accurate of quarterbacks either, but the West Coast offense would help balance out those two deficiencies.
The reduced pressure that comes with the new offensive system will allow Cassel to make better decisions. If he is the starter in Kansas City, most would be happy with a repeat of his 2010 numbers—which, in just 15 games, saw him throw for 3,116 yards and 27 touchdowns to only seven interceptions.
Dwayne Bowe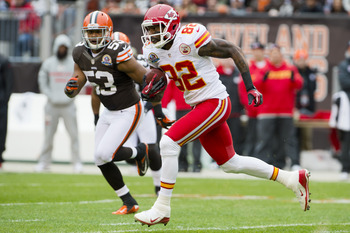 Jason Miller/Getty Images
Though he technically isn't currently a Kansas City Chief, Dwayne Bowe doesn't control his own offseason destiny at this point.
The Chiefs have the option to place the franchise tag on their top receiving target once again, should the two sides not agree on a contract.
Though Bowe might be eager to test the free-agent waters, he should at least be curious at the prospects of playing in Andy Reid's West Coast offense.
Bowe has never been a downfield threat and has made most of his impact in this league using his body as leverage against much smaller defensive backs.
Reid's offense would play to Bowe's strengths, getting him the ball early in the progression and allowing the wideout to dictate the action as opposed to the defense limiting his ability to make plays.
Follow Jeremy on Twitter
Keep Reading

Kansas City Chiefs: Like this team?