Power Ranking the WBC Rotations of All Top Contending Countries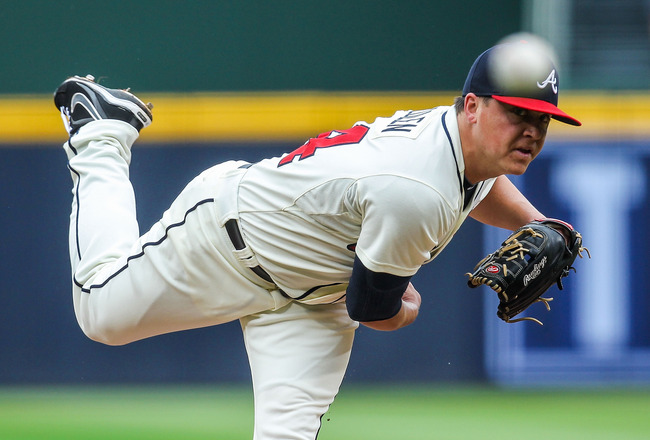 Daniel Shirey/Getty Images
With Thursday's announcement of the 2013 World Baseball Classic provisional rosters, every squad now leaves itself open to debate.
Who is the favorite? What team has the deepest lineup? The most solid pitching staff?
Let's start with the rotations.
Of the 16 teams, roughly half have a realistic shot of taking the 2013 WBC title. Some of those contenders are built on the strength of their rotations.
The contenders who did not make our rankings list failed to do so because of the pitchers (as of now) that are conspicuously missing from the rosters.
For teams that submitted provisional rosters with less than the maximum of 28 players, they are allowed to add players to the roster before Feb. 20.
So, for Japan, who has taken home both WBC championships, names such as Yu Darvish, Huroki Kuroda and Daisuke Matsuzaka are not currently on the roster. Darvish has already said he will not participate. A major strength in capturing the 2009 championship may fall by the wayside in this year's tournament.
Aroldis Chapman would bolster a Cuban starting rotation if he decides to suit up. For now, though, Cuba will have to see what it can do without him.
Pitching wins championships. For the following contenders, their starting staffs may be a big reason why they could advance deep into the tournament.
5. Puerto Rico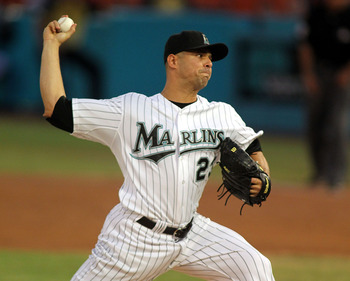 Marc Serota/Getty Images
Javier Vazquez would have to be dubbed the ace of the Puerto Rican staff.
At first glance, that does not sound all that far-fetched. But when you realize Vazquez did not even pitch in 2012, skepticism sets in a little bit more.
From all reports, Vazquez has looked good this offseason as he looks to find employment in Major League Baseball for 2013.
The 36-year-old recorded a 3.69 ERA and logged nearly 200 innings in 2011 for the then-Florida Marlins.
Behind Vazquez in Puerto Rico's rotation, Chicago White Sox product Hector Santiago (2-0, 1.86 ERA in four starts in 2012) and journeyman Nelson Figueroa hope to keep things sturdy enough.
4. Dominican Republic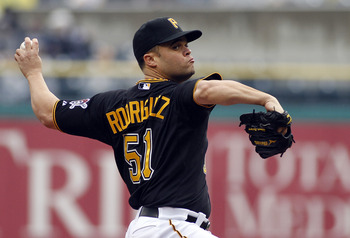 Justin K. Aller/Getty Images
The Dominican Republic enters the 2013 as the favorites in Vegas to win the WBC.
It's achieved that reputation thanks to the stature of its lineup. But that does not mean the Dominicans will have to win a bunch of 10-8 games to claim the title.
The Dominican Republic should be able to hang with anyone else's rotation.
Wandy Rodriguez will lead the way after enjoying a solid year in 2012, splitting his time between Houston and Pittsburgh. The lefty in the bunch, Wandy has given his teams at least 190 innings each of the last four seasons and double-digit wins in each of those campaigns.
Edinson Volquez enjoyed a bounce-back year in 2012 in his first season in San Diego. After making just 41 starts in his previous three seasons, Volquez took the ball for 32 starts and managed his second double-digit win total in his career.
The Dominican rotation would rank ahead of Mexico's if not for this nugget released after the rosters were announced Thursday:
Alexi Ogando informed the Texas Rangers he will not participate in the WBC so that he may focus on being a starter once again for Ron Washington's club.
Ogando made the American League All-Star team in 2011 after going 7-0 in his first 12 starts. Tossed into the bullpen in 2012, Ogando still found success. But he has reclaimed a starting role and is a flamethrower capable of running his fastball into the upper-90s.
Without Ogando, the Dominican Republic's rotation takes a bit of a hit. They may be able to find a suitable replacement to regain some stature leading up to the tournament.
3. Mexico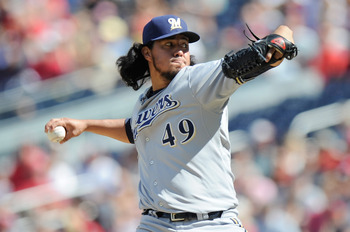 Greg Fiume/Getty Images
Mexico certainly has a horse at the top of its rotation.
Yovani Gallardo has won 60 games in the last four seasons for the Milwaukee Brewers, has recorded at least 200 strikeouts in all four of those seasons and has logged over 200 innings in each of the last two years. He ranks as the No. 4 pitcher signed up for the WBC as of right now. This will be Gallardo's first WBC appearance after sitting out in 2009 to recover from knee surgeries.
Fellow Brewer Marco Estrada will align with Gallardo on the Mexican team. Estrada played his best at the end of the 2012 season, winning three of his final four starts without allowing a run in any of the wins (21.2 innings).
The third starter for the Mexican team is Boston's Alfred Aceves. Aceves has been used primarily as a reliever in recent years, but has starting experience with both the Red Sox and the New York Yankees.
2. Venezuela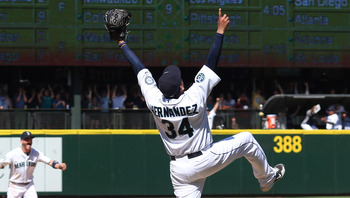 Otto Greule Jr/Getty Images
The Venezuelan rotation is fit for a king.
King Felix, to be exact.
Venezuela possesses the top pitcher in the WBC in 2013 in Seattle's Felix Hernandez. Hernandez tossed the 23rd perfect game in Major League history last August.
But he did not need that to bolster his already stellar resume.
Toss aside his win total (13) from 2012. Make no mistake, he is the best pitcher on the planet and the apple of all 29 other teams' eye until the Mariners sign him to a long-term contract. Seven straight seasons of at least 30 starts. Five straight seasons of at least 230 innings pitched. Four straight seasons of at least 200 strikeouts.
Stranded out on the West Coast pitching for a team that has flopped in the standings, much of the country still has not been able to appreciate just how studly Hernandez's game really is.
Backing up King Felix is Anibal Sanchez, another pitching secret that was let out of the bag in the second half of 2012.
Hidden in Miami for six-plus seasons with the Marlins, Sanchez was traded to the Detroit Tigers and found success in the middle of a pennant race. Sanchez allowed just four earned runs in three postseason starts (1.77 ERA) as the Tigers made their run to the World Series.
As a result, Sanchez is now one of MLB's newest really rich guys after signing a five-year, $80 million deal to remain in Detroit.
Speaking of Miami, Carlos Zambrano is also a part of this Venezuelan rotation. With the Marlins last season, the normally combustible righty compiled an ERA below two in his first eight starts before he, well...combusted.
Fourth starter Henderson Alvarez provides solid depth for the Venezuelans. Alvarez, 22, came over to the Marlins this offseason in the massive salary dump that sent Josh Johnson, Jose Reyes and Mark Buehrle to Toronto.
The right-hander made 31 starts for the Blue Jays in 2012 and managed nine wins.
The Venezuelan lineup looks something like this:
SS Elvis Andrus
2B Asdrubal Cabrera
RF Carlos Gonzalez
1B Miguel Cabrera
3B Pablo Sandoval
LF Martin Prado
C Miguel Montero
DH Salvador Perez
CF Gerardo Parra
Um, yeah. Pretty good.
But, as good as that is, the pitching can be just as good as long as Hernandez can live up to his billing and the guys behind him can at least keep them in games.
1. United States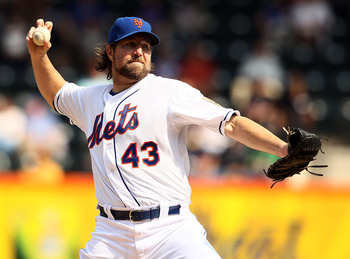 Alex Trautwig/Getty Images
Although R.A. Dickey will be pitching his home games north of the border in Canada in 2013, his WBC allegiances still lie in the good ol' U-S of A.
The reigning National League Cy Young winner will head an American staff that will certainly need to lead the way. The United States lineup, while good, does not have the cache that the Venezuelan and Dominican lineups possess.
But manager Joe Torre has himself a very formidable four-man rotation, led by Dickey.
Dickey's knuckleball dazzled like it had never dazzled before in 2012. Twenty wins, a 2.73 ERA and 230 strikeouts later and Dickey went from novelty to bona fide ace of the New York Mets.
Only now, Dickey is the bona fide ace of the Toronto Blue Jays after an offseason trade.
If Dickey was not the best pitching story in the National League last season, Kris Medlen was.
Medlen was the antithesis of Stephen Strasburg in terms of coming back from injury. Whereas the Washington Nationals shut down Strasburg at the end of the season to limit his innings after Tommy John surgery, the Atlanta Braves made Medlen a reliever in the beginning of the season to curtail his innings total.
Then, they unleashed Medlen as a starter after the All-Star break and let him wreak havoc on the National League. In 12 starts, Medlen went 9-0 with an ERA and a WHIP each below 1.00. He had a streak of 23 consecutive starts dating back to 2010 in which the Braves won the game until that came to an end with Atlanta's loss to St. Louis in the Wild Card round of the postseason.
Medlen could be looking at 20 wins for the Braves in 2013. For now, he and Dickey form the best one-two punch in the WBC as the second- and third-best pitchers in the tournament.
But the Americans are not done.
The quirky and mustachioed Derek Holland slots in as the No. 3 starter for Team USA. Holland has oodles of talent, yet is still trying to find his way at times in the Texas Rangers rotation. However, he has 28 wins in the last two seasons and is better than anyone else's third starter in the WBC.
Postseason darling Ryan Vogelsong completes the United States staff.
After getting 14 wins and a 3.37 ERA for the San Francisco Giants in the regular season, he took it up a notch and went 3-0 with a 1.09 ERA in four postseason starts on his way to earning a World Series ring.
The United States will trot out a starting pitcher capable of dominating an opposing lineup each and every game it suits up for in the 2013 World Baseball Classic.
If pitching does, indeed, win championships, the USA is in fine position with the tournament's best starting rotation.
Keep Reading