New York Jets Mock Draft: Updated 7-Round Projections After East-West Shrine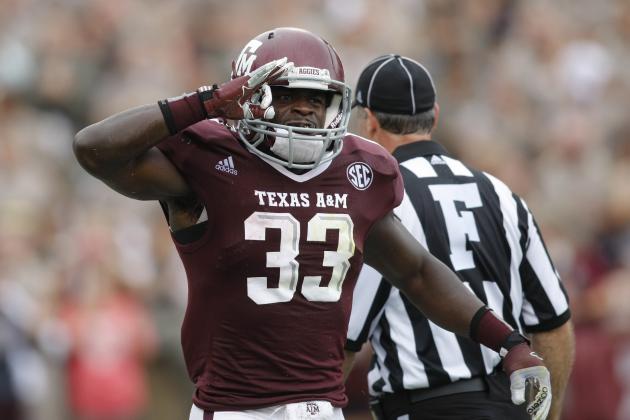 Brett Davis-USA TODAY Sports

Now that the Jets have named a new general manager in John Idzik, they can finally put all of their energy into getting ready for the draft and free agency.
If Idzik plans to make the Jets more like the Seahawks on draft day, the Jets will be less concerned with "value" and more concerned about getting quality football players with all of their picks, even if their selections do not go in accordance with what the media projected before the draft.
Now that the East-West Shrine Game is over, we have a better idea as to how some of the late-round prospects stack up against their peers.
Here is a seven-round mock draft for the Jets with the Shrine Game in the books.
Begin Slideshow

»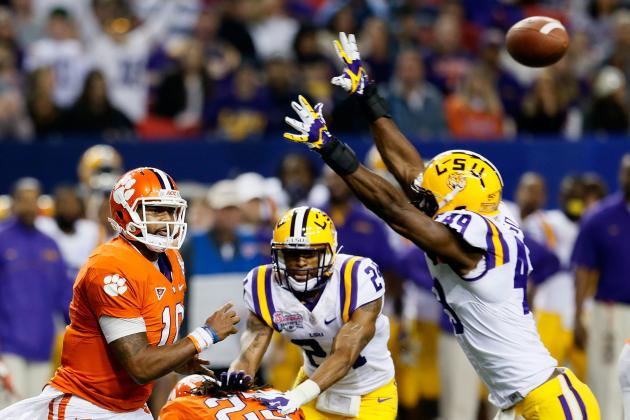 Kevin C. Cox/Getty Images

Last year, Rex Ryan got his power interior rusher in Quinton Coples, but his defense still lacks a speed element that prevents them from being an elite defense.
After a somewhat underwhelming 2012 season, Mingo was exceptional in the Sugar Bowl against Clemson, displaying the explosion and speed that entices scouts so much. When motivated, Mingo is as explosive of a rusher as there is in the draft, but he has tendency to get complacent and take some plays off.
Since Rex has been able to get solid production out of Quinton Coples, who had character issues coming out of UNC last year, there is no reason to believe that he cannot do the same with Mingo.
There is a very good chance that the Jets will need two new outside linebackers for next season. Mingo is undersized for an NFL defensive end and has the movement skill to make the conversion to outside linebacker.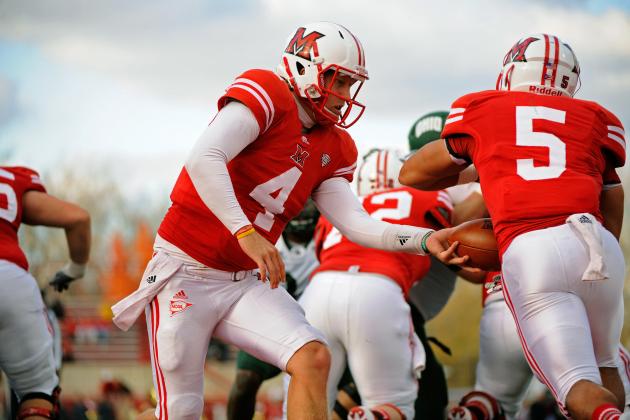 Jamie Sabau/Getty Images

The more I study Dysert, the more I start to think the he may be the best quarterback in the draft.
Dysert can make all of the throws and shows good pocket awareness playing behind a sub-par offensive line. His pedestrian receiving corps at Miami did him no favors either and forced him to make very difficult anticipation throws into tight windows.
Dysert may not get a lot of air time on SportsCenter, but he shows a lot of strong signs of an NFL starter on tape in his ability to operate in a messy pocket and make throws to receivers that do not get a lot of separation.
There is a good chance that Dysert will gain momentum as the draft process wears on that can push him into the first round. If the Jets want him, they may have to trade up from their second-round pick or even consider taking him with their ninth-overall pick.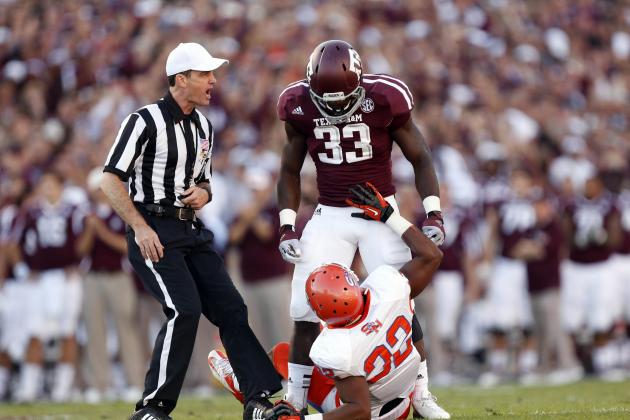 Thomas Campbell-USA TODAY Sports

Christine Michael was one of the most impressive players at the Shrine Game, both in the game and during the week. He showed natural ability to make strong cuts and use his lateral agility to find hidden yards.
At over 220 pounds, Michael has the potential to be an every-down back that can sustain drives. Daniel Jeremiah of NFL.com thought he was the best back all week at the Shrine Game practices:
Michael has been the top back in practices. He has a powerful frame and he's displayed an explosive burst to and through the hole. He doesn't have natural hands out of the backfield, but he's still a very intriguing prospect.
If Michael's stock continues to rise, he could be taken as early as the second round, especially if he continues to get better as a receiver.
If he falls to the ninth pick of the third round, he should get high consideration from the Jets, who could be in desperate need of another runner with Shonn Greene possibly leaving in free agency.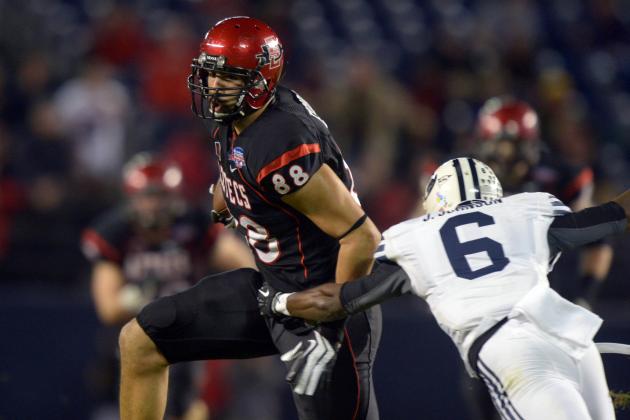 USA TODAY Sports

There is a good chance that the Jets will need a brand new tight end with the possibility of Dustin Keller leaving in free agency.
Escobar is not quite the size/strength specimen that someone like Tyler Eifert is, but he is a touch player with a mean streak with good hands. At 6'6", 255, Escobar is a size mismatch for most safeties and linebackers.
Escobar's size and body control would be a great asset in the red zone, which is an area where the Jets struggled mightily this past year. While he may not be a bulldozer of a blocker, his athleticism will be a much-welcomed addition to a stagnant Jets offense, even if Dustin Keller decides to stay in New York.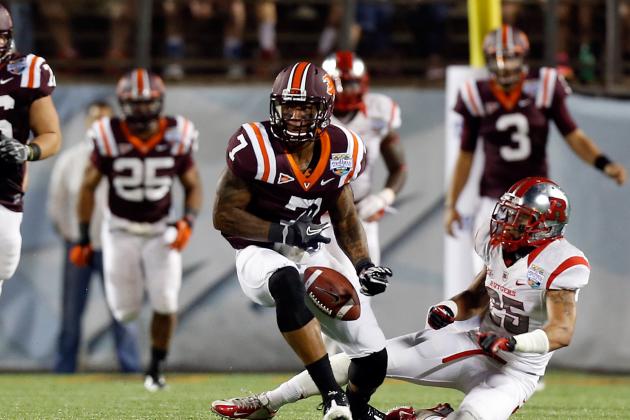 J. Meric/Getty Images

Davis did not have a great week of Shrine practices, struggling with his drops and concentration, but there is no denying the fact that he has all of the physical tools to succeed in the NFL.
Playing on a stagnant Virginia Tech offense, Davis was the lone source of big plays for the Hokies, averaging a staggering 18.7 yards per catch. He is terrific after the catch and makes plays on contested balls.
If Davis can improve in getting in and out of his cuts more efficiently and clean up his concentration issues, he has the potential to be a late-round sleeper.
Butch Dill/Getty Images

With both of the Jets' starting guards set to be free agents in a few months, the Jets may be forced to add a guard through the draft.
Sullen is an ideal size/strength specimen. He shows good balance and keeps his knees bent against the bull rush. However, he struggles with his hand use and allows quicker defensive lineman to beat him with finesse moves.
Given his measurables, a good offensive line coach may able to fix his technique issues and turn Sullen into a quality NFL guard with some time. After all, if a player is going to be deficient in any area, it may as well be in their technique because it can be improved on with good coaching. Raw physical tools can only be improved on to a certain extent.
The only issue with drafting a player like Sullen is that there is a chance that he may have to start right away. The Jets would be much better off retaining one of their guards and having Sullen push Ducasse until he develops into the clear-cut starter.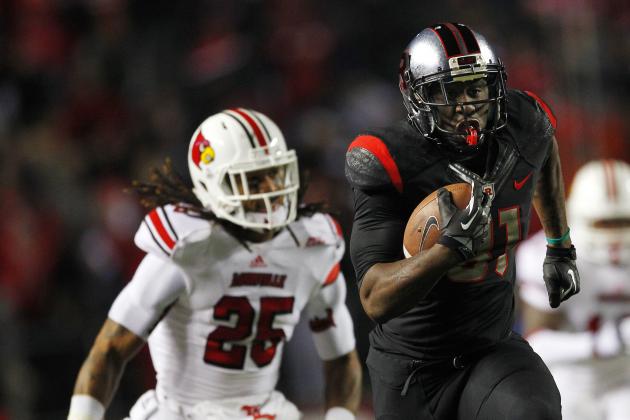 Rich Schultz/Getty Images

At 6'3", 234 lbs, Mark Harrison is a huge target for whoever is taking snaps for the Jets next season. He had a strong senior season improving in his catching ability and using his large frame to shield himself from defenders.
However, while Harrison has a huge frame to work with, he is not exactly a special athlete or a fluid mover. He needs to build up speed and does not get in and out of cuts at an ideal rate.
In fact,hHis weight may suggest that he may be used more as a receiving tight end than a pure wide receiver.
In the end, he is worth a late-round pick to develop on a Jets roster that is void of depth.