Will Anderson Silva Be Able to Fulfill a 10 Fight Contract?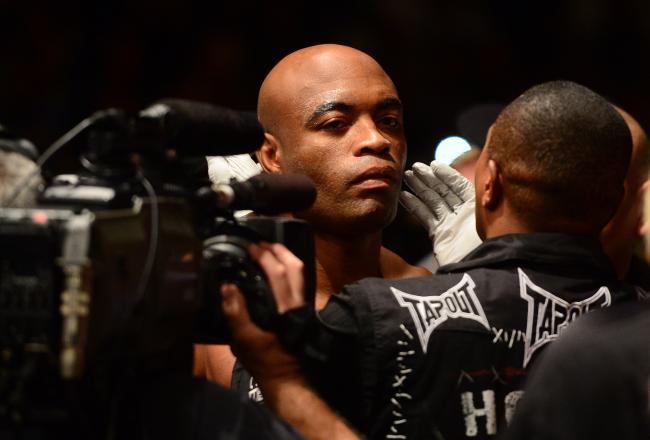 Mark J. Rebilas-USA TODAY Sports
Earlier this month, UFC president Dana White announced that Anderson Silva has signed a new 10 fight contract.
The deal means that the 37-year-old middleweight champion will likely face three or four more title defences as well as super-fights with the likes of welterweight Georges St-Pierre and light heavyweight Jon Jones.
A 10-fight deal, as reported by MMA Weekly, is more than sufficient to encompass all those scenarios, but whether the Brazilian champ can fulfill those obligations is another matter.
Silva has been the UFC's 185-pound champion since 2006, and defended the belt 10 times. He's been assailant as both a middleweight and a light heavyweight in his occasional forays into the 205-poound weight class.
In most fans' estimation, he is, without a doubt the greatest mixed martial artist of all time. That appellation alone, together with his unprecedented record of victories and fan drawing power, means that a 10 fight contract is incredibly lucrative for the UFC.
In his reign as champion, and career as fighter, Silva has become one of the most well-known fighters of all time, as well as one of the best known Brazilian athletes in a country obsessed with football.
That means that even if the unthinkable happens and his career starts on a downward trajectory, he'll still be able to draw the fans in the twilight of his career—fans eager to see the last spark of greatness in the man before it is finally extinguished.
But the fact of the matter is, Silva hasn't fought more than twice a year since 2008. That's almost five years ago when he was still a relatively mobile 32-year-old. These days, you're lucky to see him in the Octagon more than twice a year.
At this rate a 10 fight deal will mean that Silva will be required to face opponents the UFC puts in front of him for the next five years.
That'll keep him fighting until he's 42—which is not unheard of for an MMA fighter.
But 10 fights and 10 opponents is a big number. For a man who has already cleared out the middleweight division several times over, we can only see so far into his future.
We know that, should Michael Bisping defeat Vitor Belfort this Saturday, he will likely face Silva next. We also know that many people consider Chris Weidman to be the man most capable of defeating Silva—so that's two definite opponents awaiting the champ in the coming years.
Then there's the aforementioned GSP/Jones super-fights. But after those, and if he wins, that still leaves a big gap of six more fights he needs to endure before serving out his contract.
Whether he can or not, at this stage of his career, is still a matter for debate. But if he does complete the full 10 before the final curtain, expect a flurry of exhibition matches against sitting ducks, a la Stephan Bonnar.
This article is
What is the duplicate article?
Why is this article offensive?
Where is this article plagiarized from?
Why is this article poorly edited?