MLB Trade Rumors: Each Team's Worthless Trade Bait No One Else Wants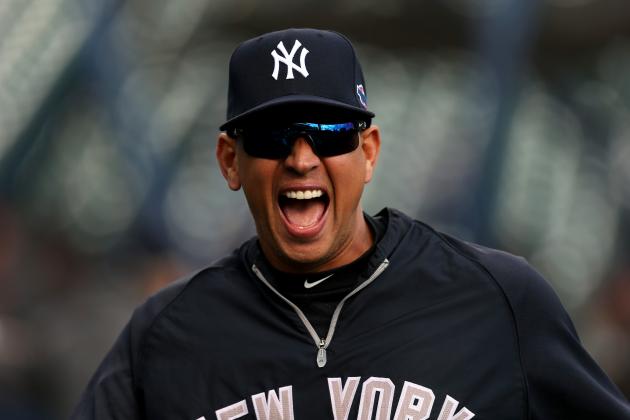 Jonathan Daniel/Getty Images

Immovable objects exist in baseball, both on the mound and at the plate.
For a number of reasons—injury, salary, a lack of production (or perhaps a combination of them all)—players lose value over time.
Not all general managers step into their office in the morning with a player on the roster that they'd like to move, only to find that there's no interest in said player's services, but the vast majority do.
Who are these players?
Let's take a look.
Begin Slideshow

»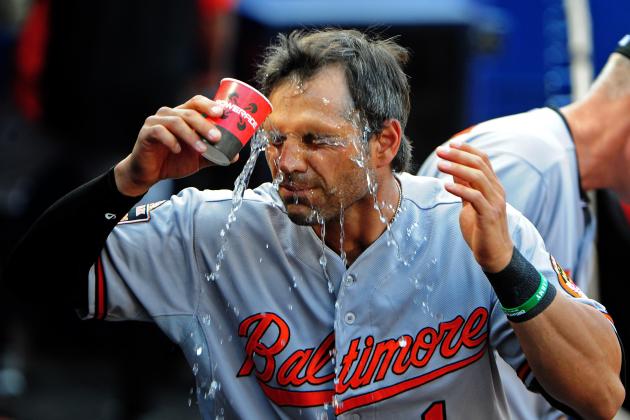 Scott Cunningham/Getty Images

Remaining Contract: One year, $10 million
Brian Roberts might only have one year left on his deal, but there's not much of a market for a 35-year-old second baseman who has played in a total of 115 games over the last three seasons due to a myriad of injuries.
His 2012 season was cut short due to hip surgery, and, according to Dan Connolly of the Baltimore Sun, Roberts went under the knife once again only last month, this time to repair a sports hernia.
One of the best second basemen in baseball from 2003 through 2009, when he averaged a 288/.362/.430 slash line and 34 stolen bases per season, Roberts is now a shell of his former self. The Orioles would not only have to eat all of his contract, but be willing to accept a minimal return were they inclined to move him.
He'll compete with Ryan Flaherty and perhaps prospect Jonathan Schoop for the starting spot at second base in spring training.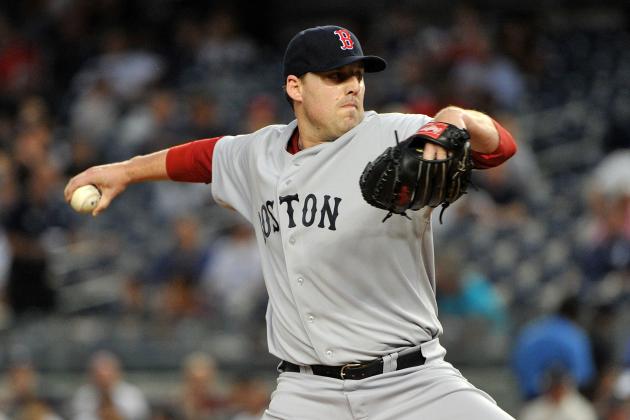 Christopher Pasatieri/Getty Images

Remaining Contract: Two years, $31.9 million
From mediocre performances on the mound to the chicken and beer scandal during the 2011 season, things haven't gone quite according to plan during John Lackey's time in Boston.
Lackey, who missed the entire 2012 season recovering from Tommy John surgery, is damaged goods.
And with his numbers since joining the Red Sox prior to the 2010 season—a 5.26 ERA, 1.50 WHIP and 82 ERA+ over 61 starts—he's about as unattractive a trade chip as the Red Sox have.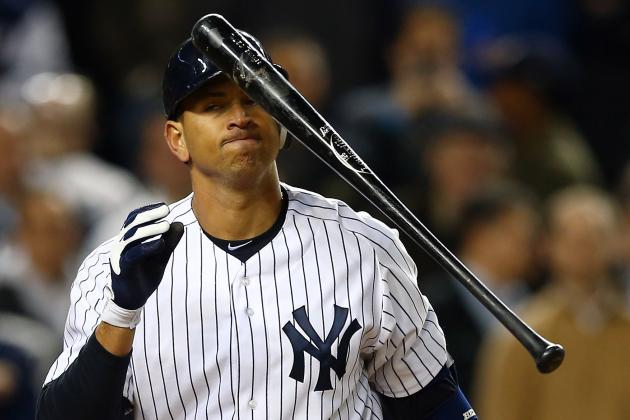 Elsa/Getty Images

Remaining Contract: Five years, $119 million
Whether it's his contract, his pair of surgically repaired hips or his declining performance, there's no shortage of reasons why no general manager in their right mind would trade for A-Rod.
A shell of the superstar that he once was, the polarizing 37-year-old third baseman is about as immovable an object as you'll find in all of baseball.
Currently fifth in career home runs with 647, it's only a matter of time before he ties and surpasses Willie Mays' 660 blasts for fourth on the all-time list. However, nobody cares, and that further reduces his value to other teams.
J. Meric/Getty Images

Remaining Salary: One year, $2 million
When you consider that many (myself included) figured that James Loney would receive, at best, a minor league deal with a spring training invite this winter, the 28-year-old hit the jackpot with Tampa Bay.
Simply put, there isn't a large demand for a light-hitting, average-fielding first baseman.
First base is traditionally a position that generates a lot of runs, both with the long ball and timely hitting. Loney offers neither.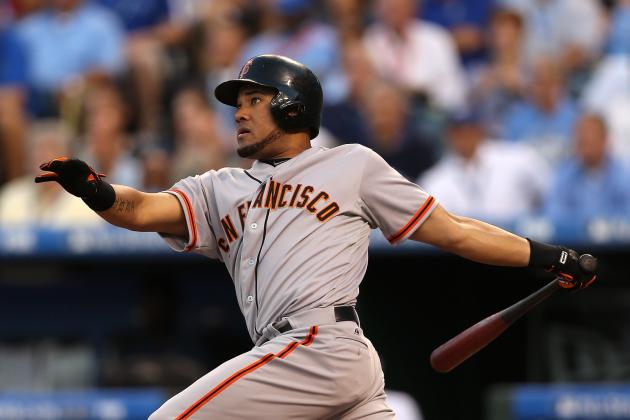 Jonathan Daniel/Getty Images

Remaining Contract: Two years, $16 million
After receiving a 50-game suspension for testing positive for PEDs in 2012, the Blue Jays took a risk in signing the 28-year-old to a multi-year deal earlier this offseason.
It's a risk because, quite simply, you don't know what Cabrera you're getting.
Is he the guy who posted a .322/.360/.489 slash line since the start of the 2011 season, or is he the player who produced a .267/.328/.379 mark over the first six years of his career?
There are simply too many questions floating around the Melkman.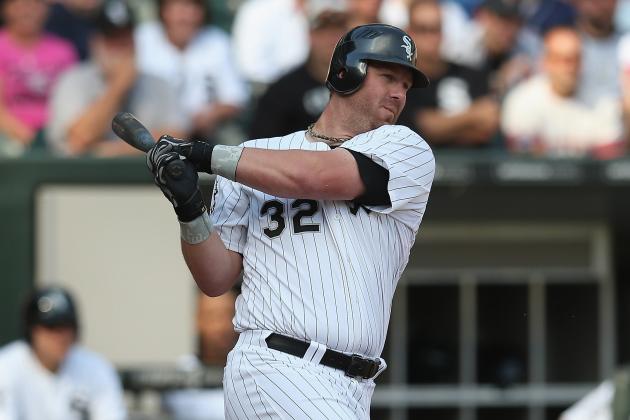 Jonathan Daniel/Getty Images

Simply put, there isn't a player on the White Sox who doesn't have some trade value around baseball.
Even Adam Dunn, who struggles to hit .200 and is due $30 million through the 2014 season, could be moved if the White Sox were inclined to do so.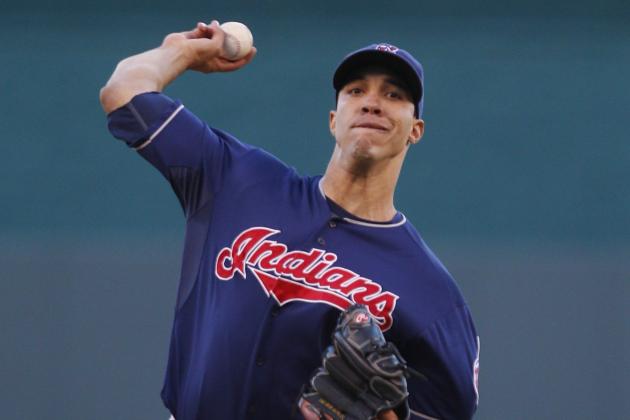 Kyle Rivas/Getty Images

Remaining Contract: One year, $6.75 million (including $1 million buyout of 2014 team option)
It's all in the numbers for Ubaldo Jimenez.
Since Cleveland traded four prospects to the Colorado Rockies to acquire him, the Indians have not gotten a performance that makes that deal even remotely worth the team's time.
Over 42 starts in an Indians uniform, Jimenez has pitched to a 13-22 record—including an MLB-worst 17 losses in 2012—a 5.32 ERA and 1.57 WHIP.
No team in baseball wants to add a starter like that to their starting rotation.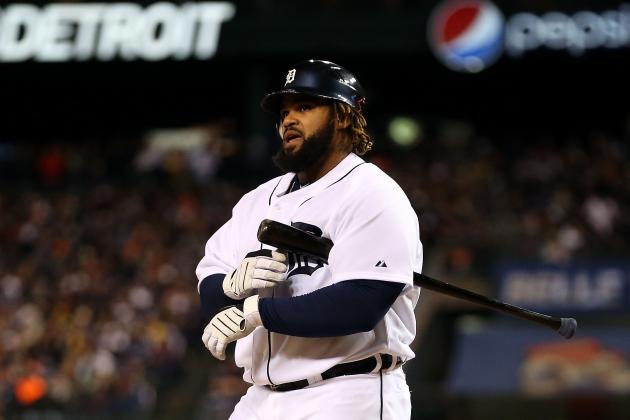 Ezra Shaw/Getty Images

Prince Fielder's contract makes him immovable, but I can't call him worthless.
There isn't a player in Detroit that wouldn't have some value to another team.
Even Brennan Boesch, the outfielder many expected to break out in 2012, but who, instead, fell flat on his face, would generate some interest.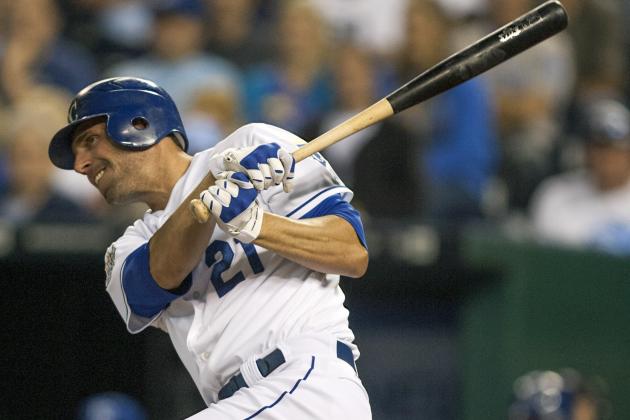 Tim Umphrey/Getty Images

Remaining Contract: One year, $6.75 million
Jeff Francoeur still has a cannon for a throwing arm, but the 29-year-old is coming off of an atrocious season at the plate and has no real value around the league as a trade chip.
He struggled to produce at the plate, hitting .235 with 16 home runs and only driving in 49 runs. But it's his inability to get on base consistently, as evidenced by his .285 on-base percentage in 2012, that's really a red flag to other teams.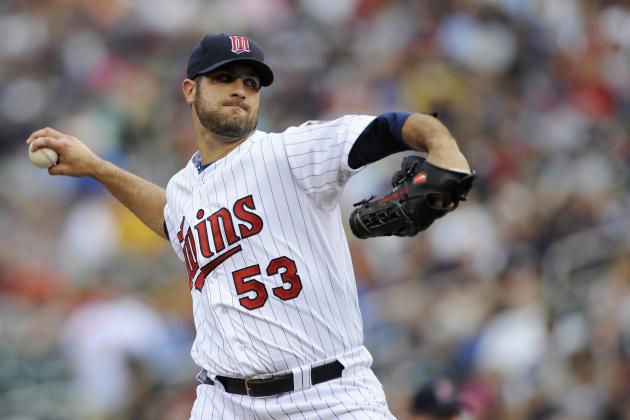 Hannah Foslien/Getty Images

Remaining Contract: One year, $5.5 million
Expected to be in the competition for the fifth spot in the Twins' starting rotation this spring, it turns out that Nick Blackburn won't be competing for anything anytime soon.
Blackburn, who underwent arthroscopic surgery on his right wrist last week, isn't likely to be ready for the start of the regular season.
Even if he were healthy and ready to go, it's hard to imagine that any other team would have interest in the 30-year-old, who pitched to a 7.39 ERA over 19 starts in 2012 before being removed from the Twins' 40-man roster in August.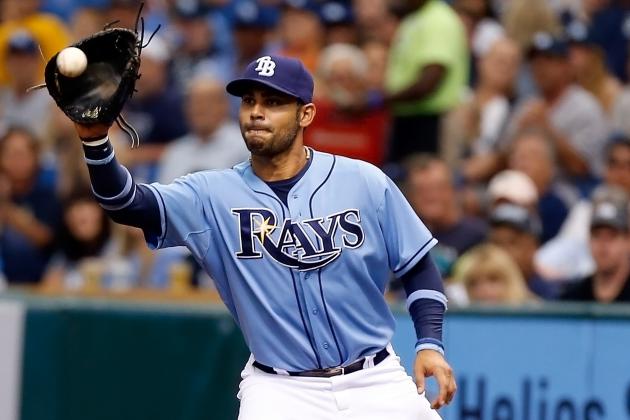 J. Meric/Getty Images

Remaining Contract: One year, $2.9 million
Every team in baseball had a chance to sign Carlos Pena this winter, and all but one, the Houston Astros, passed on the chance.
No longer an everyday player, Pena remains an excellent defensive first baseman. But he's a major liability at the plate, where if he doesn't send the ball over the outfield wall, he's almost guaranteed to make an out.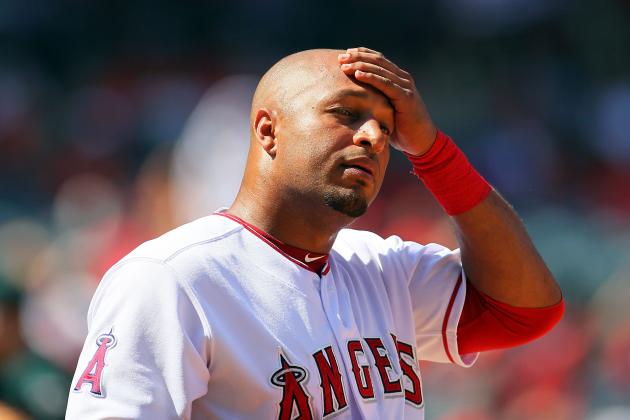 Victor Decolongon/Getty Images

Remaining Contract: Two years, $42 million
Over the last two seasons, Vernon Wells has hit .222/.258/.409 in nearly 800 plate appearances with the Angels—not exactly numbers worthy of a player making $21 million annually.
Wells has been linked to some teams this winter in trade chatter, but as you've undoubtedly noticed, none of those rumors have come to fruition.
Even with the Angels picking up most of the money due to the former All-Star, Wells' value to other teams around baseball is as low as it's ever been. With no chance of earning regular playing time in Los Angeles, that's not going to change anytime soon.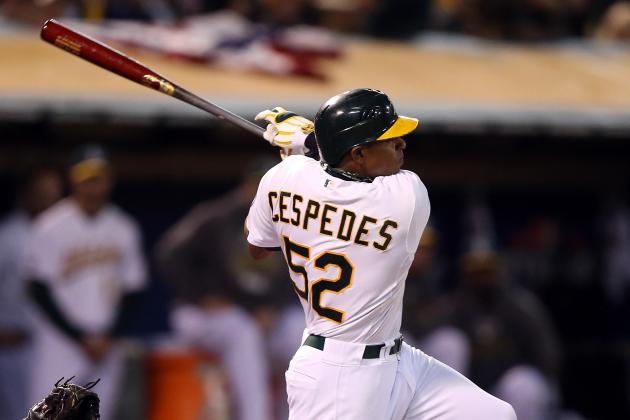 Ezra Shaw/Getty Images

There isn't a player on Oakland's roster that GM Billy Beane couldn't find a taker for if he tried.
Youngsters under team control, which Oakland has plenty of, are always in demand. But even the team's veterans—outfielders Coco Crisp and Chris Young, starter Bartolo Colon and reliever Grant Balfour—all have value around baseball.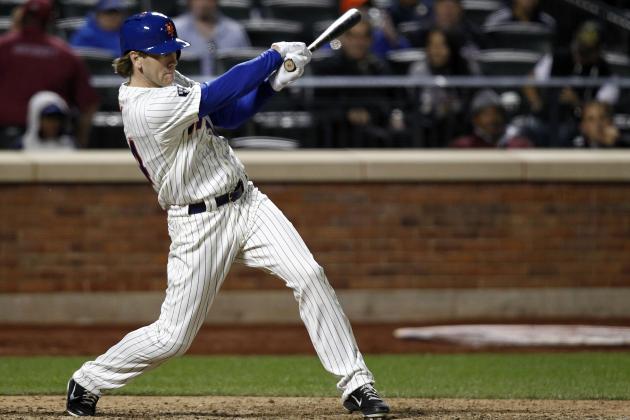 Jeff Zelevansky/Getty Images

Remaining Contract: One year, $1 million
The least expensive player on our list—financially, anyway—Jason Bay has no value around the league.
Why should he?
After a three-year stint with the Mets that saw him post a .234/.318/.369 slash line and seemingly lose his ability to hit home runs, Bay, 34, is hoping to restart his career in a platoon role with Raul Ibanez for Seattle in 2013.
Even if he showed signs of life this season, it's hard to imagine that there's a team willing to take a chance on adding him for a playoff push at the trade deadline.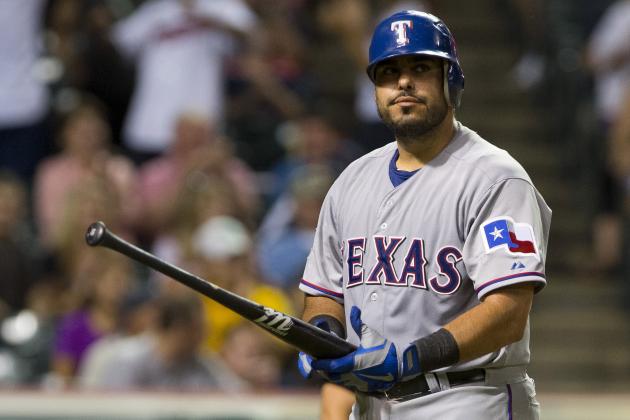 Jason Miller/Getty Images

Remaining Contract: One year, $2.75 million
Remember when Geovany Soto won the National League Rookie of the Year award?
It's been a while since Soto, 30, has been relevant on the major league scene.
Over the past three seasons, he has posted a .215/.293/.381 slash line, averaging 14 home runs and 46 RBI. After being acquired at the trade deadline by the Rangers in 2012, Soto batted .196 with five homers and 25 RBI in 47 games.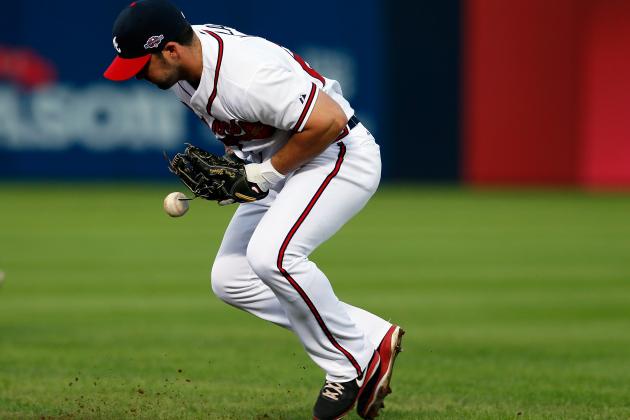 Kevin C. Cox/Getty Images

I suppose you could make an argument for second baseman Dan Uggla, but while he struggles to hit for average, Uggla knows how to get on base and produces runs.
Were the Braves to put their entire roster on the trade market, each and every player would draw interest from at least one team around the game.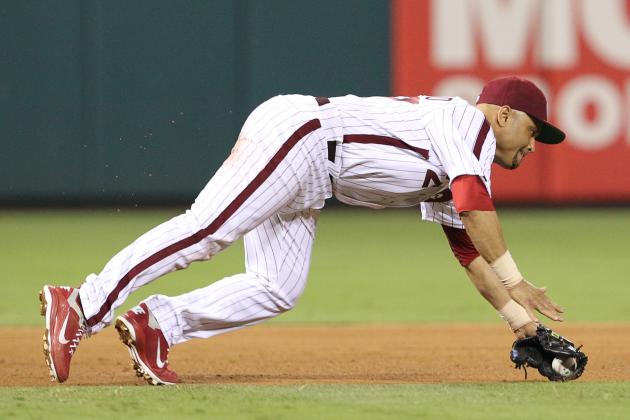 Hunter Martin/Getty Images

Remaining Contract: One year, $2.75 million
Age and a 15-year major league career have begun to catch up with Placido Polanco, who had to accept a one-year deal from a Marlins team that is essentially bereft of major league talent in order to continue playing.
Coming off of an injury-filled 2012 season that limited him to only 90 games for the Phillies, a strong first half of the season could restore his value to a contending team looking to add a veteran bat for the stretch run.
But until the 37-year-old shows that he can stay healthy and remain productive, there's little demand for his services.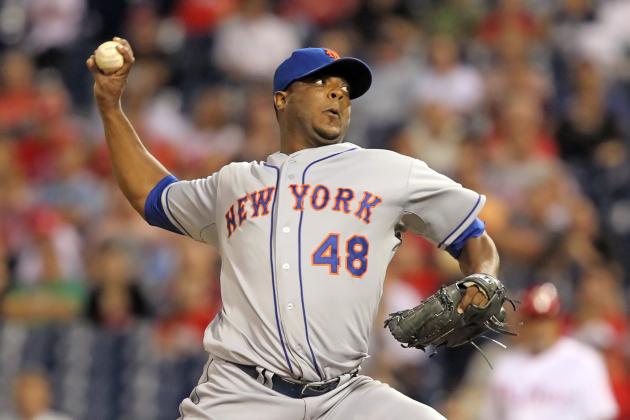 Hunter Martin/Getty Images

Remaining Contract: One year, $6.5 million
He missed a chunk of the 2012 season due to injury, but 33-year-old Frank Francisco was less than effective in his first year with the Mets.
While he converted 23 saves, Francisco constantly got himself into trouble, making every ninth inning an adventure.
Unless there's drastic improvement over his 2012 numbers—a 5.53 ERA and 1.61 WHIP—no team will be looking to add Francisco to its bullpen.
Alex Trautwig/Getty Images

Remaining Contract: One year, $15.2 million
Around baseball, there isn't a high demand for second basemen are in their mid-30s who have a degenerative condition in their knees and hips.
Amazing, I know.
Sure, Chase Utley can still hit, as evidenced by his .793 OPS, 11 home runs and 43 RBI in 362 plate appearances for Philadelphia last season. But he simply cannot be counted on to stay healthy and on the field.
That, coupled with the fact that he is far more valuable to the Phillies than any other team (much like Derek Jeter with the Yankees), makes Utley the pick.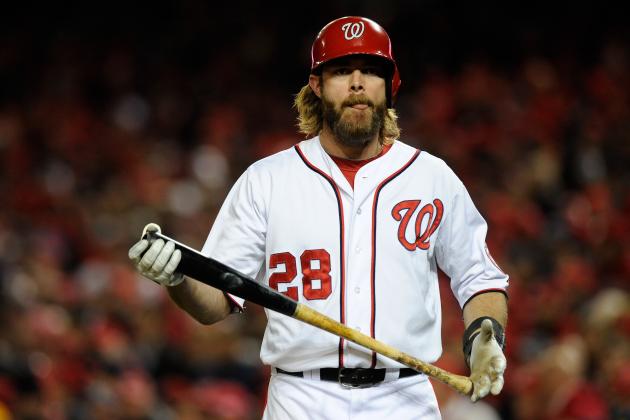 Patrick McDermott/Getty Images

Remaining Contract: Five years, $101 million
It's not that Jayson Werth is a terrible baseball player, but he's an average player being paid like one of the best players in the game.
He isn't worth an average salary of $20 million.
Washington would have to eat the majority of his contract in order to facilitate a deal, and that simply isn't going to happen.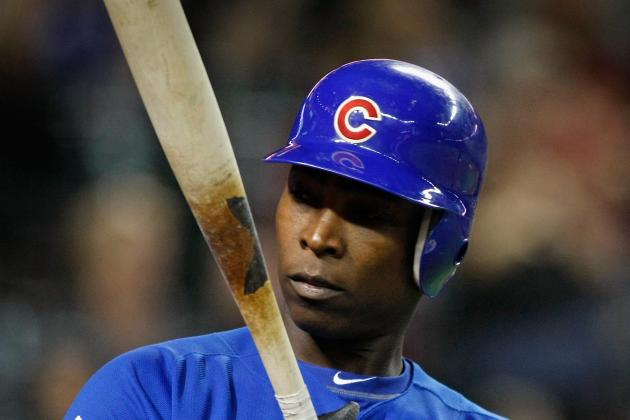 Ralph Freso/Getty Images

Remaining Contract: Two years, $38 million
Despite a willingness to eat much of the money due to Alfonso Soriano, as noted by Jon Heyman of CBS Sports, the Cubs have been unable to find a taker for the 37-year-old outfielder:
#cubs are willing to pay about $26M of soriano's $36M if they get right prospect back. seems reasonable. 30/100 last yr

— Jon Heyman (@JonHeymanCBS) December 13, 2012
Soriano, who topped 30 home runs and 100 RBI for the first time since 2005 last season, would be a fit on a handful of teams around baseball.
But nobody wants him, making it look more and more that he'll finish his career as the veteran spokesman for the Cubs.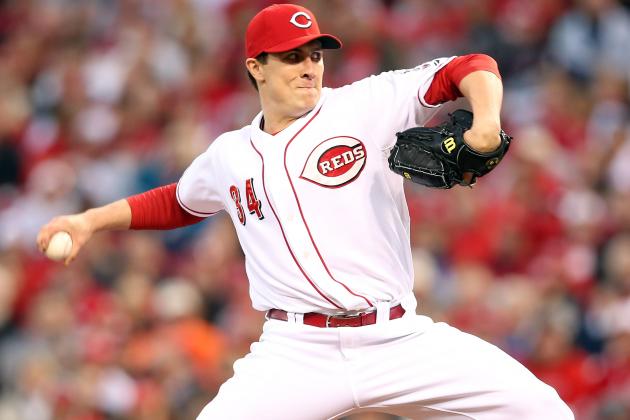 Andy Lyons/Getty Images

Cincinnati enters the 2013 season with a roster full of players that would garner significant interest were they to be dangled as trade bait.
Despite having lucrative multi-year contracts, Joey Votto, Brandon Phillips and Jay Bruce would all bring back a significant return for the Reds should the team suddenly decide to change course and start fresh.
Had we put this list together before last season, Homer Bailey might have been the choice. But after mediocre performances over parts of five seasons, everything clicked for the former top prospect in 2012, and he'd be one of the most sought-after Reds on the market if he were available.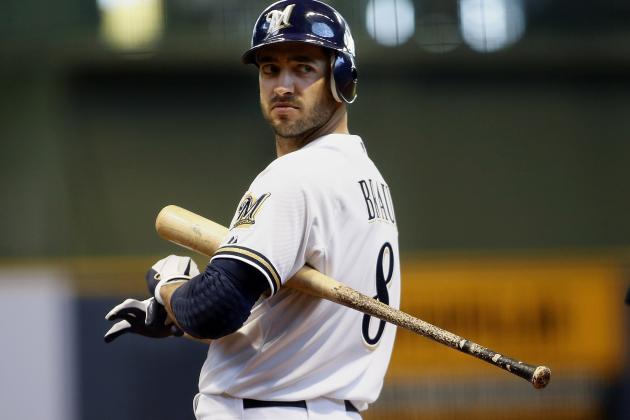 Mark Hirsch/Getty Images

Like the Cincinnati Reds, the Brewers wouldn't have a problem moving anyone on their roster if cleaning house was the order of the day.
From high-priced veterans (Ryan Braun and Aramis Ramirez) to youngsters like Mike Fiers and Mark Rogers, Milwaukee's players all have value as a trade chip.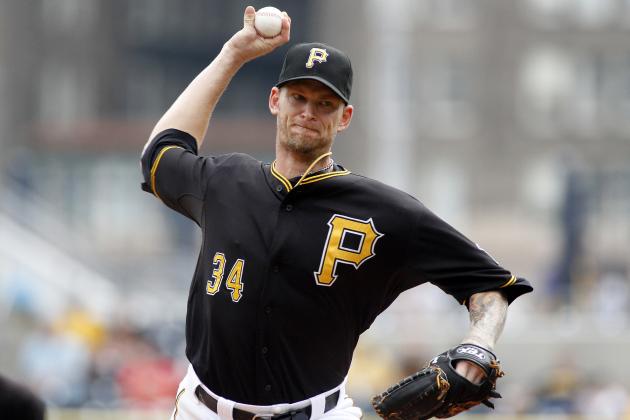 Justin K. Aller/Getty Images

Both A.J. Burnett and Wandy Rodrguez are having chunks of their 2013 salaries paid by other teams (the Yankees and Astros, respectively), making the pair of veteran starters far more palatable for perspective trade partners.
After them, there isn't a player on the Pirates who has a salary that would hinder trade talks, much as you'd expect to find on a small-market club.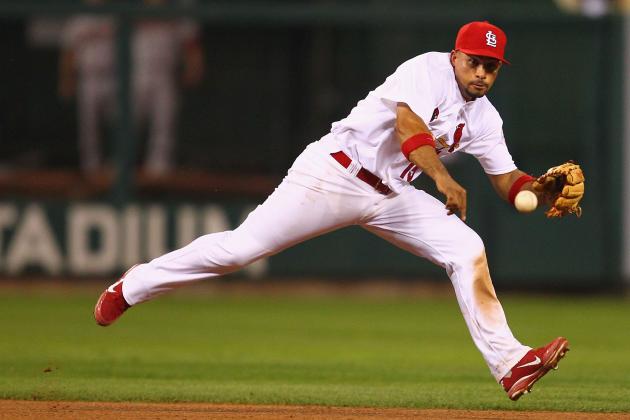 Dilip Vishwanat/Getty Images

Remaining Salary: One year, $7.5 million
It's not a matter of if Rafael Furcal is going to get hurt, it's only a question of how many games he's going to miss in 2013.
The 35-year-old Furcal missed the final month of the 2012 season after injuring his ulnar collateral ligament while throwing in late August. According to Cardinals GM John Mozeliak, Furcal will be ready for the start of the 2013 season (via ESPN's Jim Bowden).
But Furcal hasn't played in more than 125 games since the 2009 season, and no team in baseball is going to believe that the rewards of having Furcal on the roster outweigh the substantial injury risks that he brings along with him.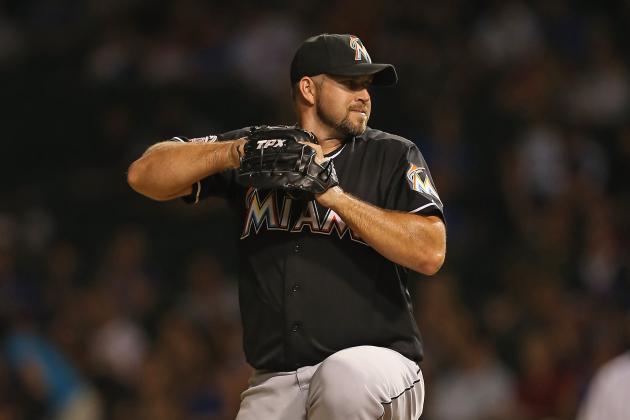 Jonathan Daniel/Getty Images

Remaining Salary: Two years, $20 million
While Bell was traded this winter once already, Arizona was seemingly the only team that had any real interest in the 35-year-old reliever.
After a 2012 season in which he lost the job as closer for the Marlins, finishing the season with a 5.09 ERA and 1.56 WHIP, only a return to his All-Star form as a member of the Padres would make Bell an attractive trade chip for the Diamondbacks.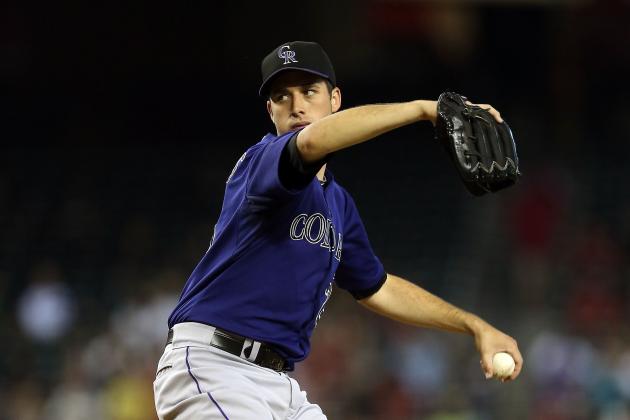 Christian Petersen/Getty Images

Remaining Salary: One year, $1.5 million
Jeff Francis was completely ineffective for the Rockies in 2012, going 6-7 with a 5.58 ERA and 1.48 WHIP.
While Coors Field certainly plays havoc with any pitcher's statistics, Francis wasn't much better than that with the Royals in 2011, the only season he's ever spent away from the Rockies organization.
The days of Francis going 17-9 while finishing in the top 10 of the NL Cy Young award voting are long gone—as is any value he had to other teams around baseball.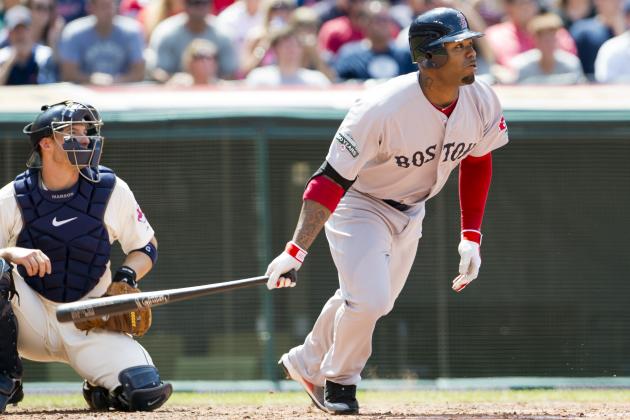 Jason Miller/Getty Images

Remaining Salary: Five years, $106 million
Just because the Dodgers were willing to take on Carl Crawford's albatross of a contract doesn't mean that any other team in baseball would follow suit.
Crawford, whose entire game is predicated on his speed, is now on the wrong side of 30 and coming off of a two-year run with the Boston Red Sox that saw him play in only 161 games.
While his injuries haven't been leg related, Crawford's inability to stay on the field—and the undeniable fact that speedy players tend to become less productive as they become further removed from their prime—makes him untradeable until he proves otherwise.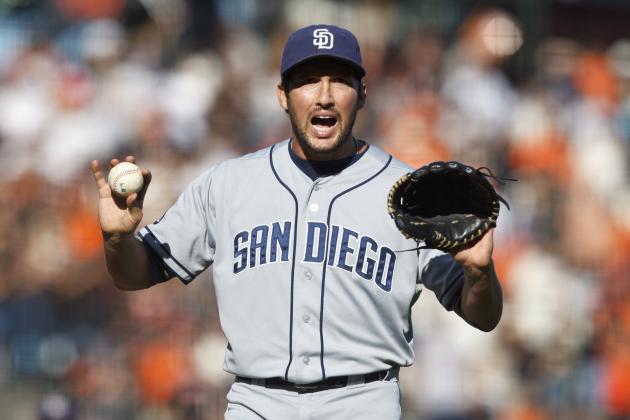 Jason O. Watson/Getty Images

You notice two things when you look at the Padres heading into 2013.
They have a roster full of young, up-and-coming players, with a handful of veterans sprinkled in, and, despite Chase Headley's emergence in 2012, there isn't a superstar anywhere to be found.
While that formula might not bring with it great success on the field in 2013, it does allow GM Josh Byrnes the ability to make moves with an eye towards the future, using any of the pieces at his disposal as the means to an end.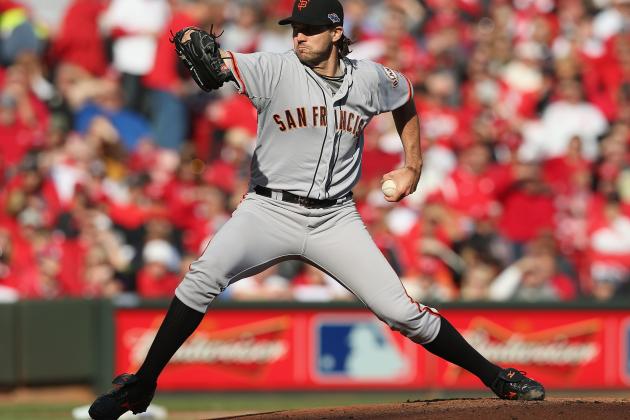 Jonathan Daniel/Getty Images

Remaining Salary: Two years, $27 million (includes $7 million buyout of 2014 team option)
Despite his return to form in 2012, Barry Zito remains one of the more immovable objects in all of baseball.
The 34-year-old southpaw simply makes far too much money for another team to even consider acquiring him, not unless the Giants were willing to eat a substantial portion of his contract—something that simply isn't in the cards.
Even if he builds upon the 15-8 record and 4.15 ERA that he pitched to in 2012, it's highly unlikely that a team would make a move to acquire him with an eye towards exercising the $18 million option on his contract for the 2014 season.