How to Date a Professional Athlete
Rob Carr/Getty Images

Lately it seems like there are a lot of ladies out there with a quest to land themselves a professional athlete. It probably has something to do with the inexplicable popularity of soul-sucking reality shows like The Real Housewives of Wherever, Baseball Wives and Basketball Wives.
Not that the women on those shows are anything I'd want to aspire to, but I suppose the heart wants what the heart wants. And in this case, I imagine what the heart really wants is an American Express Black Card. But who am I to judge the life choices of someone else? This is America and we should all be free to be you and me.
Which is why I've put together a list of some of the best ways snag an athlete. Most aren't based on any personal success, but rather some of the strategies I've gathered through research and observation. Some are very easily employed, while others have certain physical and financial requirements.
Basically it has a little something for everyone. It'll probably be developed into a book at some point and later optioned for a major motion picture. I'll keep you posted. But in the mean time, let's dig in.
Begin Slideshow

»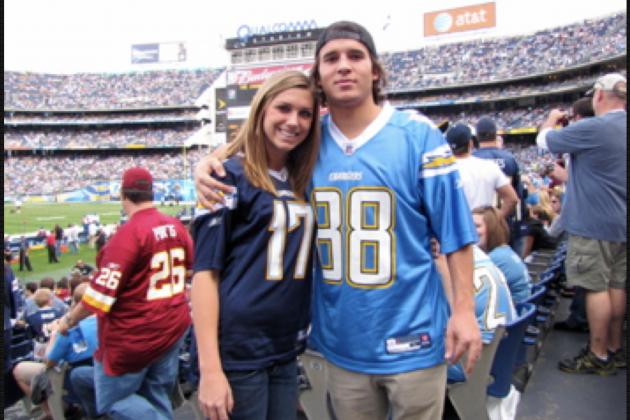 Image via Zimbio
Chances are that you are already on a course in life that is not going to lead you to becoming a professional athlete. That's something you've got to get started on pretty early in life and there are hefty time commitments and talent requirements involved.
But if you happen to be on that path already, you'll have no shortage of athletes trying to get your digits. Athletes are always getting together and living happily ever after. Or until divorce do they part.
Here's an entire list of such couples who are doing just that.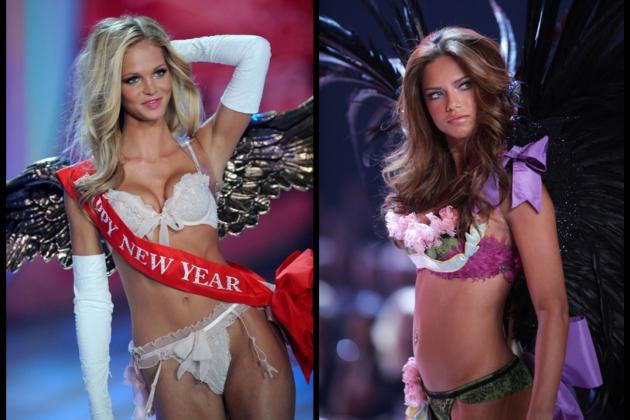 Images via Bauer Griffin
The physical requirements associated with becoming a model for the JC Penney catalog are going to be prohibitive for the vast majority of the population. So if most people fall far short of that bar, just imagine how fall short they fall from the bar set by the Victoria's Secret Angels.
That being said! If you happen to possess the standard requirements, becoming a Victoria's Secret Angel is a sure fire way to attract a professional athlete. You'll pretty much have the pick of the litter.
But if history has taught us anything, you'll probably pick an annoying one.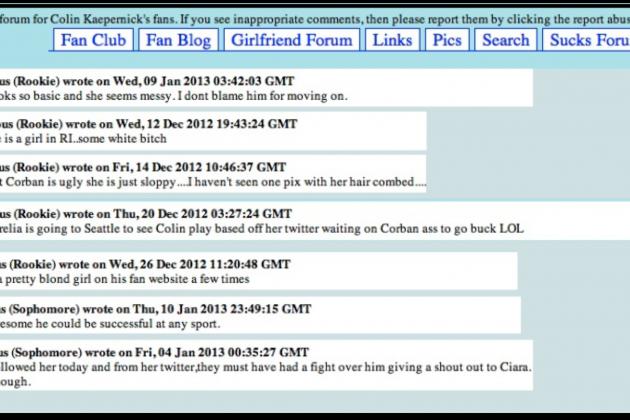 Image via talk-sports.net/nfl/history.aspx/Colin_Kaepernick
The web forum for obsessive fans and borderline stalkers to dissect the personal lives of professional athletes is something that I didn't even know existed until recently.
They are disturbing cyber dens of crazy, catty creepers who come together to say hateful things about the girlfriends of the athletes they'd like to date. And, naturally, they do it anonymously. If you have a computer—and lack a soul—this is for you.
But you get what you pay for, right? Cyber-bullying Colin Kaepernick's girlfriend online is a cheap and easy way to feel like a part of his world. A very, very distant part of his world that he probably doesn't know about and would probably be completely disgusted if he did.
So going the psycho web stalker route isn't an effective tactic if employed on its own. You're really going to need to do a little more leg work and log the man hours if you want this to work.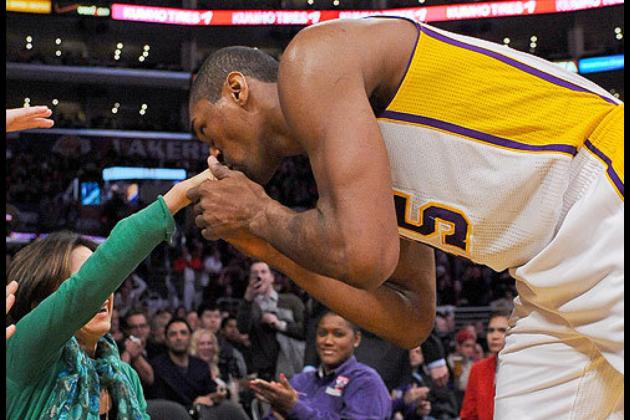 Image via Getty Images North America
The other day on Yahoo! Sports, I saw this photo of the Lakers looney Metta World Peace putting the moves on lady sitting courtside at the Staples Center. I'm not sure how common of an occurrence this is—I imagine not very—but proximity is a key factor if you want to date a professional athlete.
Unfortunately, scoring courtside seats to an NBA game is going to be cost prohibitive for most of us. I can't even begin to imagine how much people play for Lakers seats—I can't even afford courtside seats to a Wizards game!
But if you've got some cash to throw around, placing yourself in the eye-line of someone you want to notice you is a good start. Just promise me you won't get drunk and wander out onto the court like some kind of escaped mental patient.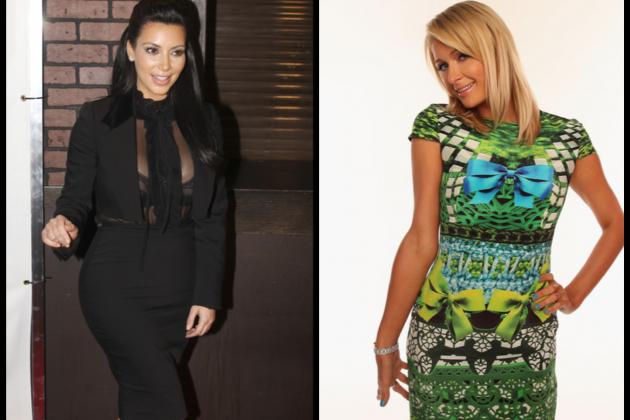 Images via Getty Images North America
It doesn't take a rocket scientist to make your own low-budget adult films. Paris Hilton can do it, and I'm not even certain she knows how to read—my guess is no. All that's required is some rudimentary home recording equipment and a couple of willing participants.
The thing about leaking your homemade pornography to a distributor is that there needs to be a market for it. Paris Hilton and Kim Kardashian have both employed this technique and have dated a few dozen athletes between them.
This technique is much more effective for people who have even the slightest bit of celebrity—like reality television spectacles and people who have been involved in a messy public scandal. It's a long shot for everyone else.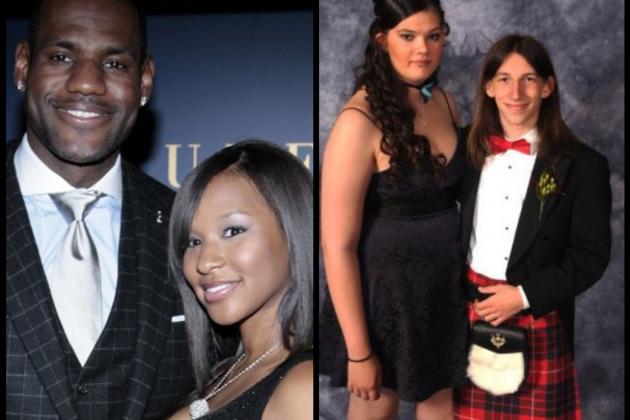 Images via AP & TheChive (Chive On!)
If you think you want to date a professional athlete, getting an early start is a good idea, because a lot of them meet their first wives in high school. High school athletes are a hit-or-miss prospect, but hitching your wagon to one of them early has been known to pay dividends.
Keep in mind that there are no guarantees, so don't put more into it than you are likely to get out of it. Just set your sights on a social circle that overlaps with the jock-types and let nature take its course—you only have so much control over high school happenings.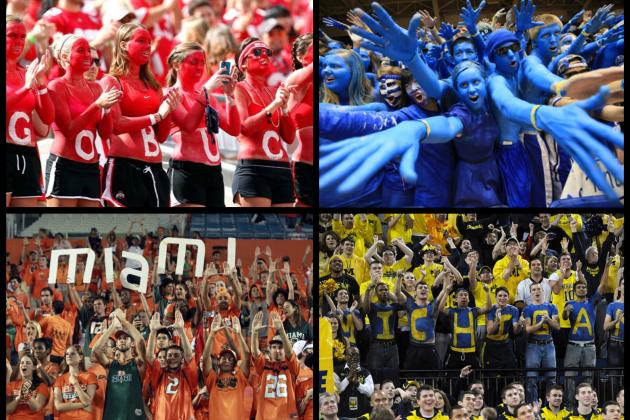 Images via ToledoBalde, USAToday, MiamiHerald & AnnArbor.Com
As long as you've got the grades to actually go to college, picking the right college drastically improves your chances of meeting your dream athlete. There is never going to be another time in your life when you have moderate access to such a large number of athletes. Just remember to do the research and play the odds.
You're probably going to want to avoid small liberal arts colleges and Ivy League institutions that don't offer athletic scholarships. Focus on the big state schools that turn out the most professional athletes. Ohio State for football players. Duke for basketball players. Miami for baseball players. And Michigan for hockey players.
Actually, I guess you don't have to do your research now, since I did it all for you. Just send me a check instead. Thanks in advance.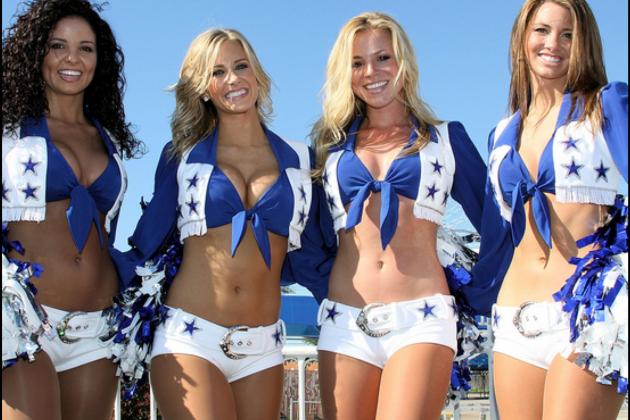 Image via UltimateCheerleaders
Athletes and cheerleaders are like cheese and crackers—they just go together. In high school and college they tend to run in the same social circles, so eventually there's a familiarity built over a period of time. Although, it's pretty difficult to do the cheerleader thing after school.
There are far less things to cheer for, which means competition for the few coveted positions that exist is fierce. And at the professional level, most cheerleaders are prohibited from dating the players for which they cheer. But the crafty ones find a way around the rules and the defiant ones just ignore them.
Former Dallas Cowboys cheerleader Kelsi Reich is dating Bills wide receiver David Nelson. Former Redskins tight end Chris Cooley met his (soon to be ex) wife Christy while she was a cheering for the team. And Phillies slugger Ryan Howard met his wife Krystle while she was a cheerleader for the Eagles—she gave up her pom poms when he gave her a ring.
It's certainly not easy to become a professional cheerleader, but if you've got the goods, it's a proven avenue to a happily ever after (for a few years, at least) with the man of your dreams.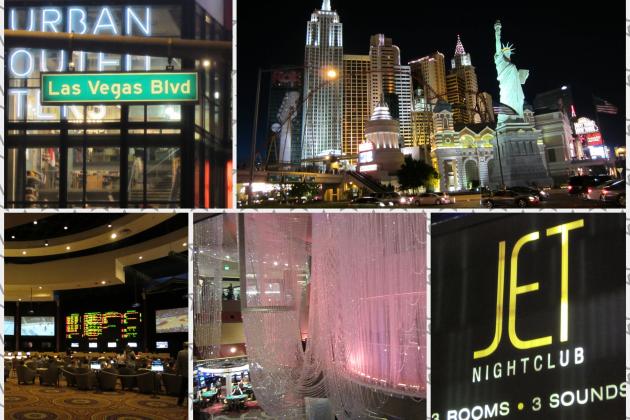 Images via my own Vegas vacation! @Blamberr
This one speaks for itself. Athletes are always in the news for their Las Vegas shenanigans. And if you lived in Las Vegas, you could witness those shenanigans first hand.
Living in a mid-sized city like Charlotte or Kansas City, you're limited to the athletes that play in that city, most of whom skip town hours after their seasons end—probably to go to Vegas.
Sin City has anything and everything that young singles with swag are eager to waste money on. Casinos? Yep. Strippers? Of course. Exclusive nightclubs? No doubt. Luxury shopping outlets? Countless. Walls made of crystal beads? Apparently.
You name it, Vegas probably has it. And if they don't, someone there is probably willing to get it for you.
So pack up your bikinis, body glitter, perilously high stilettos—and nothing else—and get to Vegas. Just don't tell your parents it was my idea. I don't want to deal with that.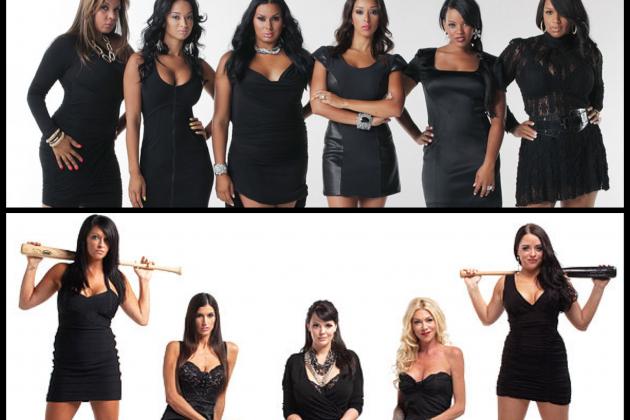 Image via VH1
I'm not a regular viewer of Basketball Wives or Baseball Wives on Vh1, because I find them inherently vile and an incredible waste of time. Although, judging from the handful of episodes I've watched drunk in the middle of the night, there are a few lessons to be learned from these backbiting broads.
The one thing that struck me about the women on these show is that most of them aren't even married to athletes anymore—and some of them were never married! It's an oddball assortment of ex-wives, baby mamas, ex-girlfriends, cheated-on current girlfriends and psycho stalkers who are desperately clinging to a brief fling they once had and whose inclusion in the show undermines the entire concept.
The one thing you can learn from these women is how not to act. Just watch all horrifying behavior they engage in over the course of a single episode and do the exact opposite. This is something that might help you get a date with a professional athlete, because most of them have been dumped by athletes and you can learn from their mistakes.
But it's really more of a broader lesson that will help you in all aspects of your life. When in doubt, just ask yourself "What Would a Basketball/Baseball Wife Do?" and do not that.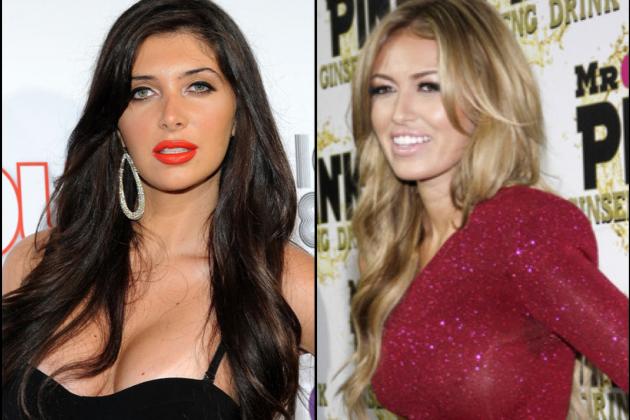 Brittny Gastineau & Paulina Gretzky, Images via Getty
This isn't really an actionable item like most everything else on the list. If you are an adult and your parents aren't already professional athletes, there's not much of a chance it's going to happen at this point. But if your parent or parents are already professional athletes, you're in luck!
Being the child of an athlete comes with a number of advantages like wealth, status and—should you choose to pursue a career in sports—the benefit of nepotism in the workplace.
It also comes with dating benefits, like personal access to retired athletes—for anyone with daddy issues—and their children who are current athletes—for anyone without.
And if your parents aren't athletes, you're not entirely out of luck here. You can always befriend someone who is, thereby benefiting by proxy and leveling the playing field a bit.
Image via ClevelandLeader
Jetting off to the Hawaiian Islands isn't a cheap excursion, but I know for a fact that it's pretty easy to meet NFL players during Pro Bowl week in Honolulu. The reason I know that is because I decided to put off college for awhile and moved to Oahu on a whim after high school.
At the time I was a feisty teenager and football, and football players, were the farthest thing from my mind. In fact, my friend and I didn't even know the Pro Bowl was happening until learning about it from a number of players at various hotspots in Waikiki, which is where we lived.
For the greater part of a week, it was almost impossible to avoid NFL played and personnel in tourist-heavy locations. And the game never sells out. It doesn't even get close. Which means tickets are ridiculously cheap and given out for free on the radio every 10 minutes in the weeks leading up to the event.
So, like I said, it's not the most cost feasible option. But if you can swing the cost of a tropical getaway, you're basically guaranteed the opportunity to rub elbows with the NFL's elite. This is also a great option for super fans looking for an opportunity to start a hetero-bromance.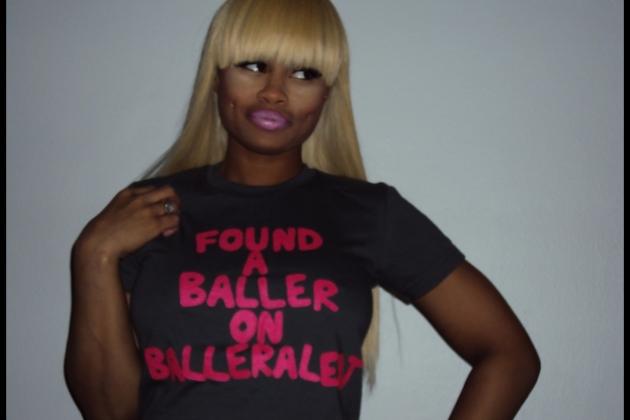 Image via BallerAlert.com
I'm not sure how much spending time on the Internet gossiping about athletes is going to improve your dating prospects, but it's a strategy employed by a very large number of women. The website BallerAlert is an online community for "Women Who Want the Ballerific Life!"
They sell man-repelling merchandise, post an endless stream of unsubstantiated gossip about disease-spreading groupies and provide a detailed calendar of events around the country that may attract athletes. They also have an online community that includes the "Baller Alert Book Club," which sounds kind of awesome.
If you want to rub elbows with the sleazy "jumpoffs" of the NBA, BallerAlert is the place to be. Here's the type of thing you can expect:
Sandrina lives in Los Angeles and is Dwayne Wade's jumpoff.

She always in Miami too she splits her time.
Their huge secret is they have actually been f****** for years but Dwayne recently learned that she has been sleeping with another NBA player too.
He found that out and went ballistic because he has been financing her lifestyle for example he bought her breast implants recently (old pic and new pic for details) and much more
You may wonder why he would cheat on Gabrielle Union, but it is because Sandrina has ORGY with him!!!! and Dwayne pays the big bucks for it

Sincerely a little birdie
To avoid legal responsibility, they provide a disclaimer: FCP Mail is submitted by our readers and are protected by federal statute 47 U.S.C. 230. Fullcourtpumps.com can not confirm 100% accuracy of any story posted.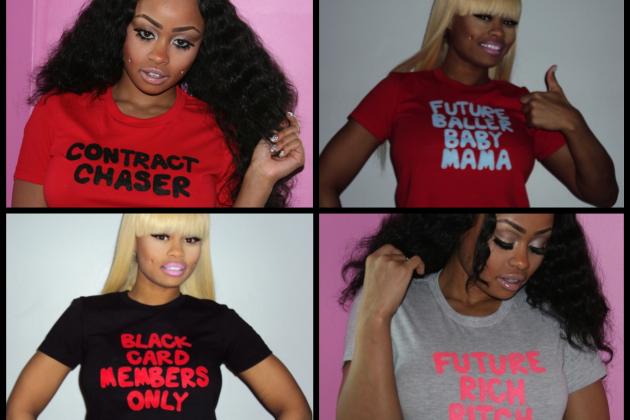 Images via BallerAlert.Com
Athletes have an infinite number of dating options, so you have got to look the part if you want to get ahead in the game.
Everyone has heard the saying, "You catch more flies with honey than with vinegar." Well, you'll catch more athletes not wearing a T-shirt that displays exactly why they shouldn't date you, than wearing a T-shirt that displays exactly why they shouldn't date you.
I'll concede that professional athletes aren't known for making the best decisions. But most of them surely know better than to accept the advances of a groupie rocking a t-shirt that says "Contract Chaser" or "Future Baby Mama."
You might as well wear a shirt that says "I'm Going to Get Pregnant. Steal All Your Money. Rise, Wash, Repeat." Actually…that might work on Jets cornerback Antonio Cromartie.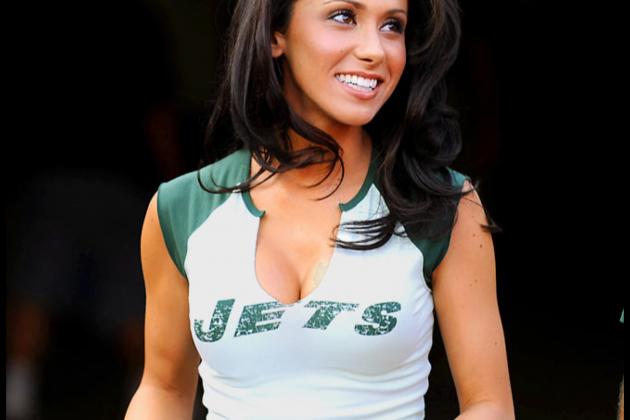 Image via thesportsbank.net
Getting a job in sports puts you in proximity to professional athletes. Which, as I've mentioned before, is absolutely key if you want to date one of them. ESPN anchor Samantha Steele's recent marriage to Vikings quarterback Christian Ponder is a prime example of the success one can find.
This is an excellent strategy, but it's not foolproof. There's always the chance that you could be on the receiving end of unwanted advances from a middle-aged married quarterback intent on wooing you with weirdo voicemails and cellphone pictures of his junk.
As you may remember was the case for former Jets GameDay host Jenn Sterger and Wrangler pitchman Brett Favre. Despite the fact that Sterger had the good sense to shoot him down, it took awhile for Favre to get the hint.
Athletes are used to getting what they want and if you attract the eye of a creeper, it may be difficult to shake him. Just like I will never shake the image of those cellphone pictures that Deadspin unleashed on the world.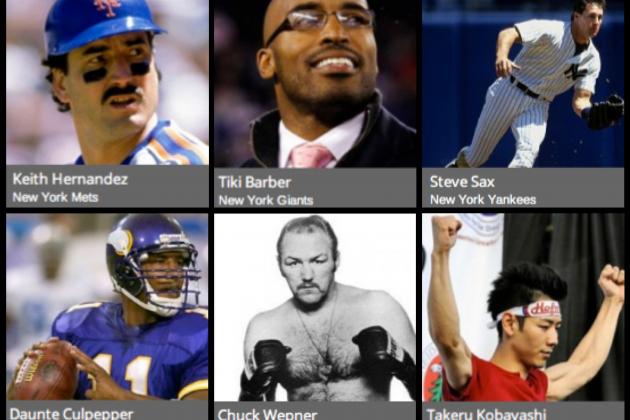 Images via Thuzio
If you've been wondering what disgraced former NFL running back Tiki Barber has been up to, and I realize that nobody has, he recently started his own business.
Barber and his investors have launched Thuzio, which is a website designed to provide members of the general population an "experience" with the professional athlete of their choosing.
For a fee, of course.
Now, I'm not saying that this is the ideal way to land a date with an athlete. It's basically prostitution without any sexual guarantees. Dropping $5,000 for a lunch or dinner with Redskins wide receiver Pierre Garcon is a bit excessive, even if he does let you choose the conversation topic and share stories from his career.
Those better be some epic stories for five grand.
The upside is that he's financially obligated to be there for 90 minutes. That should be more than enough time to impressive him and convince him to come to your birthday party.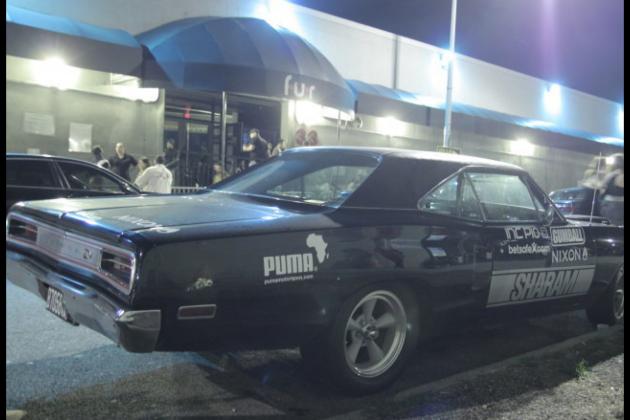 Image via sharam.com
This strategy is particularly effective if you live in a big city. I'm not really sure what athletes do for fun in Green Bay, but I know first hand what they do in D.C. Not that I ever go out with the intention of finding an athlete—my boyfriend would not approve—it's just happened on a few occasions.
Athletes have concentrated hotspots in most major cities, but you'll have to do the research on that one yourself. Although, if you're in the D.C. Metro area, you definitely want to hit up the FUR nightclub in NE. I've seen the Wizards' John Wall and the Capitals Alex Ovechkin there on more than one occasion.
Ovi is always dressed in his finest sweatpants and t-shirt and they usually let him on stage to do whatever he wants. It's good to be the king.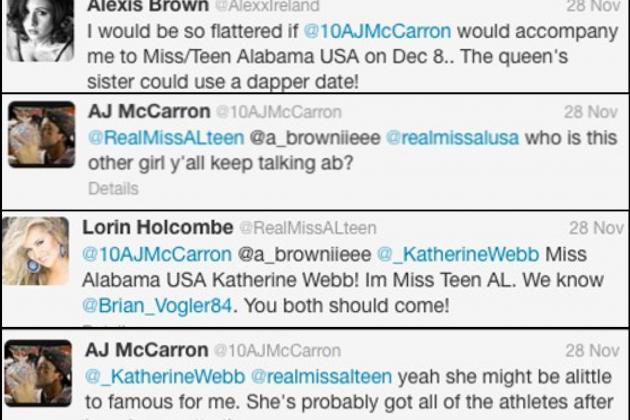 Images via Twitter, courtesy of BusinessInsider
I had no idea that athletes actually met girls off Twitter, but apparently that's a thing that is happening now. That's how Alabama quarterback A.J. McCarron first met his now ridiculously famous girlfriend Katherine Webb, a former Miss Alabama, in late 2012.
And apparently that's where Notre Dame linebacker Manti Te'o met his imaginary dead girlfriend a few years ago. I did a little internet excavation on this subject and found that it's far more widespread than I had ever imagined.
According to a fascinating post on SportsByBrooks in 2010, marginally famous NBA and NFL players use Twitter for the sole purpose of meeting up with starstruck groupies. And they aren't even discreet about it—many just exchange public tweets with prospective dates, rather than going the direct message route.
They'll go on a date with these girls, but apparently following them on Twitter is too big a commitment. So if you're looking for a good time more than a serious commitment, you might want to start following every C-List athlete you can find on Twitter.
**Speaking of getting busy on Twitter! How about you follow me too, while you're at it. I look forward to exchanging drunken tweets about life and love with all of you. Follow @blamberr