Florida Football: Projecting the Gators' 2013 2-Deep Depth Chart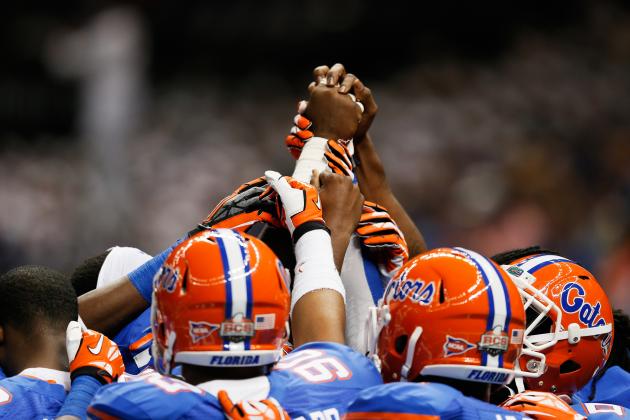 Kevin C. Cox/Getty Images
The Gators will look to take the next step in 2013 and compete for an SEC Championship.
Despite losing in the Sugar Bowl, the Florida Gators had more success in 2012 than anyone could have predicted.
Florida will be losing 12 starters from the 2012 team, but thanks to the tireless work that Will Muschamp and his staff have done on the recruiting trail, the Gators look poised to reload rather than rebuild.
Florida had the No. 4 recruiting class in 2012, and has the No. 1 ranked recruiting class in 2013, according to ESPN. Muschamp has shown that he will play the best players regardless of age, and many of the younger players will be asked to step up and contribute next season.
With so many players either graduating or leaving school early in hopes of playing in the NFL, the Gators will look very different next season.
Let's take a look at what Florida's 2-deep depth chart will look like when they kickoff against Toledo on Aug. 31.
Begin Slideshow

»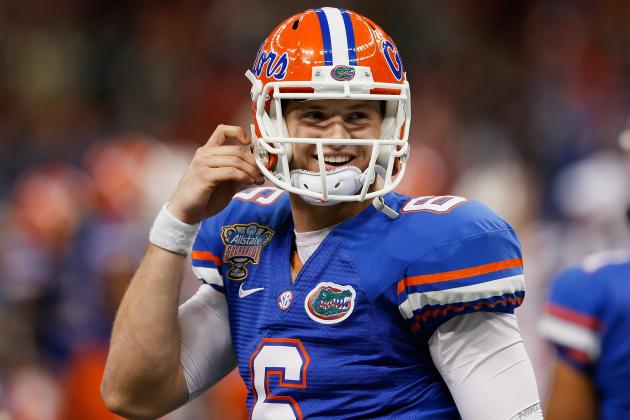 Kevin C. Cox/Getty Images
Jeff Driskel heads into 2013 as the unquestioned starter.
Starter: Jeff Driskel
Backup: Skyler Mornhinweg
Muschamp has already come out and announced that Jeff Driskel will be his starting quarterback moving forward.
"First-year starter, you win 11 games, you've accomplished an awful lot"—Will Muschamp.
With Driskel the unquestioned starter for 2013, the battle to back him up can now begin. With Jacoby Brissett's transfer to North Carolina State, there is some uncertainty behind Driskel.
Florida has Tyler Murphy and Skyler Mornhinweg already on campus, and will add Max Staver this summer. None of them have attempted a pass in college, and there really isn't an early favorite for the backup spot.
Murphy was used primarily on the scout team in 2012, and Mornhinweg used a redshirt last season. Staver is a tall pocket passer but will not likely be called upon in 2012.
Mornhinweg is the most likely candidate to replace Brissett as the backup, but all three quarterbacks will have a chance to prove themselves this offseason.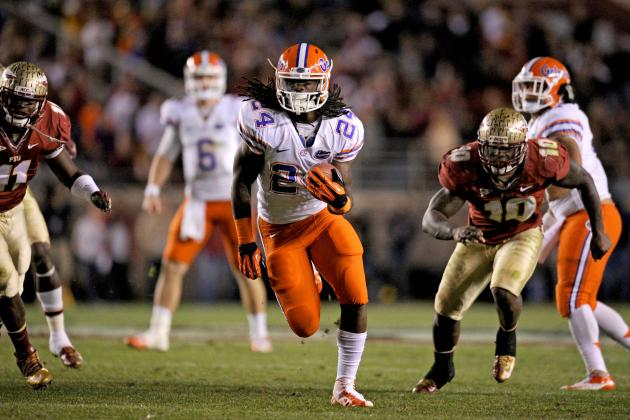 Kevin Liles-USA TODAY Sports
Matt Jones is the early favorite to replace Mike Gillislee.
Starter: Matt Jones
Backup: Kelvin Taylor
Mike Gillislee accounted for 30 percent of the Gators' total offense in 2012, so replacing him will be a tall task for Florida. Luckily Florida already has two players on campus that appear to be able to handle the task.
Matt Jones finished the season with 52 carries for 275 yards and three touchdowns. Jones played his best football the last month of the season, and he is the early favorite to replace Gillislee as the starting running back.
Pushing Jones for playing time will be early enrollee Kelvin Taylor. Taylor is the No. 1 rated running back according to 247 Sports composite ratings. Taylor is getting a head start on his college career and has already enrolled at the university. Enrolling now will allow Taylor to begin offseason workouts with the team, learn the playbook and participate in spring practice.
Replacing Gillislee is no easy feat, but the Gators have two players who should be able to fill his shoes.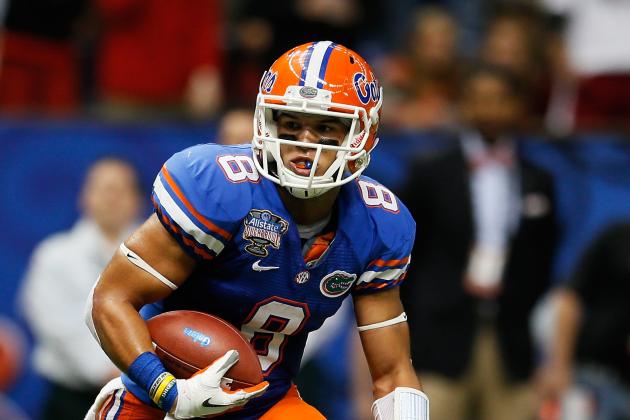 Kevin C. Cox/Getty Images
Trey Burton allows the Gators to be more creative on offense.
Starter: Hunter Joyer
Backup: Trey Burton
Hunter Joyer is the unquestioned starter at fullback. Joyer is one of the Gators' best lead blockers, and while his contribution doesn't show up in the box score, the Gators wouldn't be able to run the ball like they do without him.
Trey Burton will continue to make an impact on offense. Burton plays a hybrid "F" position in Brent Pease's offense. Burton also will continue to be the Gators' Wildcat quarterback, and could even see some time at tight end.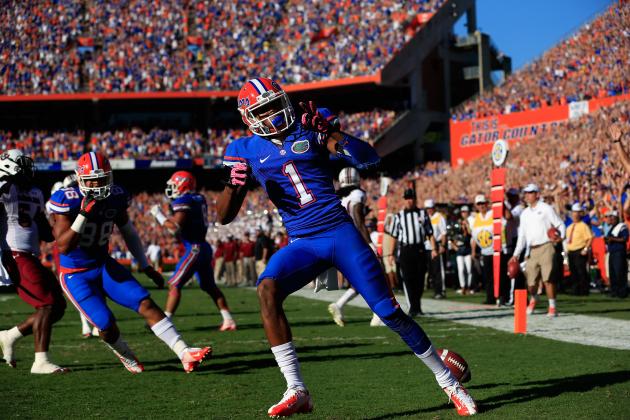 Chris Trotman/Getty Images
Quinton Dunbar is poised to have a breakout season in 2013.
Starter X: Demarcus Robinson
Backup: Andre Debose
The first freshman who could crack the starting lineup is Demarcus Robinson. Robinson enrolled early at Florida after de-committing from Clemson. Robinson is a 6'2" athletic receiver who shows good route-running ability and an ability to high point the football. Robinson is a versatile athlete who should be able to impress the coaching staff at the biggest position of need for the Gators.
I would like to list Debose as a starter, but he fell so far down the depth chart last season he will struggle to climb back up. Debose has struggled with consistency, a bad attitude and lack of effort at practice since Muschamp took over the team, and that has planted him firmly in the head coach's dog house. Debose had three receptions last season for 15 yards.
Starter Z: Quinton Dunbar
Backup: Latroy Pittman
Quinton Dunbar is the most experienced receiver the Gators have returning in 2013. Dunbar caught 36 passes for 383 yards and four touchdowns in 2012, and is one of the best blockers that the Gators have at receiver.
Latroy Pittman saw a fair amount of playing time as a freshman, but was used primarily as a blocker on running plays. His physical play impressed the coaching staff, and he will have a shot to earn more playing time if he can put together a solid offseason.
Tight End Starter: Colin Thompson or Kent Taylor
Backup: Clay Burton
Colin Thompson missed his freshman season after undergoing foot surgery in the offseason. Thompson is a complete tight end. While Kent Taylor is more of a threat in the passing game and Clay Burton might be a better blocker, Thompson is more complete than either of them.
Thompson will allow the Gators to be more scheme-versatile on offense but Clay Burton and Kent Taylor should both see playing time in 2013.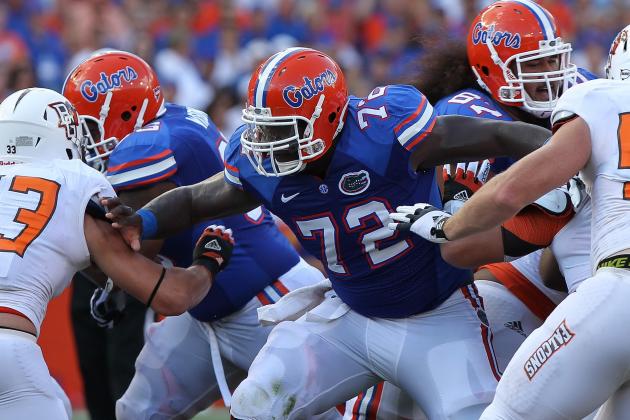 Kim Klement-USA TODAY Sports
The Gators will have a new look on the offensive line next season.
Starters: LT D.J. Humphries, LG Max Garcia, C Jonotthan Harrison, RG Jon Halapio, RT Tyler Moore
Backups: LT Trenton Brown, LG Ian Silberman, C Kyle Koehne, RG Cameron Dillard, RT Chaz Green
Florida is losing the entire left side of its offensive line from 2012. D.J. Humphries saw extensive playing time as a freshman and should benefit from that experience. Humphries is an impressive athlete and should be able to anchor Driskel's blindside for years to come.
Max Garcia is a transfer from Maryland who sat out the 2012 season. Garcia was named the scout team Player of the Week three times last season, and after Jessamen Dunker's arrest this week, should be the favorite to start at left guard.
Jon Harrison started every game at center in 2012, and that shouldn't change much moving forward. He was one of the Gators' most reliable and effective linemen in 2012.
Jon Halapio has started every game at right guard for two straight seasons, and barring injury, should be able to make that streak three seasons.
The battle at right tackle will be interesting. Chaz Green has been a starter for two seasons, but has battled injuries and was inconsistent in 2012. Tyler Moore is a transfer from Nebraska. Moore started four games as a freshman for the Cornhuskers and will challenge Green for his starting spot. I give the early edge to Moore.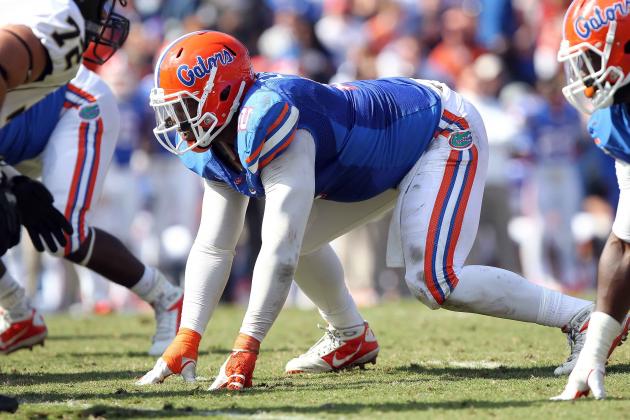 Kim Klement-USA TODAY Sports
Dominique Easley will return for his senior season.
Starters: DE Jonathan Bullard, DT Dominique Easley, NG Leon Orr
Backups: DE Dante Fowler Jr., DT Damien Jacobs, NG Darious "Bear" Cummings
Jonathan Bullard started slow but was impressive towards the end of the season. Bullard finished the season with a team-high seven quarterback hurries, and he is the Gators' best option at strong-side defensive end.
Dominique Easley moved from defensive tackle to end last season and his production took a hit. Easley should be moved back inside to tackle, where he totaled 37 tackles, 7.5 for a loss, 1.5 sacks and three quarterback hurries as a sophomore. Damien Jacobs did a good job of backing up Sharrif Floyd last season, and he should continue his role as a backup in 2013.
Leon Orr will look to fill in for Omar Hunter as the nose guard on Muschamp's defense. Orr is not as gifted as a pass rusher as Hunter, but he is solid against the run, and Florida is really thin at the position. Darious "Bear" Cummings will find playing time at both nose guard and defensive tackle next season.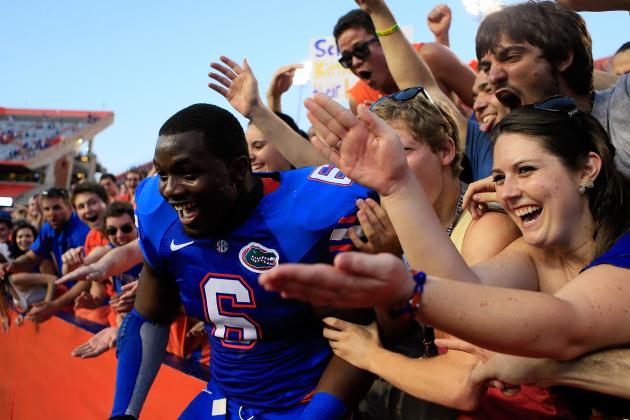 Sam Greenwood/Getty Images
Dante Fowler will challenge Ronald Powell for the starting spot at Buck linebacker.
Starter: Dante Fowler Jr.
Backup: Ronald Powell
Ronald Powell missed the entire 2012 season after tearing his ACL in Florida's spring game. The junior was replaced by Lerentee McCray and Fowler.
Fowler was impressive for a freshman, and should have a leg up on Powell, who will be in a non-contact jersey during spring practice. If Powell can be fully healthy by summer, the job could be his to lose, but it's too soon to tell how Powell will respond coming off of serious surgery.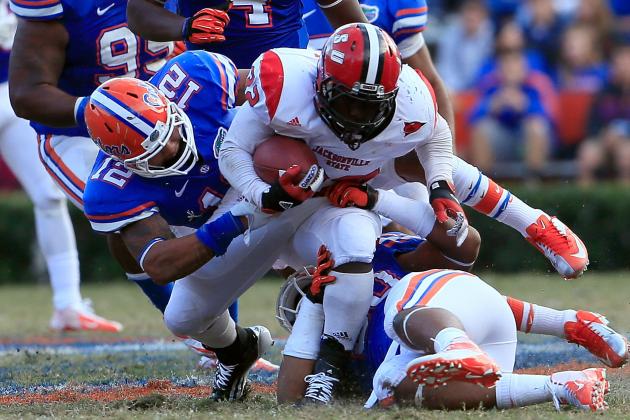 Sam Greenwood/Getty Images
Antonio Morrison could replace Jon Bostic as the new Mike linebacker.
Starters: Will LB Jeremi Powell, Mike LB Antonio Morrison, Sam LB Neiron Ball or Darrin Kitchens
Backups: Will LB Daniel McMillian, Mike LB Michael Taylor, Sam LB Alex Anzalone
With the loss of Jon Bostic to graduation and Jelani Jenkins to the NFL draft, the Gators have two very big holes to fill for next season.
The coaching staff was so impressed with Morrison last season that he earned four starts, including the bowl game. Morrison is slightly undersized to play in the middle, but with another year in Jeff Dillman's strength and conditioning program he should be able to bulk up for next season.
Jeremi Powell took a redshirt in 2012 but impressed the coaching staff during practice. Powell earned the defensive scout team Player of the Week honors twice (LSU, FSU), and if Morrison is moved inside, he has the best chance of taking over at weak-side linebacker.
Neiron Ball earned two starts in 2012 while Darrin Kitchens earned one. Most of the season the Gators opted to play an extra defensive back rather than three linebackers. Florida has a ton of talent coming in the 2013 recruiting class, and players like Alex Anzalone and Daniel McMillian will push Ball and Kitchens for playing time.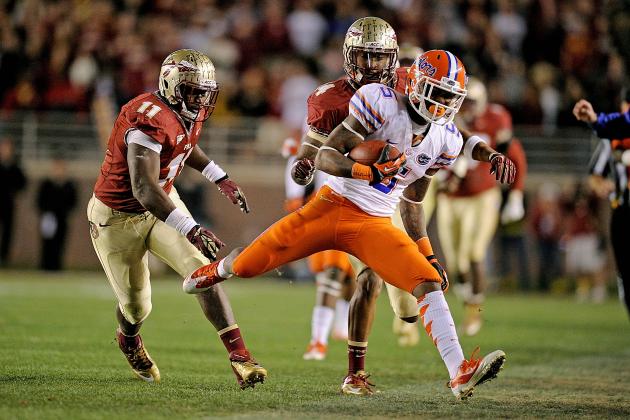 Kevin Liles-USA TODAY Sports
Florida is losing both starting safeties, but the secondary has enough talent to rebound.
Cornerback Starters: Marcus Roberson, Vernon Hargreaves III
Backups: Loucheiz Purifoy, Jaylen Watkins
Safety Starters: Marcell Harris, Brian Poole
Backups: Jabari Gorman, Marcus Maye
The Gators have an embarrassment of talent in the secondary, especially at cornerback. Marcus Roberson is the Gators' best cover corner but lacks the physicality that Muschamp likes in his cornerbacks. Roberson recorded a team high 12 pass breakups but struggles with his tackling. Loucheiz Purifoy is a more physical player and a great tackler, but he can struggle at times in man coverage and needs to develop more ball skills.
Vernon Hargreaves will enroll in the summer, and he could be the most complete cornerback Florida has had since Joe Haden. Hargreaves is an exceptional cover man and a sound tackler. Hargreaves earned Player of the Game honors at the Under Armour All-America Game, and he should see plenty of playing time early. Jaylen Watkins earned nine starts in 2012 and will continue to be a big factor on defense.
The Gators lose both starting safeties from 2012, but have a lot of talent left on the roster to fill in.
Marcell Harris is a dark-horse candidate to start at free safety. Harris has big plans to make an early impact, and the talent to back those plans up. Harris is an instinctive player who can play up at the line of scrimmage and is a good cover man. At 6'1" 207 pounds, Harris is already bigger than most of the players that the Gators have at safety.
Brian Poole saw limited playing time in 2012, compiling two tackles. Poole earned the coaches' trust as a freshman, and should be the leading candidate to replace Matt Elam.
Marcus Maye sat out the 2012 season but is an impressive athlete who will vie for a starting spot, and Jabari Gorman is the most seasoned player the Gators have at safety.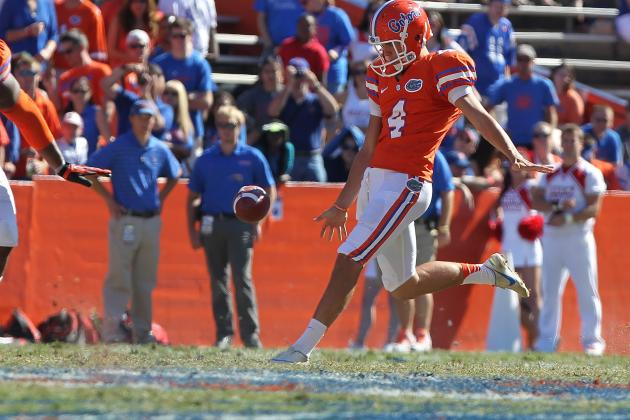 Kim Klement-USA TODAY Sports
Kyle Christy returns in 2013 for his junior season.
Kicker Starter: Austin Hardin
Backup: Brad Phillips
Punter Starter: Kyle Christy
Backup: Todd Fennell
Kick-return Starter: Andre Debose
Backup: Loucheiz Purifoy
Punt-return Starter: Marcus Roberson
Backup: Andre Debose
Losing Caleb Sturgis leaves one of the biggest holes the Gators will need to fill in 2013. Sturgis leaves Florida as the all-time leader in field goals, and was so good that he would effect the Gators' play-calling. Sturgis was almost automatic during his career, and he is leaving big shoes to fill.
Austin Hardin was the top-rated kicker in the class of 2012, and used a redshirt last season. He should have no problem winning the job and should have a long career at Florida.
Kyle Christy was impressive last season, averaging 45.8 yards per punt. He is the unquestioned starter.
Andre Debose missed a lot of last season due to injury but still led the Gators with 18 kickoff returns. Debose is an explosive athlete and dangerous with the ball in his hands.
Marcus Roberson only returned two punts last season, but he averaged 40.5 yards per return. He showed a good ability to make sound decisions on when to return a punt and when to call for a fair catch, something both Debose and De'Ante Saunders struggled with a season ago.