The NHL's Pacific division is home to the defending Stanley Cup champion Los Angeles Kings, and is one of the toughest divisions to predict.
The Dallas Stars, Phoenix Coyotes, Anaheim Ducks, San Jose Sharks and Kings all have a chance to earn a playoff spot in the Western Conference this year, and it wouldn't be surprising if the division title is won on the final day of the regular season.
This was the only division last season where the first, second and third place teams were separated in the standings by just one point each.
Let's look at an in-depth preview of the Pacific division entering the 2012-13 season.
2011-12 Standings
| | | | | |
| --- | --- | --- | --- | --- |
| Team | W | L | OT | PTS |
| Phoenix Coyotes | 42 | 27 | 13 | 97 |
| San Jose Sharks | 43 | 29 | 10 | 96 |
| Los Angeles Kings | 40 | 27 | 15 | 95 |
| Dallas Stars | 42 | 35 | 5 | 89 |
| Anaheim Ducks | 34 | 36 | 12 | 80 |
Projected Order of Finish for 2012-13
Los Angeles Kings
San Jose Sharks
Phoenix Coyotes
Dallas Stars
Anaheim Ducks
Los Angeles Kings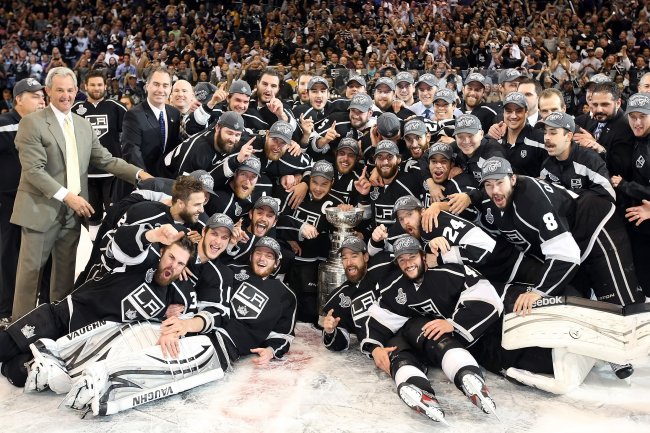 Christian Petersen/Getty Images
The Kings will attempt to do what no team has done since 1998, and that's to repeat as Stanley Cup champions.
Los Angeles was predicted by many people to take the next step and win a playoff round last year, but it was surprising that the team got into the postseason as the eighth seed.
Fortunately for the Kings, they started playing their best hockey at the right time, and Jonathan Quick went on one of the most impressive playoff runs ever by a goaltender.
Without adding or subtracting any key parts of the championship roster, the Kings have a fantastic chance to return to the Stanley Cup Final.
They can make this challenge easier for themselves by winning the Pacific division and guaranteeing that they would have home-ice advantage in at least one playoff series.
Player to Watch: Drew Doughty
It will be interesting to see if Kings defenseman Drew Doughty continues to perform at a high level during the 2013 season after a great playoff run last year when he scored 16 points in 20 games.
Doughty is one of the most highly-skilled defensemen in the NHL, and will be expected to play like he did during the 2009-10 season when he racked up a career-high 59 points.
For the Kings to finish better than 28th in goal scoring (2011-12 rank) this season, they need Doughty to have a bounce-back year.
Player Under the Most Pressure: Dustin Penner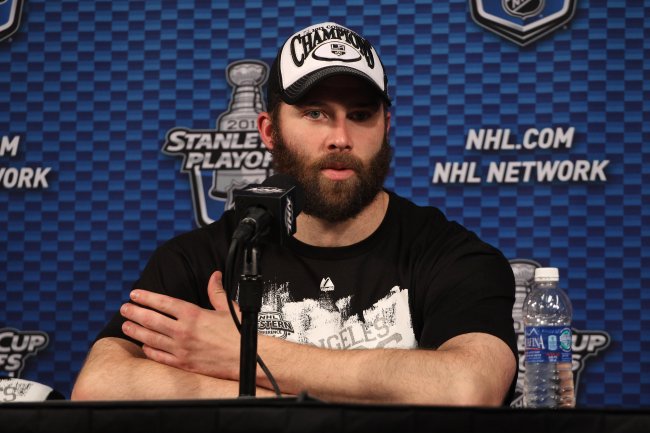 Christian Petersen/Getty Images
Penner was awful in the regular season last year, but luckily for the Kings, he raised his game when the playoffs started and was a key part of their championship run.
The veteran forward will be expected to not only give the team scoring depth on the wings, but to also be much more consistent than he was last season.
Penner also needs to have a great season so he can earn a rich, long-term contract as a free agent in the summer. This may be his last chance to earn a lengthy contract with a high salary.
Biggest Weakness: Power-play
The Kings had 290 power-play opportunities last season, but only scored on 16.9 percent of them, which ranked 17th in the league.
Los Angeles has to be better on the power-play this year, and if Doughty and Penner play better in the regular season than they did in 2011-12, this weakness could turn into a strength in 2013.
Expectation: Contend for the Stanley Cup
Any team with an elite goaltender and a talented offense will be expected to win the Stanley Cup, and after earning championship experience last season, the goal for the Kings is to return to the Cup Final.
It will be interesting to see how hungry this team is after finally winning the franchise's first championship, but if they don't suffer any major injuries to key players, the Kings will be the favorite to win the Western Conference.
San Jose Sharks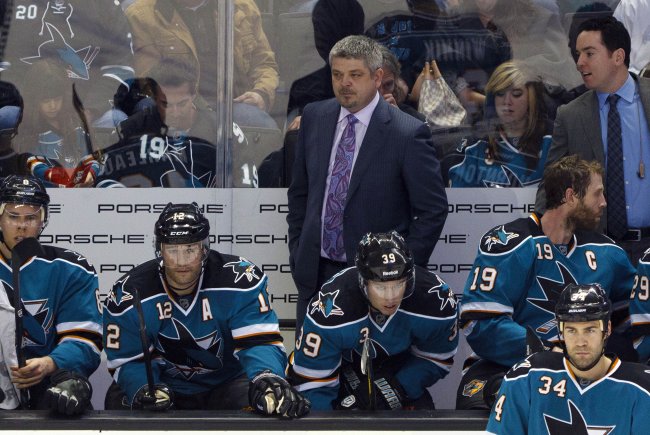 Jason O. Watson-USA TODAY Sports
The 2011-12 season was a disappointing one for the San Jose Sharks, who were eliminated in the first round of the playoffs by a younger and more hungry St. Louis Blues team.
San Jose made one notable addition in the summer by acquiring veteran defenseman Brad Stuart from the Detroit Red Wings, and general manager Doug Wilson will be hoping that the return of a few forwards who were injured for most of last season add enough depth for the team to contend.
Since the Sharks have yet to win a Stanley Cup with their current core of players despite many playoff appearances, a rebuild might not be too far away if this team fails to make a deep playoff run in 2013.
Player to Watch: Patrick Marleau
Patrick Marleau had a good season in 2011-12 with 30 goals and 34 assists, but his scoring dropped for the second straight season and he was unable to score a single point in the playoffs.
For the Sharks to have any chance of winning the Stanley Cup, they need a strong postseason performance from Marleau.
There's no excuse for the team's best goal scorer to not produce anything offensively through an entire playoff series.
Player Under the Most Pressure: Antti Niemi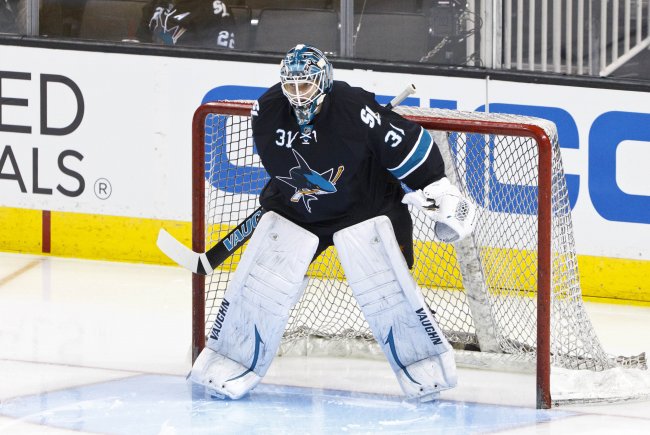 Jason O. Watson-USA TODAY Sports
San Jose starting goaltender Antti Niemi had a good regular season last year but he was sub-par in the playoff series versus the Blues.
Since winning the Stanley Cup with the Chicago Blackhawks during the 2009-10 season, his playoff record is 9-13.
If the Sharks struggle to score goals, especially in the playoffs, Niemi has to be nearly unbeatable for the team to win against quality opponents.
Fair or not, Niemi must have a career year for the Sharks to be a legitimate Stanley Cup contender in 2013.
Biggest Weakness: Penalty Killing
It's hard to win in the regular season and the playoffs when your penalty killing unit ranks 29th in the NHL.
The addition of Stuart should help this weakness, but the Sharks need to limit the amount of goals they allow shorthanded or they won't win the division.
Three of the teams ranked in the bottom third of the league in power-play percentage were from the Pacific division, yet San Jose still wasn't able to kill penalties consistently.
Expectation: Win the Stanley Cup
There isn't any expectation for the Sharks other than winning the Stanley Cup because it's the only thing that the team hasn't accomplished since it became a yearly contender after the 2004-05 lockout.
Phoenix Coyotes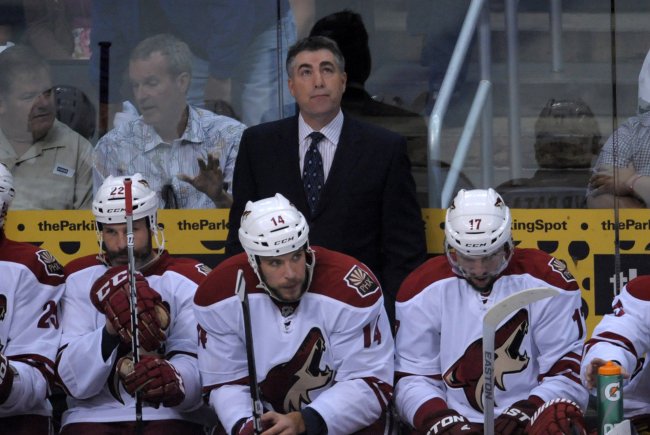 Kirby Lee-USA TODAY Sports
Not many people predicted that the Phoenix Coyotes would advance to the Western Conference Finals last year, but thanks to the strong goaltending of Mike Smith, the team won the Pacific division and its first playoff series since moving to Phoenix from Winnipeg for the 1996-97 season.
The Coyotes will once again be a team that relies on its defense and goaltending to win games, but there are genuine concerns about their forward depth.
Despite their issues on offense, Phoenix will be very tough to beat this season because of its defensive depth and the team's dedication to doing the little things needed to win games.
Player to Watch: Mikkel Boedker
Mikkel Boedker played well in his second full NHL season in 2011-12, and he was quite impressive in the playoffs with eight points in 16 games.
He's one of the team's few talented young wingers, and will be expected to continue his development this season as a top-six forward.
During the lockout, Boedker scored 21 goals with 12 assists in 29 games for Lukko Rauma of SM-liiga.
Player Under the Most Pressure: Mike Smith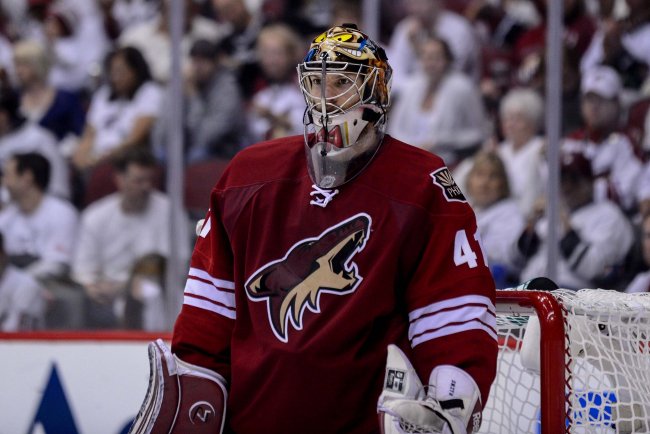 Matt Kartozian-USA TODAY Sports
Mike Smith had a career year in 2011-12 and played like a legitimate Vezina Trophy candidate the whole season.
He finished the regular season with a record of 38-18-10, which included a career-high in wins (previous career high was 14).
Not only does Smith need to play at the same level he did last year for the Coyotes to win the division for the second straight season, he is also playing for a new contract in the summer as an unrestricted free agent.
The Coyotes will only go as far as Smith takes them, so he will be under a lot of pressure to play well on a consistent basis.
Biggest Weakness: Scoring Depth
The Coyotes had the second-worst power-play in the NHL last season and were unable to re-sign their top scorer Ray Whitney in free agency. With that said, offense is definitely a concern for head coach Dave Tippett heading into the lockout-shortened year.
The addition of veteran center Matt Lombardi will help, but general manager Dave Maloney still has more work to do before he should be satisfied with his forward depth.
Only the St. Louis Blues and Los Angeles Kings scored fewer goals in the regular season among the teams in the 2012 Western Conference playoffs than Phoenix.
For the Coyotes to make another lengthy playoff run, they need to score more goals and not rely on their defense and goaltending too much.
Expectation: Make the Playoffs
To win back hockey fans in the Phoenix/Glendale area and give fans reasons to support the team, the Coyotes need to make the playoffs for the fourth straight season.
The Coyotes are a playoff team based on their defense and goaltending alone, but they need another top-six scorer to win a round in the playoffs.
Dallas Stars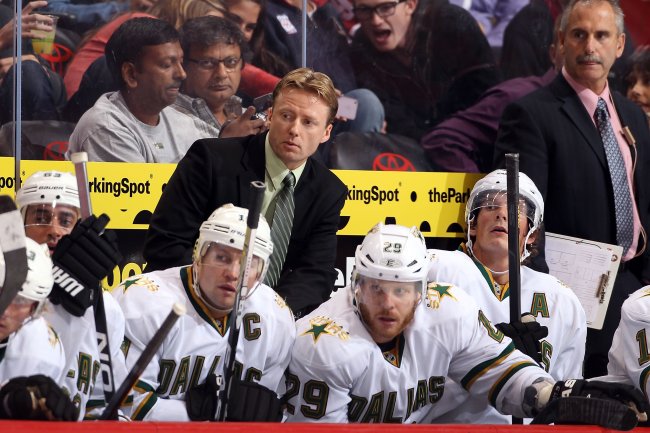 Christian Petersen/Getty Images
The Stars were aggressive in free agency by signing veteran forwards Ray Whitney and Jaromir Jagr to give the team enough scoring depth, but there are concerns about talent and depth on the blue line.
Dallas needs star goaltender Kari Lehtonen to have a great season for the team to contend for the division title and make the playoffs if no more additions to the blue line are made.
The franchise is celebrating its 20th anniversary this season, so it should be an exciting year for Dallas hockey fans.
Player to Watch: Jamie Benn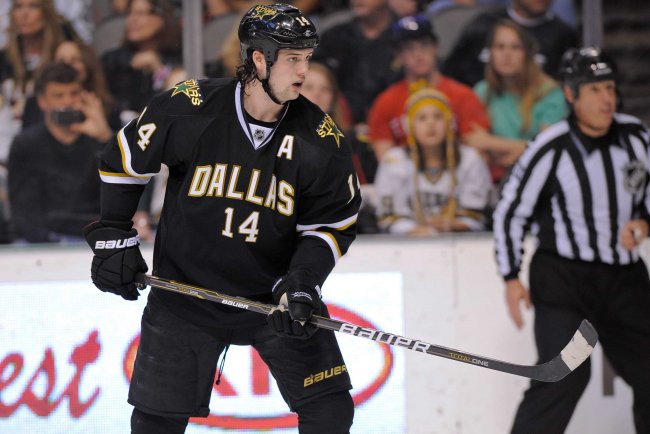 Jerome Miron-USA TODAY Sports
Jamie Benn is still unsigned as a restricted free agent, and there is no guarantee that he and the team will agree to a new contract before the season begins.
TSN's Bob McKenzie has the latest update on Benn's contract situation:
Benn's negotiations with DAL are ongoing. Not there yet but there seems to be sense of more dialogue than with Subban or O'Reilly.

— Bob McKenzie (@TSNBobMcKenzie) January 18, 2013
Regardless if Benn plays in the opener or not, he will be under immense pressure to shoulder a lot of the team's scoring burden and become a superstar player in 2013.
Player Under the Most Pressure: Kari Lehtonen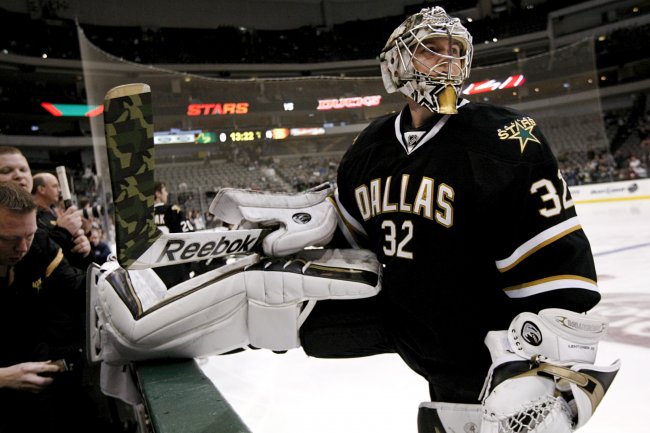 Brandon Wade/Getty Images
Lehtonen needs to have another great season for the Stars to contend in a division that's packed with strong defensive teams.
Even though he won two less games last year than he did in 2010-11, his GAA and save percentage both improved last season.
Without a legitimate No. 1 defenseman playing in front of him, Lehtonen has to perform at a high level for the Stars to kill penalties and win games consistently.
Expectation: Contend for the Playoffs
It's going to be tough for the Stars to make the playoffs, or even finish third in the Pacific division, but they will definitely be exciting to watch this season because of their abundance of offensive talent.
Anaheim Ducks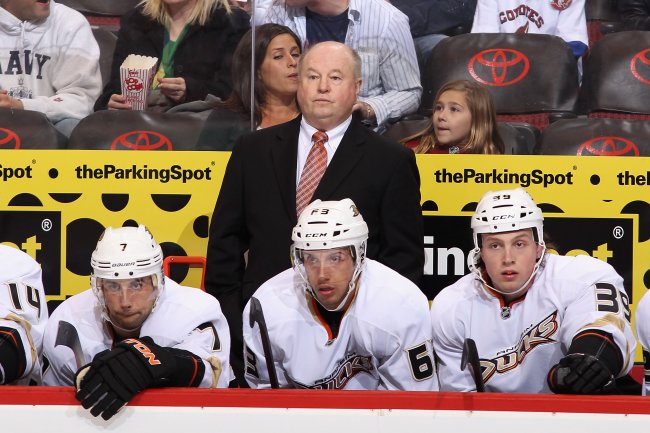 Christian Petersen/Getty Images
The Ducks fired head coach Randy Carlyle last season and replaced him with Bruce Boudreau, but weren't able to overcome a slow start and make the playoffs.
The biggest question mark coming into this season is the future of star forwards Corey Perry and Ryan Getzlaf, both of whom are eligible for unrestricted free agency on July 5.
Will they re-sign or will the Ducks be forced to trade one or both players before the April 5 trade deadline? That's the biggest question in Anaheim this season.
Player to Watch: Jonas Hiller
Hiller didn't play like a top-tier goaltender last season, and he must improve for the Ducks to contend for a playoff spot.
His win total increased by three last year, but he lost 14 more games in regulation than he did during the 2010-11 season. Hiller's save percentage and GAA also got worse last season.
Anaheim has no chance to make the playoffs if Hiller has another disappointing season.
Player Under the Most Pressure: Ryan Getzlaf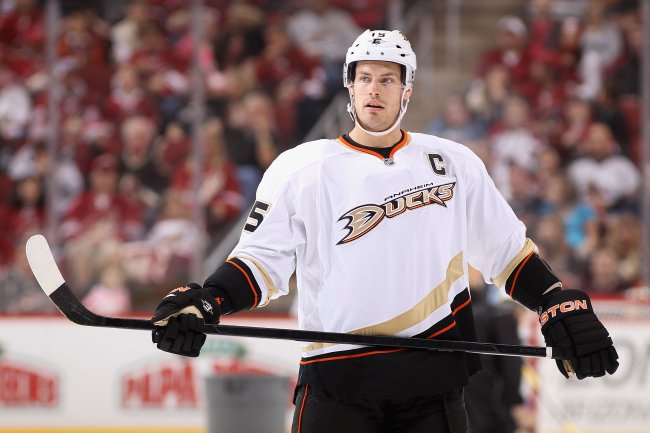 Christian Petersen/Getty Images
Ryan Getzlaf anchors the Ducks' top line at center and is a superstar player, but he didn't perform like one last year.
His 58 points scored last season was his lowest single-season total since 2006-07, and Getzlaf's plus/minus rating also went from 14 in 2010-11 to minus-11 last season.
Not only is Getzlaf under pressure to perform like the No. 1 center he's capable of being, Ducks fans expect him to sign a new long-term contract with the team. However, if he has another disappointing season, Getzlaf might not make the amount of money in his next contract that he would like.
Biggest Weakness: Bottom-Six Scoring
Will Anaheim re-sign Perry and Getzlaf?
Anaheim's top-six forward group is very impressive, but the team's bottom-six provides little offensive depth.
The Ducks finished 23rd in goals scored last year, and one of the reasons for that was their lack of production from the third and fourth lines.
Anaheim cannot rely on its top-six to carry the team, especially when two of those six players are 38 years of age or older.
Expectation: Finish Better than Last in the Division
The Ducks probably won't make the playoffs, but they are certainly talented enough to not finish last in the division for the second straight season.
The most important goal for the team this year is to re-sign Perry and Getzlaf. If Anaheim accomplishes that goal, the fans shouldn't consider the season a failure, even if the team fails to make the playoffs.