L.A. Clippers vs. Minnesota Timberwolves: Live Score, Results, Game Highlights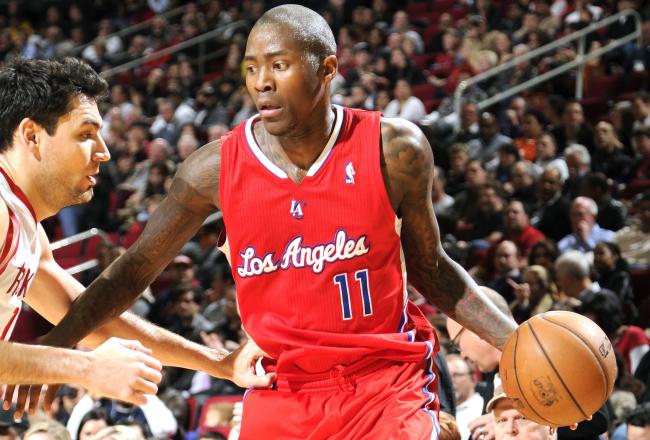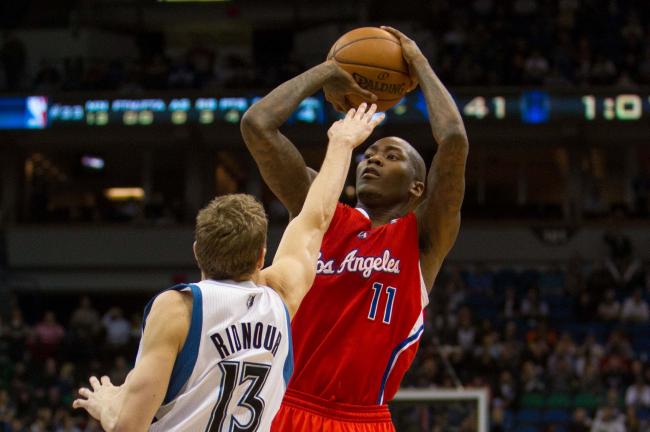 This wasn't expected to be this painful of game for the Minnesota Timberwolves.
With four consecutive losses prior to tonight's matchup, the team figured to be in for a long night with the talented, potent Los Angeles Clippers coming to town.
But the 90-77 loss proved to throw salt on Minnesota's greatest wound, opening up a few new cuts along the way.
Already facing a lengthy stretch without Kevin Love (fractured hand), the injury-depleted Timberwolves (16-20) saw two more major contributors make early departures. The first casualty of the night was starting center Nikola Pekovic, who left late in the third quarter with a bruised right quad and would not return to the action. In the fourth quarter, rookie Alexey Shved landed awkwardly on Lamar Odom's foot and made a hasty exit to the team's locker room.
What made the night even tougher to swallow, though, was that the Timberwolves had ample opportunities to knock off the second-best team in the Western Conference (in front of a national audience, no less). Perhaps overlooking their opponent, the Clippers lacked energy all night long, and their reckless play with the basketball could have cost them the game had the Timberwolves not suffered through a brutal shooting performance.
But the Clippers (31-9) overwhelmed the Timberwolves with size, strength and physicality. They forced the NBA's worst three-point shooting team to attempt to beat them with the long ball. The results everything you'd expect them to be.
L.A. has the talent and depth to challenge for the conference crown come May, while Minnesota looks destined for another postseason viewing from afar.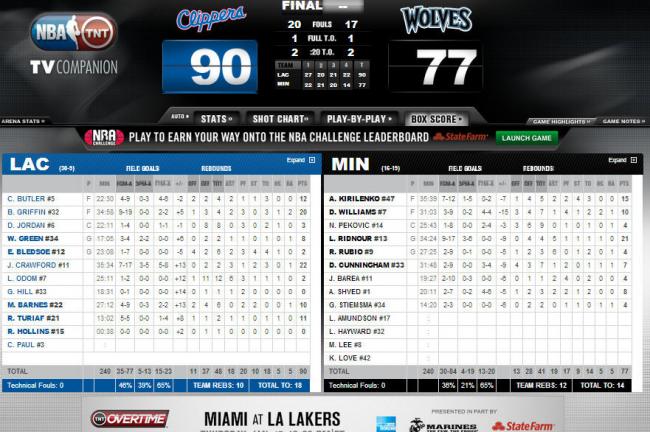 Here's how the Clippers secured their third-straight victory.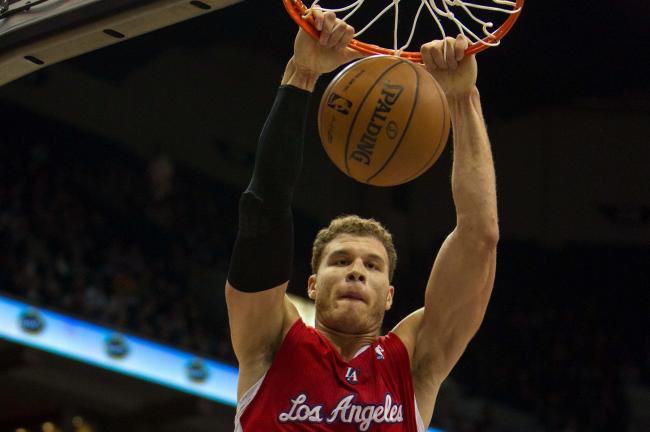 It's a wrap in Minneapolis. Clippers 90, Timberwolves 77 — END OF GAME
So this is the part of the broadcast where TNT tries to get Kahn fired

— Ethan Strauss (@SherwoodStrauss) January 18, 2013
Sideline reporter Tracy Wolfson said Shved was unable to put any weight on his leg when he left the locker room. Clippers 88, Timberwolves 73 — 1:45 REMAINING IN 4TH QUARTER
Is there such a thing as an immoral victory?
Tonight's looking like it might be one for the Clippers. The Timberwolves came in to the game short handed, then lost two major contributors in the course of action.
Yet L.A. has struggled to put away Minnesota's remaining bodies. Clipper 86, Timberwolves 73 — 3:08 REMAINING IN 4TH QUARTER
This season is like the Wolves' own version of the movie Identity. Characters just dying off left and right.

— Zach Harper (@talkhoops) January 18, 2013
It's very spacious down there on the Wolves' bench right now.

— Jerry Zgoda(@JerryZgoda) January 18, 2013
Minnesota's injury problems continue. Shved lands on Odom's foot, limps straight from the court to the locker room. Clippers 84, Timberwolves 71 — 5:02 REMAINING IN 4TH QUARTER
11 for 18 at the FT line tonight. 61%. And 2 for 6 here in the 4Q. TWO FOR SIX!!!!

— Alan Horton (@WolvesRadio) January 18, 2013
Cunningham swatted away a Griffin dunk attempt from behind. Might that be the spark the Timberwolves have been waiting for? Clippers 81, Timberwolves 71 — 5:51 REMAINING IN 4TH QUARTER
The Wolves have front-rimmed approximately EVERY THREE I CAN EVER REMEMBER ANYONE TAKING EVER.

— Hardwood Paroxysm (@HPbasketball) January 18, 2013
Like seeing Alexy attack, force the contact make the officials make a call.#Twolves

— John Focke (@JWFOCKE) January 18, 2013
Ronny Turiaf in double-figures for first time since March 21, 2011

— Los Angeles Clippers (@LAClippers) January 18, 2013
The Target Center faithful has been awaiting something to cheer about all game long.
You have to think Rubio has a few crowd-pleasing tricks up his sleeve.
Clippers 77, Timberwolves 68 — 8:31 REMAINING IN 4TH QUARTER
Crowd doing the Turiaf Twirl at Ronny after the air balled free throw.

— Zach Harper (@talkhoops) January 18, 2013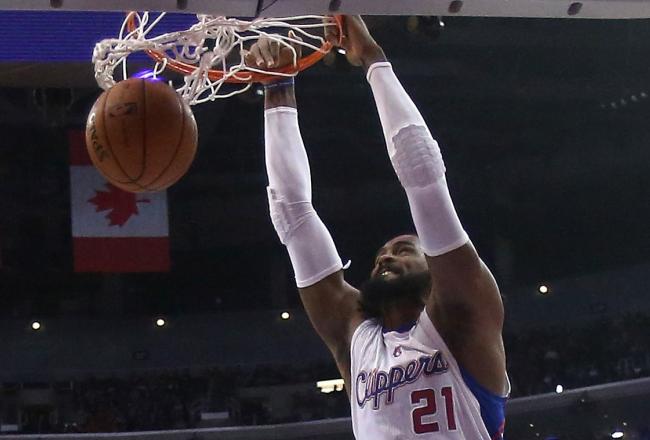 Turiaf has dazzled tonight: both with his season-high 10 points and now, an airballed FT attempt. Clippers 76, Timberwolves 66 — 9:20 REMAINING IN 4TH QUARTER
Pek has a right thigh contusion. Return is questionable.

— Zach Harper (@talkhoops) January 18, 2013
As strong as L.A.'s second unit has looked, it still desperately lacks for an interior presence. A little aggressiveness from Barea and Shved could finally push Minnesota over the hump. Clippers 74, Timberwolves 65 — 10:19 REMAINING IN 4TH QUARTER
Ridnour leads all scorers with 21 (9-of-14 shooting). Griffin leads the Clippers with 16, Crawford has 15. Clippers 68, Timberwolves 63 — END OF 3RD QUARTER
Ridnour goes up top for a cutting Williams, breathing a little life back into this slumbering arena. Clippers 68, Timberwolves 63 — 0:04 REMAINING IN 3RD QUARTER
Pek to the locker room? Derrick Williams to Phoenix for the training staff. Thoughts, @talkhoops?

— Fred Katz (@FredKatz) January 18, 2013
Here's a look at the first half action.
L.A. still outshooting Minnesota 49-34 percent from the field (and 50-23 from deep).
If they ever start taking care of the basketball, this could get ugly very quickly. Clippers 63, Timberwolves 55 — 2:54 REMAINING IN 3RD QUARTER
This article is
What is the duplicate article?
Why is this article offensive?
Where is this article plagiarized from?
Why is this article poorly edited?

Los Angeles Clippers: Like this team?