Predicting Final 2013 Record for Every First-Year BCS Head Coach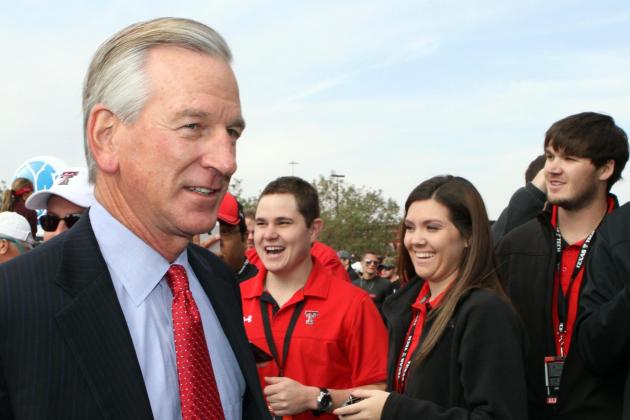 Michael C. Johnson-USA TODAY Sports

We will see several new head coaches on the sidelines of many BCS programs next season. Because many guys weren't able to get the job done last season, a batch of fresh faces replaced them as the coaching carousel continued to spin.
Seeing coaches in new places is one of the most exciting things about entering a new year. You wonder if they have what it takes to get the job done, if the personality of a head coach is going to fit in his new surroundings.
You also wonder if the coach is going to stay around long enough to make an improvement, or if he is just using his new gig as a steppingstone to a better job.
With a couple of months remaining before the start of spring practice, let's throw out a few early predictions. Here is how each new head coach in a BCS conference is going to fare in 2013.
Begin Slideshow

»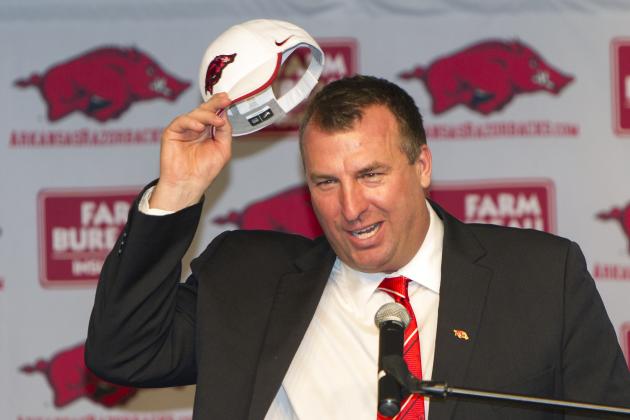 Wesley Hitt/Getty Images

Prediction: 5-7
Coach Profile: Bret Bielema built a reputation as one of the best head coaches in the Big Ten. He led the Wisconsin Badgers to three straight BCS bowls and managed to win nearly 74 percent of his games. Bielema was named the Big Ten Coach of the Year in 2006 and is known for teaching his players to play aggressive but smart football.
Why This Record Will Stick: The Arkansas Razorbacks have their work cut out for them in 2013. Nearly every key offensive player has left the program and a struggling defense is searching for guys to step up. You have to believe that Bielema was a good hire. But with question marks on both sides of the ball and a brutal SEC schedule, Arkansas will have to wait before climbing back up the ladder.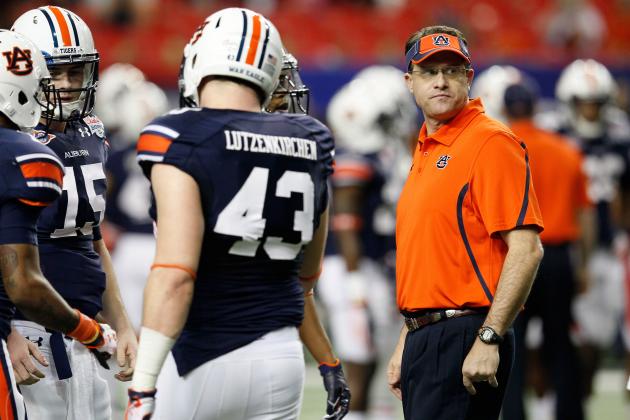 Kevin C. Cox/Getty Images

Prediction: 6-6
Coach Profile: Gus Malzahn is considered to be one of the brightest offensive minds in college football. He was the offensive coordinator for the Auburn Tigers when they won the national championship in 2010 and has done some great work with teams such as Arkansas and Tulsa.
As a first-year head coach for Arkansas State last season, Malzahn led the Red Wolves to a 10-3 record, including the first bowl win in program history.
Why This Record Will Stick: Auburn still has to determine its starting quarterback, but there is potential at the position. With Malzahn calling the shots offensively, the Tigers should be much improved in that area.
The main concern is the defense. However, with a coach who is familiar with the program and a favorable schedule on his side, Auburn should become one of the most improved teams in the country.
Andy Lyons/Getty Images

Prediction: 4-8
Coach Profile: Steve Addazio has major coaching experience. He spent time with Notre Dame and was an assistant at Florida under Urban Meyer. He got his first head-coaching gig at Temple in 2011 and led the Owls to a 13-11 record in his two seasons there, including a victory Wyoming in the New Mexico Bowl in his first year on the job.
Why This Record Will Stick: Addazio was a good hire. He is respected by his players and this is a job he has wanted for quite some time, according to the Boston Globe. The problem is that the program has a lot of work to do, so it is going to take a while before the Eagles are flying again.
They only won two games last season, and with serious questions on defense and in the running game, don't expect a quick turnaround.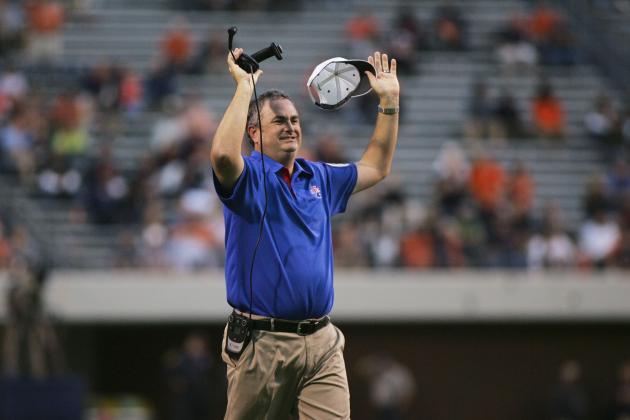 Peter Casey-USA TODAY Sports

Prediction: 4-8
Coach Profile: Sonny Dykes was one of the hottest names on the market after what he was able to do at Louisiana Tech. His teams went 22-15 in three years, making a bowl game in 2011 and turning down a bowl invitation last season for some bizarre reason, according to USA Today.
Regardless, Dykes is an offensive guy who has helped his teams put up some remarkable numbers. He should fit in well in the Pac-12.
Why This Record Will Stick: Dykes may be able to get things done on offense, but he will be dealing with a completely new unit. The offense has lost three starting linemen, a quarterback, both running backs and leading wide receiver Keenan Allen. The defense is young and will have a few interesting pieces, but this is a conference that is won with high-scoring offense.
With a deep Pac-12 that has improved overnight, the Golden Bears will have to once again take a backseat.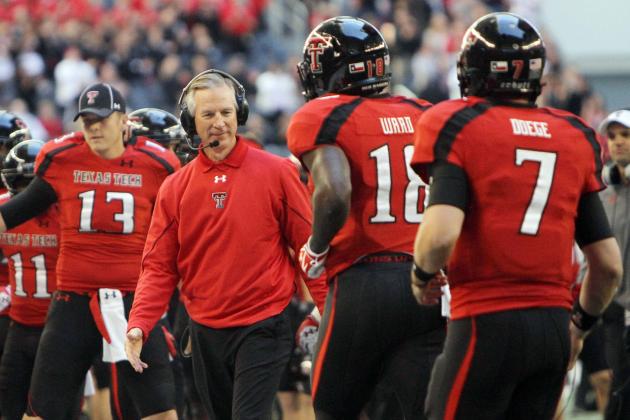 Michael C. Johnson-USA TODAY Sports

Prediction: 7-5
Coach Profile: Tommy Tuberville is the most accomplished recently hired head coach on this list. He has 130 career victories, has won five SEC West titles and picked up numerous head-coaching awards. He has also been known for creating controversy, but Tuberville is a big name who will help attract recruits and keep the Bearcats relevant in the shrinking Big East.
Why This Record Will Stick: Cincinnati has two quality quarterbacks in Munchie Legaux and Brendon Kay, who was given a sixth year of eligibility, according to ESPN.com. The entire offensive line returns as well, providing a nice foundation for the offense. Defensively, a few areas will need to be addressed.
But with a relatively weak schedule and a legitimate offense, the Bearcats should remain one of the best teams in the Big East next season.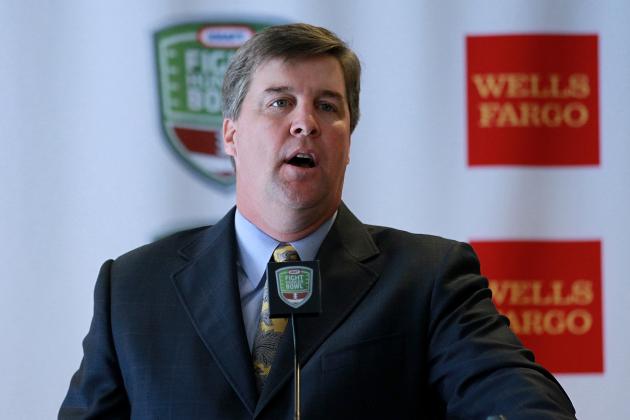 Justin Sullivan/Getty Images

Prediction: 3-9
Coach Profile: Mike MacIntyre has been all over the map as a coach. From spending time with Temple as a defensive coordinator to coaching in the NFL, MacIntyre has stopped nearly everywhere on his way to Colorado.
The good thing for Buffalo fans is that they got him at the right time, as he led San Jose State to 10 victories last season in his third year as a head coach. In fact, he did such a great job, he even earned a few Coach of the Year votes.
Why This Record Will Stick: It doesn't matter who tries to turn around this program. It is going to take tender and loving care before any real success takes place. Colorado had one of the worst offenses in the country last season, with a defense that was even more painful to watch.
With a tough Pac-12 schedule, the Buffaloes will be at the bottom once again. Still, a two-win improvement from a year ago is a step in the right direction.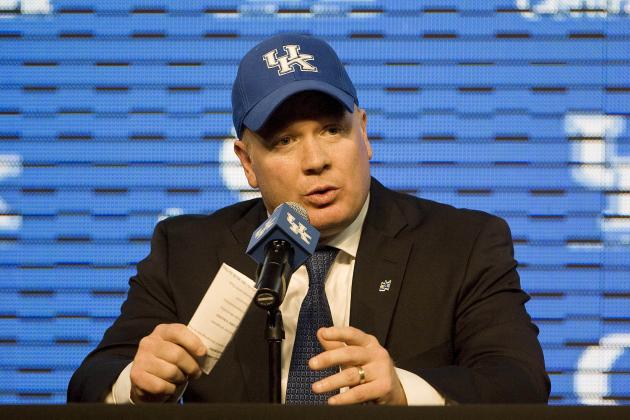 Mark Zerof-USA TODAY Sports

Prediction: 3-9
Coach Profile: Mark Stoops led the Florida State defense to two straight top-five finishes in the country. He was also able to improve defenses at Arizona and Miami. Stoops took over a Seminoles defense that was dead last in the ACC and turned it into one of the nation's best. This will be his first head-coaching job.
Why This Record Will Stick: What Stoops has been able to do has been nothing short of remarkable. His track record speaks for itself. However, the talent level in Kentucky is nowhere near what he had at Florida State or Miami.
He will be dealing with an extremely young team that went winless in the SEC last season. He also will have to go up against a loaded conference schedule.
It will be fun to see how this turns out, but getting anywhere close to a bowl appearance this year seems impossible.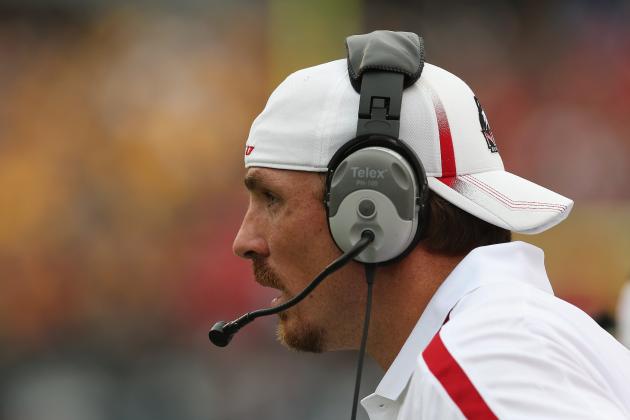 Jonathan Daniel/Getty Images

Prediction: 4-8

Coach Profile: Dave Doeren has only been a head coach for two seasons, but he was able to lead Northern Illinois to two straight MAC titles. He pulled off the biggest surprise of last season, as his 12-1 team earned a BCS bowl berth before falling to Florida State 31-10 in the Orange Bowl. Before that, Doeren was a defensive coordinator at Kansas and Wisconsin.
Why This Record Will Stick: North Carolina State has a lot of work to do. First, it must decide on a starting quarterback, as Florida transfer Jacoby Brissett won't be eligible next year. The offensive line also has gaping holes that need to be filled, and the best player on defense, cornerback David Amerson, won't be around to help.
Add that to an improved ACC, and Wolfpack fans will have to be patient.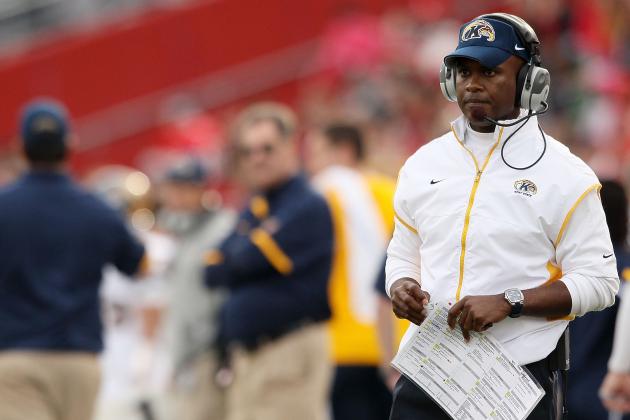 Alex Trautwig/Getty Images

Prediction: 4-8
Coach Profile: Darrell Hazell had his name buzzing after the spectacular job he did with Kent State. After leading the Golden Flashes to an 11-3 record and a berth in the MAC Championship Game, it was only a matter of time before he received a higher profile coaching job. In addition to his two seasons at Kent State, Hazell served as an assistant under Jim Tressel at Ohio State. This should help as he enters the Big Ten for the first time as a head coach.
Why This Record Will Stick: There just isn't enough talent to start winning right away. Two of the Boilermakers' three quarterbacks from a year ago have graduated, and the best defensive player, Kawann Short, has taken his talents to the NFL.
With games against Notre Dame, Northern Illinois and a handful of improved teams in the Big Ten, it should be another tough year for Purdue.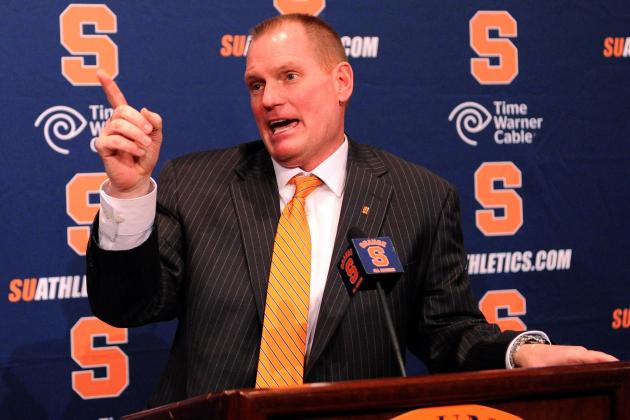 Rich Barnes-USA TODAY Sports

Prediction: 5-7

Coach Profile: Scott Shafer didn't have to go far to take this head coaching job. He was the defensive coordinator for Syracuse since 2009 and was promoted once Doug Marrone left to coach the Buffalo Bills. Shafer is an aggressive coach who wants to see high energy from his players. Before making Syracuse his home, Shafer coached defenses at Michigan, Stanford and Western Michigan.
Why This Record Will Stick: Having worked with this team, Syracuse has an advantage that most programs don't when hiring a head coach. The transition should be smooth since players already know what to expect. However, this Syracuse team has to replace its starting quarterback, best wide receiver, an all-conference offensive lineman and the leading tackler from a year ago.
Needless to say, things aren't going to be easy in Year 1.
Credit: philly.com
Prediction: 5-7
Coach Profile: Matt Rhule played at Penn State, but he happens to be a Temple guy. Remove that one season he spent working with the New York Giants offensive line and Rhule has been with the Owls since 2006. This will be his first head-coaching gig, but with the dedication he has to this program, he could turn out to be one of this year's more underrated hires.
Why This Record Will Stick: Temple was able to keep up for the most part in its first season in the Big East. It wasn't a team that surprised anybody, and it had its fair share of bad performances. But for a club that just switched conferences, the Owls were able to hold their own.
With a young defense and a lot of key guys coming back on offense, Temple will continue to improve, falling just short of a bowl game.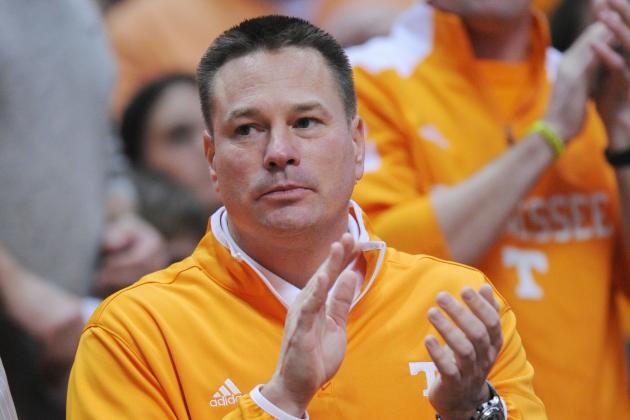 USA TODAY Sports

Prediction: 6-6
Coach Profile: Butch Jones was not the big-name head coach that Tennessee fans desired. But he has been a winner throughout his career. He led Central Michigan to two bowl games in three seasons and kept Cincinnati afloat the last couple of years. He has won conference championships in the MAC and Big East, and will be hoping he can do the same for the Volunteers.
Why This Record Will Stick: Tennessee lost a lot of talent on offense but does have three players— quarterbacks Justin Worley, Nathan Peterman and Riley Feruson—who seem capable stepping in and producing right away. Although there will be youth at the skill positions, the offensive line should be one of the best in the SEC. A majority of the defense is returning, which should be a good thing since it can't possibly be as bad as it was last year.
This may be a bold prediction, but Tennessee has enough in place to show signs of life for the first time in a while and maybe even earn a bowl berth.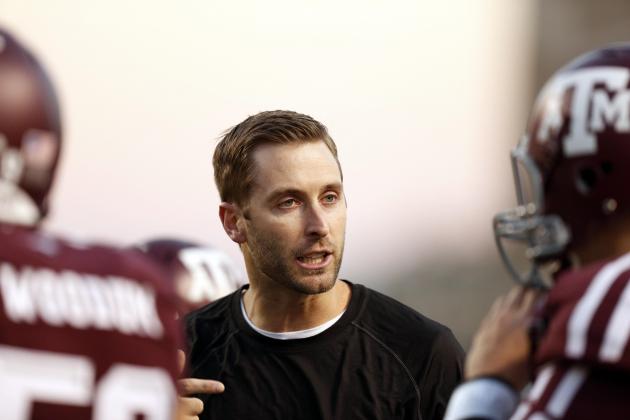 Thomas Campbell-USA TODAY Sports

Prediction: 7-5
Coach Profile: In his role as offensive coordinator at Texas A&M, Kliff Kingsbury's claim to fame was helping quarterback Johnny Manziel win the Heisman. He is a baby-faced coach who is only 33 years old, but has received major props for his creative understanding of the spread offense. Kingsbury will be one of the lucky ones who gets to spend his first coaching gig at his alma matter.
Why This Record Will Stick: Texas Tech is losing a lot of talent from a year ago, but quarterback Michael Brewer is a dual-threat player who could become the next star under Kingsbury. The Red Raiders also only leave the state of Texas three times all season long, giving them the home-field advantage for most of the season.
A first-year head coach, Kingsbury also should benefit from the solid recruiting classes that Tommy Tuberville left behind. It will be a surprisingly successful season for Texas Tech.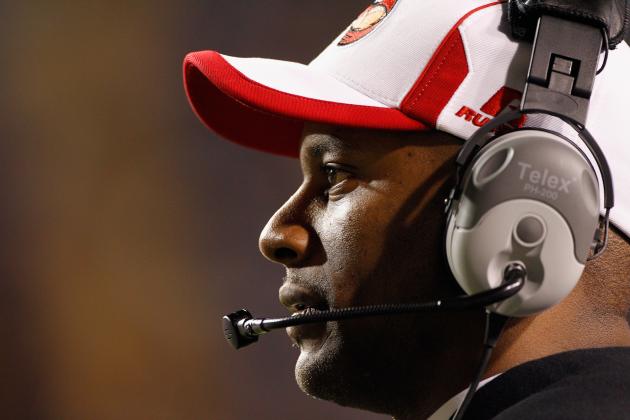 Chris Graythen/Getty Images

Prediction: 5-7
Coach Profile: Willie Taggart was able to lead his alma mater Western Kentucky to 14 victories in two seasons. Now, he will return to his birth state and take over a South Florida program that has potential. Besides his stint with the Hilltoppers, Taggart was also the running backs coach for Stanford and helped to turn Toby Gerhart into the runner he is today.
Why This Record Will Stick: If Taggart was able to turn Western Kentucky into a winner, he should be able to keep South Florida above water. The Bulls do have questions on both sides of the ball, but this is a team that has been able to recruit fairly well. There is potential in the trenches and enough speed on offense to surprise folks.
A two-win improvement should get people excited again about the future of this program.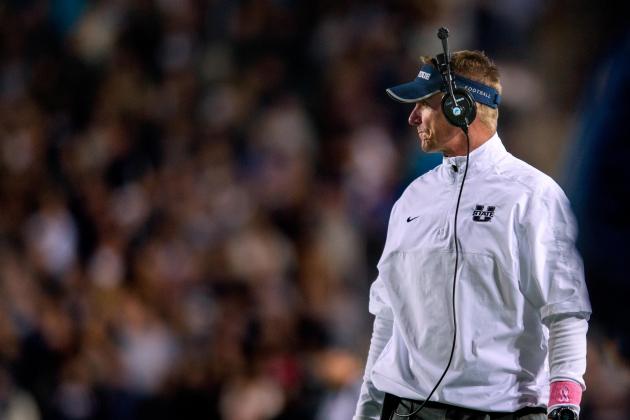 Douglas C. Pizac-USA TODAY Sports

Prediction: 9-3
Coach Profile: Gary Andersen coached Utah State for four years and led it to 18 victories in the final two seasons. He led the program to its first bowl victory in 19 years and is a coach who focuses heavily on defense. Before becoming one of the more popular head coaches outside of a BCS conference, Anderson held many positions as an assistant for Utah and spent one season at Southern Utah.
Why This Record Will Stick: Anderson probably walks into the best opportunity of any new head coach. Defensively, the Badgers have seven senior starters returning. The majority of the offensive line is returning as well, along with the combination of James White and Melvin Gordon at running back.
New head coach or not, there is enough talent for Wisconsin to compete for a Big Ten title next year.