5 Players Who Define Sir Alex Ferguson's Reign at Manchester United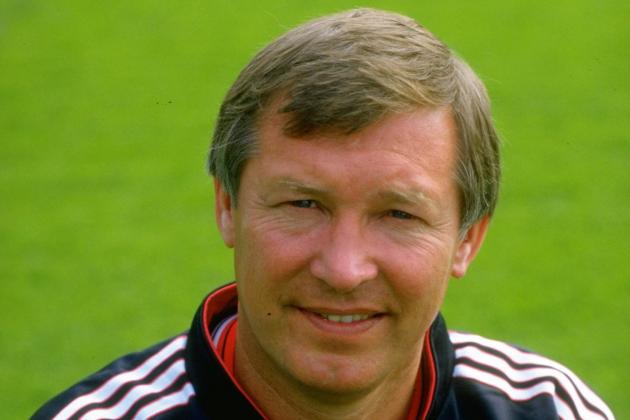 Russell Cheyne/Getty Images
Plain Alex Ferguson 1986
Now this is a tough call—to choose just five players who define Sir Alex Ferguson's (so far) 26-year reign as the Manchester United saviour who became a minor deity.
Meanwhile, maybe your mind is already starting to run through the many possibilities. Do you choose Cristiano Ronaldo, Robbo or maybe Steve Bruce?
Is it about qualities, talent, endeavour, time and place, loyalty, longevity or what?
So, what we propose here is to choose five defining qualities, and then select the player who best characterises it.
Whatever basis or selection, you will have your own views on who is right, so please post your own lists, not just players.
So, where can we start to define the reign of the greatest football manager who ever walked this earth?
Begin Slideshow

»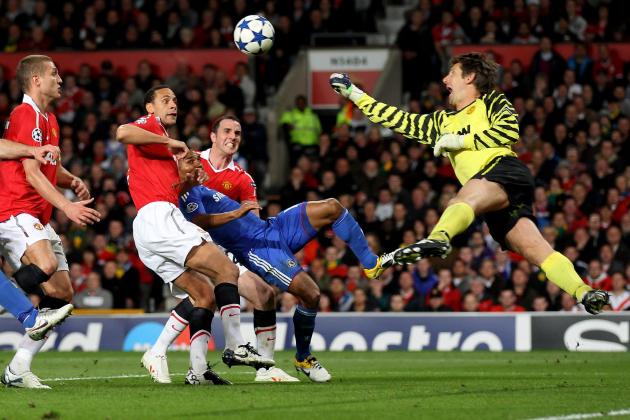 Alex Livesey/Getty Images
Vidic Ferdinand Van derSar
It might seem somewhat surprising to start with defence, as Manchester United's tradition is built on attacking football.
But when you have the best central defensive partnership and the best goalkeeper in the world, it is much easier for the rest of the team to play with freedom and flair.
Edwin van der Sar
There are so many defenders to choose from. Nemanja Vidic epitomises the grit and fighting spirit that is in the club's DNA—think Steve Bruce, Jaap Stam and Bill Foulkes, or footballing flair, with Rio Ferdinand, Laurent Blanc and Duncan Edwards.
Any great team is built around a "spine," with great strikers, central midfield, central defence and goalkeeper. Add a winger or two, and you have the Manchester United formula.
Here we have chosen a goalkeeper who represents defensive security. It was virtually impossible to choose between Peter Schmeichel and van der Sar.
Peter Schmeichel was the perfect total goalkeeping package—big, strong and fearless. He was a motivator and the one keeper who any attacker would dread taking on in a "one-on-one."
So why have we chosen van der Sar?
First, he would probably have eclipsed Schmeichel if Sir Alex Ferguson had managed to sign him immediately after the "Great Dane." He was interested in Edwin as early as 1999, when he was at Ajax and already regarded as one of the best keepers in the world.
By the time his signature was finally secured, he was 34, but that is prime time for a fit goalkeeper. The Dutchman went on to give United six seasons and 186 appearances.
What particularly distinguishes him is his record of clean sheets. In 2008/09, he had 21 clean sheets. On 4 March 2009, he also set the world record for the longest consecutive time played without conceding a goal—1,311 minutes.
Schmeichel was a big man with a big character. Van der Sar was quiet, calm and utterly professional. While he dominated his penalty area with his leadership and awareness, he also gave a great feeling of security to the players in front of him.
The height of his career for Manchester United was his save from Nicolas Anelka in the penalty shootout that won the Champions League in 2008.
He was a gentle, bedraggled, magnificent giant that night and an absolute gentleman.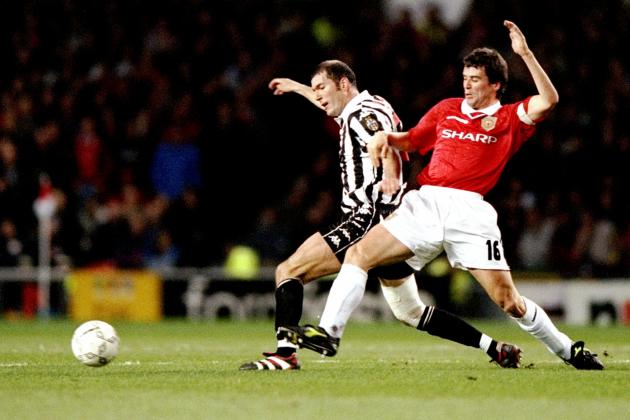 Shaun Botterill/Getty Images
Zidane Keane
Roy Keane epitomised the "never say die" attitude of Sir Alex Ferguson and his team.
Manchester United are legendary for winning or saving matches in the dying minutes. The Irishman had his share of such glorious moments.
Perhaps the best was against Juventus in the second leg of the semifinal of the Champions League in 1999 (pictured above).
United's inspirational captain drove his side to an extraordinary 3-2 win in Turin after the two sides had drawn 1-1 at Old Trafford. Keane made the ultimate sacrifice as, in addition to scoring a vital goal, he earned a yellow card that kept him out of the final.
While that may have been Keane's finest performance in the red jersey, he was always putting his body on the line, and sometimes other people's as well!
Keane was the complete footballer: scoring instinctive goals, making last-ditch tackles, driving from "box-to-box" and leading from the front as an inspirational captain.
Many people believe a player like him is the missing link from the current squad.
It was difficult not to choose Bryan Robson for the same reasons. Like Keane, "Captain Fantastic" led from the front and put his body on the line. Both suffered more injuries than average as a result.
But Robson was already at Old Trafford when Sir Alex arrived, whereas Sir Alex was bold enough to pay a record fee for Roy Keane.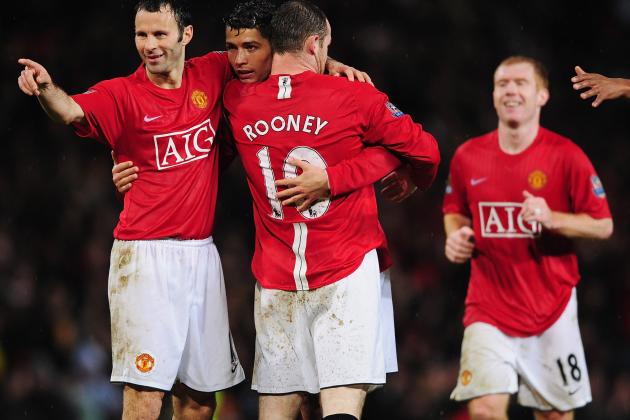 Shaun Botterill/Getty Images
Giggs, Ronaldo, Rooney, Scholes
When you have the reputation that Manchester United have for attacking football and the way they play, it is not surprising to find how many hugely talented footballers have passed through the gates of Old Trafford.
Sir Alex Ferguson has a passion for flair and genius, and he will always accommodate that element in the team, even if he has to surround it with tyros and utter professionals.
Eric Cantona, Juan Sebastian Veron, Dimitar Berbatov, Ryan Giggs, Wayne Rooney and Cristiano Ronaldo are just some of the players who have a God-given talent to play football.
Paul Scholes
There is no denying that Paul Scholes has a great talent for football. One thing he shares with David Beckham and Cristiano Ronaldo is that he has always worked very hard to be as good as he is.
It was Gary Player who said, "The harder I practise the luckier I get."
The word genius is massively overused, especially in football, but Paul Scholes has it. He is a magician who can do almost anything with the football.
A pass like Ryan Giggs' for Robin van Persie's goal against West Ham is a touch of genius. Paul Scholes can make passes like that for fun. He is the master of the "crossbar challenge" and hits trees from 50 yards for fun in training.
He may be at the wrong end of his career, but he is held in great affection by Manchester United fans worldwide. If United had won the title last year, Paul Scholes returning from retirement would have been the reason.
He is irreplaceable, and it is almost an insult for people to say "so and so" is the next Paul Scholes. United are in the middle of modifying their footballing style to adjust for Scholes' eventual retirement.
Nevertheless, as the 1999 Champions League Final showed, United can manage without him.
As Pep Guardiola said, "The best midfielder of his generation."
That is high praise indeed!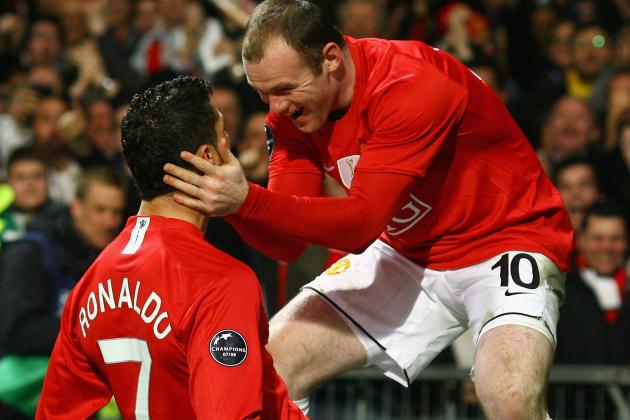 Alex Livesey/Getty Images
Ronaldo Rooney
Where do you start when deciding who was the best or most influential goalscorer at Manchester United during Sir Alex Ferguson's reign.
In the last 26 years, United have had at least 15 top goalscorers. See how many you can name?
Robin van Persie may turn out to be the greatest striker; Ruud van Nistelrooy was prolific; Andy Cole and Dwight Yorke were the perfect combination; Ole Gunnar Solskjaer and Javier Hernandez the greatest "super-subs;" and Wayne Rooney will end up with the highest number of goals ever.
Cristiano Ronaldo
But one man who was never listed as a striker is arguably the greatest goalscorer of them all.
One day, someone will have the courage to play Ronaldo as an "out-and-out striker," because he is the complete package.
Like Lionel Messi, he can dribble through any defence, score goals with either foot and mesmerise goalkeepers with penalties and free kicks.
Ronaldo has something else. Numerically, Messi may have scored the highest number of goals in a year ever last year, but he is the end product of a footballing machine known as Barcelona FC.
Ronaldo, on the other hand, often has to do it on his own at Real Madrid. Surely he should have won more Ballon D'Ors.
In a few years at Manchester United, he turned from a stringy, precocious beanpole to a big, strong, muscular goal machine.
He has perfected the free kick on goal and "trade-marked" his "lollipop" from an early age.
But he worked tirelessly on his game, was first in and last out at training and constantly practised shooting at goal.
Nominally he was a winger, but he was as dominant a striker as you will ever see. He could hit cannonball shots with either foot, but he could also soar above a defence and bullet a header into the back of the net.
No wonder Fergie wants him back!
Pep Guardiola has gone to Bayern for at least three years. Maybe the hope of re-signing Cristiano is part of what will keep Sir Alex hanging on for that period or more. He won't come back for anyone else.
And that is another defining characteristic of Sir Alex's reign—the number of players who have looked on him as a "father figure."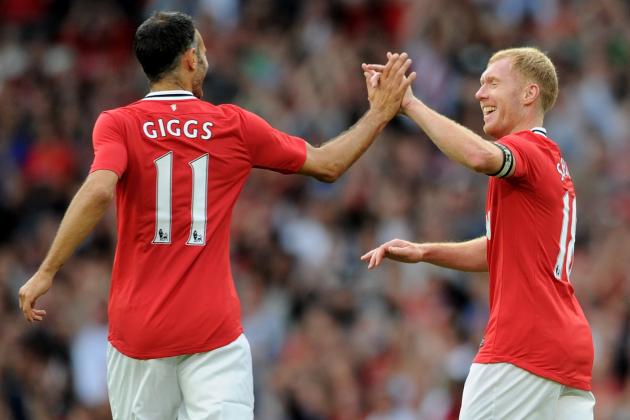 Chris Brunskill/Getty Images
Giggs Scholes
If there is one player who sums up Sir Alex Ferguson's reign, it is Ryan Giggs. He is the best player in Premier League history, the best Welsh player ever, the best never to play for England and arguably Manchester United's best player of all time.
He was one of the earliest players who Sir Alex signed, having watched him as a 13-year-old from his office window as he played a trial for United's Under-15 team.
He was signed on his 14th birthday in November 1987 and made his professional debut in March 1991. He scored his first senior goal against Manchester City in May 1991, making him an instant hero.
Giggs is now in his 23rd Premier League season. Nobody will ever beat that, nor will anyone eclipse his record of scoring in 22 consecutive seasons, which may yet become 23.
And yet, in his 40th year, on Wednesday night against West Ham, he played like the 17-year-old debutant. He ran the opposition defence ragged, set up a penalty and several goal-scoring chances, covered every blade of grass and won Man of the Match.
There is no sentimentality whatsoever in Sir Alex saying he wants Ryan to sign another year's contract.
He epitomises everything about Manchester United and Sir Alex's reign. He is an utter professional, a supremely talented footballer and a model of the loyalty who characterises the club.
This is no accident. It may not have been the same in the "wilderness years," but it was under Sir Matt Busby, and it is with Sir Alex Ferguson. These managing giants inspire great loyalty in the mould of what makes the club great.
Sir Alex Ferguson is the greatest footballing manager ever to walk this earth: not coach—manager.
In Europe things are different, since you have coaches and footballing directors. At United, Sir Alex runs the entire playing side, while David Gill runs the club.
He is also, of course, the greatest Manchester United manager ever and will be a difficult, if not impossible, act to follow.
We have listed just five players here and mentioned many more. They represent the very best values that are the hallmark of the greatest football club in the world.
They were chosen by Sir Alex. He helped shape the greatness they became, and they repaid him and the fans many times over with their skill and loyalty.
Which players do you think define Sir Ferguson's reign and why?