The play of the quarterbacks is what is going to decide the NFC Championship Game.
It was largely the performance of these two QBs that got their respective teams to this stage anyway.
As a result, the San Francisco 49ers will need to do everything in their power to stop the aerial assault of Matt Ryan and his trio of excellent receivers, while the Atlanta Falcons will need to neutralize the explosiveness of Colin Kaepernick's dual-threat style of play.
With their differing styles, a game plan for defending Ryan will be much different from the one created for stopping Kaepernick.
Here are the three key matchups to watch in the NFC Championship Game that will decide which of these two teams ultimately moves on to the Super Bowl.
Atlanta QB Matt Ryan vs. San Fransisco OLB Aldon Smith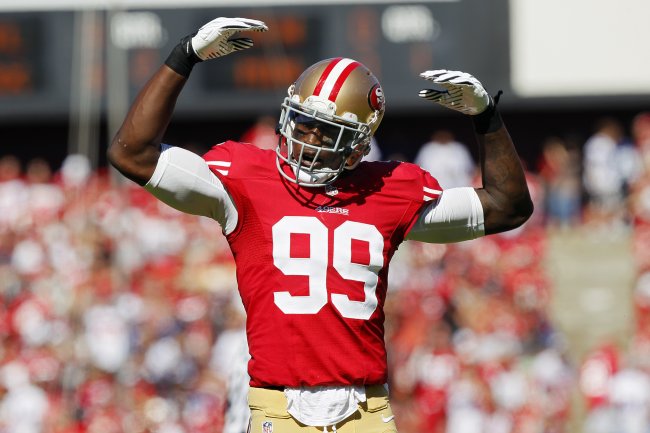 Brian Bahr/Getty Images
Aldon Smith was an absolute beast in 2012, notching 19.5 sacks during the regular season. If he can get pressure on Ryan, the quarterback could be in serious trouble.
Also, running back Michael Turner hasn't been the kind of threat this season to believe that he could carry the offensive load for Atlanta on his own. As a result, if Ryan struggles, Atlanta is toast.
The Falcons can't rely on Turner enough to cover up for an underwhelming Ryan.
Smith was relatively quiet during the Divisional Round, only registering two solo tackles. He can't afford to have that kind of game again this weekend.
San Fransico CBs Tarell Brown & Chris Culliver vs. Atlanta WRs Roddy White & Julio Jones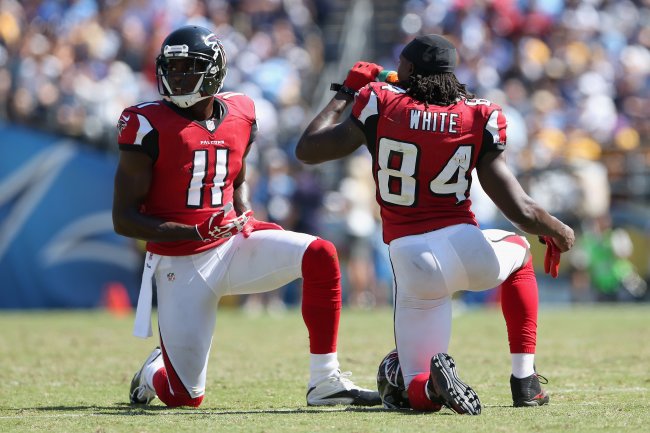 Jeff Gross/Getty Images
When Ryan is able to get the ball off, it will be up to the 49ers' secondary to blanket Roddy White and Julio Jones. The two combined for 2,549 receiving yards and 17 touchdowns during the regular season.
They had a good game against the Seattle Seahawks last weekend, recording 135 yards and a touchdown in the contest.
Tarell Brown and Chris Culliver aren't the type to force a ton of turnovers, having intercepted four passes during the regular season. Regardless, getting a key pick could be huge. It could suck the air right out of the Georgia Dome or set up a small field for Kaepernick and San Francisco's offense.
While the two weren't prolific ball hawks this season, they did wreak havoc on opposing receivers by breaking up 28 passes.
San Fransisco QB Colin Kaepernick vs. Missouri OLB Sean Weatherspoon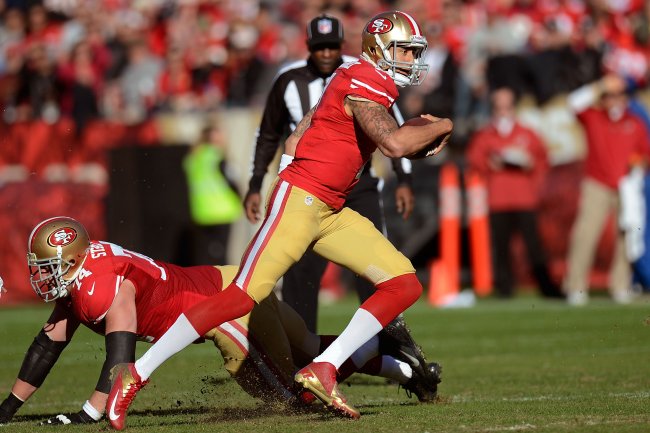 Thearon W. Henderson/Getty Images
The Falcons cannot possibly let Kaepernick have the kind of time and space that he was afforded against the Green Bay Packers. Credit must go to San Fransisco's offensive line, as the unit was opening up some huge holes for the quarterback.
Sean Weatherspoon is going to need to stop Kaepernick on running plays before he can break into the secondary because that is actually where the QB did most of his damage. After he got past the front seven, Kaepernick was off to the races.
With his mobility, there's no way to completely stop Kaepernick from gaining yards on the ground, but ensuring that the five-yard runs don't turn into 25-yard runs will be the key. Weatherspoon and his fellow linebackers will have to ensure that happens.