Power Ranking Michael Bisping's UFC Performances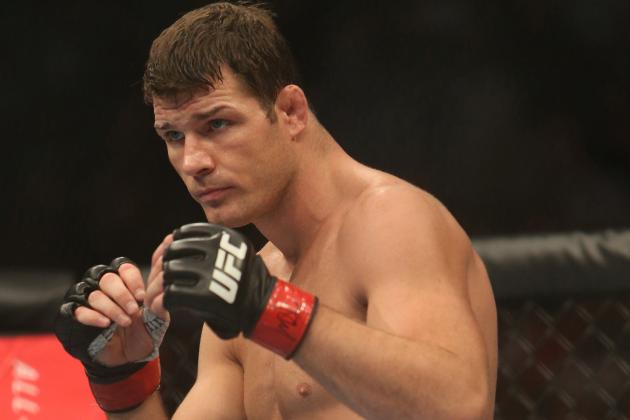 Tom Szczerbowski-USA TODAY Sports

Michael Bisping has had a respectable UFC career, picking up 13 wins in six full years with the organization.
That being said, the Englishman is still in search of his first shot at UFC gold, which he could earn with a win over Vitor Belfort at UFC on FX 7. UFC president Dana White recently said that Bisping would likely be middleweight champion Anderson Silva's next opponent with a win on Saturday (via MMAFighting.com).
Whether he wins or loses against Belfort, Bisping has been one of the most successful fighters to emerge from The Ultimate Fighter reality series. As one of the biggest fights of his career approaches, let's take a look at how Bisping's UFC performances stack up.
Begin Slideshow

»
Really, Michael Bisping wasn't doing all that bad against MMA legend Dan Henderson until one thunderous overhand right landed.
And boy, did it land.
Set up by a feinted inside leg kick, that overhand right is a punch that Bisping probably can't remember but will never forget.
That was the lowest moment of Bisping's UFC career and one that his detractors still use as fuel to this day.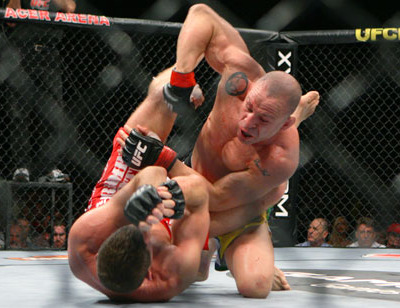 Daniel Herbertson/Sherdog.com
Following his knockout loss to Dan Henderson, Michael Bisping picked up an impressive win over Denis Kang. It was a win that looked like it would get him back on track toward becoming a serious contender in the middleweight division.
Instead, Bisping suffered another setback at the hands of a former Pride champion.
Moving to the middleweight division after back-to-back losses at light heavyweight, Wanderlei Silva was looking to revive his career. He hasn't been able to do that, but he did start things off nicely in his first UFC bout at 185 pounds by beating Bisping in a closely contested bout.
With a title shot on the line, Bisping's loss to Chael Sonnen at UFC on Fox 2 would have normally been deflating for the fighter. However, even in defeat, Bisping seemed to take a step forward after the decision loss.
The closely contested bout was decided by Sonnen's wrestling, but Bisping put on a solid performance against an opponent who had taken Anderson Silva into deep waters.
So the Englishman scored a moral victory.
With only one win since, Bisping finds himself in the same position he was in prior to his fight with Sonnen.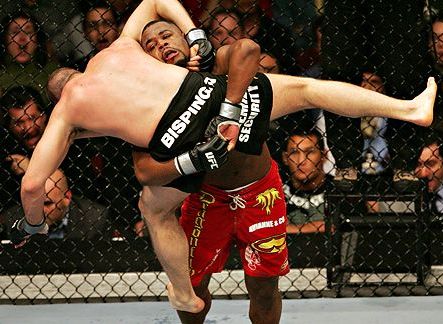 Rich Schultz/Associated Press
A win over Rashad Evans would have given Michael Bisping a huge boost toward the top of the light heavyweight division. However, the loss to Evans ended up chasing the Englishman from the 205-pound class.
Bisping took Evans to a split decision, but his inability to keep the fight standing ultimately led to his first UFC loss.
Following the defeat, Bisping was forced to work his way up from the bottom of the middleweight division. The move to 185 pounds ended up being a good one for Bisping, but it wasn't a move made under the most ideal circumstances.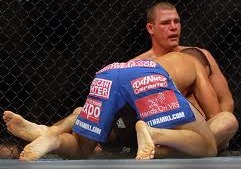 Sherdog.com
Officially, Michael Bisping beat Matt Hamill at UFC 75 in London, England, but the win did more harm than good for the British middleweight.
Hamill landed more strikes than Bisping in that matchup and scored six takedowns to his Bisping's zero. Most viewers seemed to see the fight in Hamill's favor, but two of the judges scored the fight for Bisping, giving him the controversial victory in his home country.
Bisping never received much credit for the win, which gained him far more enemies than fans.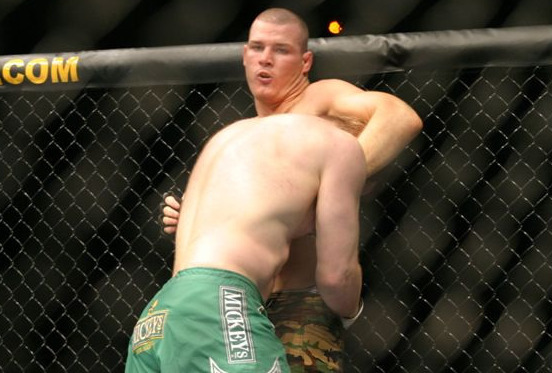 Sherdog.com
After winning The Ultimate Fighter, Michael Bisping's first UFC test came against Eric Schafer.
Showing his inexperience, Bisping allowed Schafer to score multiple takedowns early in the fight and even gave up his back at one point. However, once Bisping was able to shake Schafer off him and stand, he found an opportunity to finish the fight.
In the closing minute of the opening round, Bisping pounded away and picked up his second official win inside the Octagon.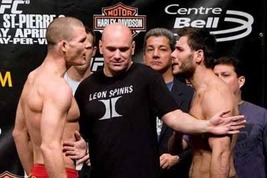 UFC.com
In his first UFC bout at middleweight, Michael Bisping met Charles McCarthy.
Bisping's performance wasn't flawless, as he had to contend with an armbar attempt, but the TUF winner was able to escape and finish the opening round on his feet.
A late flurry of strikes by Bisping left McCarthy unable to continue following the horn that signaled the end of the first frame.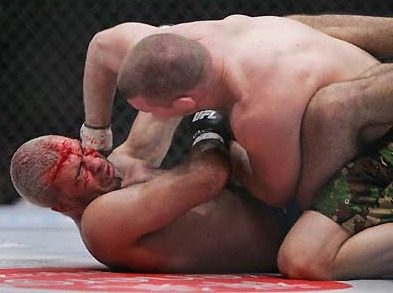 Susumug.com
Although Elvis Sinosic never achieved much success against elite competition, the experienced Australian provided Michael Bisping with a veteran challenge.
Bisping was able to beat Sinosic up from the top position in the opening round, but the action got more interesting in the next frame.
Sinosic nearly locked up a kimura on Bisping and took the British fighter's back at one point. However, Bisping was able to weather the storm to take advantage of a tired Sinosic, who blew all of his remaining energy on looking for a finish in the opening minute of the second stanza.
Bisping finished him with punches in Round 2 of this Fight of the Night at UFC 70.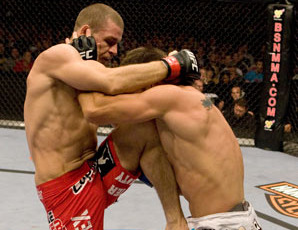 UFC.com
After getting his first middleweight bout out of the way, Michael Bisping was able to show off a little more in his second appearance at 185 pounds.
The Englishman used his underrated wrestling to take Jason Day down twice before finishing the fight in Round 1 with a number of unanswered blows.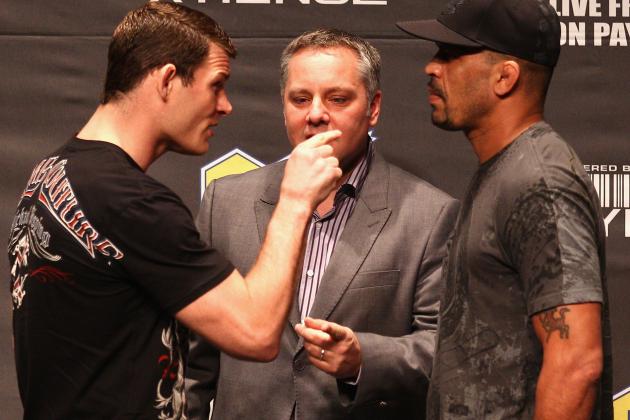 Ryan Pierse/Getty Images

Michael Bisping has been known to get into an argument or two with opponents, but his feud with Jorge Rivera was one of the more volatile rivalries in MMA history.
So much bad blood existed between the fighters that it appeared to overshadow the fight, which saw Bisping land a blatantly illegal knee to the head of a downed Rivera.
Although Rivera was able to continue and Bisping ended up walking away with the win, it was more of a shallow victory than it could have been. Rivera was barely in the fight upon the restart.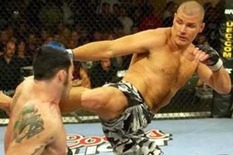 UFC.com
Like his fight with Jorge Rivera, Michael Bisping's bout against Josh Haynes in the finals of The Ultimate Fighter 3 was tainted by an illegal knee to the head of his downed opponent.
That aside, Bisping was clearly the dominant fighter in the matchup. He took Haynes to the canvas multiple times before finishing the fight on his feet late in the second round.
Coming off the worst loss of his career, Michael Bisping wasn't given an easy opponent. Instead, following his knockout defeat against Dan Henderson, Bisping was matched up against a sneaky good Denis Kang.
With a real chance of a serious collapse, Bisping responded well.
The British middleweight ran through Kang, taking the Pride veteran to the canvas and finishing the fight with ground-and-pound in the second frame.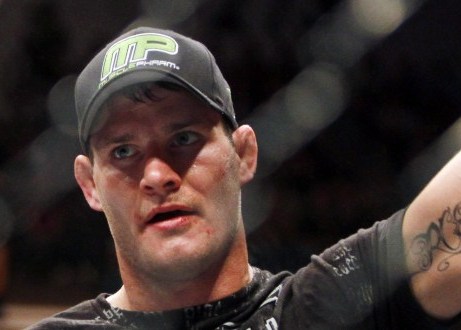 MontrealGazette.com
Following the setback he suffered against Wanderlei Silva, Michael Bisping's win over Dan Miller launched his run toward the top of the 185-pound division.
Although he wasn't overly dominant, Bisping found a way to get back on track against a tough opponent who has never been finished inside the Octagon.
As opposing coaches on The Ultimate Fighter, Bisping and Jason Miller had high expectations heading into their fight.
Initially, the fight appeared to competitive. Miller took Bisping down early and gained an edge on the scorecards in the first round.
However, Miller faded in the second frame, and Bisping took advantage. In the final two rounds, Bisping landed 91 significant strikes to Miller's 10 and stuffed all nine of his opponent's takedown attempts (via FightMetric.com).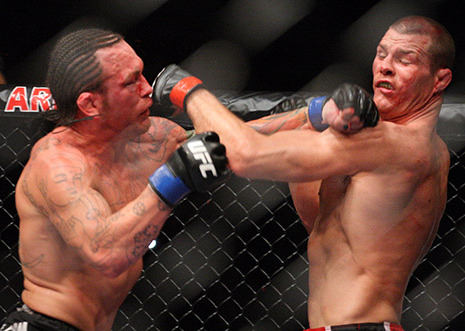 Lee Whitehead/MMAWeekly.com
Michael Bisping's first main event in the middleweight division came against Chris Leben.
Though Leben kept the fight close, as he tends to do, Bisping was the better fighter and methodically worked toward a victory.
As Leben constantly moved forward looking to engage in a slugfest, Bisping battered his opponent from the outside with more technical striking.
Among his wins over notable MMA veterans, Michael Bisping's victory over Yoshihiro Akiyama was the most dominant from start to finish.
Bisping picked Akiyama apart for three rounds, landing 118 significant strikes, the most in any fight of his career (via FightMetric.com).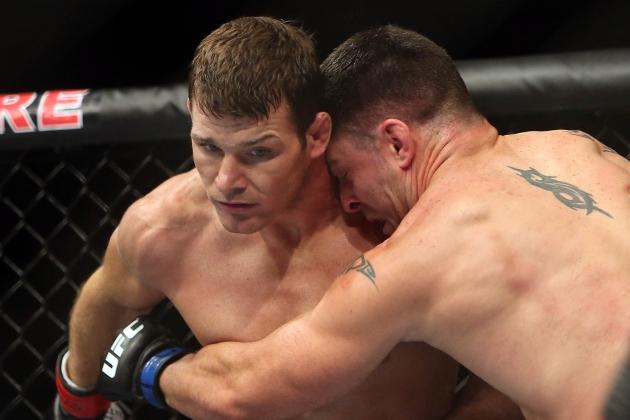 Tom Szczerbowski-USA TODAY Sports

In his most recent outing, Michael Bisping took on Brian Stann in an important fight that returned him to middleweight title contention.
Bisping mixed takedowns into his game plan for the fight in an effort to remove Stann's knockout power from the equation.
Although the fight was closer than expected, Bisping was able to remove Stann's greatest weapon, which led him to victory and Saturday's fight with Vitor Belfort.