Power Ranking Vitor Belfort's UFC Performances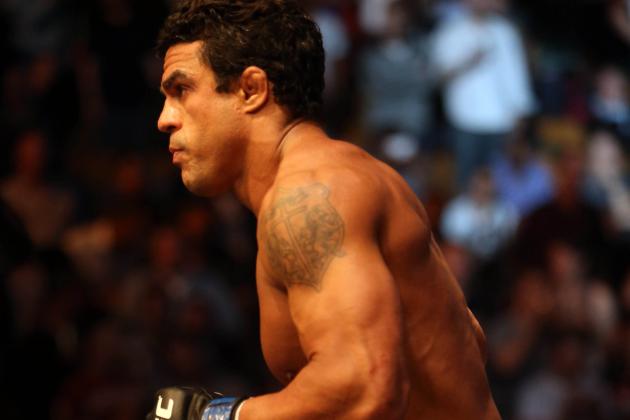 Tom Szczerbowski-USA TODAY Sports

Vitor Belfort's UFC career dates all the way back to February 1997, when he won the UFC 12 tournament by steamrolling his competition.
Since then, Belfort has been in and out of the UFC ranks, but he didn't leave the organization due to lack of success. The Brazilian is a former UFC light heavyweight champion, and he has challenged for the 205-pound and 185-pound titles during his current and likely final stint with the organization.
While he never became the dominant champion many thought he could become after showing such promise in his first few UFC fights, Belfort has had a very solid career and will be remembered long after his eventual retirement.
As Belfort prepares for a fight that could return him to middleweight title contention, let's take a look at all of his UFC appearances and how they stack up.
Begin Slideshow

»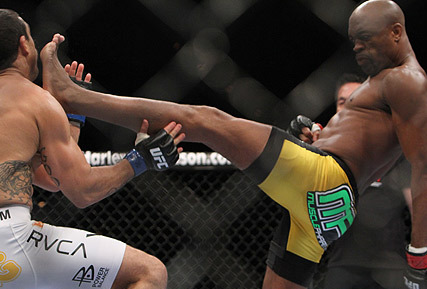 Scott Peterson/MMAWeekly.com
Few, if any, have been able to stand with Anderson Silva with any amount of success. Many thought Vitor Belfort's boxing would make him the first fighter to truly test Silva's striking ability.
Oh, how wrong they were.
In the opening round, Silva blasted Belfort with a front kick that will be forever remembered as one of the most spectacular head kick knockouts in UFC history.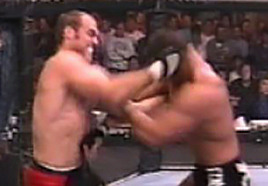 UFC.com
Vitor Belfort would have a trilogy with Randy Couture before all was said and done, but the series did not start off well for the Brazilian.
Couture took Belfort to the ground and beat up his opponent for more than eight minutes before the bout finally came to a stop.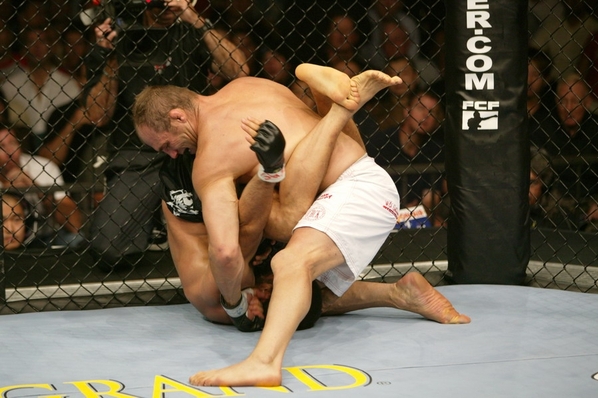 UFC.com
In a rubber match for the UFC light heavyweight title, Randy Couture broke his tie with Vitor Belfort in dominant fashion.
Much like he did in his first win against Belfort, Couture took the Brazilian to the canvas and rained down punches until the fight had to be stopped.
After the end of the third round, a cut caused by Couture's relentless ground-and-pound rendered the bout over.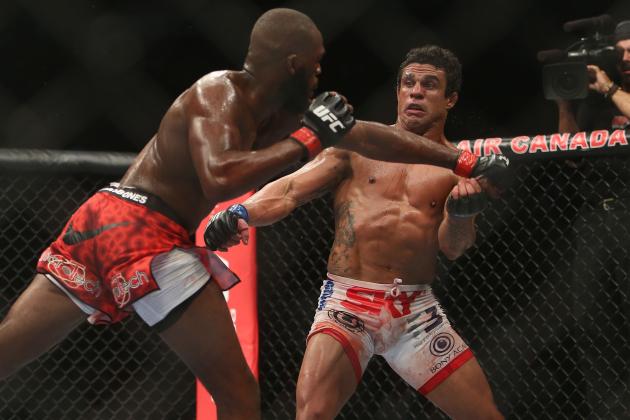 Tom Szczerbowski-USA TODAY Sports

There was a brief moment where it looked as though Vitor Belfort would pull off the impossible against Jon Jones. In the first round, Belfort locked up a tight armbar that could have forced many opponents to tap, but Jones fought through it and freed himself.
From that point forward, Belfort had no answer for the superior athleticism of Jones.
Confident in his jiu-jitsu, Belfort repeatedly pulled guard throughout the fight. However, that only led to him being elbowed in the face on the ground and ultimately submitted with an americana.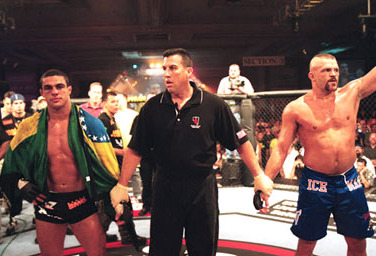 UFC.com
After a run with Pride FC, Vitor Belfort returned to the Octagon in June 2002 for a fight with fellow striker Chuck Liddell.
However, perhaps worried about Liddell's more well-rounded striking arsenal, Belfort came out willing to grapple. And maybe he should have stuck with that game plan throughout the three-round fight, as Belfort was countered consistently on his feet once he abandoned his takedown attempts in the later rounds.
Belfort would rebound from his decision loss to Liddell, but a different approach to the fight may have significantly changed Belfort's place in history.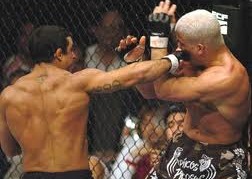 InsideFighting.com
Following his loss of the light heavyweight championship, Vitor Belfort was matched up against another former titleholder in Tito Ortiz.
Belfort was a much more talented striker than Ortiz, but he simply wasn't able to keep the fight standing long enough to land a finishing blow.
Ortiz took the fight to the ground a handful of times and grinded his way to a split decision win.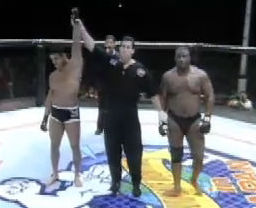 UFC.com
In his first of what would be several fights on Japanese soil, Vitor Belfort recorded a victory against Joe Charles.
Without attempting a single strike, Belfort took four minutes to bring Charles to the ground and lock up an armbar for the win.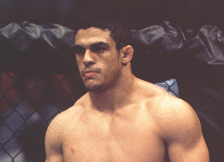 UFC.com
Vitor Belfort bowled through his first opponent inside the Octagon.
Tra Telligman was the victim of a tornado of strikes early in his fight with Belfort. Slightly more than a minute into the fight, Telligman had enough and submitted due to the punishment Belfort was delivering with his punches.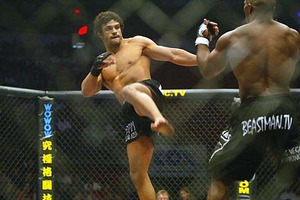 Susumug.com
Marvin Eastman was the fighter who had to deal with Vitor Belfort's pent up rage from losing to Chuck Liddell.
Belfort immediately unloaded on Eastman, landing a number of knees that opened up one of the worst cuts ever seen inside the Octagon. In one minute of action, Eastman was completely torn apart by the eventual light heavyweight champion.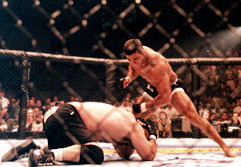 FCFighter.com
Vitor Belfort's reward for winning the UFC 12 tournament was a fight with veteran Tank Abbott.
In under 60 seconds, Belfort dismantled the much slower Abbott with his hand speed. It was the first time the hard-nosed Abbott ever suffered a knockout loss.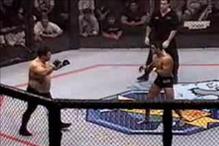 UFC.com
In a sign of the level of competition at the time, Scott Ferrozzo was the opponent Vitor Belfort faced in the UFC 12 tournament final.
Belfort landed nine punches in 43 seconds, and that was all she wrote for Ferrozzo, who didn't land a single strike in the bout.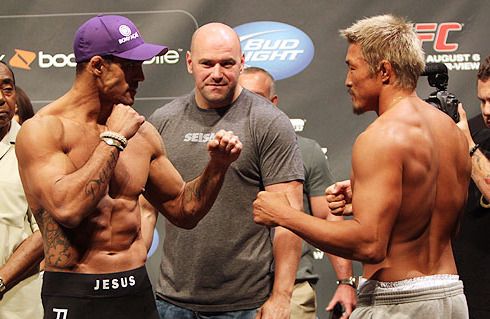 MMAWeekly.com
After losing to Anderson Silva in such devastating fashion, it was important for Vitor Belfort to make a statement in his next fight inside the Octagon.
He did so against Yoshihiro Akiyama with just 12 punches. Though some of those strikes were to the back of Akiyama's head, it was made abundantly clear that Belfort was the better fighter.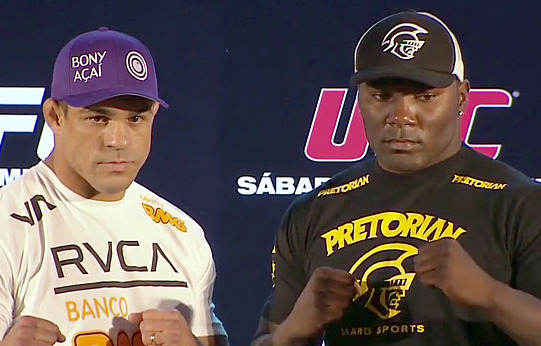 MMAWeekly.com
Vitor Belfort was supposed to welcome Anthony Johnson to the middleweight division. Instead, Johnson missed weight despite bumping up a division, and Belfort ended up competing in a catchweight bout against a larger opponent.
Nonetheless, justice was served for the weigh-in fiasco.
Though he was taken down by Johnson early in the fight, Belfort was able to turn the tables and take his opponent's back. From there, the jiu-jitsu black belt locked up a rear-naked choke that would surprisingly help set the stage for a light heavyweight title shot against Jon Jones.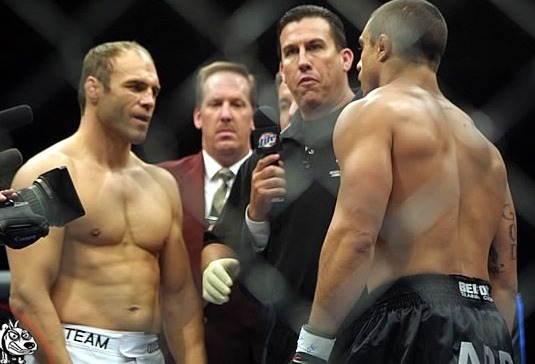 Sherdog.com
It wasn't the way most fighters would like to earn a championship, but Vitor Belfort rightly won the UFC light heavyweight title due to a cut above Randy Couture's eye.
Belfort grazed Couture with the first punch he landed, and it opened a cut that would force Couture to bow out of the fight.
Again, not the most spectacular way to win a fight, but the cut was caused by a successfully landed and legal strike from Belfort.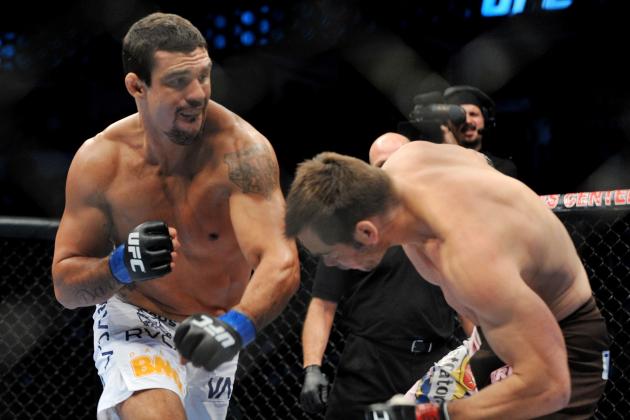 Jon Kopaloff/Getty Images

Following his previously mentioned loss to Tito Ortiz, Vitor Belfort spent more than four years outside of the UFC competing with Pride FC, Cage Rage and Affliction.
Once Affliction folded, though, Belfort was welcomed back to the Octagon with a big fight against former middleweight champion Rich Franklin.
Despite aging several years, Belfort showed he hadn't lost a step by blasting Franklin in the opening round to return to UFC title contention.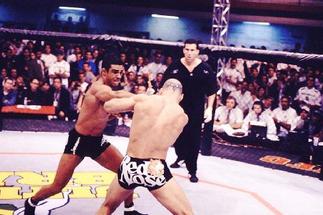 UFC.com
For Vitor Belfort best performance, you'd have to go all the way back to October 1998, he and Wanderlei Silva competed in their home country of Brazil.
In the first minute of the bout, Belfort rushed forward and landed a constant combination of punches until Silva was dazed and backed up against the fence.
Although Silva hadn't yet emerged as the all-time great he is recognized as today, this is still the most historically impressive win over Belfort's career.