Miami Football: 7 Reasons the Canes Are a Lock for 2013 ACC Championship Game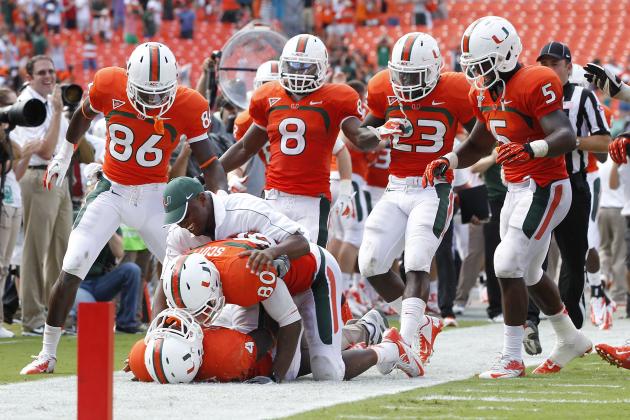 Joel Auerbach/Getty Images
Miami is looking to celebrate the school's first-ever ACC Championship win.
The 2013 Miami Hurricanes football team will be looking to make the school's first-ever ACC Championship Game.
After surprising many college football fans in 2012 by finishing atop the Coastal Division with a 5-3 conference record, the Hurricanes self-imposed a postseason ban in preparation for impending NCAA sanctions.
Even after forgoing a chance to make the Orange Bowl last year, Miami returns 20 of 22 starters in a young, yet experienced squad.
Here are seven reasons the Hurricanes are a lock to make it to the ACC Championship Game.
Begin Slideshow

»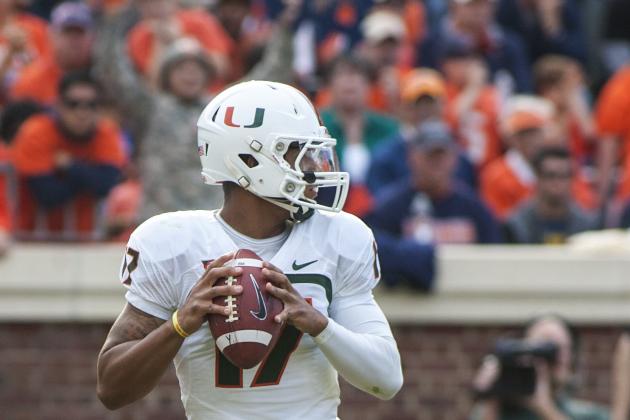 Peter Casey-USA TODAY Sports
Morris will lead the potentially lethal Hurricanes offense.
One player who may surprise the nation next year is senior quarterback Stephen Morris.
Head coach Al Golden described Morris as the hottest quarterback in the nation as the regular season concluded—a well-earned compliment.
In the Canes' final four games, Morris threw 11 touchdowns while not throwing a single interception.
As surprising as the number may seem, 4,000 yards is not an unrealistic expectation for the fourth-year gunslinger.
Jared Wickerham/Getty Images
Duke burst onto the scene in his collegiate debut.
Now we go to Duke Johnson, the sophomore running back who needs little introduction.
After slashing defenders for 2,060 all-purpose yards—the second-most in school history—Duke earned First Team All-American honors as a kick returner.
Mike James split time with Johnson in 2012, but James was a senior and is now working his way to the NFL.
Duke will take over as the featured back, and he should solidify a deadly tandem in the Miami backfield with Morris.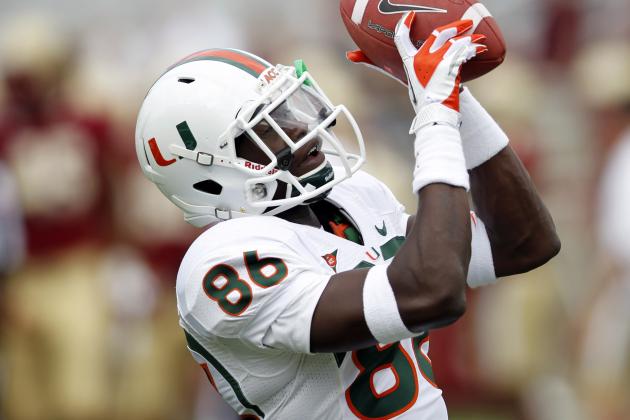 Greg M. Cooper-USA TODAY Sports
Waters provided yet another weapon for Morris.
Each of Miami's top-four wide receivers return next season, headlined by juniors Phillip Dorsett and Rashawn Scott.
Though the Hurricanes' receivers were plagued by drops last season, they were consistently finding open areas for Morris to throw them ball.
Herb Waters, Allen Hurns and Malcolm Lewis round out a deep group on the outside for Miami.
Tight ends Clive Walford and Beau Sandland will also provide Morris tall, athletic targets in the middle of the field.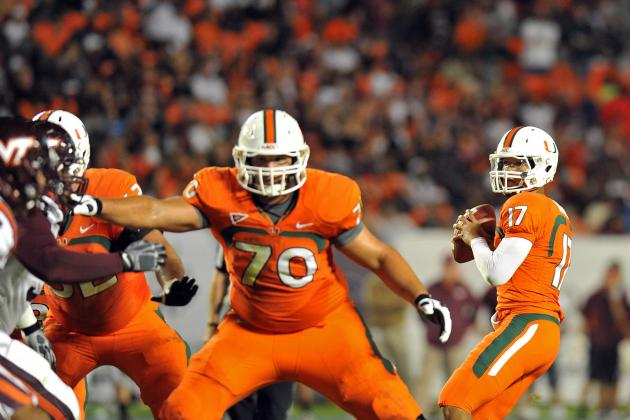 Steve Mitchell-USA TODAY Sports
Jon Feliciano, along with Malcolm Bunche, helps protect Morris' blindside.
Many programs throughout the country cannot boast about their team's entire offensive line returning.
Miami, on the other hand, can say just that.
From left to right, Malcolm Bunche, Jonathan Feliciano, Shane McDermott, Brandon Linder and Seantrel Henderson will protect Morris and create holes for Duke Johnson to run through.
When you throw in sophomore Ereck Flowers, the Hurricanes have depth and experience.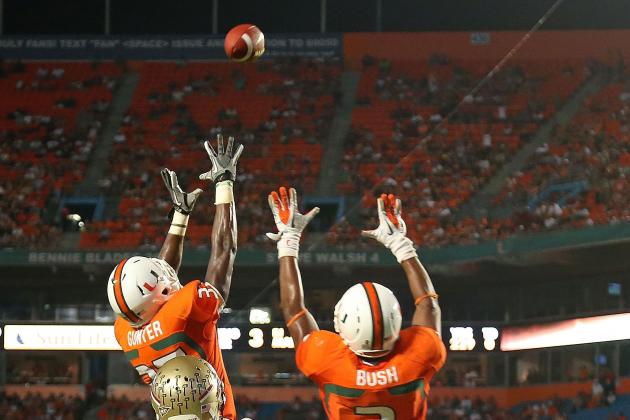 Mike Ehrmann/Getty Images
Ladarius Gunter and Deon Bush will be key defensive players.
I say this with extreme caution: It is not possible for the Miami defense to get any worse than it was in 2012.
The Hurricanes allowed 486 yards per game and more than 30 points per outing. To make matters worse, opposing offenses were successful on 42 percent of third-down conversions.
That is, well, not good.
If Miami manages to put together a decent pass rush and get the defense off the field, the Canes could win another game or two based on that alone.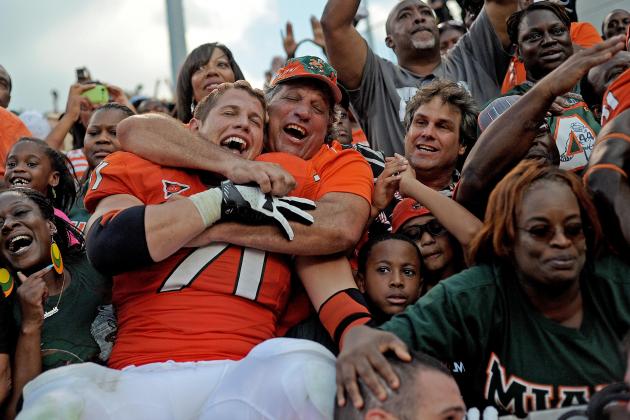 Kevin Liles-USA TODAY Sports
Miami fans want to celebrate an ACC Championship, too.
The Atlantic Coast Conference recently announced the 2013 matchups, as Syracuse and Pittsburgh needed to be included in the schedule.
In addition to the eight-game conference schedule, Miami plays home games against Florida Atlantic, the University of Florida and Savannah State before traveling to South Florida.
The Hurricanes host ACC opponents Georgia Tech, Virginia, Virginia Tech, and non-division foe Wake Forest. Miami also travels to face Duke, North Carolina, Pittsburgh and rival Florida State.
All things considered, the Canes play a relatively favorable schedule because they manage to avoid multiple road contests against top-ranked teams.
Note: Dates and times for ACC games have not yet been officially announced.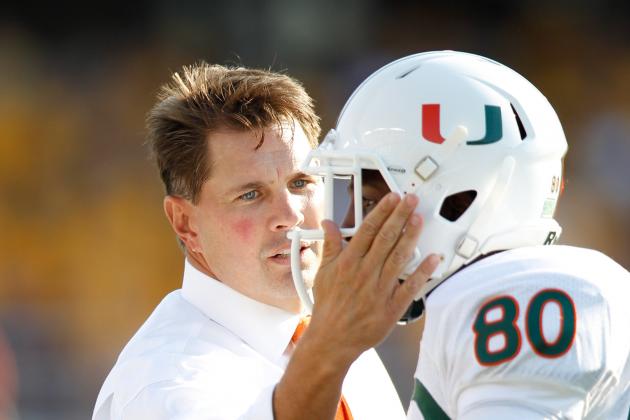 Greg M. Cooper-USA TODAY Sports
Golden seems to be a fair coach and tough love leader.
Al Golden took a "house divided" 2011 team to a respectable 6-6 record, and followed it up by shattering expectations in 2012.
Golden led the team to a Coastal Division title, and he can absolutely do it again next season.
As the investigation into Miami athletics seems to be winding down, there no longer is such a dark cloud hovering over the university.
The Hurricanes may not be playing for the unknown in 2013. They might be playing for their first-ever ACC Championship.