UFC on FX 7: All Eyes on Michael Bisping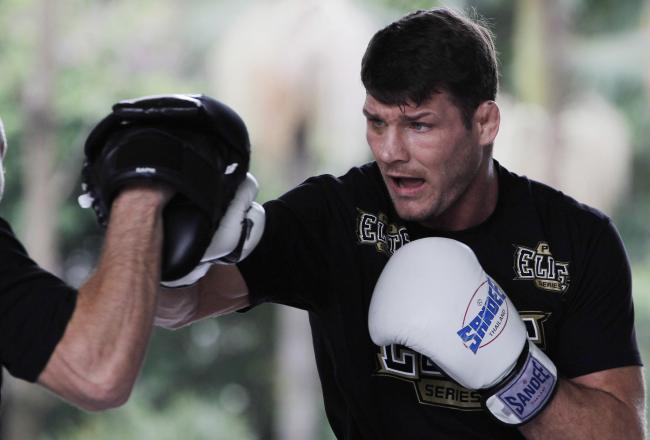 Michael Bisping is one fight away from getting everything he wants, and the the only obstacle standing between the former TUF winner and a long-awaited shot at middleweight king Anderson Silva is Vitor Belfort.
The two men will mix it up this Saturday night at UFC on FX 7 in Sao Paulo, Brazil. While Bisping's momentum is on the rise, getting past "The Phenom" has proven to be a difficult task. But should "The Count" make good on his promise to break the MMA legend down, the next title opportunity will be his for the taking.
Success this weekend in Brazil will be the culmination of a long journey for the 33-year-old Brit. Since winning Season 3 of The Ultimate Fighter, Bisping has stepped into the Octagon on 16 occasions, with all but four of those outings resulting in victories. A quick look at the losses on his resume show those setbacks have come against some of the best in the sport (Rashad Evans, Chael Sonnen, Wanderlei Silva, and Dan Henderson), with only the bout against "Hendo" at UFC 100 being a clear-cut defeat.
Over this time, MMA fans have developed a love/hate relationship with the brash Englishman. Outside of fellow TUF alums Josh Koscheck and Rashad Evans, there is no other fighter more widely booed than Bisping, but it is a role he's embraced wholeheartedly.
He doesn't care if fans don't like him. He doesn't care if some show up hoping he'll lose. All he cares about is putting everything he has into the fight, and all criticisms aside, it is difficult to find a mixed martial artist more passionate about what he does than Bisping.
In a sport where fighters are cautious about what they say to the media, the middleweight contender is a breath of fresh air. There is never any hesitation for him to say what is on his mind, and he unloads those thoughts in rapid-fire fashion. His opinions have a certain level of conviction that are free of schtick, and in the current trend of trash talking to build up pre-fight hype, there is no denying that Bisping, in fact, "gets it."
Strong performances inside the cage and the drive to push his profile higher in the public realm have brought Bisping one fight away from a title shot. Again, defeating Belfort will be no easy task, but with the tools Bisping brings to the table, there are several stylistic advantages that play out strongly in his favor.
Defeating the Lion in the Lion's Den
Over a 17-year career, Belfort has proven his abilities when it comes to handling business inside the cage. It has also become evident that the 35-year-old is front heavy where the action is concerned. Working behind an aggressive attack, Belfort historically wastes little time looking to put his power on the opposition.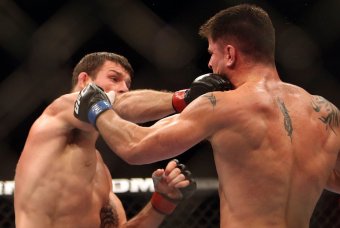 Tom Szczerbowski-USA TODAY Sports
Of his 21 victories, 15 have come inside the opening frame, and while being a "fast starter" is a strength in the fight game, not being able to sustain that explosion (borrowed from Benson Henderson) has proven to be costly for the Brazilian.
Bisping's approach inside the Octagon is the exact opposite. From bell to bell, he pours out a high-output striking attack with a focus of breaking the opposition down over the course of the fight. His kickboxing background provides him the luxury of the right amount of space, and solid hand speed and footwork allow him to close distance quickly when he so chooses.
In the fight with Belfort, both will be important. If Bisping can avoid the former light heavyweight champion's power throughout the opening minutes, the damage will begin to add up. His ability to push the pace has the potential to pay dividends as the fight carries into later rounds.
If Bisping can exhaust Belfort's gas tank, the fight could shift to be a one-sided affair in the later rounds. It is in those cases where Bisping excels. In past fights, when the opposition has begun to fade, Bisping turns up the intensity and closes out the action in impressive fashion.
A Date with the Spider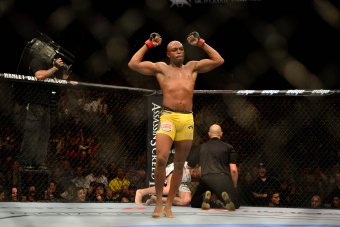 Mark J. Rebilas-USA TODAY Sports
Few divisions have undergone the type of makeover the UFC's 185-pound weight class has experienced. Two years ago, many believed Silva had defeated all potential contenders and cleaned out the division. While that may have been the case back then, the current picture is just starting to heat up.
There is a solid collection of talent coming over from Strikeforce, and with contender Chris Weidman set to return later this year, the timing is right for Bisping to get the title shot. Now the only thing left to do is earn it. In order to do so, he'll have to defeat a legend in front of a passionate crowd filled with fight-frenzied Brazilians.
It's a fitting stage for Bisping to prove he deserves a title shot. Now we wait to see if he can capitalize on the opportunity.
This article is
What is the duplicate article?
Why is this article offensive?
Where is this article plagiarized from?
Why is this article poorly edited?