Ohio State Football: 7 Role Players Who Will Be Vital to Buckeyes' 2013 Success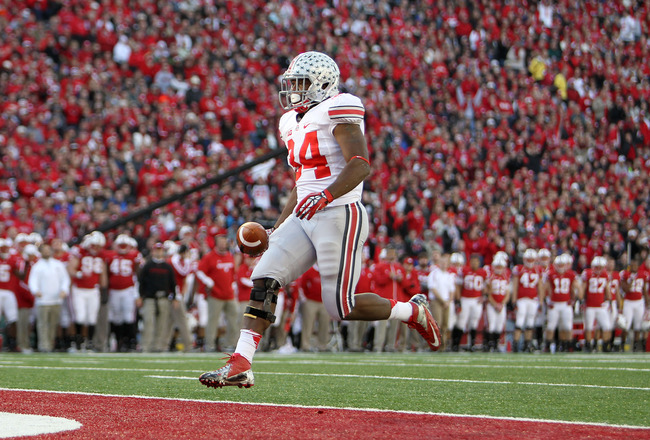 Carlos Hyde emerged as a star in 2012.
Mike McGinnis/Getty Images
Urban Meyer led Ohio State to an undefeated finish in his first season at Ohio State.
In 2013 expectations will be higher for the Buckeyes, who mostly flew under the radar due to a postseason ban from the NCAA.
Ohio State returns several key players including QB Braxton Miller, running back Carlos Hyde, linebacker Ryan Shazier and cornerback Bradley Roby.
Those four, along with the four returning starters on the offensive line, will need to show improvement if the Buckeyes are going to reach Pasadena for the Rose Bowl or the BCS National Championship Game a week later.
But a team that is going to win titles needs more than just stars, it needs role players that are consistent and capable of making big plays when the team is in trouble.
That's where these seven players come in. It's unlikely any of them will be the team leader in any statistical category, but they will be vital nonetheless.
Corey Brown, Safety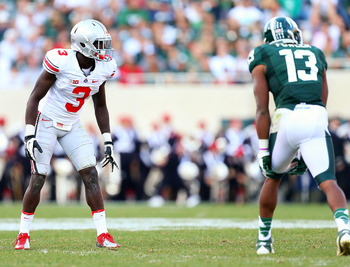 Corey Brown will likely step into the "star" role, a position he cameo'd in last season.
Mike Carter-USA TODAY Sports
Corey Brown, the Pittsburgh area native and backup safety not to be confused with the Philadelphia area native and leading wide receiver who bears the same name, will be one of the keys in the Buckeyes' secondary.
Brown will be a fifth-year senior and has experience on special teams as well as experience playing the "star" position last season when Orhian Johnson was moved to safety or when Johnson was injured.
Since most teams in the Big Ten has moved to the spread, the "star," or nickelback position, is on the field more than the third linebacker.
That, along with the fact Brown will have had more playing time than almost all of the players in the Buckeyes' front seven, makes not only his play but also his leadership important to the younger Buckeyes.
Bri'onte Dunn, Runningback
Bri'onte Dunn could be in line for more carries in 2013.
Kirk Irwin/Getty Images
Bri'onte Dunn's biggest problem will be the depth of Ohio State's backfield.
With Carlos Hyde turning down the NFL and Jordan Hall getting a fifth season of eligibility, there won't be many carries to go around. Especially with Braxton Miller taking several from the QB position.
What this means for Dunn is that he won't be the feature back and he won't have time to get in a rhythm with the ball. He will have to make every carry count if he wants to keep seeing the ball.
It was clear in 2012 that Ohio State's coaching staff didn't have much faith in anyone other than Miller and Hyde late in games. That could be problematic for Ohio State since those two will take so many hits.
For the Buckeyes to have a successful season, Miller and Hyde will have to be healthy. Having another consistent and trustworthy runner like Dunn would help alleviate the stress for the stars.
Chase Faris, Offensive Line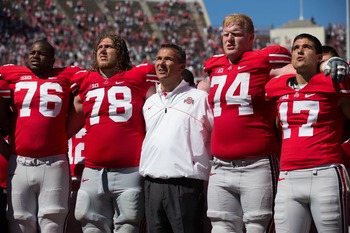 Andrew Norwell (78) and Jack Mewhort (74) started every game in 2012.
Greg Bartram-USA TODAY Sports
In the 2012 season, Ohio State started the same five offensive linemen in every game. A feat like that will be hard to repeat.
Jack Mewhort, Andrew Norwell, Corey Linsley and Marcus Hall will all be seniors in 2013 and will likely be joined by 2013 sophomore Taylor Decker as the fifth starter.
The reason Chase Farris will be important is because surviving one season without injuries on the offensive line is rare, surviving two seasons in a row unscathed is almost unfathomable.
During the 2012 season Meyer often lamented that his second-string offensive line just wasn't good. However, by the end of the season Farris had apparently changed that.
The Buckeyes could need depth in 2013 and Farris will likely be the first name called to fill any void.
Michael Thomas, Wide Receiver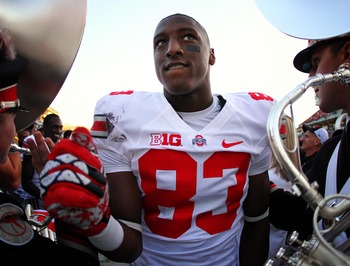 More will be expected from Michael Thomas in his second season as a Buckeye.
Mike Carter-USA TODAY Sports
Michael Thomas had more receptions in the 2012 Spring Game (12) than he did in the 2012 season (3). That will need to change if Ohio State's offense is going to take to the air in 2013.
It is unlikely Thomas will unseat Corey "Philly" Brown or Devin Smith as Braxton Miller's favorite two targets, but providing a trustworthy third target could be a key.
Thomas and Miller showed great chemistry in the spring game, but struggled to find it again.
Evan Spencer, Chris Fields and the incoming freshman will also get a shot to prove they are capable of filling this role.
Joel Hale, Defensive Line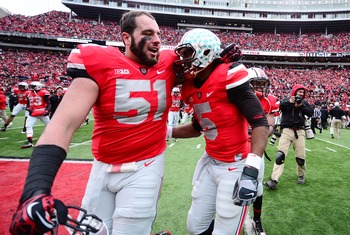 Joel Hale (51) will likely get the first crack at plugging the middle for Ohio State's defense.
Andrew Weber-USA TODAY Sports
Ohio State's defensive line unit will be without any of its 2012 starters.
That unit will also be without a scholarship senior on the defensive line as well.
Juniors Michael Bennett, Joel Hale and Steve Miller will have to mesh with the 2012 and 2013 classes that brought in several high school All-Americans.
While Bennett, Noah Spence and Adolphus Washington could become Ohio State's next stars on the defensive line, the responsibility of keeping them and the linebackers free will fall on Hale.
Like Garrett Goebel did last season for Nathan Williams, John Simon and Johnathon Hankins, the job of the nose guard is to eat up blockers and hold the line of attack.
Hale fits that role well, just don't expect to hear his name called for many tackles.
Jeff Heuerman and Nick Vannett, Tight End/H-Backs
Nick Vannett hauled in one more reception in 2012 than Jeff Heuerman did.
Rich Barnes-USA TODAY Sports
Jeff Heuerman and Nick Vannett will again split time between tight end and H-back in 2013 as they did in 2012.
Not only will those two be used as blockers for the running game, they will need to have a presence in the passing game as well.
While neither Heuerman and Vannett are the type of playmaker that Aaron Hernandez was for Meyer at Florida, they will still be expected to cause damage when left open.
If those two aren't able to consistently provide options for Miller in the passing game Ohio State will have other options.
Freshman Marcus Baugh and even backup running back Rod Smith could be used to fill the playmaking void from the tight end or H-back positions.
Joshua Perry, Linebacker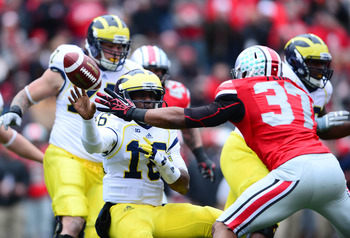 Joshua Perry (37) played a large role in the win over Michigan in 2012.
Andrew Weber-USA TODAY Sports
Linebacker depth was an issue for Ohio State in 2012. So much so that the Buckeyes moved Zach Boren from fullback to linebacker.
Now with Boren, Etienne Sabino and backup Storm Klein gone the linebacking corps is even more unstable.
Ryan Shazier is a proven star at the position, but Ohio State will need at least one of the younger linebackers to step up.
Joshua Perry looks like he will get the first chance to take a starting role because he played—and played well—against Michigan to finish off the season.
Perry will have to battle classmates David Perkins and Jamal Marcus for the strong-side spot. Perry will also have to beat out other linebackers from the middle linebacker position to stay on the field when Ohio State goes to the nickel.
Keep Reading

Ohio State Football: Like this team?