John Makdessi vs Daron Cruickshank: Head to Toe Breakdown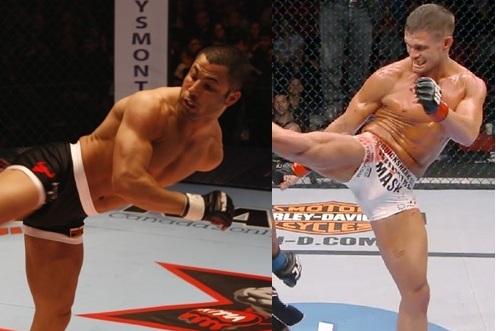 Two of the most exciting and rising lightweights will go head to head when "The Detroit Superstar" Daron Cruickshank collides with Montreal's John "The Bull" Makdessi at UFC 158 in March.
Both men like to throw anything and everything at their opponent when they step inside the cage and are also coming off their most impressive wins of their careers in 2012.
The winner of this fight will continue his rise up the lightweight rankings and find himself right at the gate of the contenders for the remainder of the year.
Here is a complete head to toe breakdown
Begin Slideshow

»
This is where it all starts and ends for both of these fighters and the main reason why this fight could be one of the most exciting of the card and year.
Cruickshank showed every bit of his black belt in Tae Kwon Do in his last fight against Henry Martinez before knocking him out with a vicious head kick in the third round. Cruickshank is a beast at lightweight, and he has knockout power in both his legs and his hands with seven knockouts in his twelve professional wins. He is now 2-0 in the UFC.
Makdessi is a very slick and dangerous striker as well and has a unique style that is very hard to prepare for. He uses his footwork and angles to throw all kinds of changes and surprises at you, and his technical accuracy does not suffer much. Makdessi used a bit of a different strategy in his last win over Sam Stout, using counter jabs to take the win as Stout moved forward all fight long. Makdessi is 3-2 in the UFC
The biggest difference and advantage I see in the striking is in the reach department as Cruickshank has four inches on The Bull. Combine that with the power edge that Cruickshank has and Makdessi could take some damage in this one.
Advantage: Cruickshank
The slides will get brief from here as the wrestling skill and credentials of these two fighters are pretty much undetermined.
Cruickshank wrestled in NCAA Division III before turning to amateur and professional fighting and he has shown some good takedown defence and athleticism in many of his fights so far.
If he can help it, Makdessi is fine to fight entirely on the feet and was exposed badly in his one matchup with a competent wrestler in Dennis Hallman. Hallman took Makdessi down early and kept him there at will at UFC 140.
Again, size may matter in this aspect of the fight and I think Cruickshank has the edge here. Makdessi is considered a small 155'er and he will come up short when these two lock up.
Advantage: Cruickshank
Take the last slide and copy it here as neither one has provided much insight into the prowess of their grappling or submissions to date.
Cruickshank has one submission win in his professional career, but it came in the Michigan regional circuit in 2010. He also lost one by guillotine choke later that year.
Makdessi has no submission wins on his resume and suffered that one sided loss to Hallman. Makdessi is a member of the Tristar gym under Firas Zahabi so I'm sure he has top level jiu-jitsu training at his disposal.
I don't think there will be any straight submission attempts in this one, but if either man gets hurt with a strike, it could leave a large opening to seize. Makdessi has better training but Cruickshank has the strength advantage.
Advantage: Even
Both fighters have a lot at stake in this one, and that is to continue their rise up the rankings of the lightweight division. Bigger fights, brighter lights and more money should be the objective when this one is said and done. Both men should be equally motivated for the win.
There are two intangibles at play in this fight that could even the scales up for Makdessi come March 16th. One is the fact that Makdessi will be fighting in his home town and will have all the fan support on his side. This advantage is minimal as Cruickshank is the type of guy who enjoys fighting in hostile territory.
The other and more significant intangible is the fact that Makdessi trains at Tristar. The game planning and strategy prowess that Firas Zahabi employs could tilt this fight in Makdessi's favor. He showed a willingness to stick to the game plan in his win against Stout and this could be his key to victory here as well.
Advantage: Makdessi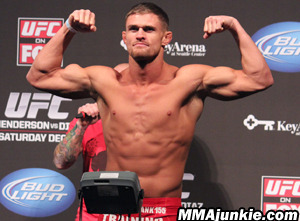 Courtesy / MMAJunkie.com
In the end, I think this fight will look a lot like a Frankie Edgar fight in that Makdessi will be right there in front of Cruickshank all night , scoring and trading almost on par with The Detroit Superstar. It will be a close fight to call, and many will think it could go either way.
Cruickshank's size and power will cause more visible damage on Makdessi and sway the judges to score and unanimous decision in favor of Cruickshank.
Cruickshank unanimous decision