WWE SmackDown: 5 Things to Watch for During This Week's Show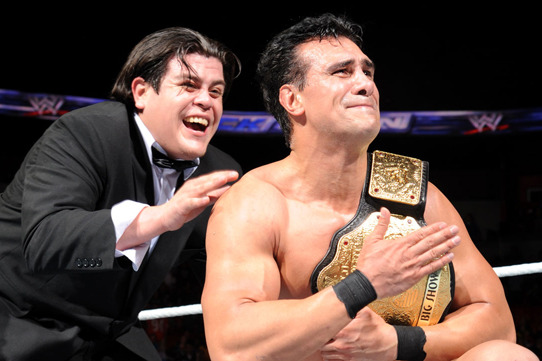 Photo courtesy of WWE.com
Last week's episode of SmackDown was one of the best in recent memory, so the writers for the blue brand have a lot to live up to this week. The odds of the WWE replicating the success of last week's show are fairly low, but there are pieces in place that should make it entertaining nonetheless.
The main highlights a week ago were certainly the return of The Rock on SmackDown for the first time in a decade, as well as Alberto Del Rio beating Big Show in a Last Man Standing match for the World Heavyweight Championship. The Rock won't be there this time and we probably won't see another title change. However Del Rio is scheduled to celebrate his championship triumph.
Also, with the Royal Rumble less than two weeks away, there promises to be plenty of build toward the event. The likes of Sheamus, Randy Orton and Dolph Ziggler have already declared their participation in the Rumble match, and they figure to be involved on SmackDown in some capacity. Also, perhaps we'll see some new entrants enter the fray.
With all of that and more, SmackDown figures to be a highly entertaining show this week. Here are the top five things to keep an eye on while watching the blue brand.
Begin Slideshow

»
Much to the surprise of most WWE fans, Alberto Del Rio defeated Big Show in a Last Man Standing match last week to become the new World Heavyweight Champion. Big Show controlled much of the contest, but Del Rio's resourcefulness ruled the day as he pushed the announce table on top of the giant and was able to get back to his feet in time to be crowned the new world champion.
It has been a whirlwind month for Del Rio as he just started his face turn at TLC by saving Ricardo Rodriguez from 3MB. His turn has progressed slowly since then and really kicked into gear over the past couple weeks. Big Show has been bullying Ricardo quite a bit lately, which is something Del Rio took exception to. It led to the title match last week, and Del Rio was ultimately able to come out on top.
The WWE is advertising a championship fiesta on SmackDown this week as Del Rio will celebrate his big win in San Antonio. This won' be Del Rio's first such celebration as he threw one when he won the 2011 Royal Rumble, but this will be the first one that the fans are receptive to. Del Rio has been getting some big face pops and is really getting over in his new role.
Expect that to continue in San Antonio due to its noted Latino population. Del Rio came to the ring on Monday with new attire meant to look like the Mexican flag, so it's clear that the WWE is trying to put him in the Rey Mysterio role. SmackDown will be a big test in terms of seeing if he's ready to become the new Mexican icon in WWE.
Although Ryback has been the brunt of The Shield's attacks most often, the young trio has been targeting Randy Orton quite a bit as well. They put him through a table on SmackDown a few weeks ago and have taken him out a couple times since then as well. The most recent attack took place on Main Event as The Shield interrupted Orton's match with Antonio Cesaro by hitting him with a triple power-bomb.
It isn't abundantly clear why The Shield has zeroed in on Orton, but maybe we'll get some answers on SmackDown. The Shield continues to maintain that its goal is to stop injustice in the WWE, but it's tough to tell what injustices Orton has committed. Ryback was much easier to understand since The Shield believed he was unfairly being handed title shots against WWE Champion CM Punk.
Whatever the case, Orton is a key player on SmackDown and is sure to be featured this week with the Royal Rumble approaching. There are no guarantees regarding The Shield as Dean Ambrose, Seth Rollins and Roman Reigns come and go as they please. But they have appeared fairly regularly on Raw and SmackDown, so we could certainly see them this week.
With Orton in the Rumble match, I'll be interested to see if The Shield announces its intention to enter the match as well. I can't see Orton winning, so having The Shield eliminate him would be a good way to go about things. I doubt we'll get an official announcement from The Shield this week, but another interaction with Orton is very possible.
Wade Barrett has gone on a nice little run since beating Kofi Kingston for the Intercontinental Championship a few weeks ago, winning a number of matches on Raw, SmackDown and Main Event. His most recent triumph was also his most impressive as he surprisingly beat Randy Orton cleanly on Monday in a non-title affair.
With the Royal Rumble coming up, Barrett doesn't necessarily need to start a feud over the IC title since he'll likely be in the Rumble match, but it would be smart to plant the seeds. I thought more might come of his encounter with Ricky "The Dragon" Steamboat a couple weeks back, with perhaps Richie Steamboat making his main roster debut. But it seems like that may have been a one-off thing.
The big issue for Barrett is that there aren't many credible mid-card faces out there right now. He already dispatched of Kofi, so he's out of the equation, and someone like The Miz is no longer an option as he is feuding with Antonio Cesaro. The WWE has had trouble booking Barrett ever since his return from injury and I'm not particularly confident that something will be put in place prior to the pay-per-view.
One thing that I would love to see is Christian making a return at the Rumble as a surprise entrant. He's exactly the type of guy who Barrett should feud with to take the next step. Christian has been a main-event guy before and he has always been a reliable mid-carder as well. I don't really see anyone on the active roster for Barrett to face right now, so Christian would be the best-case scenario.
When Dolph Ziggler defeated John Cena in a ladder match at TLC to retain his Money in the Bank contract, it felt like he had finally made it to the big time. Ziggler main-evented a pay-per-view against the face of the company and won, albeit with help from A.J. Since then, though, Ziggler has been on a steady decline and has been booked about as poorly as humanly possible.
I can understand the writers wanting to give Cena one win over Ziggler after TLC to even the score a bit, but Cena has defeated Ziggler three times on Raw, including the past two weeks. To make matters worse, Cena's wins have come in typical "Super Cena" fashion, with Ziggler hitting everything in his arsenal and receiving help from both A.J. and Big E Langston. Despite that, Cena hits one Attitude Adjustment and it's game over for The Show Off.
I'm a huge Ziggler fan, but I fully realize that he's a heel and heels lose sometimes. With that said, a heel who is being built toward World Heavyweight Champion status should not be losing with regularity. It's fine if the WWE wants to protect Cena, even though he doesn't actually need protecting. But why couldn't the cage match have been booked a draw, with Cena and Ziggler touching the floor at the same time?
Ziggler could really use some momentum as the possibility of him cashing in gets greater with each passing day. Putting the world title on Alberto Del Rio seemed like a calculated move by the WWE as it is much more believable for Ziggler to cash in on a face than on a monster heel like Big Show. Having Ziggler cash in coming off multiple losses honestly isn't a good way of going about it, however.
The Royal Rumble is approaching quickly, but the field for the 30-man match is still pretty thin. John Cena, Dolph Ziggler, Randy Orton, Sheamus, 3MB, Antonio Cesaro, Wade Barrett and The Miz have all officially entered the match, while it's only a matter of time before someone like Ryback makes it official as well. That leaves a ton of spots to be filled and it will be interesting to see whether that is addressed leading up to the Rumble.
I personally like to be surprised, so I wouldn't be upset if just Ryback and nobody else announced entry into the Rumble. That would make about two-thirds of the Rumble field a surprise and it would leave the door open for surprise entrants. Obviously, some mid-carders like Kofi Kingston, Brodus Clay, The Great Khali and others will be a part of the event, but nobody would honestly care if they were announced ahead of time.
At the same time, announcing entry into the Rumble could help some guys gain a little traction and momentum heading into the event. SmackDown has become the place for guys to enter the Rumble over the past couple years, so I can definitely see a superstar or two doing that next week, although it's anyone's guess who it will be.
Follow @MikeChiari on Twitter and listen to him on Ring Rust Radio.