Ranking the 5 Most Underrated Prospects in the L.A. Dodgers' Farm System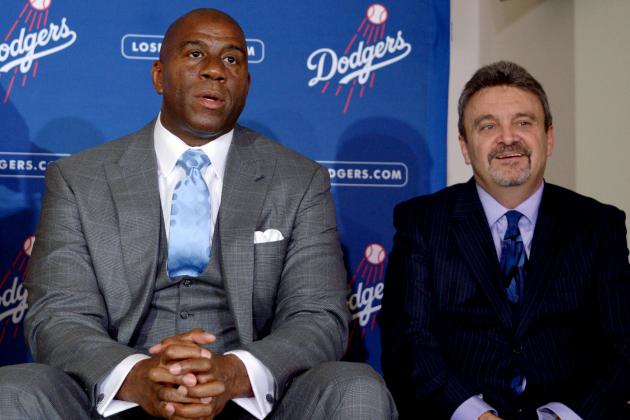 USA TODAY Sports

When composing my list of the top 10 prospects in the Los Angeles Dodgers' farm system, I was astounded by the lack of projectable talent beyond the organization's big names (Yasiel Puig, Zach Lee, Corey Seager, Joc Pederson). Although they do house numerous under-the-radar prospects throughout their system, very few project favorably in the major leagues.
In determining players for this article, I looked for prospects that are either behind the developmental curve relative to their age, have a concerning medical history, lack significant experience in the minor leagues or simply have never received sufficient recognition.
Here's a look at the five most underrated prospects in the Los Angeles Dodgers farm system.
Begin Slideshow

»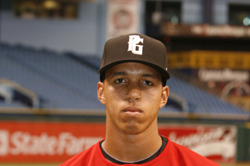 Courtesy of PerfectGame.org
Selected in the second round of the 2011 draft, Santana was one of the youngest players in his class and signed as a 17-year-old. Therefore, it wasn't a surprise when he struggled in the complex leagues this past season. After batting .269/.297/.409 with 10 extra-base hits and 29/4 K/BB in 24 games for rookie-level Ogden, Santana was demoted to the Arizona League, where he batted .240/.315/.323 with five extra-base hits and 41/11 K/BB in 26 games.
At 6'4", 200 pounds, Santana's physical strength creates plus bat speed that should result in above-average power at maturity. However, he's only left the yard three times in 100 minor league games. His plate discipline and pitch recognition are both incredibly raw. This has impacted his hit tool. Santana's defense has been inconsistent as a professional, but he has the athleticism and arm strength to remain at the position.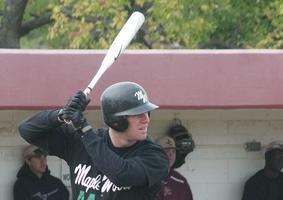 Courtesy of scout.com
I had the chance to see Embree a few years ago while living in the St. Louis area and was very impressed with his size, athleticism and loud tools. That's all the more reason I was surprised when he was a 47th-round pick of the Giants in 2011, followed by a 38th-round selection of the Dodgers in 2012.
The 6'3", 218-pound outfielder had a solid pro debut last season after signing, batting .320/.409/.493 with nine extra-base hits and 15/10 K/BB in 24 games for the organization's rookie-level affiliate in the Arizona League.
Embree has solid-average speed for his size that's more evident in the outfield than on the basepaths. Given his strong, accurate arm, the 20-year-old has the defensive profile of a corner outfielder. A right-handed hitter, he showcases plenty of raw power to all fields as well as a knack for hard contact.
Although he's still multiple years away from nearing the major leagues, Embree is definitely a prospect to follow closely during the 2013 season.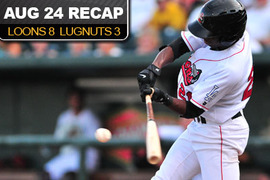 Courtesy of MiLB.com
A 6'1", 150-pound shortstop, Sweeney stands out for his explosive athleticism and plus speed. Selected in the 13th round of the 2012 draft out of Central Florida, the switch-hitter's bat was better than expected last season in his professional debut. He batted .291/.372/.447 with 17 extra-base hits and 17 stolen bases in 51 games for Low-A Great Lakes.
Thanks to his speed, the 21-year-old has excellent range, as well as the arm and instincts to remain at the position. He's still raw overall, with more tools than baseball skills, but could emerge as a legitimate prospect with a strong full-season debut.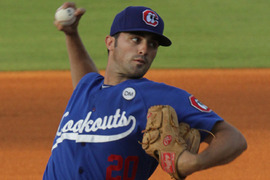 Courtesy of MiLB.com
A 31st-round draft pick in 2009, Magill has already proven to be a steal after turning in his best minor league season in 2012. Making the jump to Double-A for the first time, the 23-year-old registered a 3.75 ERA with 168/61 K/BB for Chattanooga.
A 6'3", 190-pound right-hander with a lean and durable frame, Magill's stuff isn't overly impressive. However, he has a solid feel for his three-pitch mix: fastball is thrown on a downhill plane and sits in the low-90s with sink; his slider has emerged as a slightly above-average secondary offering capable of drawing whiffs; while his changeup is only fringe-average, it's effective enough to keep hitters off his other two pitches.
Magill needs to sharpen his overall command and demonstrate a consistent feel for the strike zone, but could emerge as a solid fifth starter over the next two seasons.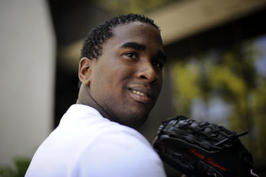 Courtesy of sbsun.com
After defecting from Cuba in early 2011 with the intention of becoming an international free agent, Garcia was entered into the 2011 draft but ultimately removed himself late in the spring. He once again entered the draft in 2012, as the Dodgers selected him in the third round.
Even though the 6'3", 220-pound southpaw is already 23 years old, he still has a fairly high ceiling due to his pure stuff and minimal experience. Garcia's fastball will sit 90-93 mph and jump out of his hand, while his plus curveball is a hard downer with a unique pace. Although he'll struggle to throw it for a strike early in the count, it's a legit out pitch that induces swing-and-misses. The development of his changeup is what will ultimately determine whether he'll be a starter or reliever
Given his age and the fact that he's only logged two innings as a professional, Garcia could hop on the fast track to the major leagues this season.