College Football's 10 Most Ruthless Recruiters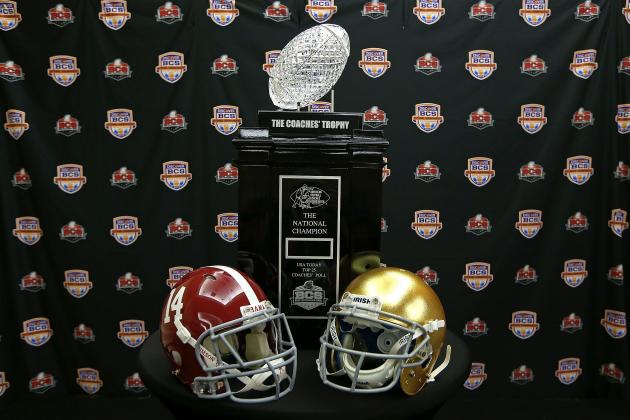 Mike Ehrmann/Getty Images

College football is a cutthroat business, and you have to be ruthless to succeed.
Dictionary.com lists "adamant" and "relentless" as synonyms of "ruthless." The word certainly carries negative connotations, but it really isn't negative at all.
A ruthless coach can best be described as "a coach who plays by the letter of the law, taking every advantage possible to further his own cause without regard to anyone else."
And let's face it: If you're worried about what everyone else has or doesn't have, you aren't going to do well in any aspect of competition.
A ruthless coach is simply one who will legally do whatever he can to put his program at the top of the food chain. Maybe ruthless is exactly what coaches are supposed to be when recruiting. After all, that's exactly what you'd want in a lawyer if you ever needed one, right?
Here are college football's 10 most ruthless coaches, presented from least to most ruthless.
*All recruiting class rankings are from ESPN.com.
Begin Slideshow

»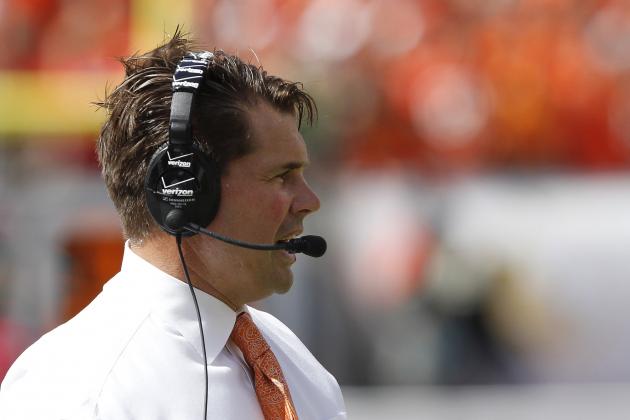 Joel Auerbach/Getty Images

As I said in the intro, "ruthless" does not equal "dirty."
A ruthless recruiter is a successful recruiter. If you don't have an aggressive, relentless bone in your body, you will not achieve greatness on or off the field.
You don't have to be a jerk to be an adamant recruiter, and Al Golden has brought some serious talent into Miami to prove that he is relentless in pursuit of prospects:
2011: Not in Top 25
2012: Eighth
In just one short season, Golden brought the Hurricanes from non-contender status to the second-best recruiting class in the ACC. Only Florida State was ahead of Miami in the conference. Even Clemson came in behind Miami at 10th.
As the NCAA investigation comes to a close (whenever that happens), we will find out if Golden is ruthless or simply a cheater. Since everyone is innocent until proven guilty, Golden gets his "ruthless" tag until the verdict is in.
If he is found to have cheated, he will lose his spot on this list. At that point, he would belong on the "dirty" list.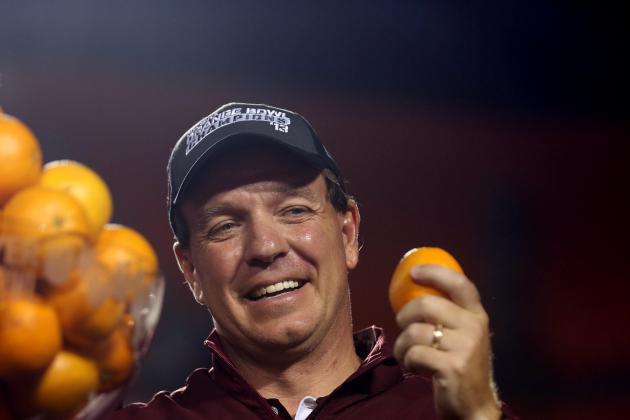 Streeter Lecka/Getty Images

The best recruiter in the ACC is Jimbo Fisher, and he has proven himself worthy of that title over the past few seasons:
2008: 12th
2009: Eighth
2010: Sixth
2011: First
2012: Second
Fisher joined the Florida State staff in 2007, so his first full recruiting class was the 2008 edition. Since 2008, Fisher has taken the controls and flown Florida State from the Top 15 to the top of the recruiting rankings.
Fisher is at the top of the heap in the ACC, and he took the Seminoles to a No. 3 national ranking in 2012 before they dropped the NC State game. Fisher has moved Florida State into national contention, and the ACC really needed that.
Another win for the ruthlessly determined.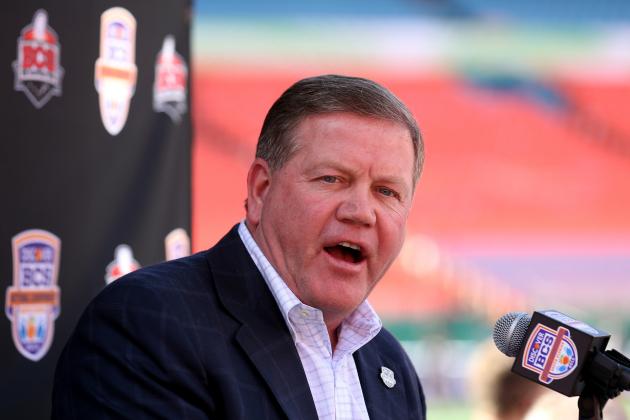 Streeter Lecka/Getty Images

Brian Kelly was hired by Notre Dame in December of 2009. It took him a little while to establish himself in South Bend, but he reeled off back-to-back Top 10 recruiting classes in his second and third seasons:
2009: 14th
2010: 21st
2011: Ninth
2012: Ninth
As of Jan. 17, Kelly has the third-ranked recruiting class for the 2013 season. Kelly is up against the Big Ten and the SEC, who both have major conference championships at the end of the season for extra possible exposure.
The Big Ten champion goes to the Rose Bowl unless it goes to the national title game. The SEC champion goes to the Sugar Bowl unless it goes to the national championship game.
Notre Dame has a lot of disadvantages when it comes to recruiting, but Kelly continually proves that he just doesn't care. Whether or not he's supposed to, he hasn't pulled in a recruiting class outside the Top 10 since his first full season in 2010.
Notre Dame needs to do whatever it takes to keep this ruthless ball of success at the head coach position.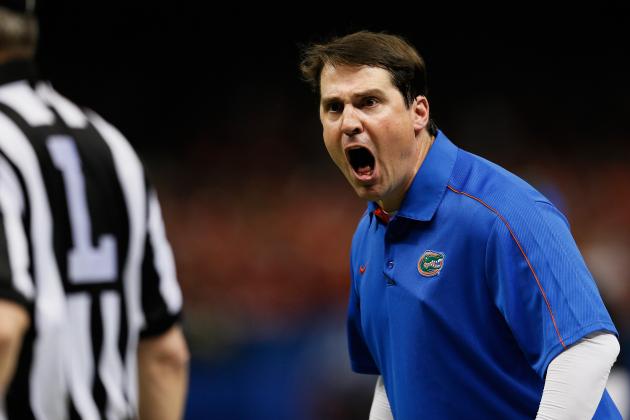 Kevin C. Cox/Getty Images

Florida hired Will Muschamp in December of 2009, and he immediately made an impact on recruiting:
2010: First
2011: 12th
2012: Fourth
Florida is ranked No. 1 for the 2013 class as of Jan. 17. Muschamp is a coach in the nation's toughest conference. Whether you believe it is tough or it's just a bunch of hype, the SEC has the last seven national champions.
That carries a lot of weight with recruits, and Florida hasn't won it since 2008. Muschamp out-recruited Nick Saban the season after Saban won his first national title at Alabama.
That's a determined, skilled and ruthless recruiter in action.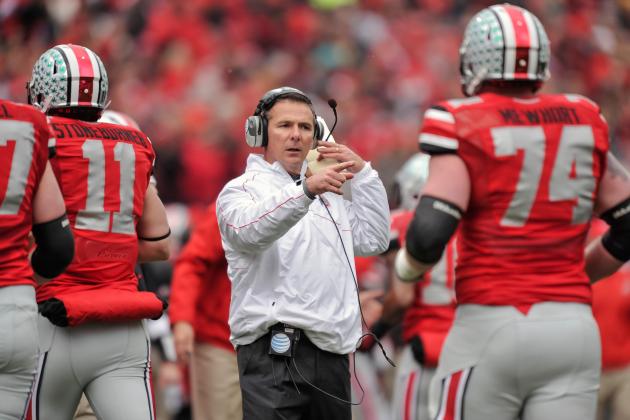 Jamie Sabau/Getty Images

Urban Meyer is one of the nation's most decorated recruiters, and his most famous recruit was Tim Tebow at Florida.
Since he has only had one season at Ohio State, we will go back a few years and cover his Florida years as well. Meyer coached Florida through the 2009 season:
2006: First
2007: Second
2008: Fourth
2009: Fifth
2012: Sixth (This was his first year at Ohio State.)
Ohio State's 2011 class was ranked seventh, so the move up was marginal and not largely due to his influence. His 2013 class is currently ranked fourth though, and that's all due to Meyer's hire at Ohio State and his 12-0 run through the Big Ten in 2012.
After snagging Tebow in spite of Alabama's heavy interest in the future star all those years ago, Ohio State can only hope that Meyer's just as ruthless at recruiting for the Buckeyes.
If so, then Ohio State could be the team that knocks the SEC off its throne, and it could happen soon.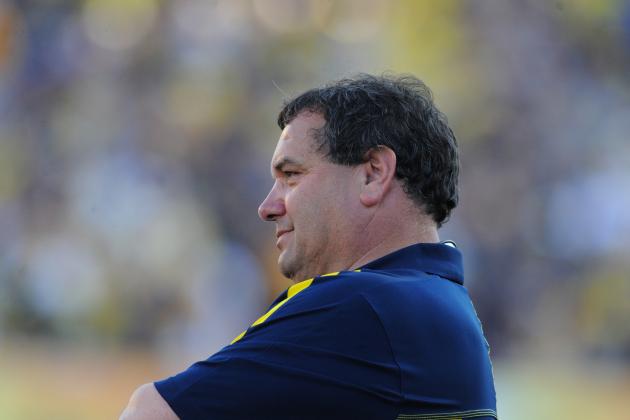 Al Messerschmidt/Getty Images

Michigan hired Brady Hoke in January of 2011, who got to work quickly with the Wolverines. On top of leading the Wolverines to the Sugar Bowl in his first season as head coach, he shot them up the rankings:
2010: 14th
2011: Not in Top 25
2012: Seventh (This was Hoke's first full recruiting class with Michigan.)
Hoke made an instant impact on recruiting, and that Sugar Bowl win certainly helped him out a good bit. If Hoke can continue to reel in monster recruiting classes, the Wolverines can rejoin Ohio State as the class of the Big Ten.
Urban Meyer vs. Brady Hoke could be the next legendary rivalry, as long as the latter can continue to recruit as well as he did in 2012.
Meyer will hold up his end of the bargain. It's up to Hoke to cultivate the rivalry as relentlessly as possible.
Without a heated rivalry on the recruiting trail, there is no hope of a heated rivalry on the gridiron. Luckily, Hoke looks like he's up to the task.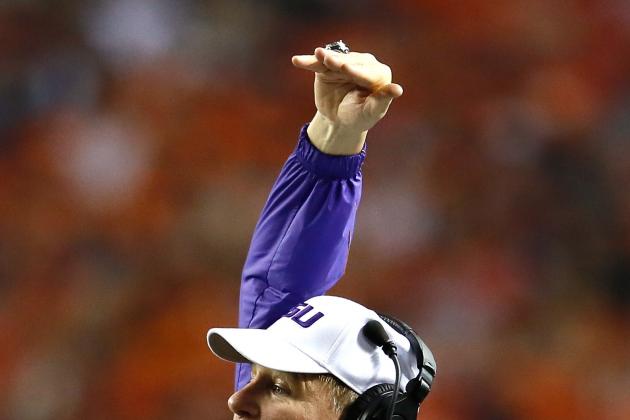 Kevin C. Cox/Getty Images

Les Miles is the head coach of the LSU Tigers, one of the best teams in the country.
Miles has a few advantages shared by other coaches, such as being in the nation's premier conference.
He constantly fills his roster with elite talent, and his major competition is equally elite. His recruiting classes tell a lot of the story:
2006: Eighth
2007: Sixth
2008: Ninth
2009: First
2010: Eighth
2011: 10th
2012: 14th
Miles is currently sitting in the ninth spot for his 2013 class, and that's partially due to his appearance in this commercial. The exposure he got during his 2012 conference title run certainly added to this season's recruiting class as well.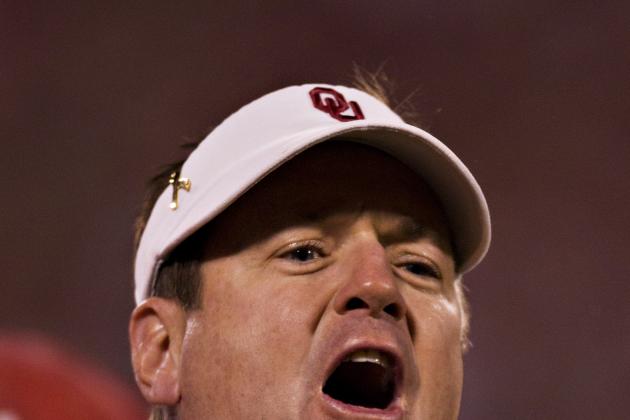 Wesley Hitt/Getty Images

Oklahoma's Bob Stoops is another top-notch recruiter. He's consistently in the Top 15 with his classes, and he's always a contender for the conference title.
2006: Seventh
2008: Eighth
2009: 11th
2010: Fifth
2011: 11th
2012: 11th
Stoops had one advantage this season that other coaches didn't have: He appeared on TV in a commercial for AT&T.
Is it against the rules? According to this blog post, no (the author references Oklahoma certifying the bit with the NCAA), but that blogger also points out that it's an unfair recruiting advantage to some.
Ruthlessness is in the eye of the beholder, though.
Stoops makes the list for playing by the rules and gaining an exposure advantage over the rest of the country's coaches.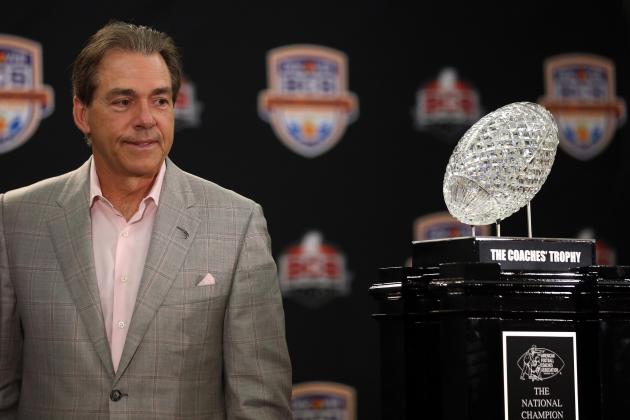 Streeter Lecka/Getty Images

Alabama just won its third national championship in four years. The 2009-2012 Crimson Tide are being compared to some of the greatest teams in college football history, and that is due in no small part to Nick Saban's recruiting efforts.
Here are Alabama's recent recruiting class rankings, starting in 2006, for contrast with Saban's classes (started in 2008):
2006: 18th
2007: 17th
2008: Third
2009: Second
2010: Third
2011: Second
2012: First
Saban gets what he wants through tireless recruiting efforts that bring the best recruits to Alabama year after year. The most recent move that made headlines was his getting Brandon Hill to sign an SEC financial aid agreement with Alabama.
This prevented Hill from signing with any other SEC school this season, unless he didn't care about financial aid. Hill is free to sign with any team in any other conference, though.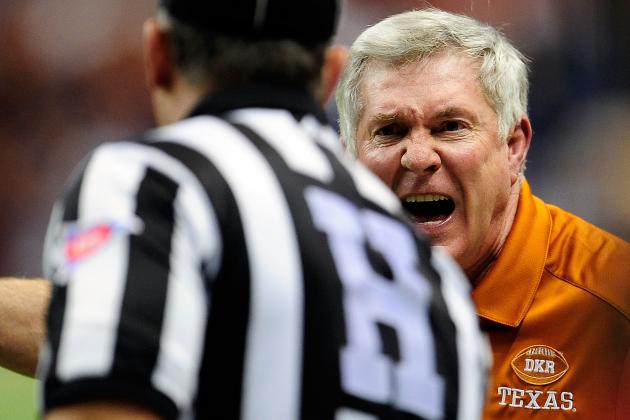 Stacy Revere/Getty Images

The Texas Longhorns repeatedly haul in some of the best recruiting classes in the nation. Part of that is the fact that Mack Brown is the head coach of one of the biggest programs in the country.
Another reason is that he has a gigantic advantage over all the other programs in the country: the Longhorn Network. Brown has access to a television network solely devoted to his team, not just his conference.
Brown is relentless in his pursuit of top-tier recruiting classes, and his ranks are undeniable:
2006: Third
2007: Third
2008: 10th
2009: Third
2010: Second
2011: Fifth
2012: Third
Texas may not have the best recruiting class every year, but the Longhorns finished in the Top Five in all but one of the past seven years.
Does he have an unfair advantage? Maybe.
Is it against the rules? Apparently not.