Ranking the Handles of the NBA's Top Superstars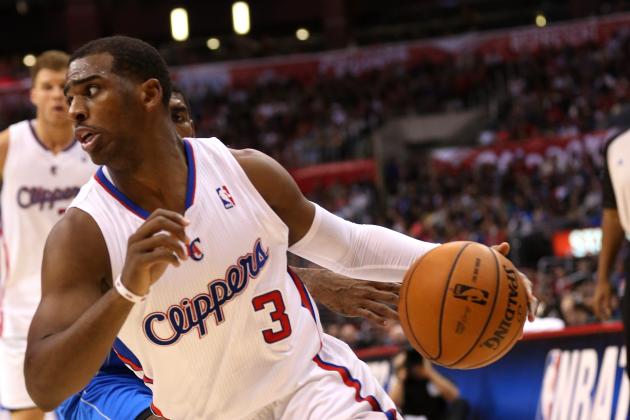 Stephen Dunn/Getty Images
Is anyone better with the rock than CP3?
"Who handles the ball the best in the NBA?"
It's a loaded question with so many variables that make up what a great ball handler is. To formulate an accurate list, it seemed best to get some more opinions on this rather subjective matter. So, I pooled the thoughts of Hoopsworld's Alex Kennedy to comprise a list of our top-10 ball handlers.
But our two opinions weren't enough, so I asked FanSided's Aleksandar Mickoski to also rank our list of 10 and help give us a balanced composite ranking of the best set of handles in the Association.
For the sake of comparison, I've included video with each selection so you can weigh in on the comments with your personal top-10, or even feel free to rank the 10 in this slideshow. I look forward to hearing from you, B/R fans.
Begin Slideshow

»
Kennedy: 9
Myself: 9
Mickoski: 8
Deron Williams fell near the bottom of all of our lists, but maybe we're biased due to the lack of speed in D-Will's game. He's been an effective ball handler since his days in Utah, and he's able to maintain his composure under pressure and find teammates when opponents clamp down on him.
Besides that, his hesitation dribble gives him an advantage his average speed does not.
D-Will is great at switching speed while handing the ball and keeps his balance well when crossing over in traffic. It's the mark of many ball handlers that appear in this slideshow.
Kennedy: 8
Myself: 8
Mickoski: 9
Brandon Jennings fell near the bottom of this list for all three panelists, but it's a pretty exclusive list, so there's no shame in the game.
There's something sweet about seeing a lefty with great handles, and Jennings reminds me a lot of Kenny Anderson of the New Jersey Nets back in the 1990s. Both were great going to their dominant hand, but both had impressive right hands that enabled them to break just about any trap or shake any defender.
Jennings also participated in the AND1 Live tour (see video), the national expose of dribbling.
Kennedy: 10
Myself: 7
Mickoski: 6
Dwyane Wade has continually shown he has one of the best crossovers in the business. Wade has made a career of crossing people over, essentially, and he's great—like many others in this slideshow—at keeping his dribble alive when defenses tighten up on him.
Some will dispute not putting his more famous teammate in this list, but Kennedy and I agreed he falls outside of the top-10 ball handlers in the league.
Wade is much more adept at losing defenders, whereas No. 6 simply overpowers them with his size and strength. That's a gross oversimplification, but Wade's ball handling abilities surpass his MVP teammate.
Kennedy: 3
Myself: 10
Mickoski: 10
Tyreke Evans earned the No. 10 spot from both myself and Mickoski, mainly because the awesome array of handles that he displayed in the video above never make their way into an NBA game. He has the moves against the AND1 Live tour, but where is it when he's against NBA level competition?
He has shown an ability to handle the ball that is far above average for a 6'6" swingman (which enabled him to play the point his rookie season), but Evans ranked the lowest from two of us due to his inability to showcase his skill set at the highest level.
Kennedy: 5
Myself: 5
Mickoski: 7
John Wall displayed an insane crossover Jan. 14 that left Ish Smith of the Orlando Magic spell bound (and on the floor), making us all remember that before the injury Wall had a set of handles comparable to the best in the game.
It really all dates back to high school, as Wall developed the confidence early on to utilize just about any move he felt comfortable doing. That's enabled him to progressively build a repertoire that rivals the five players in front of him.
Wall ranked in the middle of the pack in all three of our rankings, solidifying his spot as one of the least disputable.
Kennedy: 7
Myself: 6
Mickoski: 2
Ricky Rubio may propel himself further up this list after longer in the league. He's amazing at keeping his options open regardless of where he puts his dribble, which renders him one of the best passers in the NBA.
Rubio has some work to do on his jump shot before defenders tighten up on him more, but when they do, it will showcase his ability to shake them even further.
The same could be said of the guy next on this list, but his speed makes it not even matter.
Kennedy: 6
Myself: 3
Mickoski: 3
When I originally started making my pool of players with Kennedy, I almost unequivocally felt Rajon Rondo would end up at the top of my list. His ability to control the ball at high speeds made him stand out in my mind as one of the best in the game. And he is, to be sure.
Rondo's huge hands give him an advantage, and the similarity in hand size is comparable to the great John Stockton, who also had huge paws for a player of relatively diminutive stature.
Rondo is able to pick up dribbles and fake passes mid-stream, as he often does with his behind the back ball fake which continually befuddles defenders.
Kennedy: 1
Myself: 4
Mickoski: 5
There's a reason Jamal Crawford is able to get so many good shots up. He shakes defenders with the best of them, and has a nasty hesitation dribble and crossover which free him up for the variety of mid-range jumpers he takes—when he's not just juking all the way to the basket.
Crawford is one of the leading candidates for the Sixth Man of the Year award at 33 years of age, and still has some nasty moves in the tank for anyone who hasn't watched him dominate off the Los Angeles Clippers bench this year.
Kennedy: 2
Myself: 2
Mickoski: 4
Before his ACL injury, no one had better control of the ball at such high speed, except for the guy ahead of him on this slideshow. Rose's innate ability to switch directions when on the break makes him a difficult one to stop at the free throw line or even at the hash mark, as his leaping ability prevents defenders from being able to freeze him out once he has penetrated so far already.
All eyes are on Derrick Rose to see if he still has it after suffering a major injury, but from what we know of his work ethic, he'll likely be breaking ankles at an arena near you soon.
Kennedy: 4
Myself: 1
Mickoski: 1
Chris Paul earned the No. 1 spot from both myself and Mickoski, but Kennedy ranked him behind Crawford, Rose and Evans.
Certainly Paul's ability to spin through defenders after an array of shakes helps solidify his handles as complete and balanced, or he would not be so adept at moving after he picks up the dribble.
Moreover, Paul always seems under control, no matter how pressured the defense. Like Steve Nash in his prime, he never gives up his dribble prematurely because of his confidence in maintaining it until he is out of the trapping pressure.
This puts Paul No. 1 for me and Mickoski.