Atlanta Braves: 5 Prospects Who Could Make Their Turner Field Debut in 2013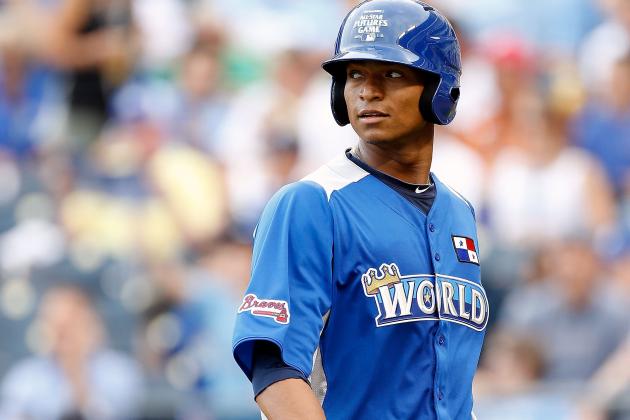 Jamie Squire/Getty Images
Atlanta Braves catching prospect Christian Bethancourt
Over the last two seasons, Atlanta Braves fans have heard the names Julio Teheran and Randall Delgado billed repeatedly as the future at Turner Field.
And while both are solid pitchers, their potential has overshadowed a number of other promising minor league names—names that could very well find their way to Atlanta as early as this season.
Here's a look at some of the Braves prospects who have a good chance at making their major league debuts at some point in 2013.
Begin Slideshow

»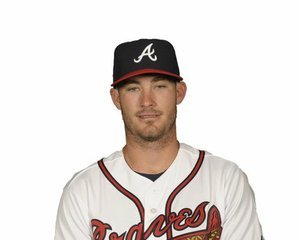 Outfield prospect Joey Terdoslavich
Joey Terdoslavich is a tough case to crack.
In 2011 as a first baseman, he burst onto the prospect scene by smacking 52 doubles with the High-A Lynchburg Hillcats, breaking the 65-year-old Carolina League record for doubles in a season.
A year later, with Chipper Jones' retirement imminent, the Braves decided to move Terdoslavich to third base and start him at triple-A, skipping right over double-A.
The experiment didn't work. Terdoslavich struggled both at the plate and in the field, batting just .180 while making 22 errors in 50 games at third base.
He did manage to salvage the season after a send-down to double-A, batting .315 with 24 doubles, 5 home runs and an OPS of .852 in 78 games.
Now Terdoslavich is listed as an outfielder, and he's earned a non-roster invite to major league camp.
Few have seen him play the outfield except shagging flies during batting practice, so expect a learning curve in left. But if he finds his bat at Triple-A early in 2013, the Braves might be able to find a bench spot for him at some point during the season.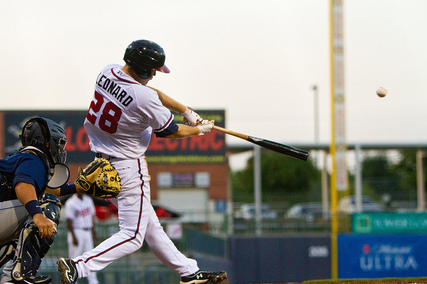 Third baseman Joe Leonard (Photo credit: Tate Nations)
You may not have heard of Joe Leonard prior to this moment, but he had a fine 2012 season at Double-A Mississippi.
Leonard's numbers at the plate were respectable, batting .263 with nine home runs and 66 RBI in 124 games. He found his power stroke in the second half of the season, hitting 6 of his 9 home runs after the All-Star break.
But his true value lies in his defensive ability at third base. In 115 games at the hot corner, Leonard made just 10 errors, good for a .964 fielding percentage and a Rawlings Gold Glove Award as the best defensive third baseman in all of minor league baseball.
While he likely won't hit enough to be an everyday big league third baseman, his defensive ability should make him a solid backup at either corner position.
Leonard won't make the opening day roster, but if Martin Prado or Juan Francisco suffers an injury, he could be next in line.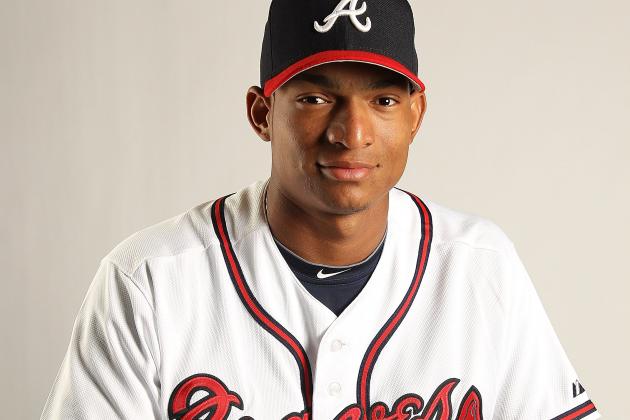 Mike Ehrmann/Getty Images
Catching prospect Christian Bethancourt
Christian Bethancourt is a defensive whiz behind the plate. Scouts drool over his natural quickness and rocket arm. Even General Manager Frank Wren was wowed last spring, comparing his cannon to that of Ivan Rodriguez.
Oh yeah. And he's only 21 years old.
Bethancourt faced a few injury setbacks in 2012—a strained hamstring in late April and a season-ending broken hand after being hit by a pitch in early August.
Despite the injuries, Bethancourt proved to be one of the bright young stars of 2012. He still has some maturing to do at the plate, batting .243 with two home runs and 26 RBI over 71 games. But as he learns patience, he should hit enough at the next level to be a solid everyday catcher.
While he's certainly ready for the show defensively, some major-league hitting experience should help his development in a big way.
With uncertainty surrounding Brian McCann's health to start 2013, Bethancourt may get an immediate chance at backing up recently acquired Gerald Laird.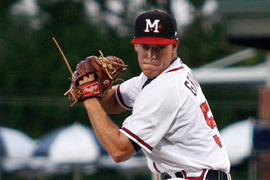 RHP J.R. Graham (Photo Credit: Ed Gardner, Mississippi Braves)
Over the weekend, I wrote an in-depth look at JR Graham and boldly compared him to Craig Kimbrel. It's definitely worth a read.
Baseball America has Graham listed as the second best prospect in the Braves organization behind Julio Teheran. While he's been a starter in the minors since being drafted in the fourth round in 2011, he'll almost certainly be a reliever at the next level.
And a powerful one at that.
Graham has excellent command of two solid pitches: an upper-90s fastball with good movement and a nasty slider that induces a lot of ground balls.
His success brought him Atlanta's Minor League Pitcher of the Year Award in 2012 after he posted a 12-2 record and a 2.80 ERA between High-A Lynchburg and Double-A Mississippi.
Graham earned a non-roster invite to major league spring training in 2013, and if he can pick up where he left off last season, he has a solid chance of making the big league roster in the spring.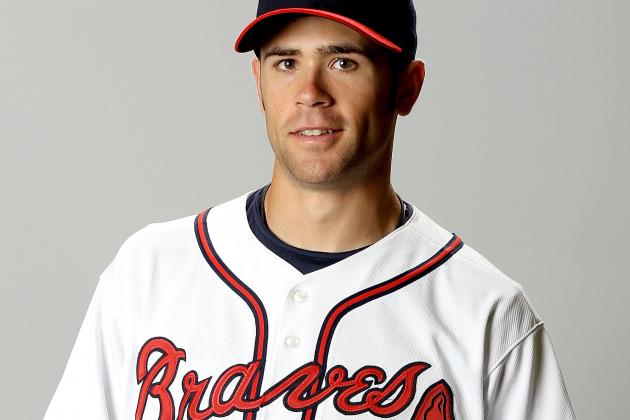 Matthew Stockman/Getty Images
Left-hander Sean Gilmartin
One buzzword follows Sean Gilmartin at every level: composure. The Braves' 2011 first-round pick showed plenty of it in his first full professional season.
The left-hander went 6-10 with a 3.84 ERA between Double-A Mississippi and Triple-A Gwinnett in 2012, walking just 39 over 27 starts and 157 innings.
He has good command of four pitches: a fastball in the low 90s, a solid changeup that he's not afraid to throw in any count, a slider and a curveball.
While he won't blow anybody away with his stuff, his pitch-to-contact mentality coupled with a quiet confidence in his ability should give him a good shot at a rotation spot at some point in 2013.
He'll battle with Delgado and Teheran for the fifth rotation spot out of spring, but expect him to at least start the season in Triple-A.
Matthew Stockman/Getty Images
Left Fielder Evan Gattis
You might remember the name Evan Gattis. David O'Brien made him famous for his live batting practice exploits last spring (it's a long read, but worth every word).
With the Braves' vacancy in left field, the risen-from-the-ashes 26-year-old slugger could finally make his ascension to the big leagues.
Gattis started 2012 in High-A Lynchburg, tearing up the Carolina League with a .385 average, 9 home runs and 29 RBI in just 21 games.
While wrist tendinitis took him out of action for two months at Double-A, he made a triumphant return, hitting a home run in each of the final three games to close out the season.
In all, Gattis finished the year with a .305 average, 18 home runs, 67 RBI and a .995 OPS between High-A and Double-A.
Assuming the Braves don't make a trade before the season, Gattis will get a long look in left field during spring training and has a very good chance at finding a spot on the opening day roster.