The Best Motivators in College Football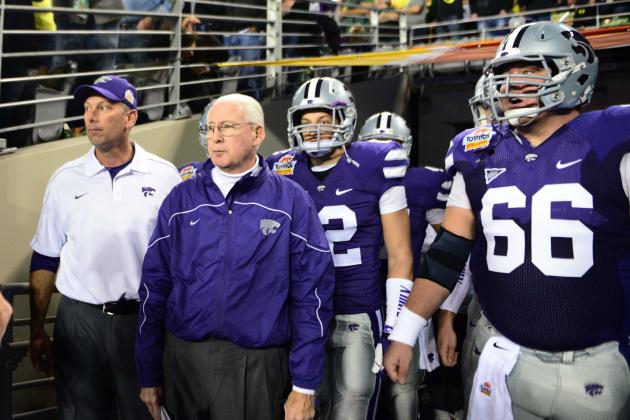 Mark J. Rebilas-USA TODAY Sports
Kansas State head coach Bill Snyder always knows how to get the most out of his players
The head coach at a major college football program has many different and important tasks that he must be able to perform.
He must be able to recruit at a high level. He must be able to form a strong relationship with boosters and alumni. He must be able to make sure that his program is clean. And of course, he must be able to consistently put together winning game plans.
Most importantly, however, the coach must be able to properly motivate his players to succeed.
It simply won't matter how many blue-chip recruits a coach can sign, or how many great game plans he can come up with unless he can find a way to get his players to play their best on every Saturday.
For some coaches, the motivation part of the job simply seems like second nature.
Here's a look at the best motivators in college football.
Begin Slideshow

»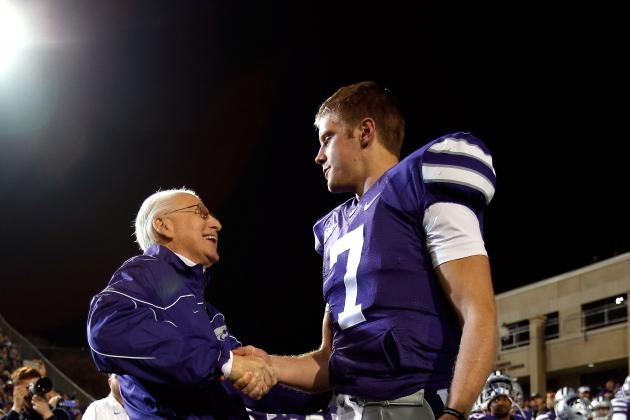 Jamie Squire/Getty Images
Bill Snyder
73-year-old Bill Snyder may be the oldest head coach at the FBS level. But he proved in 2012 that he can still connect with his players in a way that few other coaches in college football history have been able to do.
Oklahoma, Texas and West Virginia were the trendy preseason picks to win the Big 12. However, Snyder's Kansas State squad ultimately turned out to be the toughest team in the conference, as the Wildcats won 11 games and a league title.
It's truly remarkable what Snyder has been able to accomplish at a program that was absolutely terrible before he arrived in 1989.
The coach deserves plenty of credit for his ability to constantly motivate his players to succeed.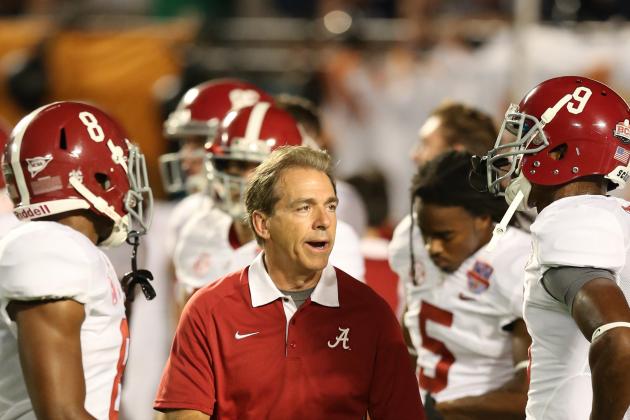 Matthew Emmons-USA TODAY Sports
Nick Saban
Nick Saban has turned Alabama into college football's most powerful program, and he's led the Tide to three BCS championships in the past four years.
Not only is Saban the best recruiter, and the best game-planner in college football, he's also one of the best motivators as well.
If you've ever seen footage from an Alabama practice, you know that Saban clearly has a passion for teaching his players and trying to develop them into the best possible players they can be.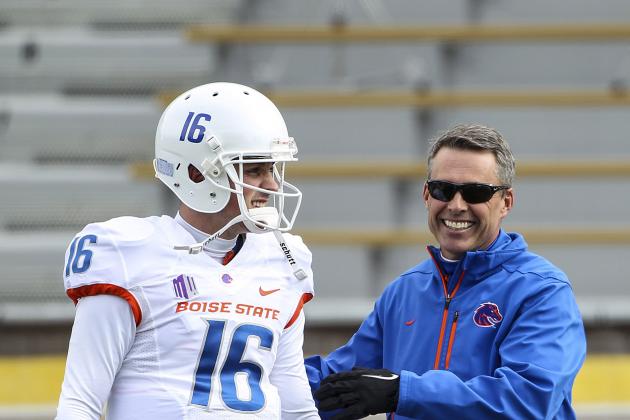 Troy Babbitt-USA TODAY Sports
Chris Petersen
Since taking over at Boise State back in 2006, Chris Petersen has been one of the most consistently successful head coaches in college football.
During Petersen's seven-year tenure, the Broncos have totaled double-digit wins in every single season, and they've compiled an astounding 84-8 overall record during that time.
Whether you're a Boise State lover or a Boise State hater, you have to give the two-time National Coach of the Year award-winner the respect and recognition he deserves for what he's been able to do with his program.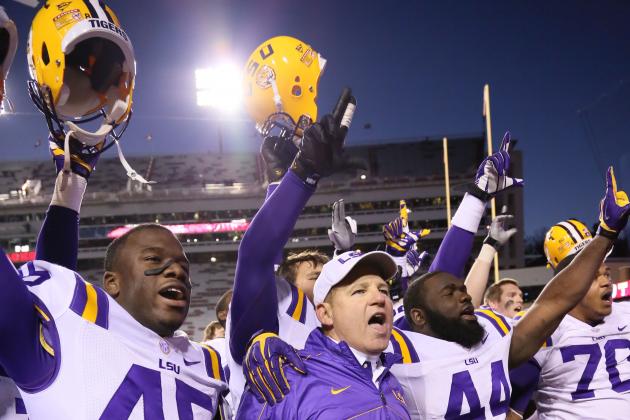 Nelson Chenault-USA TODAY Sports
Les Miles
Les Miles is the type of coach who marches to the tune of his own drummer.
Admittedly, some of his antics and decisions are just downright peculiar. However, it's obvious that Miles forms a truly special connections with his players.
Miles is definitely a player's coach, and you can tell that he gets great satisfaction out of molding the kids he brings to Baton Rouge into men.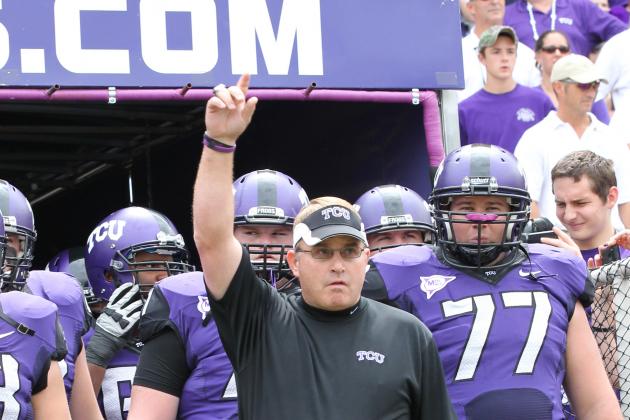 Matthew Emmons-USA TODAY Sports
Gary Patterson
TCU may have struggled during its first season in the Big 12, going just 7-6 in 2012. However, you have to expect that the Horned Frogs will soon be contending for conference championships in the years to come, now that head coach Gary Patterson has a good feel for what to expect from his opponents.
Patterson is one of the smartest and most successful head coaches in all of college football, and he always seems to have his team ready for battle.
From 2005 to 2011, the Horned Frogs won at least 11 games in six out of seven seasons. The biggest win during that time was obviously a victory over Wisconsin in the Rose Bowl.
Big 12 teams better beware of TCU, because Patterson will definitely have the Horned Frogs ready to make a lot of noise in the conference in 2013.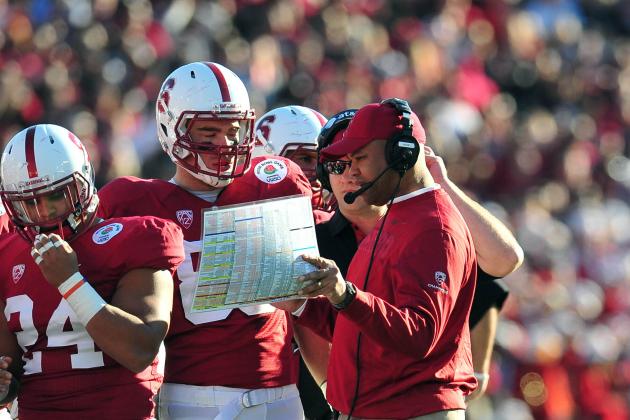 Gary A. Vasquez-USA TODAY Sports
David Shaw
When Jim Harbaugh left Stanford to become the head coach of the 49ers, many fans wondered if his replacement, David Shaw, would be able to lead the Cardinal to the same level of success that they had experienced under Harbaugh.
In his two years as the head man in Palo Alto, Shaw has shown that he was indeed the right man to replace Harbaugh.
He's guided the Cardinal to a 23-4 overall record, a Pac-12 championship and a Rose Bowl victory.
The 40-year-old offensive guru is one of the youngest head coaches in college football. But he seems to be wise beyond his years when it comes to knowing how to get his players to perform at a high level on a weekly basis.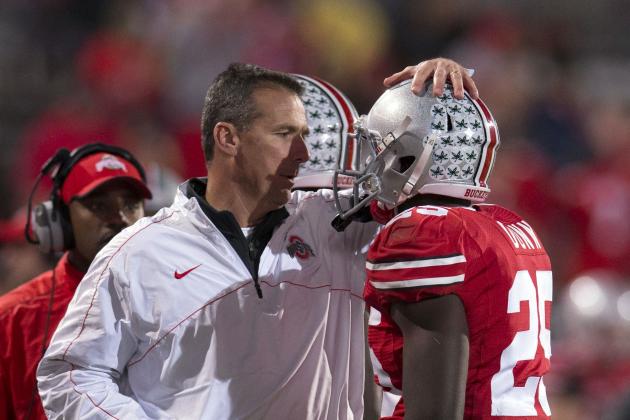 Greg Bartram-USA TODAY Sports
Urban Meyer
There's a reason that Urban Meyer has had tremendous success at every program he's coached at, whether it be at smaller schools such as Bowling Green and Utah or big power programs such as Florida and Ohio State.
The bottom line is Meyer knows how to maximize the talent he has at his disposal, and he knows how to get the most out of his players.
Meyer is a very driven and motivated man, and that type of desire and determination clearly rubs off on the players he coaches.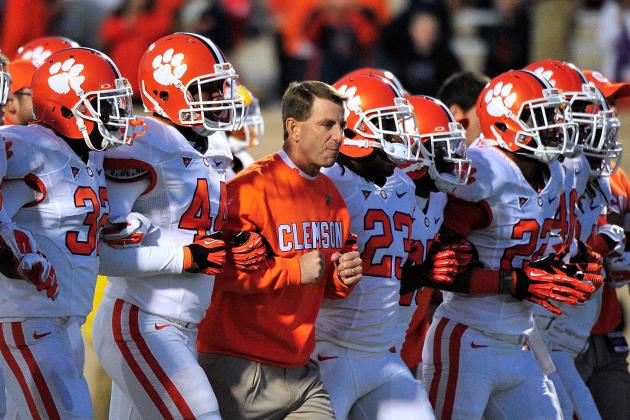 Grant Halverson/Getty Images
Dabo Swinney
Before the 2011 season, there were many fans and analysts who said that Dabo Swinney was on the hot seat at Clemson following a disappointing 6-7 campaign in 2010. However, nobody's saying that anymore after the past two seasons the Tigers have had.
Swinney's squad has gone 21-6 over the last two years, which included an ACC championship and the school's first ever BCS bowl appearance back in 2011.
The emotional and animated head coach certainly isn't afraid to wear his heart on his sleeve, and his players obviously respect him for that.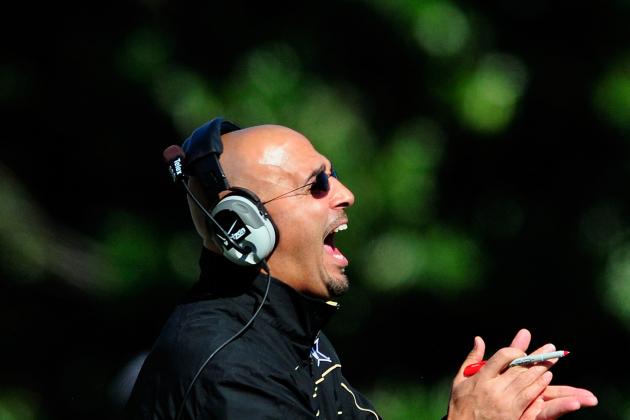 Grant Halverson/Getty Images
James Franklin
It wasn't all that long ago that Vanderbilt was viewed as one of the weakest BCS programs in the country. However, now, just two years after James Franklin took over, the Commodores are looked at in a completely different light.
Franklin has brought a new type of intensity and focus to the team that it seemed to be lacking for so long.
This past season, he guided Vanderbilt to its first nine win season since 1915 and just its second bowl win since 1955.
Because of the school's strict academic regulations, the Commodores will never have the same caliber of elite talent as their fellow SEC counterparts such as Alabama, LSU or Florida.
Nevertheless, you can rest assured that as long as Franklin is in charge, his team will always play hard and will always play to win.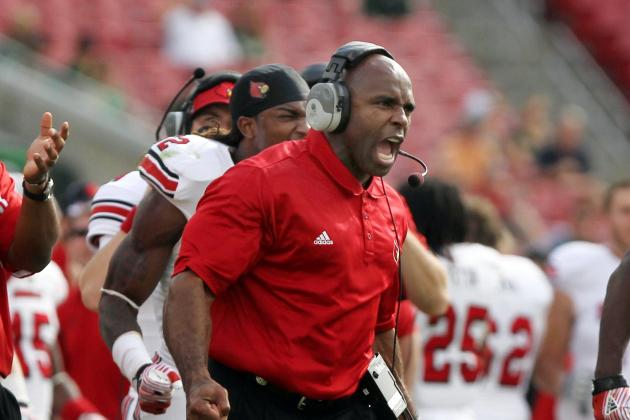 Kim Klement-USA TODAY Sports
Charlie Strong
When Charlie Strong took over at Louisville, the Cardinals were coming off a disastrous three-year stretch under former coach Steve Kragthorpe.
Strong has injected new life back into the team, however. He really showed just how good of a coach he really is in 2012, as he led the Cardinals to 11 wins, a Big East championship and a huge upset win over Florida in the Sugar Bowl.
The former Florida assistant coach learned a lot from his former mentor Urban Meyer about what it takes to get the most out of players, and he's putting all that knowledge to good use at Louisville.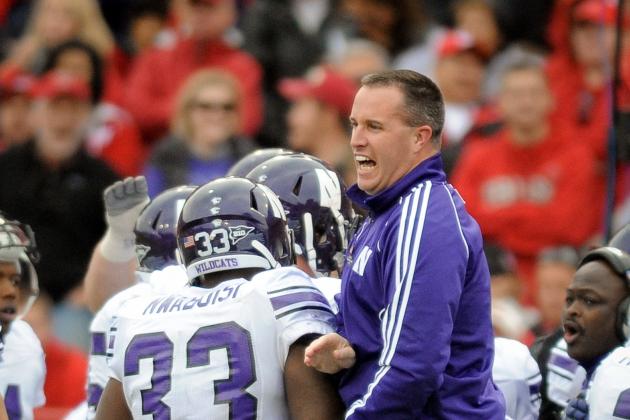 Eric Francis/Getty Images
Pat Fitzgerald
Pat Fitzgerald was unexpectedly thrust into the head-coaching role at Northwestern under tragic circumstances after his former mentor Randy Walker died of a heart attack.
At just 38-years-old, Fitzgerald is one of the youngest head coaches in college football history. However, his youthful enthusiasm and energy has helped him connect with his players, and it's helped him turn the Wildcats into a surprisingly successful squad.
Northwestern had one of the best seasons in school history in 2012, winning 10 games, including the team's first postseason victory since the 1949 Rose Bowl.
Fitzgerald has his program on the rise, and the Wildcats will definitely be a team to watch out for in the coming years.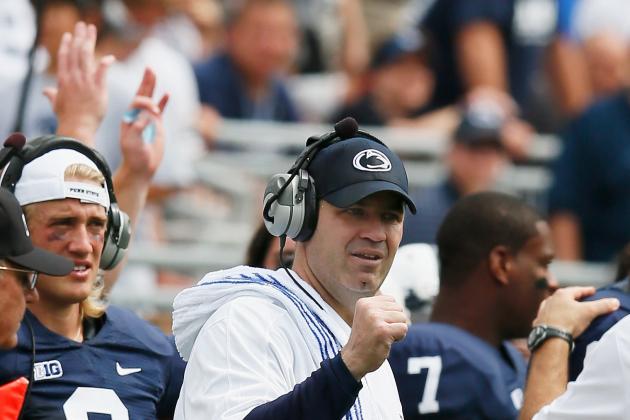 Rob Carr/Getty Images
Bill O'Brien
No head coach in college football seemed to face tougher circumstances for the 2012 season than Bill O'Brien did in his first year at Penn State.
Not only was O'Brien taking over for one of the most legendary and well-known coaches in college football history, Joe Paterno, who had passed away during the offseason; he was also faced with the challenge of trying to keep his players focused following the aftershock of one of the biggest scandals in sports history.
After a disappointing 0-2 start, it looked as if the Nittany Lions' season was about to snowball out of control. However, O'Brien proved what type of leader he truly was, as he rallied his team and led Penn State to eight wins in its final 10 games.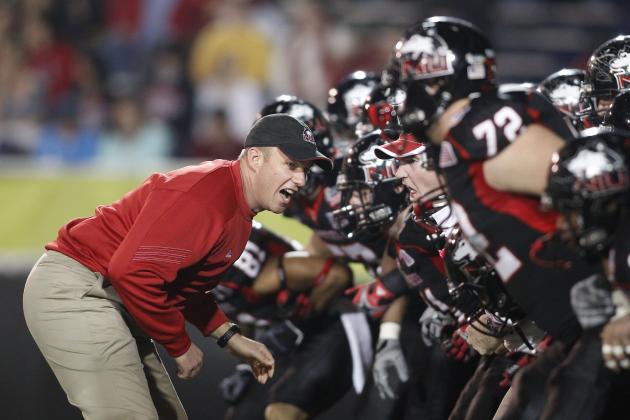 Crystal LoGiudice-USA TODAY Sports
Dave Doeren
NC State fans should be excited about the future, now that the school has brought in former Northern Illinois coach Dave Doeren to run the show.
Doeren only has two years of prior head-coaching experience on his resume, but during those two years, he proved that he could consistently lead his team to championships.
Under Doeren's watch, the Huskies went 23-4, won back-to-back MAC championships, and in 2012, they became the first ever team from the conference to make it to a BCS bowl game.
Although the 41-year-old coach still needs to show that he can win some key recruiting battles against other ACC coaches, he's already shown that he can lead his players to tremendous success out on the field.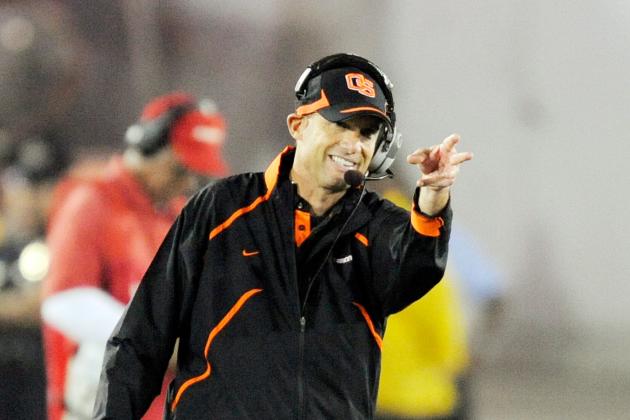 Kevork Djansezian/Getty Images
Mike Riley
Mike Riley isn't the type of coach that has received a ton of national publicity. However, you still have to appreciate the type of consistent success that he's had at Oregon State.
Since 2006, the Beavers have won at least eight games in five out of seven seasons, and they won at least nine games in four of those years.
Riley is the type of underrated coach who clearly loves his job and he loves his players, and he seems to be a perfect fit for a team like Oregon State.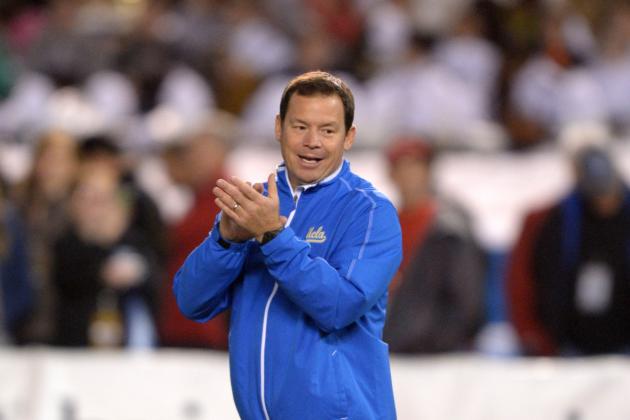 USA TODAY Sports
Jim Mora
Jim Mora certainly wasn't immediately embraced by UCLA fans, when it was announced that he would be the team's new head coach. But you can bet that the Bruin faithful are now glad that he's in charge after witnessing what he was able to accomplish in his first season.
Mora came to Westwood and instantly changed the entire attitude of the program, and the results he got simply speak for themselves.
In Mora's first year on the job, UCLA won nine games, finished first in the Pac-12 South division and beat hated crosstown rival USC.
He certainly quieted all of his critics and doubters with his coaching performance in 2012.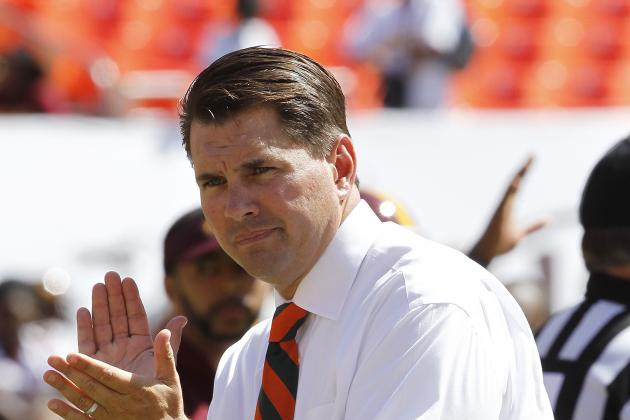 Joel Auerbach/Getty Images
Al Golden
Al Golden walked into a messy situation when he took over as head coach at Miami, as the news of the devastating Nevin Shapiro scandal came out right before the start of his first season.
Golden showed that he was committed to the program, however, and he seems to be just the type of coach that the Hurricanes need during these tough times.
The former Temple head coach has only gone 13-11 during his two years down in Coral Gables. However, he's done a great job of keeping the team's outlook positive, while limiting the off-the-field distractions that have routinely plagued the program in the past.