Florida Football Recruiting: Grading the Gators' 2013 Class Position-by-Position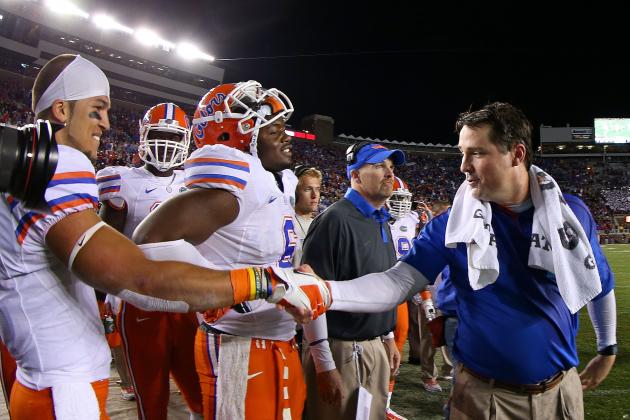 Mike Ehrmann/Getty Images

One of the things Urban Meyer was known for during his time at Florida was his recruiting abilities. He consistently put together top-tier classes that made the Gators a competitive force at the end of the previous decade.
When Will Muschamp took over the team, however, some questioned whether he would be able to attract the premier recruits in the country. Even now, he is only a two-year head coach and has yet to prove he can win the big game (just look at the Sugar Bowl).
Florida's 2013 class, however, is proof that Muschamp and his staff comprise one of the best recruiting squads in the country.
The Gators' new talent crop is loaded with potential superstars. With 27 commits so far, most of them being 4-star or better (via ESPN), it looks as though they will be a top-10-caliber team for years to come.
Here is a complete breakdown of Florida's current class at every applicable position.
Begin Slideshow

»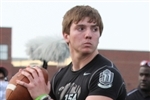 Max Staver, photo courtesy of 247sports.com
Grade: B
With Jeff Driskel more than likely staying in Gainesville for the next two seasons, the Gators know who their top signal-caller will be for the foreseeable future.
Now that primary backup Jacoby Brissett has decided to transfer, however, it's a good thing Florida nabbed a solid quarterback in Brentwood Academy's Max Staver.
According to ESPN.com, Staver is ranked 19th in this year's quarterback crop and 263rd overall. At 6'6" and around 240 pounds, Staver immediately stands out because of his size. The 4-star passer also happens to have a cannon for an arm.
The only reason why I did not give the Gators a higher grade at this position was that they were not able to land one of the premier quarterback prospects. Eight of the prospects ranked higher than Staver by ESPN turned down an offer to play for the Gators, including top prospect Christian Hackenberg.
Still, Staver is a great pickup for Florida. He has he potential to do some damage once Driskel's time at the helm expires.

Kelvin Taylor, photo via 247sports.com
Grade: A
The Gators landed two studs for their backfield in Kelvin Taylor and Adam Lane.
The better of the two is Taylor. Ranked as the best running back prospect by ESPN scouts, Taylor is very similar to Mike Gillislee. He is a powerful runner who will keep moving after contact. His instincts when it comes to hitting the hole and seeing the field are also well above average.
Although Adam Lane employs a style like Taylor's, he is not quite as fast or big. With that being said, he is still a perfect fit for Florida's mostly "ground-and-pound" philosophy on offense.
Matt Jones and Mack Brown may be the current heirs to the Gator backfield. However, Taylor and Lane are waiting in the wings and could emerge as stars.

Alvin Bailey, photo via 247sports.com
Grade: B
One thing the Gators lacked this past season was a consistent playmaker at the wide receiver position. Luckily, they found a couple of recruits who can potentially fill that void.
Alvin Bailey stands out as someone who can develop into the next Percy Harvin. He's not very big, but he is really fast. Although he may primarily be a wide receiver, he can certainly run the ball out of the backfield on gadget plays.
Meanwhile, Demarcus Robinson, Ahmad Fulwood, and Marqui Hawkins are more traditional pass-catchers. At 6'4", Fulwood is a big target with good hands. Robinson is a good route-runner who should be able to get open down the field.
Unless someone from last season's roster can step up on a regular basis, the Gators may once again need to search for a weapon who can catch the ball. I don't expect these four to see the field immediately, but with some development they can all turn into positive offensive assets.

Roderick Johnson, photo via 247sports.com
Grade: C+
I am only giving the Gators this grade at the tackle position because I do not consider Tyler Moore's transfer a recruiting move.
Moore, however, is likely the best tackle the Gators are getting for next season. He started four games as a true freshman for Nebraska before leaving the team for personal reasons.
After attending St. Petersburg College this year, he decided to transfer to Gainesville. A telling stat is that during each of his four games as a starter for the Huskers, the team ran for more than 200 yards.
As for the true 2013 class, Florida was able to snag Roderick Johnson from Delray Beach, Fla. As his 6'6" height would suggest, Johnson is tough to move. He is a physical blocker with good strength, and he should be a regular contributor during his time in Gainesville.
The only other tackle the Gators picked up was junior college transfer Trenton Brown. He has some potential, but it remains to be seen if he has any legitimate chance of becoming a great player in the rugged SEC
Cameron Dillard, photo via 247sports.com
Grade: B-
Although only two guards committed to Florida, one of them is a solid 4-star pickup.
That man is Cameron Dillard. The Michigan native is a strong blocker and very physical. Simply put, his size makes him hard to move out of the way.
With Matt Jones, Mack Brown and Kelvin Taylor all likely taking handoffs in the Gator backfield, Dillard will eventually work his way through the depth chart and become a solid blocker the team needs for its running philosophy.
Perhaps the Gators also found a diamond in the rough by getting Octavius Jackson. Judging by the fact that Vanderbilt was the best school to send him an offer besides Florida, however, I am led to believe that this is not the case. Still, Jackson is big, and with development, could surprise.
This team relies on running the football, so a solid offensive line is a necessity. Dillard is one piece who will certainly fit this puzzle.

Jordan Sherit, photo via 247sports.com
Grade: B
As was the case at the guard position, only two defensive ends have committed to the Gators for next season. However, they are both lower-tier 4-star players.
The first is Jordan Sherit from Hillsborough High School in Tampa. He has the potential to be a solid pass-rusher with good pursuit skills.
Right behind him is Antonio Riles. Whereas Sherit excels in the pass rush, Riles is great when defending the run. He is very strong and handles opposing linemen in an effective manner.
With Dominique Easley and others returning next season, these two may not find the lineup right off the bat. Once they accrue some experience, however, they can potentially find themselves in that position.

Caleb Brantley, photo via 247sports.com
Grade: C+
Aside from one excellent pickup, the Gators' crop of new talent at defensive tackle is relatively mediocre.
I'll start with said pickup. At 6'3" and over 300 pounds, Caleb Brantley is big and he's strong as well. He will be a good run-stopper capable of blowing plays up in the backfield. Besides, what are the odds that Florida has two Brantleys in a row who turn out to be a relative bust?
Darious Cummings and Joey Ivie are the other two commitments. Of the two, Cummings is the better option. The junior college transfer is similar to Brantley in build, but has not shown the brute strength that Brantley seems to possess. There's a decent chance, however, that he can become a solid contributor.
Here's the bottom line: If you had to bet on one of these tackles, Brantley would be your guy. This is not to say that Cummings or Ivie can't make a few plays here and there. However, Brantley should turn out to be a valuable commit.
Alex Anzalone, photo via 247sports.com
Grade: B+
The Gators are now set at linebacker after five committed their services to Coach Muschamp and staff. Unlike many facets of life, however, this bunch is gleaming with quality in addition to quantity.
Daniel McMillian, Alex Anzalone, Matt Rolin and James Hearns are all 4-star recruits according to ESPN scouts. If you read my previous article about Alex Anzalone, you already know that I have full confidence in him. By the same token, McMillian, Rolin and Hearns definitely have the necessary skills.
With Jon Bostic and Jelani Jenkins now out of Gainesville, it will be up to the young guns to fill in the voids left at linebacker. One or more of these recruits will do just that and do it well.

Vernon Hargreaves III, photo via 247sports.com
Grade: A
Although the Gators were only able to land one true cornerback, the one they did obtain happens to be one of the most highly touted recruits in the country.
Vernon Hargreaves III was selected for the Under Armour All-American Game for a reason: He is an absolute stud. It doesn't matter if it's zone, man, or any other coverage. Hargreaves' football i.q. and ball skills are off the charts. It would not surprise anyone if he finds himself seeing extensive playing time sooner rather than later.
Florida's defense has made a killing by forcing opposing quarterbacks into making mistakes and turning over the football. With a guy like Hargreaves in the secondary, it's okay for Gator fans to expect more of the same.

Keanu Neal, photo via 247sports.com
Grade: B+
The Gators landed three safeties in this year's class, each of them thought to be a 4-star prospect.
Keanu Neal from South Sumter High School and Marcell Harris from Dr. Phillips High School are both inside ESPN's Top 150 list. They are similar in size and have good instincts in coverage. Nick Washington, meanwhile, has the potential to be a ball hawk in the secondary.
With Matt Elam leaving school to enter the NFL draft, it was essential that the Gators found a great high school player to replace him down the road. Instead, they found three players who have the potential to become mainstays in the secondary.
As it stands now, Florida normally wins games with its defense, and these three safeties can help this trend continue.