NASCAR: The 5 Fastest Tracks in Sprint Cup (including a Few Surprises)
Kevin Liles-USA TODAY Sports
Bill Elliott remains the fastest driver ever in NASCAR in the pre-restrictor plate era.
Whenever NASCAR fans think of the sport's fastest race tracks, two stand out in almost everyone's mind: Daytona International Speedway and Talladega Superspeedway.
The reason for that mindset is pretty simple: back in the mid-to-late 1980s, those tracks produced speeds that were so fast that NASCAR was forced to put so-called "restrictor plates" on carburetors to rein in some of those speeds.
For example, the fastest single lap ever run in NASCAR history was in 1987 at Talladega, when Bill "Awesome Bill from Dawsonville (Ga.)" covered 'Dega's 2.66-mile racing surface at 212.809 mph (he actually exceed 214 mph during a practice session, as well).
Elliott also holds the fastest single lap speed at Daytona, also pre-plate era, with a top end of 210.364 mph, also in 1987.
NASCAR was forced to act because if it had let those kinds of speeds continue unabated, it was likely that a car could eventually get airborne and potentially wind up in the grandstands.
But here's a surprise of sorts: ever since plates were placed on race cars at 'Dega and DIS, both tracks have ceded their reputations as the fastest tracks on the Sprint Cup circuit.
Even one of the fastest open-wheel tracks in the world, the legendary Indianapolis Motor Speedway, host of the nearly 20-year-old Brickyard 400, isn't even in the top 10 fastest NASCAR tracks in the Sprint Cup series.
So we thought we'd look at the five fastest tracks out there today – since 1988, that is, when restrictor plates were enacted – as we prepare for the 2013 season. All speeds were set during qualifying sessions.
In an interesting irony, three of the top five tracks saw new single-lap speed records set in 2012.
Could that mean even faster speeds in 2013 with the advent of the new Generation 6 car that will make its official race debut during Speedweeks at Daytona next month? With less aero push, that certainly is possible, particularly since Trevor Bayne hit a mighty stout 199.850 mph during last week's test at Daytona.
We wouldn't be surprised to see a 200 mph qualifying effort at all in a few weeks at DIS.
So, the next time somebody is willing to bet you that Daytona and Talladega are still the fastest tracks around, take that bet because you'll cash in handsomely.
Follow me on Twitter @JerryBonkowski
Begin Slideshow

»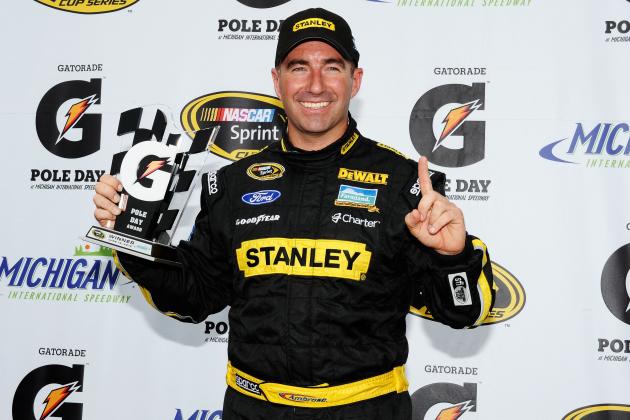 Jared C. Tilton/Getty Images
Marcos Ambrose at Michigan last June after becoming the fastest driver in NASCAR history (on non-restrictor plate tracks).
What? MIS? The venerable two-mile track in the middle of pure Michigan farmland is the fastest track in the Sprint Cup universe?
Yep, it's true. MIS became the fastest non-restrictor plate track on the circuit last year when Marcos Ambrose – that's right, not even an American driver has been faster than the Aussie bloke – who cranked off a phenomenal lap of 203.241 mph in June 2012. The historic mark was more than 9 mph faster than the previous record (194.232 mph).
Of course, it helped that MIS had been freshly repaved after the 2011 season, lending itself to a potential marked increase. But it's unlikely anyone could have predicted that Ambrose would have topped the old mark by nearly 9 mph.
Ambrose's record was stout indeed, but it also somewhat got lost in the shuffle because that was also the same weekend that Dale Earnhardt Jr. snapped his 142-race winless streak.
One other tidbit of information: Not only does Ambrose now own the fastest non-restrictor plate speed in NASCAR history, he also holds the fastest speed at the slowest track on the circuit: 95.262 mph, set last season at Sonoma.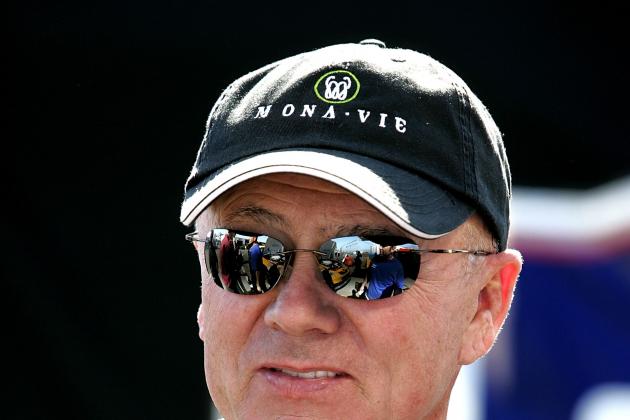 Jerry Markland/Getty Images
Until last June, Geoffrey Bodine held the fastest qualifying speed on non-restrictor plate tracks in NASCAR.
Up until Marcos Ambrose's heroics last June at Michigan, Atlanta Motor Speedway had held the distinction of having the fastest single lap of all non-restrictor plate tracks since Geoffrey Bodine took a blistering 197.478 mph drive around the 1.5-mile track in 1997.
Yet even with Ambrose's mark, as well as all the track repavings we've seen on the circuit over the last 15 years, the fact that a mark set so long ago remains even the second-fastest single-lap speed in the sport today is still quite amazing.
Jamie Squire/Getty Images
Brian Vickers was the fastest at Texas in November 2006 and remains No. 1 nearly seven years later.
Okay, now this isn't that much of a surprise, as Texas Motor Speedway has always played second fiddle to its sister track in Atlanta when it comes to speed.
TMS's fastest one-lap speed record of 196.235 mph, set in 2006 by Brian Vickers – also after a fresh track repave just in time for the fall Chase for the Sprint Cup race – remains the mark against all other drivers have been measured at TMS.
But something tells us that mark will also likely fall in either this year's spring or fall races at the 1.5-mile Lone Star state motorplex.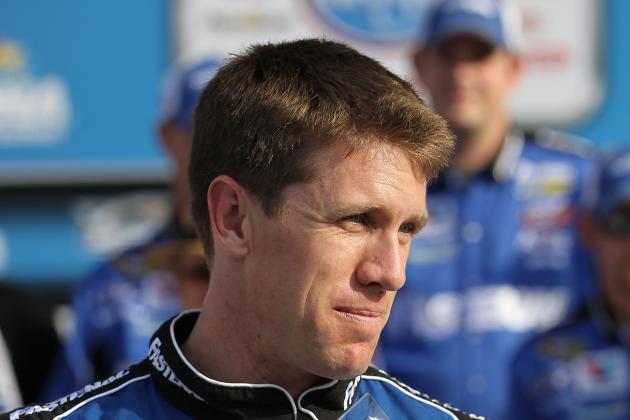 Jamie Squire/Getty Images
Carl Edwards is the fastest driver at Daytona, but for how long?
Unfortunately, speeds set in practice or during test sessions, like Bayne's near-200 mph jaunt during last week's three-day test at DIS, don't count.
But at the same time, don't be surprised if the existing mark of 194.738 mph, set just last season during Daytona 500 qualifying when Carl Edwards took the pole with that single fast lap around the legendary 2.5-mile, is broken next month.
And remember, this is a restrictor plate track, which only adds to the significance of Edwards' mark.
Granted, Bill Elliott had the fastest-ever speed there in qualifying for the 1987 Daytona 500 at 210.364 mph, but that was before the dawning of the age of restrictor plates.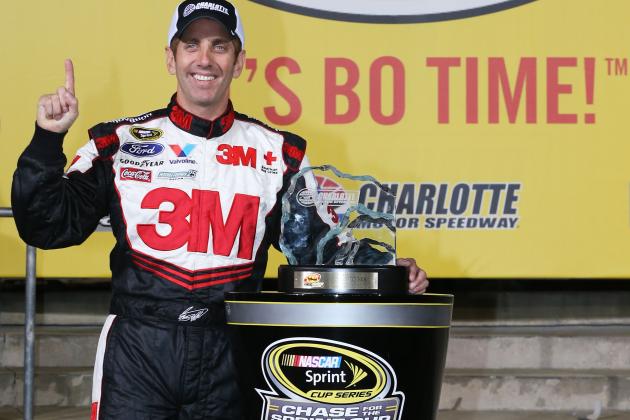 Streeter Lecka/Getty Images
Greg Biffle is indeed No. 1 on the all-time speed chart at Charlotte Motor Speedway.
Now this one is going to shock a lot of fans, but venerable CMS actually holds a faster one-lap speed record (193.708 mph, set by Greg Biffle last October) than a track many people would almost definitely think is in the top 5, that being Talladega.
Wrong.
In fact, Biffle's jaunt around CMS is almost 2-mph faster than Talladega's top restrictor plate speed mark of 191.712 mph set by David Gilliland in 2006.
That leaves 'Dega sixth on the top speed chart, followed by the next fastest speed of 191.360 mph, set by Kasey Kahne at Kansas Speedway last October.