10 NBA Stars Who Have Strengthened Their Image This Season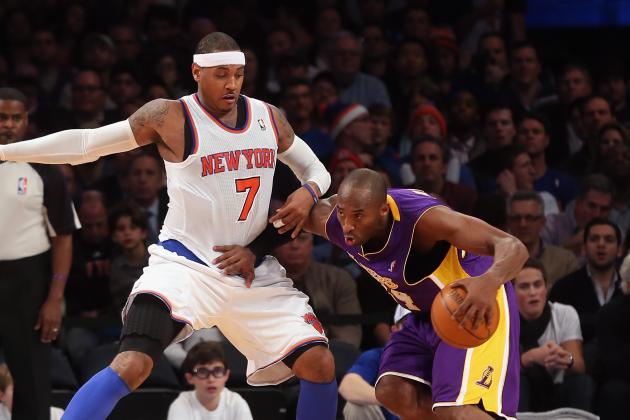 Bruce Bennett/Getty Images

When the 2012-13 season started, there were certain NBA players that knew they needed to strengthen their image. As the year progresses, we've seen many players step up their game and rise to the occasion, and in the process have bolstered their appearance.
There are many athletes that have solidified their game by adding more moves to their offensive repertoire. There's also a handful of guys that simply applied themselves on defense. Other guys have gotten comfortable in their new destinations.
Carmelo Anthony had big shoes to fill, as did the aging Kobe Bryant.
Let's not forget that James Harden was traded away to the Houston Rockets where he would be a full-time starter, something he's never done before.
The pressure was tremendous, and only a few remain uncracked.
Begin Slideshow

»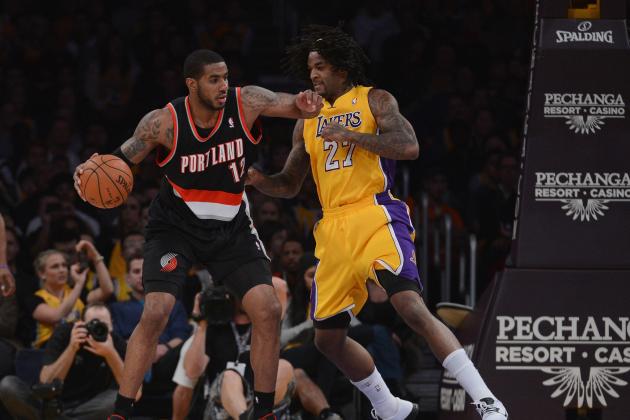 Harry How/Getty Images

One of the dominant power forwards in the NBA right now is the Portland Trail Blazers' LaMarcus Aldridge. He's listed at 6'11" and 240 pounds, and because of these attributes, he's an intimidating player that put Portland in the position they are today.
In his 37 games of 2012-13, LaMarcus has 17 double-doubles, including two games where he had 15 rebounds.
Thus far, Aldridge is averaging 20.6 points per game with 8.6 rebounds, and his team is fighting to be among the top-eight in the Western Conference.
Throughout his six years in the NBA, he's always showed that he's a promising athlete with some upside, and this season is no different. Now that he's got some help in the form of a solid point guard, Aldridge can focus on being the big man on campus, or Portland.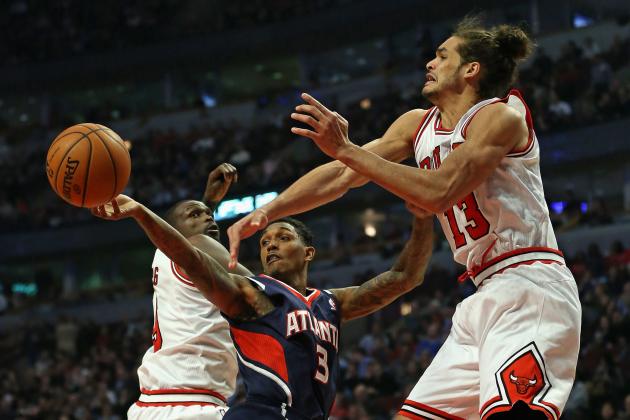 Jonathan Daniel/Getty Images

With Derrick Rose out to injury, Joakim Noah stepped his game up and gave the fans of Chicago hope. He did exactly what was expected and provided the Bulls franchise with a face during Rose's absence.
Last year, Noah averaged 10.2 points per game with 9.8 rebounds and 2.5 assists.
Fortunately for Chicago, the seven-footer stepped in to be the Bulls' superhero. He's improved all of his numbers—12.4 points per game to go with his 10.7 rebounds and 4.1 assists.
His breakout game of the season has to be the December 7 matchup against the Detroit Pistons. In this game, Noah score 30 points while grabbing 23 rebounds—10 of which were offensive.
While his form may be unorthodox, there's no denying that Joakim has strengthened his image during the absence of Derrick Rose.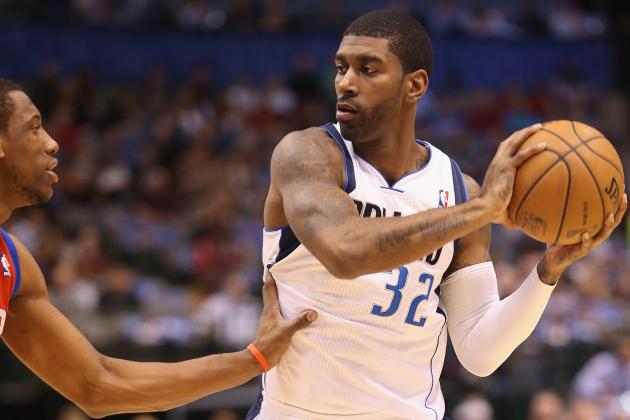 Ronald Martinez/Getty Images

O.J. Mayo welcomed the change of scenery—he signed with the Dallas Mavericks over the summer—and has since showed why he was the No. 3 pick in the 2008 NBA draft.
Although he didn't turn in to the cornerstone player the Memphis Grizzlies had hoped for, he's averaging 18.3 points per game, while dishing out four assists per game this season under Coach Carlisle.
It didn't take O.J. long to find his niche with the Mavs.
In just his 20th game with Dallas, Mayo exploded for 40 points, eight rebounds and three assists in a 116-109 victory over the Houston Rockets.
It appears that Mayo is more comfortable in Dallas as he is being better utilized here than he was over in Memphis. He's not just someone that's coming off the bench; instead he's someone giving his team a fighting chance night in and night out.
For Mayo, a new market meant a new start and as a result, a new image.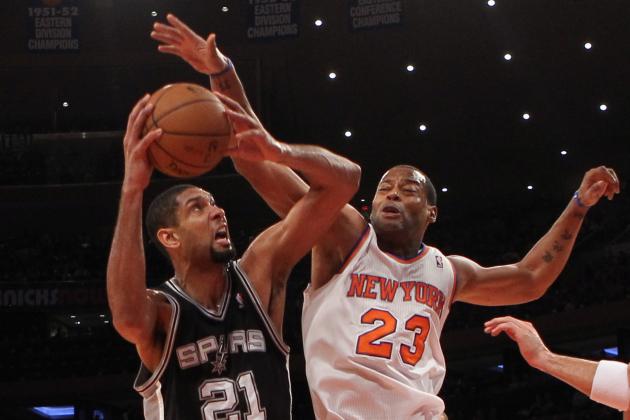 Bruce Bennett/Getty Images

An aging veteran, Tim Duncan is showing the world that he still has enough left to offer the San Antonio Spurs. He's playing his best basketball in three years and it's all coming at the age of 36.
So far, Duncan is averaging 17.2 points per games—astonishing enough?—while also pulling down 9.6 rebounds per game.
Not only has Big Tim had two 30-point game, but he's also had 11 20-point games.
Duncan has to do much—he's surely going to the Hall of Fame when he calls it quits—but the fact is that he's not only still the face of the Spurs, but his name is synonymous with the franchise.
This is his team, and while he might've appeared to be on the decline last season, the big man is showing that "it ain't over till the fat lady sings."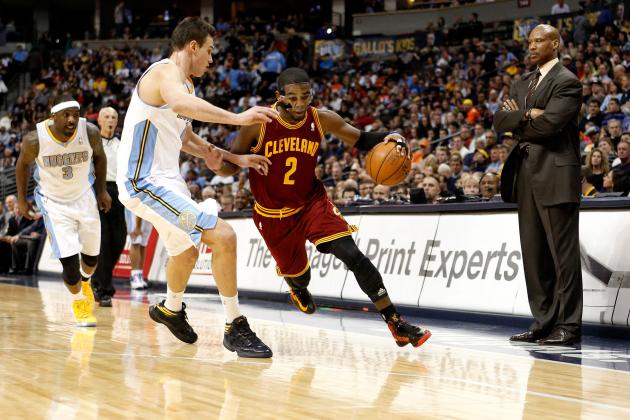 Chris Chambers/Getty Images

Only 20 years old and one year of NBA experience under his belt, Cleveland Cavaliers point guard Kyrie Irving is something special to watch.
He had an incredible rookie year—18.5 points per game, 5.4 assists and only 3.1 turnovers per game— but his sophomore season is shaping up to be something even better.
Irving is currently averaging 23.3 points per game to go with his 5.6 assists per contest, but what the stats don't show is his IQ.
Kyrie's basketball IQ is better than some of the experienced veterans around in the NBA. This gift goes a long way, especially when you're the floor general.
The point guard's image was bolstered when he squared off against an experienced New York Knicks' team. However, Irving was not the least bit intimidated. He went off for 41 points and five assists on 63 percent shooting from the field.
If you didn't get the picture last season, this is Cleveland's golden child. He's the real deal, and he's blowing up with each passing day.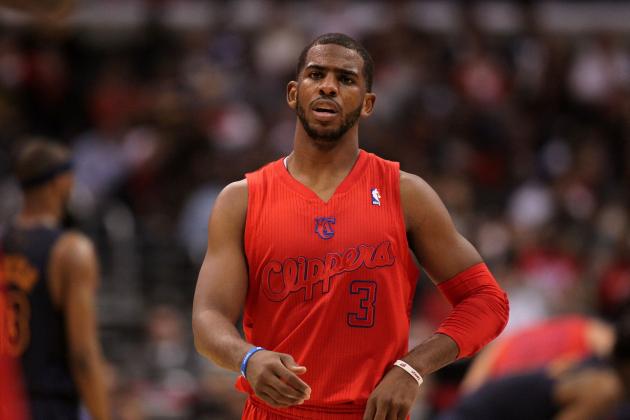 Victor Decolongon/Getty Images

It's remarkable what Chris Paul has done for the Los Angeles Clippers.
He's completely revamped the franchise, and it's his name that draws big-name free agents.
In 2010-11 season—pre-Chris Paul era—the Clippers had 32 wins. The following season, Paul led Los Angeles to 40 wins, and this season he's already gotten the Clippers to 30 wins.
Not only has this strengthened the Clippers' ball club, but it's also justified Chris Paul's image as a top-tier point guard.
CP3 is averaging 16.8 points per game and 9.7 assists per game—second in the league behind Rajon Rondo. He's totaled up 15 games in which he's assists tally anywhere between 10-14. His first 30-point game of the season game just the other night against rivals Los Angeles Lakers. This type of production is what catapults him to the category of elite.
Paul is an excellent player, and at 27 years old, he's about to enter his prime and further enhance his image.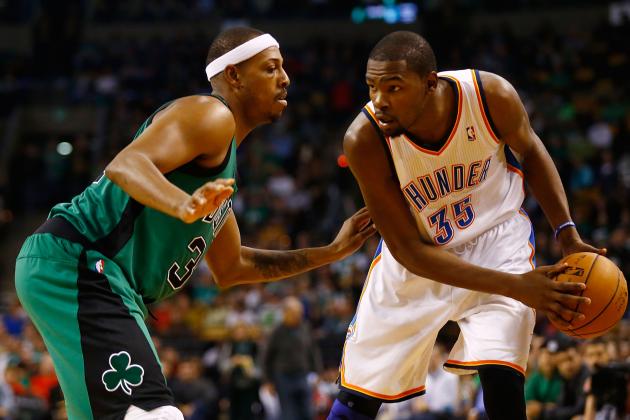 Jared Wickerham/Getty Images

With the departure of James Harden, Kevin Durant knew he had to step his game up and be the leader of this young Oklahoma City Thunder team.
If there's one player with a tremendous upside, it's KD.
Kevin Durant is averaging 28.7 points per game along with 7.5 rebounds and 4.2 assists. He's got an impressive game, both offensively and defensively, and he'll certainly go down as one of the greatest to play the game during this decade along with LeBron James.
Already, KD has four 40-plus point games to go along with his 12 30-plus point games.
One of his 40-point games came against a tough Atlanta Hawks team. It was in this game that Durant scored 41 while grabbing 13 rebounds.
There's no denying that "The Durantula" is the cornerstone for this franchise, and at the age of 24, he's still blooming before our very eyes.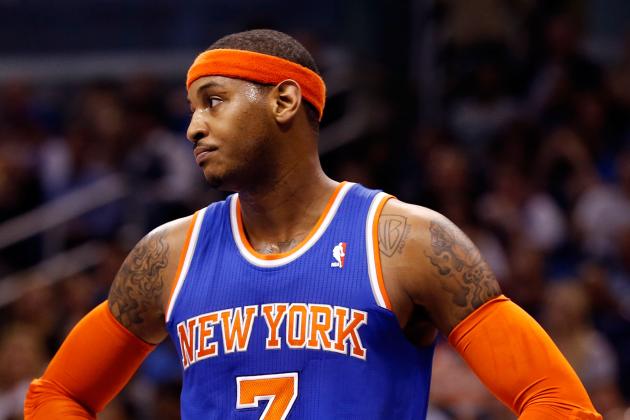 Sam Greenwood/Getty Images

Making a run at the MVP award, Carmelo Anthony is the face of the New York Knicks franchise—and with good reason!
The Knicks' forward is second in the league in scoring with 29.3 points per game, but what the stats don't depict is Melo's commitment on the defensive side of the ball.
The man's hustling on defense, rotating to the proper guy on a pick-and-roll and putting a hand in the opposition's face. You can say that he's practicing what Mike Woodson is preaching.
For the first time in his career, he's playing team basketball and that's how he's strengthening his image. With the right pieces in play and Melo's continued selfless play, he puts the Knicks in a position to succeed, not only during the regular season, but also in the playoffs.
It also helps that Anthony's playing for New York at the world's most famous arena, Madison Square Garden.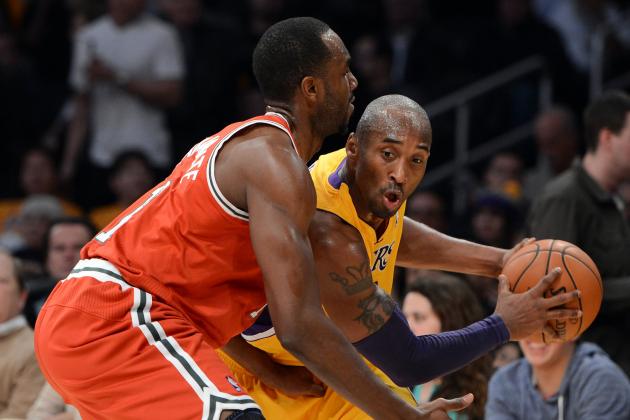 Harry How/Getty Images

Nearly everyone expected a decline from Kobe Bryant because of age, however, the Los Angeles Laker is defying Father Time.
Up to this point in the season, he's scoring 29.9 points a game—that's right, a 34-year-old is leading the league in scoring.
However, that's not all Bryant's doing. The shooting guard, tired of losing, is playing defense.
You may recall in the most recent game against Milwaukee, Bryant hacked Bucks' point guard Brandon Jennings. The Bucks' floor general told Greg Beacham of the Associated Press:
It was probably the best defense somebody's ever played on me since I've been in the league.
Just when you thought Kobe had done all that he could for his image, he goes out and plays praise-worthy defense.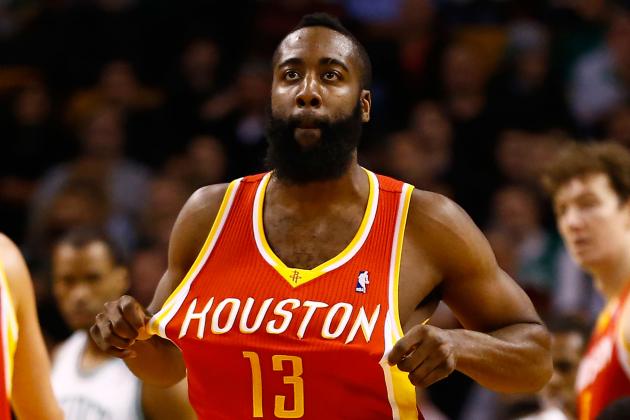 Jared Wickerham/Getty Images

After being traded to the Houston Rockets before the season kicked off, James Harden has gone from bona fide sixth man to exuberant starting shooter.
He's improved in every category as an athlete. He's gone from 16.8 to 26.3 points per game. He's also finding his teammates more; Harden's assist average has jumped from 3.7 to 5.3 per game.
In his first game with Houston, Harden scored 37 points. Two night later, he put up 45 points. He's obviously in a comfortable place, and as a result, we're getting a chance to witness Harden flourish.
"The Bearded One" is the co-face of the Rockets' franchise, along with the prodigal son of Jeremy Lin, and for the most part Harden has gained most from the move to Houston.
He's putting up the best numbers in his short career, and he should continue to progress, both in game and image.