NASCAR: Predicting the Winner of the Top 20 Sprint Cup Races in 2013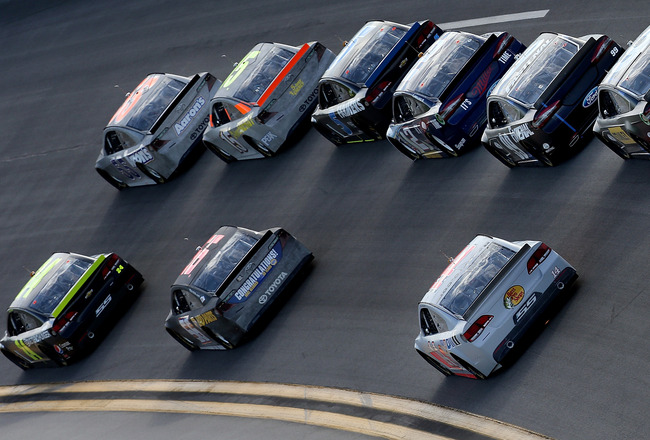 Tom Pennington/Getty Images
For all of the testing we've seen of it already during NASCAR's not-quite-an-offseason, the Generation Six model of cars is still proving a bit unstable. So much so, in fact, that attempting to predict any Sprint Cup race winners before the start of this season seems like a futile effort.
So guess what? We're going to do it anyway.
Let's be honest—the same teams that always run up front are going to stay where they are because they've got the most money and the most talented people on board. New car and universal blank sheet of paper aside, don't expect a low top 35 team to suddenly shock the world and dominate this year's championship. In fact, many of these predictions probably wouldn't have been too far off had they been made in 2012.
The 20 races we pick winners for here are split between the regular season and the Chase for the Sprint Cup. The 10 most important regular season races are spotlighted, and the final 10 of the year are as well.
Without further ado:
Daytona 500: Matt Kenseth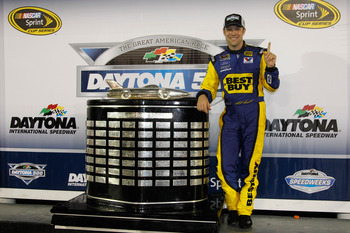 Todd Warshaw/Getty Images
There's no better way to come out of the gate than by winning the first and biggest race of the year. The last time it happened was when Jamie McMurray won his debut with Earnhardt Ganassi Racing in 2010. Consider it a possibility once again for this year with Kenseth, who joins Joe Gibbs Racing after 13 full seasons (and two Daytona 500 wins) with Jack Roush.
Las Vegas: Carl Edwards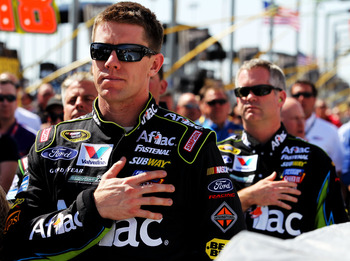 Jeff Bottari/Getty Images
It's time for Edwards to break out of his funk after losing the 2011 championship, and there's no better place to do it than a track where he has two wins and an average finish of 10.2. He's never even failed to complete a lap there.
Martinsville: Jimmie Johnson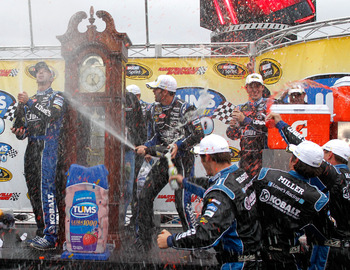 Tyler Barrick/Getty Images
After last year's incident with Clint Bowyer, Johnson had to have been frustrated leaving the paper clip shaped track in the spring. But he made good on the promise shown early on by winning there during the Chase. Don't be surprised if the sport's best driver there (5.5 average finish) takes his eighth win in 23 starts.
Darlington: Denny Hamlin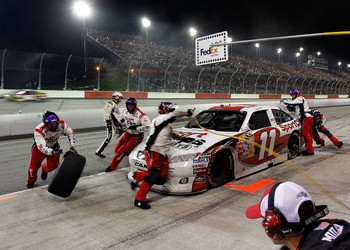 Geoff Burke/Getty Images
Hamlin's been the best driver in the series at Darlington for the past half-decade or so, inheriting the throne from Jeff Gordon. He's never finished worse than 13th there, leading 354 of 2573 possible laps and taking the win in 2010. His average finish of 5.9 makes this almost a no-brainer.
Charlotte: Greg Biffle
John Harrelson/Getty Images
We'll get more information on who really has the Gen Six car figured out during testing this week, but don't be shocked if it's Roush Fenway Racing, spearhead of the new Ford Fusion. Biffle has led in the past five Charlotte races, including a dominant performance last May in which he led 204 of 400 laps before finishing fourth.
Daytona: Joey Logano
Chris Trotman/Getty Images
Logano was also fast in preseason Daytona testing and could sure use a high-profile win to back up his employment at Penske Racing. What better way to do it than by taking the race that A.J. Allmendinger was removed from last year, opening up the ride for his eventual hire?
Indianapolis: Brad Keselowski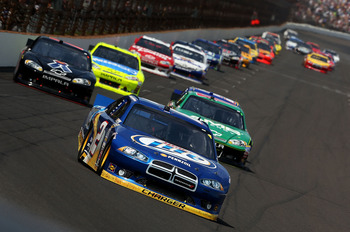 Nick Laham/Getty Images
The Brickyard is a bit difficult to predict by nature. Most years a championship contender wins there, but 2010 (Jamie McMurray) and 2011 (Paul Menard) were significant exceptions. Either way, Chevrolets have won every Indianapolis race since 2003, but expect that to change when 2012 Nationwide winner Keselowski takes the victory.
Bristol: Kyle Busch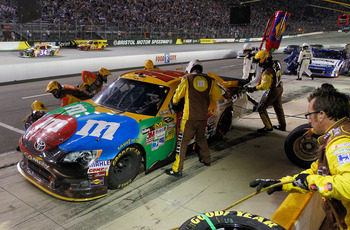 Wesley Hitt/Getty Images
The Busch brothers own Bristol with five wins there apiece. Since taking his first win there in spring 2007, Kyle has never gone more than three races without a victory. He's gone three since spring 2011, so expect the win this March and a sweep in August.
Atlanta: Kasey Kahne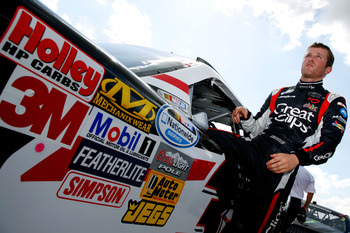 Tyler Barrick/Getty Images
Kahne's one of the most versatile drivers on the schedule in that he's won his races all over the country. In fact, he has multiple wins at only two tracks on the Sprint Cup schedule: one in Charlotte and the other in Atlanta.
Both will prove crucial to Kahne's charge for the championship.
Richmond: Marcos Ambrose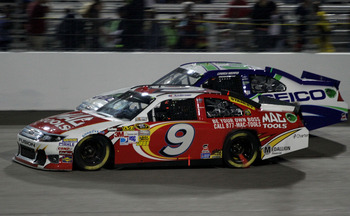 Jerry Markland/Getty Images
Every year this race comes down to which drivers are going to make the Chase and which ones aren't. This should be Ambrose's year to finally break in, taking a surprise victory at Richmond after mounting a late charge spurred by yet another Watkins Glen win.
Chicago: Brad Keselowski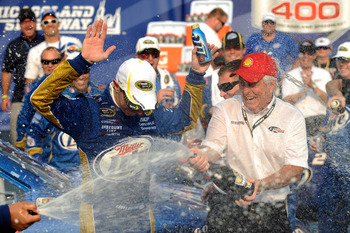 Jared C. Tilton/Getty Images
Once again, Keselowski opens the Chase with a victory at Chicago. It's a great start to his championship run and a slap in the face to those who think that Jimmie Johnson is going to run the table on this year's Chase, or that Keselowski was a one-year wonder.
Loudon: Clint Bowyer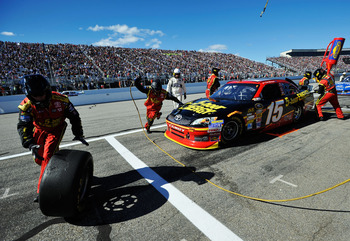 Rainier Ehrhardt/Getty Images
Don't expect there to be another magical season for Bowyer and Michael Waltrip Racing, as a clean sheet of paper will probably set everyone back a little bit. But that doesn't mean Bowyer will take two or three steps back and fall out of the Chase. He'll be competitive enough to run up front and take a couple of wins again, including one Chase victory at Loudon.
Dover: Brad Keselowski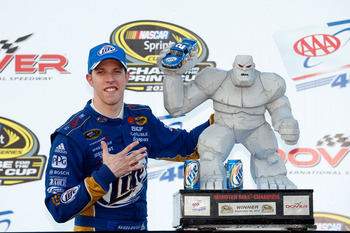 Chris Graythen/Getty Images
The Chase opens for Keselowski much like it did in 2012: wins in two of the first three races. Unfortunately, once again, that's the extent of his ability to win races in the Chase. It won't be a disaster, but don't expect Penske Racing to add a second Sprint Cup to its mantle this year.
Kansas: Jimmie Johnson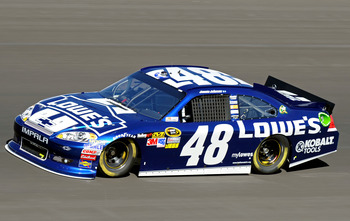 John Harrelson/Getty Images
11 top 10s in 13 starts on the resume should be good enough to back up picking Johnson to take a win at Kansas. He's finished ninth or better in each of the past eight races, taking two victories in that time. (He won't have to do it with a beat-up decklid and rear bumper this time, either.)
Charlotte: Kasey Kahne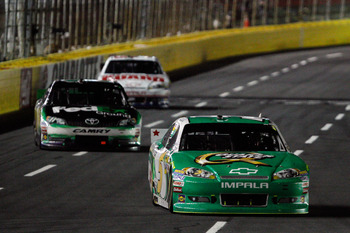 Chris Graythen/Getty Images
Kahne backs up his May 2012 victory with the fifth of his career in Charlotte, keeping up his Chase hopes at one of his only two multi-win tracks on the schedule (Atlanta is the other, and as we said, don't be shocked if he takes a victory there as well). It's also the start of what appears to be a serious run at the title for the Washington-born driver in only his second year at Hendrick Motorsports.
Talladega: Dale Earnhardt Jr.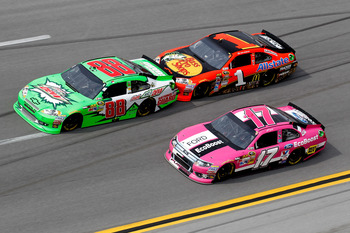 Todd Warshaw/Getty Images
Superspeedway predictions are a crapshoot, so let's go with Earnhardt Jr. finding redemption at the track where his championship hopes ended in 2012. There's no doubt that this would also be a popular win with the fans, who were certainly disappointed to see his best chance at a title in years fall by the wayside.
Martinsville: Jimmie Johnson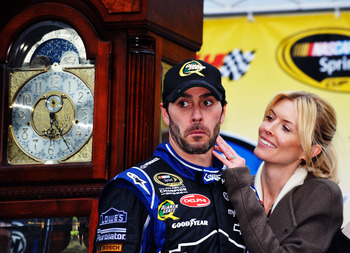 Rainier Ehrhardt/Getty Images
A Johnson sweep at Martinsville never seems out of reach (remember that 5.5 average finish we mentioned earlier?), but this one is part of something even bigger. Hendrick Motorsports comes home with four consecutive Chase victories and three drivers in the championship fight once again.
Texas: Greg Biffle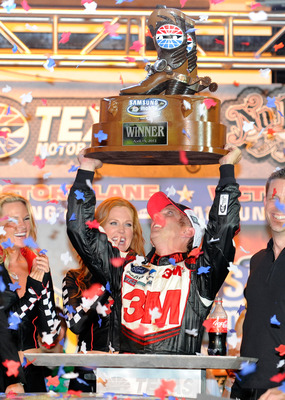 John Harrelson/Getty Images
The Hendrick machine stops here as Biffle interjects himself into the championship discussion once again with another victory on a 1.5-mile track. He joins Johnson, Kahne, and Keselowski as the top threats to win the championship going into the final two races, after doing the opposite of what he did in 2012: being up and down early in the year and finding the groove late.
Phoenix: Denny Hamlin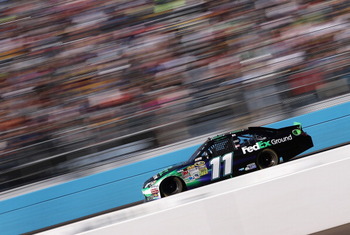 Christian Petersen/Getty Images
Hamlin takes the victory at Phoenix as the four key championship contenders all struggle to find their footing. Kahne and Biffle come out of the desert with the best shot, while Keselowski finishes on the edge of the top 10 and Johnson has a stroke of awful luck and a poor finish once again.
Homestead: Kasey Kahne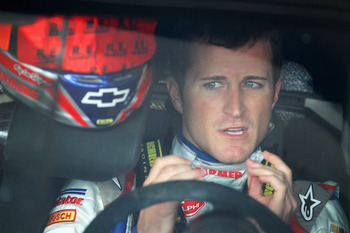 Todd Warshaw/Getty Images
This is it: Kahne's year to fulfill all that potential people have seen in him for years. Like Tony Stewart in 2011, he takes the championship by winning the season finale in Homestead after fending off an impeccable charge from Biffle in the race's late stages.
For more from Christopher Leone, follow @christopherlion on Twitter.
Keep Reading