Florida Basketball: Ranking the 5 Biggest Roadblocks to the SEC Title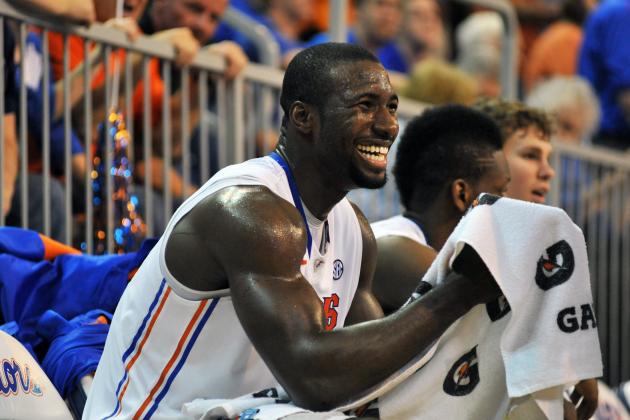 Al Messerschmidt/Getty Images

More than two months into the season, Florida has separated itself as the clear favorite to win the SEC Title.
Kentucky's freshmen have played like freshmen instead of NBA draft picks, Missouri hasn't been as formidable without Marcus Denmon and Kim English and Vanderbilt and Mississippi State lost last year's cores.
The Gators, on the other hand, have moved forward without Erving Walker and Bradley Beal and are two brief defensive lapses against Arizona from boasting a 13-1 record.
But they play the games for a reason, otherwise the Gators could strut around Gainesville wearing their SEC crowns today.
Here are five roadblocks to making that a reality.
Begin Slideshow

»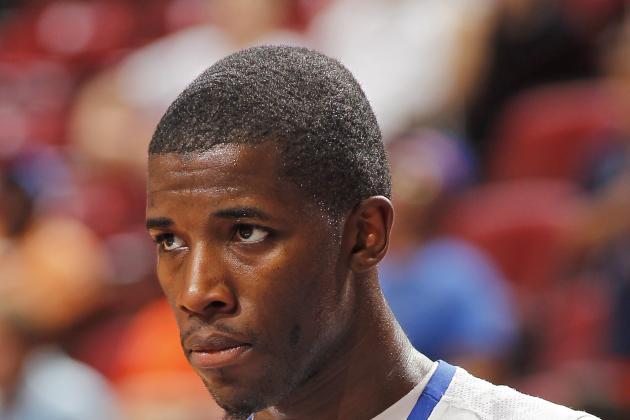 Joel Auerbach/Getty Images

As Kenny Boynton goes, so goes Florida.
Of course, the Gators couldn't put away Arizona, and several players performed poorly against Kansas State. But Boynton's two least efficient outings this year coincide with Florida's two losses.
KenPom measures a player's offensive efficiency by offensive rating (ORtg). Any season-long number in the high-120s and above can be considered exceptional—Florida's Erik Murphy actually leads all players used in at least 20 percent of his team's possessions with a 133.4 ORtg.
Boynton's 121.9 ORtg falls slightly below the exceptional level but still ranks No. 44 nationally. The senior has compiled six outings with ORtgs of 135 or higher.
But in Florida's losses to Arizona and Kansas State, Boynton's respective ORtgs were 57 and 86, his lowest marks on the season. Had Boynton shot better than 2-of-12 from deep in the two defeats, perhaps Florida would be 14-0 instead of 12-2.
The Gators have several players capable of stepping up, but even when each of Boynton's teammates posted ORtgs of 110 or higher against Arizona, Florida still lost. All the blame can't be placed on Boynton for the team's first loss, as two defensive lapses helped the Wildcats win.
But he's the team's go-to scorer, and a prolonged cold spell could open the door for another SEC squad to capture the title.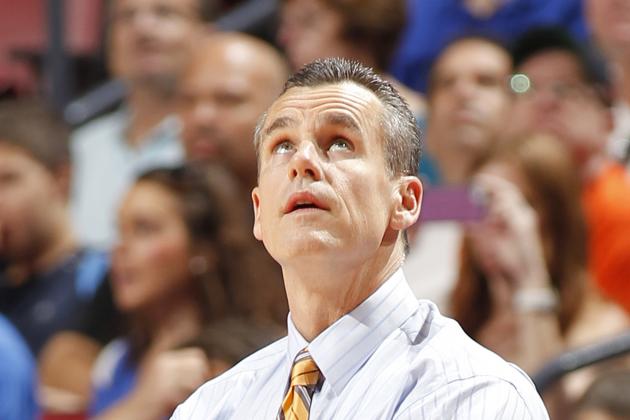 Joel Auerbach/Getty Images

As the league's undisputed alpha dog, Florida will draw its opponents' top efforts on a nightly basis.
Losing at home to anyone other than Missouri and Kentucky seems unlikely, but road upsets in league play occur as frequently as corny lines in Die Hard. The Gators can't laze through games at Texas A&M or Arkansas and expect to win handily.
Take last year's Kentucky team, for example. As good as the Wildcats were, they escaped a few close calls on the road.
Mississippi State, Auburn, Tennessee and Vanderbilt all threatened Kentucky's quest for a perfect SEC season, and though none succeeded, last year's Kentucky team was historically good. This year's Florida team doesn't rank in that upper echelon.
In other words, the Gators are not invincible, even against weaker SEC competition.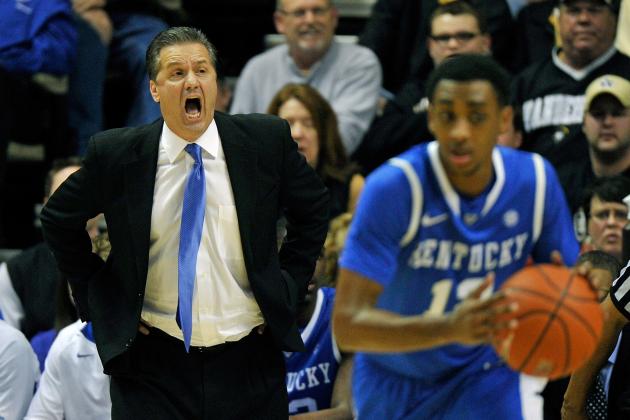 Frederick Breedon/Getty Images

Because of John Calipari's track record at Kentucky, no one expected the Wildcats to have five losses halfway through the season. But they do, and Elston Turner's 40-point effort at Rupp Arena was particularly damning.
However, this team still has future NBA players on its roster, leaving maturation as the barrier between mediocrity and formidability.
With a 2-1 SEC record, Kentucky could conceivably gel and finish with just two or three conference losses. That seems unlikely at this point, but it can't be ruled out—remember, this team was ranked No. 3 in the preseason AP Top 25.
For what it's worth, KenPom's "luck" factor implies that the Wildcats' record should be better based on their efficiency ratings.
Should Florida stumble a few times, the season finale against the Wildcats could potentially be for the conference title.
Stephen Dunn/Getty Images

On Jan. 19, Florida and Missouri will meet as SEC foes for the first time, with the Gators playing host.
The Gators have had their run-ins with injuries, but at this moment, Laurence Bowers' status for Saturday remains uncertain and outweighs Florida's loss of Casey Prather. The Tigers' second-most important player—behind Phil Pressey—sprained the MCL in his right knee last week and has not played in Mizzou's last two games, a loss to Ole Miss and a victory over Georgia.
Without their leading scorer, the Tigers need other players to step up. They scored just 49 points against the Rebels, and though they scored 79 against the Bulldogs, comparing Georgia to Florida is like equating Rosie O'Donnell with Kate Upton.
Bowers' status for Saturday has not been determined yet. Whether or not he plays, though, Florida should win at home.
But with a healthy Bowers, Missouri stands head and shoulders above the bulk of the SEC. Should the Tigers lose this weekend, they could easily be 10-2 when they host the Gators on Feb. 19, setting up a match with SEC title implications.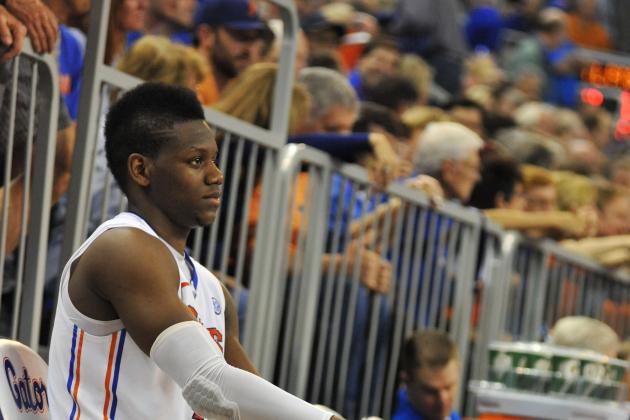 Al Messerschmidt/Getty Images

Just about every Gator has had his bouts with injury this year.
Scottie Wilbekin has played through a broken finger, Will Yeguete has tendonitis in his knee, Erik Murphy has a broken rib, Casey Prather has had two concussions and a sprained ankle and Mike Rosario missed the LSU game with an ankle injury of his own.
Rosario is expected to play tonight, and Wilbekin's finger hasn't limited him. Meanwhile, Yeguete hasn't missed any games, and Murphy returned with a protective brace beneath his jersey.
But if you're a Florida fan, you must be thinking either "What's next?" or "Will these guys hold up in the long haul?"
It's safe to say that Kenny Boynton and Patric Young are the Gators' two most indispensable players. If they're in the lineup, Florida will have a chance to win every night.
But the other hobbled Gators are also important, and Florida's status as a runaway SEC title favorite hinges on their health.