San Francisco 49ers vs. Atlanta Falcons: Ten Players to Watch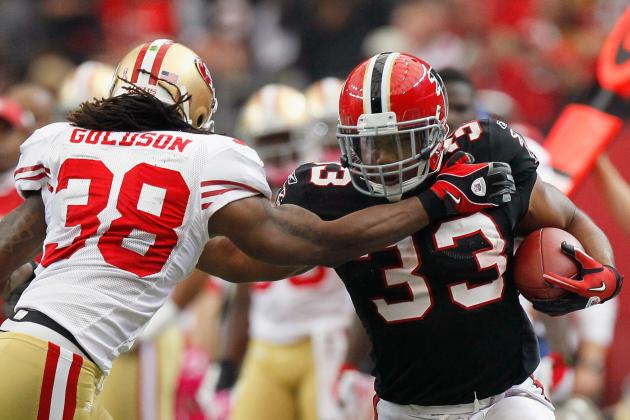 Kevin C. Cox/Getty Images
Similar to the epic 2010 game, it should be another physical close game.
While looking at the preseason predictions, it didn't surprise me that many people picked the divisional game between the Green Bay Packers and San Francisco 49ers as the game in the NFC Championship. Instead we get a fresh matchup featuring two teams that are pretty unfamiliar with one another.
These teams haven't played since 2010 and times have changed since then. In 2010, San Francisco was suffering from another losing season with Alex Smith continuing to struggle, while Atlanta surprised everyone and went 13-3. Since there have been so many playoff rematches this year from recent memory, it's nice to see a fresh matchup.
Both teams clash in style, with San Francisco relying on the unpredictable read-option plays while leaning towards running the ball more. Atlanta has become a pass-first team and relies on Matt Ryan to make the offense function.
The concept of the article is to break down the impact certain players can have on the game regardless if there a star player or a role player. I did a similar article last week for the Seahawks-Falcons game, which had a few players on the list that had performances that changed the course of the game. It should be the case again featuring five players from each team.
Begin Slideshow

»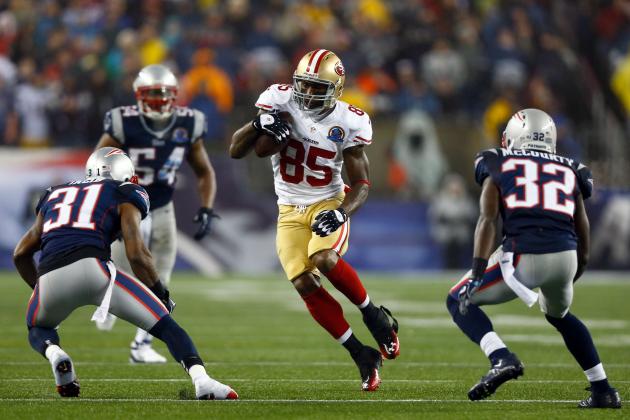 Jared Wickerham/Getty Images
Davis has all the talent in the world, but his numbers have dropped significantly since Smith was benched.
It has been a very odd season for Vernon Davis. For the past three seasons, Davis has been a top five tight end making numerous plays and carrying the 49ers passing game at times. If it wasn't for him, Alex Smith would have been off the team by now. His chemistry with Alex Smith was sublime, but it hasn't been the case with Colin Kaepernick.
Davis has only caught 16 passes for 194 yards and one touchdown in the second half of the season. Davis has admitted publicly that the chemistry has been lacking between him and Kaepernick. That was said in Week 15, that hasn't changed since that time, which has to change Sunday.
For the majority of the season, Atlanta has struggled to cover tight ends. It was evident on Sunday when they had to play zone against Seattle so they could contain the threat of Russell Wilson scrambling. It'll be the case again this Sunday with Kaepernick playing, so that means Davis will have his opportunities to make plays. Zach Miller had a field day against Atlanta last week, who is nowhere near as talented as Davis.
With the recent emergence of Michael Crabtree and Kaepernick's speed, those two elements of the 49ers offense will be the main focus for the Falcons when the 49ers are passing the ball. Davis can cause some serious damage especially with his ability to get yards after the catch, which is rare for a tight end to do. I'm not sure what to expect from Davis with the way San Francisco's offense is operating, but he's going to have opportunities to make plays.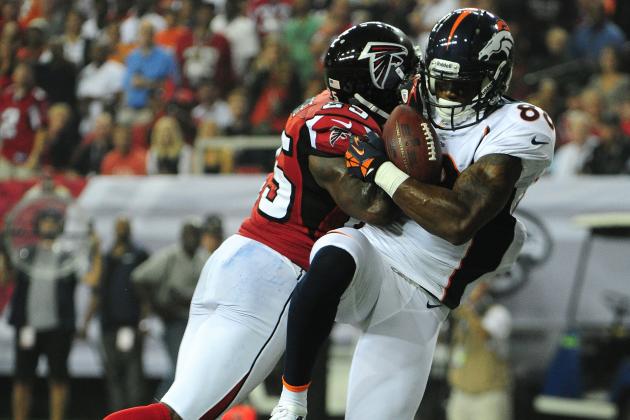 Scott Cunningham/Getty Images
Moore's hard hitting has started to gain league wide recognition.
One of the biggest improvements for the Falcons defense this year has been the safety play. Thomas DeCoud has gotten a lot of attention for his six interceptions this season, but it's William Moore that will be more of the key player in this game. Both safeties are very talented but their different players and the threat of Kaepernick's running ability makes Moore more important in this game.
Moore is one of the best tacklers at the safety position and has really emerged this season after an injury-plagued 2011. With Mike Nolan as defensive coordinator, Moore has had greater responsibility and more space to make plays, compared to past years of being stuck in zone coverage in one spot.
With Kaepernick's scrambling ability, the linebackers will obviously be important but Moore is going to have to be a major factor. After seeing Kaepernick was running past the Green Bay safeties, that is going to have to keep Moore alert especially with the read option. With his hitting ability and being the run stopper that he is, he has the ability to make Kaepernick think twice on trying to run his way.
Even though DeCoud is the better cover safety, Moore will be called upon at times to cover Vernon Davis. Moore tends to struggle in man coverage, which means Atlanta will look to give him linebacker help.
He's really stepped up this year and has made numerous plays, but there hasn't been a game where he is going to have this much responsibility. This is a game where Moore will need to be flying around and making plays all over the field similar to his games against Denver and New Orleans this year.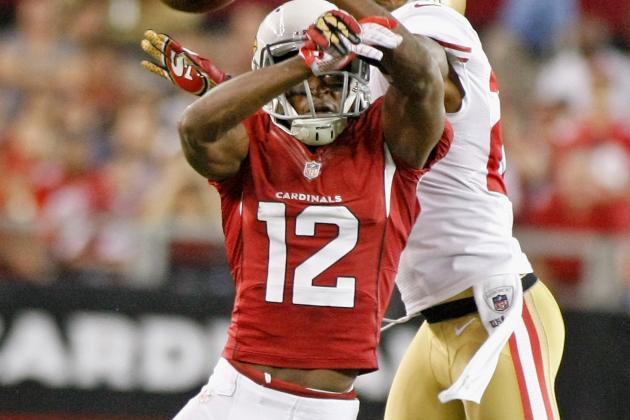 Ralph Freso/Getty Images
Brown has stepped up to become the starter opposite Carlos Rogers.
San Francisco has arguably the best defense in the league, mainly for their great front seven. The secondary isn't necessarily weak but they have had some issues. When people think of the 49ers cornerbacks, they think of Carlos Rogers and then forget the rest.
You may want to know who Tarell Brown is because he's starting to emerge as a solid cornerback.
Brown had a breakout season last year with four interceptions and 15 passes defensed and continued his strong play this year. With the defense having six Pro Bowlers, he tends to be forgotten, which doesn't surprise me. It may shock some people but I felt during phases this season that Brown outplayed Rogers.
Carlos Rogers hasn't been that great this season, but he's still physical and good enough to frustrate wide receivers. Brown is only 5'10" and is pretty undersized, which makes him a key player to watch against the physical Atlanta receivers. It'll be tough to see him match up with their wide receivers, especially Julio Jones, so look for San Francisco to give him safety help.
Brown has come along way from his first four seasons of being nothing more of a nickel back. Now he's a starter but this is going to be the toughest matchup for him in his career. He has proven that he is a worthy tackler, but trying to bump receivers like Jones and White on the line will be tough. Brown is going to be thrown at and it will be up to him to make plays.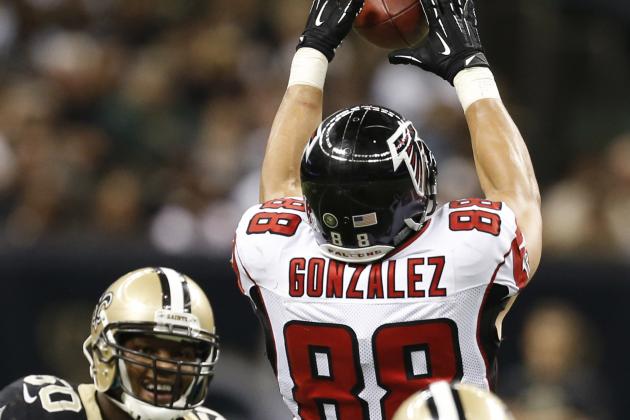 Wesley Hitt/Getty Images
Gonzalez is still reliable as ever.
With all the media hype about Ray Lewis, it's a shame that Tony Gonzalez was forgotten about last week leading up to the Seattle game. Eventually the world realized Gonzalez's career was on the brink of ending after Seattle's improbable comeback. Thankfully for Gonzalez, Atlanta pulled through in the end with a quick two-play drive, which Gonzalez contributed to with a first-down reception.
There are more reasons than just his possible last game that Gonzalez is on the list. This may be his toughest matchup all season going up against the most talented linebacker core in the league along with two Pro Bowl safeties. You can never rule out Gonzalez in any matchup, but I'll be shocked if he has a big game against the 49ers.
Another element working against Gonzalez in this game is that they may need him to pass block at times. Unlike Seattle, San Francisco has a strong pass rush that could very well give Atlanta's average offensive line problems. There are many things working against Gonzalez, but he has proven the critics wrong game after game with his play.
This may be the last game of Gonzalez's career, but I'm not expecting him to be completely taken out. He's too good of a player and I'm expecting the dynamic receiving duo of Jones and White to command more attention than Gonzalez. Patrick Willis doesn't shy away from playing coverage, so it will be a star-studded matchup between those two. Don't expect a big game from Gonzalez on the stat sheet, but he'll play his part as usual if Atlanta gets to the Super Bowl.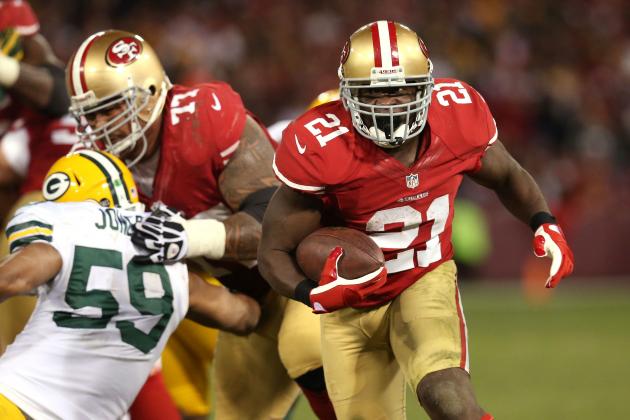 Stephen Dunn/Getty Images
Gore had a big game last Saturday night after a quiet December.
With all the hype around Colin Kaepernick and the 49ers great defense, Frank Gore tends to be forgotten. Gore had his best season since 2006 by running for 1,214 yards along with eight touchdowns. He's been very consistent and productive this season, a productive component to the 49ers' offensive success.
When the 49ers have success running the ball with Gore, that usually leads to a win. In games that they won this year, Gore averaged five yards a carry compared to just 3.8 yards per carry in losses. Despite the recent success of Kaepernick running the ball, Gore is still going to be called upon to carry the load.
After Atlanta's performance against Marshawn Lynch by allowing just 46 yards on 16 carries, I'm not expecting Gore to average 5.2 a carry like he did against the Packers last week. The Falcons front seven is very fast and showed last week they can get physical.
The Falcons secondary is very dangerous and has proven to be ball hawks all season, which is why getting a running game going is so important. If Gore can get going, it will open up even more chances to use the read-option and play action to throw off the Falcons defense. It's going to be a challenge, but Gore has proven all season that he still has game-breaking speed and can be a load to stop when he gets going.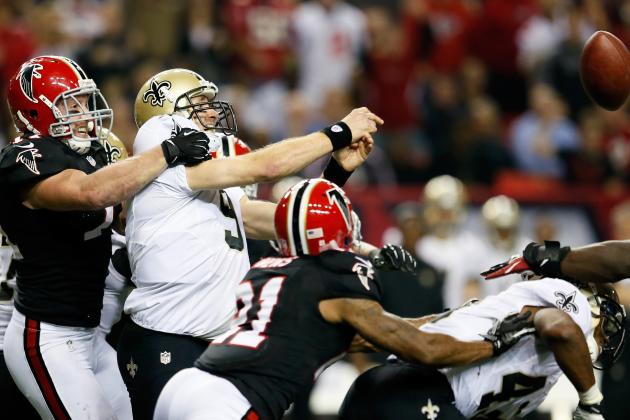 Kevin C. Cox/Getty Images
Biermann has had his breakout moments this year, but he needs to be more consistent.
Many people would consider John Abraham to be the most essential player on the defensive line going into this game. He's a force to be reckoned with and is always a threat every time he steps on the field. With a lingering ankle injury and Kaepernick's ability to escape pressure, I'm not sure if he'll be effective. The pass rush needs to step up as a whole and the first person to be called upon is Kroy Biermann.
Biermann is a high-energy player with a relentless motor that always keep offensive tackles alert. The issue with Biermann is that he's pretty undersized and he isn't really a starting caliber defensive end. That's not a huge knock on Biermann; he can rush the quarterback, but he's just not good enough to start on a contending team.
With the disappointing play from expensive free-agent signing Ray Edwards, Biermann stepped in as a full-time starter. He clearly outplayed Edwards through the first eight games of the season, along with having the best season of his career despite only having four sacks.
He still gets a few hits on the opposing quarterback, which has led to some turnovers, including a huge one against the Saints, where Brees forced a pass in traffic while being hit by Biermann.
He would be a great bench player, but for now he's a starter and the pressure is on for him to pick up the slack. Abraham has vowed to play on Sunday, but it's really hard to see if he can have any real impact on the game. Biermann will have to pick up the slack, even for a Falcons pass rush that was nonexistent last Sunday and for many parts of the 2012 season.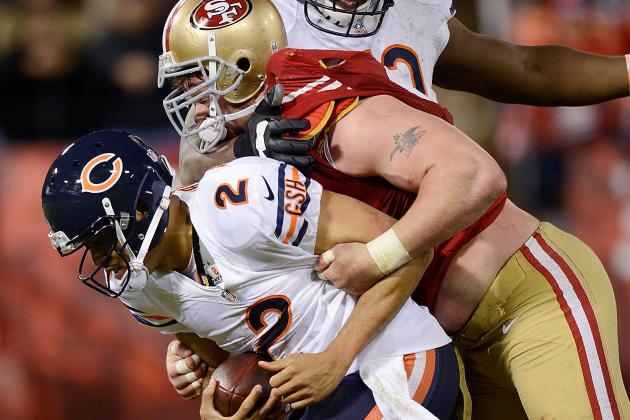 Thearon W. Henderson/Getty Images
Smith is one of the most integral parts to the 49ers success on defense.
It seems like if your name isn't Aldon Smith or Patrick Willis on the 49ers defense, you become forgotten about or underappreciated. The two players I mentioned are phenomenal players, but Justin Smith is the most valuable player on the defense. The stats may not show it, but he makes the 49ers much more physical and gives the 49ers linebackers easier matchups to win.
When Smith was injured in mid to late December, San Francisco allowed 30 points in back-to-back games against New England and Seattle. Both of those games also had Aldon Smith having zero sacks, which is shocking for the pace he has been on this season. The 49ers missed his ability to cause havoc and take up two blockers to free up space for players like Aldon Smith and Willis.
He may only have three sacks on the season but that doesn't mean much playing as a defensive end in the 3-4. He plays the run like all 3-4 defensive ends should play the run with how much disruption he creates at the line of scrimmage. With his eight tackles for a loss and the 49ers allowing just 94 rushing yards a game, Smith has been a major reason why that's happened.
With the recent resurgence of the Falcons running game, Justin Smith will have to push away the threat and do what he always does, which is clog potential holes and make or create plays in the backfield. The brace may be affecting him a bit, but when Smith is playing at his best the 49ers feed off his presence and become much tougher to score on.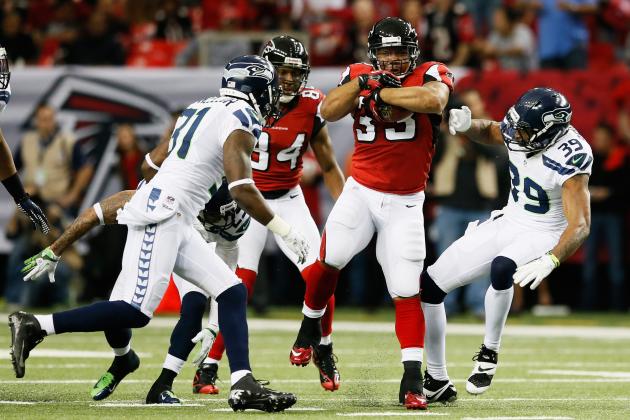 Kevin C. Cox/Getty Images
Turner looked rejuvenated last Sunday by getting yards after contact.
In my preview last week for the Seahawks-Falcons game, I said that I've pretty much lost all hope in any major contributions from Michael Turner. That theory was proven wrong and Michael Turner looked like he was three years younger last Sunday.
He was breaking tackles and showed more aggressiveness in hitting the hole, which was something that was missing for the majority of the season. It was shocking to see Turner averaging seven yards a carry after so many frustrating performances this year. It seemed as if the reduced carries this season had him fresh for the playoffs to carry the load if needed.
San Francisco has a much better run defense than Seattle, but last Sunday had to give Atlanta fans some hope that he could continue running hard like that going into next week. He's still one of the toughest running backs to tackle, especially in open space. With only 222 carries this season, it was clear that he was well rested and ready to dish out some punishment.
The reason Turner is on the list and not Jacquizz Rodgers is because the 49ers play the screen really well and rarely allow any explosive plays from teams running the ball. Rodgers will get his chances, but for the Falcons to get production from the running game, it will be with Turner moving the chains and keeping the 49ers defense guessing.
Harry How/Getty Images
Crabtree went on a tear in December and it didn't stop against Green Bay.
Many San Francisco fans were growing impatient of Michael Crabtree. He showed flashes of being worthy of a top ten pick, but he couldn't put it all together in his first three seasons. It was finally this season where he became the number one receiver that the 49ers envisioned he would be when they drafted him.
Crabtree always had the size, speed and hands to be a star receiver that could be leaned on when needed. He has finally become that with Colin Kaepernick at quarterback.
They have really started to click. Crabtree is actually starting to become a number-one wide receiver rather than just a side man that makes a few plays a game.
The two stats that prove their great chemistry is that Crabtree has had four 100-yard games in the last six games. He's also had seven or more receptions in five of his last six games. Those numbers really tell the story how much they have clicked and now Crabtree has become a player that teams have to game plan for to stop.
Despite the recent success of the 49ers offense, the other wide receivers aren't exactly the best supporting cast for the 49ers. Randy Moss can't create separation anymore, Mario Manningham is out for the playoffs, Ted Ginn isn't very good and A.J Jenkins hasn't adjusted to the NFL yet.
Other than Kaepernick's feet and possibly Vernon Davis, Crabtree will receive most of the attention from the Falcons secondary. Not to mention, he may be matched up against the last guy on the list to watch for, who's known for his big games in the playoffs.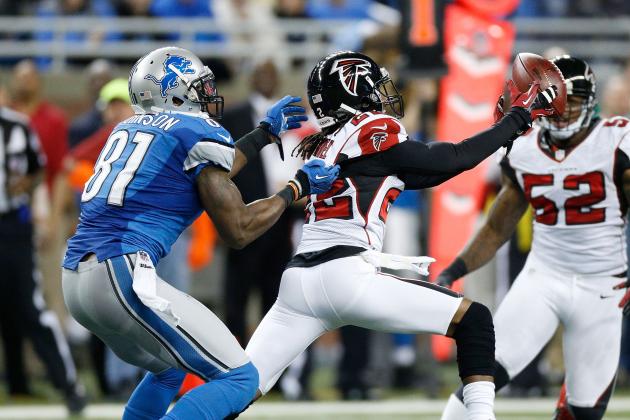 Gregory Shamus/Getty Images
Even at age 32, Samuel remains to be one of the top ballhawks at cornerback in the NFL
Once players hit 30, many players at skill positions begin to decline. Now it can't be denied that Asante Samuel has lost his shutdown coverage ability. He's not the same elite cornerback he was from 2005 to 2010 but he's nowhere near a steep decline as Andy Reid infamously said last July. He is still the same cornerback that tends to gamble, but makes up more then enough of it with his play.
We've seen the collapse of Philadelphia Eagles over the past few seasons and how poor their organization is with making offseason moves. The fact that they gave up Asante Samuel for as little as a seventh-round pick will go down as one of the most one-sided trades in the past five years.
Despite missing a few games in November, Samuel had five interceptions and 19 passes defensed, proving that he was nowhere near on a "steep decline." After the devastating season-ending injury to Brent Grimes in Week 1, Samuel was put in position once again to be the number one cornerback. He may not have the cover ability that Grimes has, but Samuel stepped up and played up to expectations.
Unlike most of the Falcons roster, Samuel has loads of playoff experience with seven interceptions in 20 playoff games. He has made game-changing plays in the playoffs and he'll be in position to do it again covering Michael Crabtree and Randy Moss. With how good both teams are, it may take a Samuel interception to boost the Falcons' chances at going to the Super Bowl.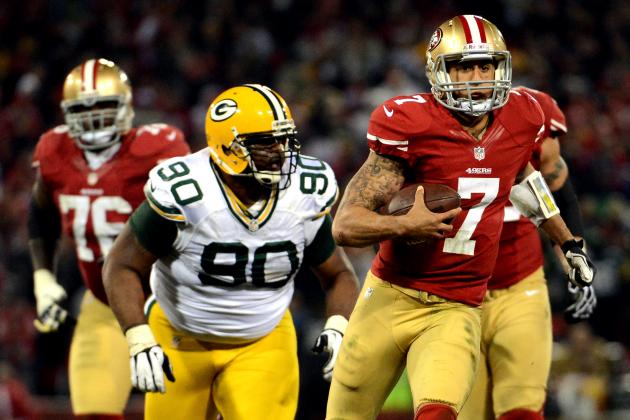 Harry How/Getty Images
Kaepernick's speed will be a difference maker as you would expect.
I've been struggling to make a prediction but I'm going to stick with my Super Bowl pick. Atlanta has proven that they are legit and can't be ever counted out. Despite the collapse, the defense played an excellent three quarters against Seattle and proved that they can be physical by shutting down Marshawn Lynch.
San Francisco has been considered the best team in the NFC all year long and have proven it with a couple of huge wins in the regular season. The wins over New England and Green Bay show that they can beat even the best teams on the road. Also, they made a statement last week against the Packers after many analysts predicted Green Bay to win.
I'm not expecting a shootout unlike many people are predicting. The Falcons offensive line will hold back Atlanta at times and I see them going one-dimensional with the running game being shut down. San Francisco will also struggle at times with Atlanta's unpredictable defense causing problems. It will be more defensive than people think.
I'm going to pick the 49ers, which has been the team I've been saying will make the Super Bowl ever since November. Atlanta has a special team and are more than capable of proving me wrong, but San Francisco's pass rush and running game will be just enough.
San Francisco 23, Atlanta 20
Allen Strk is a columnist on Bleacher Report. You can read more of my work atTJRSports.com covering NFL, NBA, and MMA. You can follow me at @Allen_Strk on Twitter or e-mail questions/comments at AStrk19@gmail.com.