5 Players Who Need to Step Up for the Blackhawks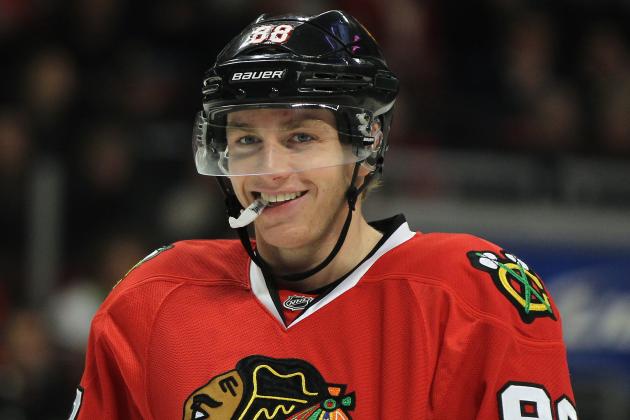 Jonathan Daniel/Getty Images

The Chicago Blackhawks have a lot to prove this upcoming season.
Failing to make it past the first round of the playoffs the last two seasons, the Blackhawks are expected to take advantage of a 48-game schedule.
While it may be a disadvantage for most teams to play back-to-back games a couple of times a week, the Blackhawks are young enough, hungry enough and prepared to tackle what comes their way.
That's not to say injuries won't happen—luck will have to be on their side for a few games—but the 'Hawks have all the skill and ability to push through and become a top Western Conference team.
To be that top team, the Blackhawks will have to rely on a few key players to lead their roster. These key players can be great point producers or role players—it doesn't matter—everybody has a part in making this season successful.
There have been a few players that have underperformed, and because of that, the 'Hawks have faltered in past seasons.
These are the five players who need to step up for the Chicago Blackhawks to reach their potential.
Begin Slideshow

»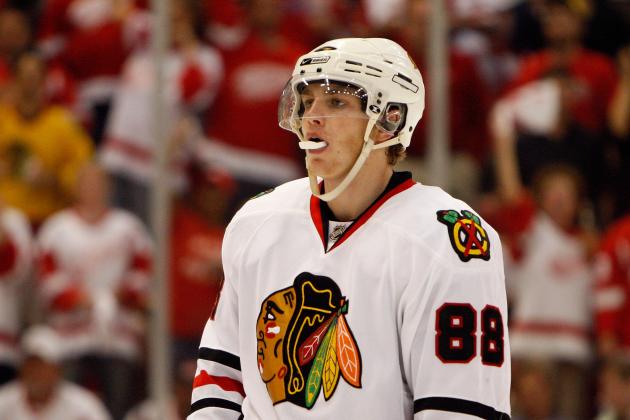 Gregory Shamus/Getty Images

Since winning the Stanley Cup, Patrick Kane's point production has slowly been declining with each passing season.
Last season, Kane had 66 points in 82 games, which was low, in part, because Kane switched between center and wing for a better part of the season.
But this season, Kane is expected to start on the second line as the right wing, his natural position for the Blackhawks. He will be expected to put up at least a point a night; anything less may make him trade bait for the organization.
But not to get too far ahead, Kane has the potential to be that superstar for the Blackhawks. He has the potential to reach 100 points in a season, but obviously not in this shortened season.
Consistency will be key, as his production tends to dwindle off during the middle of a long season. Understanding how to play defense and backcheck will also go a long way in improving his stance in the organization.
But the main thing for Kane is offensive production—put up enough points and people will forget about his lack of defense.
Let's just hope for the Blackhawks' sake that Kane can put up some big numbers this season.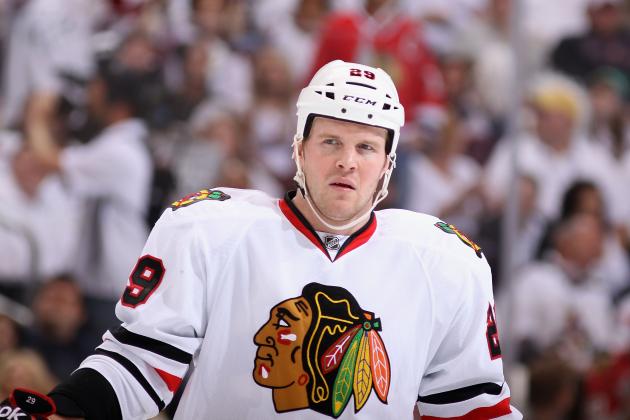 Christian Petersen/Getty Images

Bryan Bickell has been somewhat of a mystery for the Chicago Blackhawks.
While big and expected to be in front of the net this season, Bickell has been very inconsistent in his first full two seasons with the Blackhawks.
Scoring 37 points in 78 games in the 2010-2011 season, Bickell followed that up with 24 points in 74 games last season.
The lack of production from Bickell irritated coach Joel Quenneville, who at times last season decided to bench him (via The Chicago Sun-Times).
The winger talked about his experiences in Europe and how he needs to improve heading into the season, (via Chris Kuc of The Chicago Tribune):
My first year was a good year (and) last year was a little speed bump. Being overseas and coming into this season where I am now, I feel good and I need to … help this team out. I need to bring it every game, no shifts, no days off. I have to be mentally focused. This is an important year for me and for the team. Forty-eight games is a lot different than 82. We need to have a good start and so do I.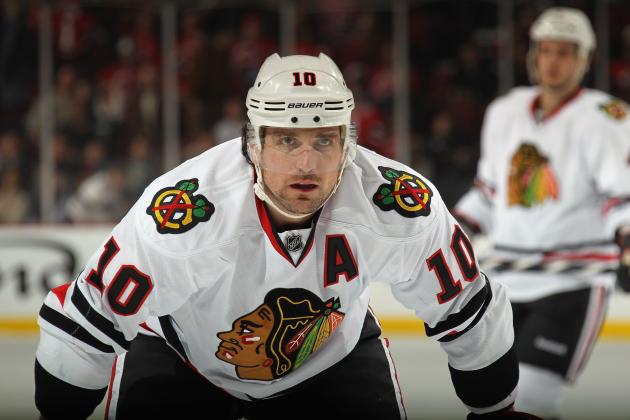 Bruce Bennett/Getty Images

Patrick Sharp will be expected to continue his high-point production on the Blackhawks' first line.
As one of the assistant captains for the Blackhawks, Sharp will also be expected to set an example for rookies and younger players.
Scoring 69 points in 74 games last season, Sharp will be expected to step up each and every night.
But the challenge shouldn't be a hard one for Sharp, who has been the Blackhawks' most consistent player over the years. His point production has been steadily rising each season and this year looks like it will provide more of the same.
But if Sharp is injured or his play suffers from the shortened season, the Blackhawks may be fighting to make the playoffs.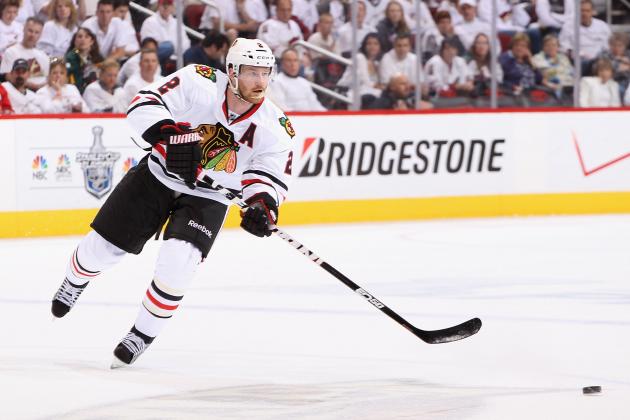 Christian Petersen/Getty Images

Considering that Duncan Keith is the Blackhawks' top defenseman, his play on the team dictates other players' game paces.
Keith has been another player that has seen a steady decline in production since winning the Stanley Cup—more reason to believe that Keith's statistics were supplemented by the depth of the Stanley Cup winning team.
Aside from production, Keith's defensive play has also been lacking, more specifically his play inside the defensive zone.
Call it a Stanley Cup hangover, Keith has to regain his defensive form in order for this team to be successful. It's imperative that he lead the back end against some of the more offensively-gifted NHL teams.
Yes, it takes six healthy defensemen to play every game, but Keith is an example to the other five on the team.
Brent Seabrook, Nick Leddy, Niklas Hjalmarsson, Johnny Oduya and Sheldon Brookbank all look to their top defenseman for leadership—same is true for Jonathan Toews and the forwards.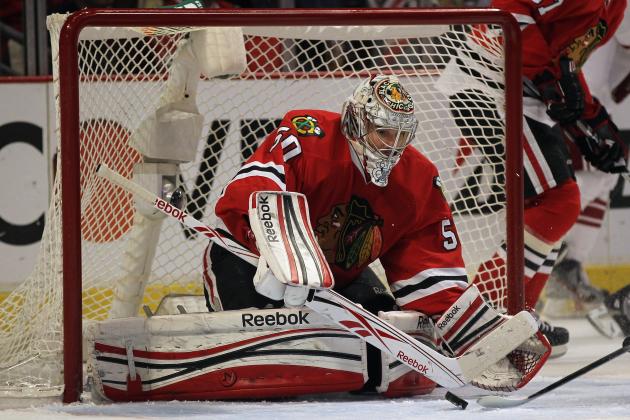 Jonathan Daniel/Getty Images

Goaltender Corey Crawford will be the key player for the Chicago Blackhawks.
His play will dictate pace, how well this team does down the stretch and even momentum swings on the players.
But last year was less than stellar for Crawford—his inconsistency plagued sophomore season.
Yes, I could say that Ray Emery will also be a key player for the Blackhawks, but as of right now, Crawford is their No. 1 guy. Not much more can be said if Crawford fails to live up to expectations and has the same kind of season as he did during his rookie campaign.
Follow James Maahs on Twitter for all the latest on the NHL and Chicago Blackhawks.