Detroit Pistons: How the Playoffs May Not Be Considered Mission Impossible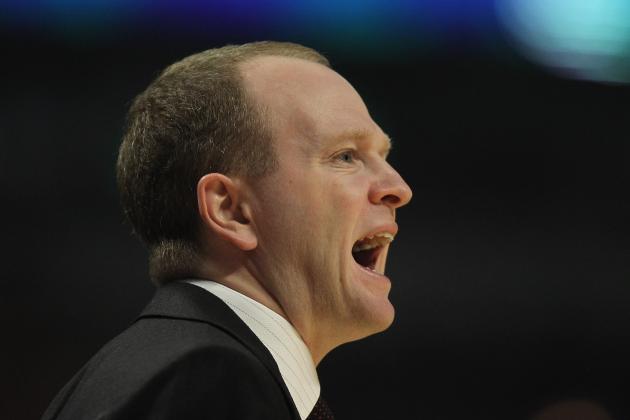 Jonathan Daniel/Getty Images

Currently the Detroit Pistons sit in 10th place in the Eastern Conference playoff picture with a 14-24 record. The Pistons' record looks abysmal, but that is part of starting off the season with a 0-8 record and then having another six-game losing streak. Then you notice that, even after all that, the Pistons are 7-3 in their last 10 games and only 5.5 games back, and you start to wonder if they actually have a chance to sneak into the eighth seed before the end of the season.
I'm usually of the belief that if a team loses in the first round of any playoff series then they would have been better off being a lottery team and taking the best player in the draft. However, I do have certain exceptions and the 2012-13 Pistons are one of them.
This once-proud franchise has taken a beating over the past couple of years with the dismantling of the Chauncey Billups-led teams, owner William Davidson's death and the inability of the Pistons President of Basketball Operations, Joe Dumars, to make any moves while the team was for sale. It's no surprise that the Pistons have struggled over the past few years, but there is finally light towards the end of the tunnel for this young team.
This Pistons team has the right mix of veterans and young players coming together under head coach Lawrence Frank and could greatly benefit from the confidence and experience of making the playoffs this season. While the Pistons would most likely lose in the first round, it would show the team that with a few key moves in the future, they are headed on the right path.
Here are six reasons why the Pistons could sneak into the playoffs.
Begin Slideshow

»
Charlie Villanueva was signed to a five-year, $35 million free-agent deal in the summer of 2009. Unfortunately, he was never going to be able to live up to contract since heightened expectations were placed on him. Fans believed that Villanueva was going to be a star and when he had a rough first three seasons in Detroit, the fans put all the blame on him.
The criticism of Villanueva really came to a head when he missed significant time due to an ankle injury in the lockout-shortened season. Once he returned, he only played sparingly and Frank didn't seem to trust him in his system. Fans were calling for Villanueva to be used as the Pistons' amnesty choice, which would have allowed the Pistons to cut him and remove him from their cap.
Then this past summer he got cut from the Dominican Republic national team for supposedly being overweight. To Pistons fans, it looked that Villanueva didn't care enough about basketball and that he didn't take care of himself. Forget that there are always two sides to every story, fans had already made up their mind about him.
At the beginning of this season, Villanueva worked very hard to get in shape and earn Frank's trust. After playing in only two of the first 13 games, Villanueva has played in the last 26 games in a row and is giving the team a solid effort.
Villanueva's stats explain him perfectly—he won't win a game on his own for the Pistons, but he'll provide a solid contribution and won't cost the team a game either. He can help the other players keep their minutes down as the Pistons make their run towards the playoff picture.
Will Bynum, the backup point guard for the Pistons, got a lot of accolades for his play against the Miami Heat on December 28th after his 25-point and 10-assist performance, helping the Pistons defeat the defending champions. The funny thing is that while that game got him a ton of media attention, he's been quietly helping the Pistons all season long.
Since Bynum was undrafted, I believe he has constantly felt the need to fight for his place in the NBA. He realizes that he needs to play hard and contribute in any way he can, whether it's scoring off the bench or just giving the starters a chance to rest.
I thought last year that Bynum would have a huge impact on the Pistons, but I guess I was one year off.
I believe Bynum will have his minutes increased the rest of the season since good things happen when he's on the court, and this will only be a positive for the team.
Greg Monroe has been very impressive this year and has continued to get better in his third NBA season. I've heard fans get on the 22-year-old for not doing more, which is quite laughable since he's a victim of his own success and fans take his stats for granted. He's averaging close to a double-double since the start of last season.
Monroe is one of the most consistent Pistons and, more often than not, he can be penciled in for a double-double regardless of the opponent. Maybe it's because of how natural Monroe looks out on the court that sometimes he seems to be coasting, but he will always give maximum effort.
While his statistics are very similar to last season's numbers of 15.4 points per game and 9.7 rebounds, I believe that the most telling numbers are his assists, which are up from 2.3 last year to 3.2 this year.
I would expect his assist totals to rise since coming out of college. At Georgetown, Monroe was known as a very unselfish player who was considered a very good passer for a big man.
In his first two seasons, Monroe showed brief spurts of his passing ability, but I believe this year he's finally trusting his teammates around him to make plays when he's double-teamed or can't get off a clear shot.
If Monroe continues to play smart basketball and cut down on his turnovers, he can carry the Pistons throughout the rest of the season.
When the Pistons drafted rookie center Andre Drummond, 19, with the ninth overall pick, no one knew exactly what to expect from him this year. The Pistons thought he would have a learning curve in the NBA and that, because of his age and raw skills, he would need time to develop.
One of the reasons Drummond dropped to the Pistons was because of how he looked on the court, with fans and scouts questioning if he actually cares. This argument is grossly inaccurate as he works hard and is showing strong improvement with his offensive skills.
Drummond has all the tools to be a top-three center in the NBA and the sky is the limit for him. He has very rare athleticism and can already control a game defensively with his shot blocking and rebounding. This earned him the respect of the coaching staff and they are trusting him more and more in games.
To help keep things in perspective, as impressive as Drummond's stats are he is still averaging less than 20 minutes per game. I expect that his minutes will keep going up and that he will eventually earn his place in the starting lineup.
Drummond's skills will complement Monroe's game very well and will make teams think twice about attacking the Pistons in the paint.
Before this season, if you asked any Pistons fan what they thought about Austin Daye, chances are they would have called him a draft bust.
In Daye's first three seasons it was tough watching the 6'11 forward play, which wasn't often. You wanted him to take advantage of his mismatches at the three spot but he never could exploit the size difference.
This season started off rough for Daye as he only played in five of the first 26 games, and the most he played in those games was seven minutes. Since December 17th, though, he's appeared in every game and doesn't look as lost on the floor.
Cynics may say that Daye isn't playing for what he contributes, but for the Pistons to boost his trade value.
Marc Spears at Yahoo! Sports mentioned that the Pistons were shopping him, but I highly doubt Frank would put him in the lineup for that reason.
So far in January, Daye is averaging 9.0 points per game. While he won't make a huge impact, any contribution he makes is an added bonus for the Pistons' playoff push.
While the jury is still out on whether Lawrence Frank can be a championship-winning coach, he is the right fit for this Pistons team.
The reason why I believe Frank will be an asset for the rest of the season is that he preaches accountability on defense first. The Pistons have needed an identity since Chauncey Billups got traded and Frank gives the Pistons that.
One of the things I love about Frank is he doesn't care who his players are, as long as they play hard. Frank has shown a willingness to change his lineups based on the players' hard work. Examples of this are Villanueva and Daye getting a chance to contribute after not playing much last season or early this season.
Adrian Wojnarowski at Yahoo! Sports details wonderfully why the Pistons' President of Basketball Operations, Joe Dumars, thought Frank was the correct fit after going through so many coaches since Larry Brown left.
As much as anything, Dumars needed to find a coach to tether his rebuilding process. Frank is the complete opposite of Dumars' Hall of Fame playing pedigree. He's a former student manager who worked his way through the scouting and assistant coaching ranks. Nevertheless, Frank offered Dumars something that his program desperately needed: an aggressive, day-to-day dose of player development and coaching fervor.

Few coaches are as organized and detailed as Frank, few as devoted to the grind of the craft. "I can live with the fact some players work out, some don't," Dumars says, "but I really wished I could've settled on a coach, and not to chase the 'win-right-now-at-all-costs' period that we went through."
This type of coaching hasn't been seen in Detroit since Brown and will be a welcome sight going forward. The Pistons may turn some heads with their style of play as they try and muscle their way into the playoffs.