2013 NFL Mock Draft: Projecting the First 2 Rounds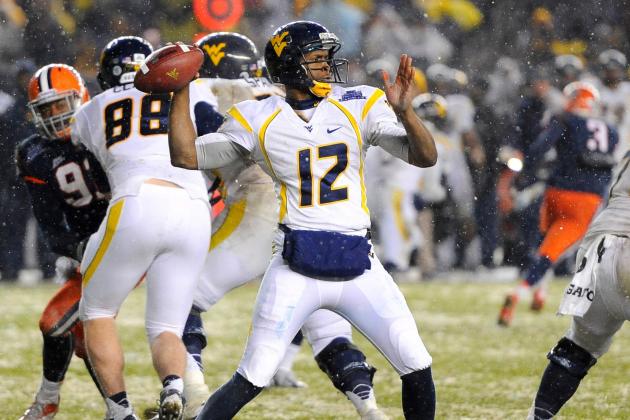 Rich Barnes-USA TODAY Sports

The 2012 NFL season is soon coming to an end, and college All-Star games have begun. Underclassmen are now declaring for the 2013 NFL draft as well, and this all means one thing: Mock draft season is here.
For fans of some NFL teams, the draft is the only real reason to get excited about their team each offseason. The addition of a stud college player always offers a vast amount of hope to even the most dismal of franchises. The draft offers a moment of hope where all fans can be irrational, ignore all the evidence available and proclaim that the pick their team just made will have them contending for a Super Bowl in the near future.
Here, I am going to execute a mock draft using a few essential criteria.
I will look at draft order and team needs, and I will use a blend of the "best player available" approach in conjunction with each team's most urgent need to make their selection. The draft order is based on the current draft order entering the NFL's conference championship weekend.
Read on to see my full two-round 2013 NFL mock draft.
Begin Slideshow

»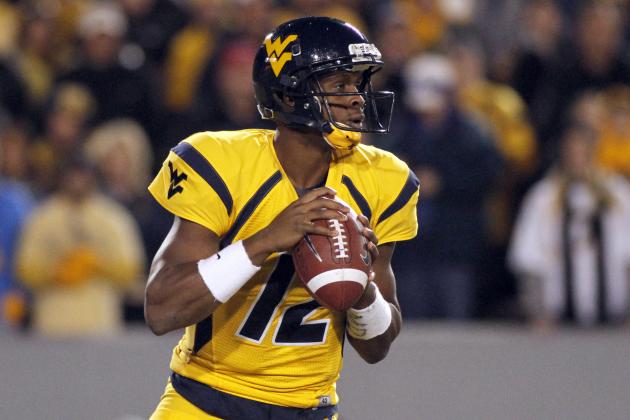 Justin K. Aller/Getty Images

1. Kansas City Chiefs: Geno Smith, QB, West Virginia
Smith is a very accurate passer and is an immediate upgrade over the quarterbacks the Chiefs have on their current roster. He has great upside and will immediately help a team that desperately needs better quarterback play.
2. Jacksonville Jaguars: Bjoern Werner, DE, Florida State
Werner is a terror at the edge of the defense. He has the size and power to bull-rush opponents and the quickness to bend around the edge and get to the quarterback.
3. Oakland Raiders: Star Lotulelei, DT, Utah
Lotulelei is a massive interior lineman with an incredible get-off and the power to disrupt the opposing team's backfield. He is going to anchor an NFL defensive line for many years.
4. Philadelphia Eagles: Luke Joeckel, OT, Texas A&M
Joeckel dominated SEC competition in 2012, and that says enough about the most talented tackle in the draft. He is a finesse tackle, but the Eagles are rebuilding, and starting with the draft's best available left tackle is a smart move.
5. Detroit Lions: Damontre Moore, DE, Texas A&M
Moore might be the best pass-rusher in the draft. He brings an element that the Lions are going to need after a tumultuous offseason.
6. Cleveland Browns: Kenny Vaccaro, S, Texas
The Browns play in a division with receivers like Mike Wallace, Torrey Smith and A.J. Green. The addition of a player like Vaccaro helps the back end of the defense in a big way.
7. Arizona Cardinals: Eric Fisher, OT, Central Michigan
The Cardinals need to add some talent on their offensive line. Adding Fisher does that, and he provides great value at this point in the draft.
8. Buffalo Bills: Keenan Allen, WR, California
Allen will pair with Stevie Johnson to give the Bills a lethal combination for quarterback Ryan Fitzpatrick. The Bills need a playmaker in this draft to help their offense, and Allen is exactly that guy.
9. New York Jets: Jarvis Jones, OLB, Georgia
Jones has spinal stenosis, and the neck issue has teams concerned. But his ability to get to the quarterback is undeniable. He is a bit of reach here due to medical concerns, but there is no doubt that he is one of the top overall talents in the draft, and the Jets need to apply more pressure on the quarterback.
10. Tennessee Titans: Dee Milliner, CB, Alabama
The Titans get the draft's best cornerback in Milliner. He is a player that fills a big need and is the best player available at this point.
11. San Diego Chargers: Sheldon Richardson, DT, Missouri
Richardson fits a huge need for the Chargers, as they struggled to get solid defensive tackle play in 2012. Richardson stabilizes the defensive line immediately.
12. Miami Dolphins: Robert Woods, WR, USC
Woods enters the picture in Miami and adds talent to the Dolphins' lackluster group of wide receivers. He is a reliable, talented player that quarterback Ryan Tannehill can depend on immediately as well as going forward.
13. Tampa Bay Buccaneers: Johnthan Banks, CB, Mississippi State
Banks gives the Buccaneers a cornerback with great size at 6'2" and 185 pounds. He has the mentality to step up and defend the run and the coverage skills needed to be solid against the pass. Cornerback is also a huge position of need for the Bucs after the trade of Aqib Talib to New England from this past season.
14. Carolina Panthers: Johnathan Hankins, DT, Ohio State
Hankins is a monster in the middle of the defensive line, and he is the perfect player to fit the Panthers' defensive scheme. The Panthers need better play out of the middle of their defensive line, and Hankins can provide that.
15. New Orleans Saints: Dion Jordan, DE, Oregon
Jordan is an athletic freak with long arms and an impressive burst off the edge. The Titans need to get more pressure on the quarterback, and Jordan gives them that ability.
16. St. Louis Rams: Chance Warmack, OG, Alabama
Warmack is the best interior offensive lineman to enter the draft in recent memory. He would step in, start immediately and upgrade the Rams' porous offensive line.
17. Pittsburgh Steelers: Jesse Williams, NT, Alabama
Williams can step in with great size and play right away for the Steelers. He also is a player who can replace the aging Casey Hampton going forward.
18. Dallas Cowboys: Sam Montgomery, DE/OLB, LSU
The Cowboys get a player that can threaten the edge of the defense, and that weapon is crucial while playing in a division with quarterbacks like Robert Griffin III and possibly Michael Vick.
19. New York Giants: Ezekiel Ansah, DE, BYU
Ansah is young to the game of football, but he has displayed the skills to hurt college offenses from multiple positions. The Giants get another utility player that can get to the quarterback and disrupt offenses in Ansah.
20. Chicago Bears: Manti Te'o, ILB, Notre Dame
Te'o is a talented player with solid coverage skills as an inside linebacker. He brings playmaking ability to the Bears and can replace the aging Brian Urlacher.
21. Cincinnati Bengals: Barkevious Mingo, DE/OLB, LSU
Mingo has the potential to be a steal because of his skills in terms of rushing the passer. He is raw, but he has great length, and the Bengals could simply unleash him with talent like defensive tackle Geno Atkins eating up space on the inside.
22. St. Louis Rams (via Washington Redskins): Tavon Austin, WR, West Virginia
Austin is a gifted playmaker who can help the Rams offense in multiple ways. He is a matchup nightmare because of his speed, and he can be an asset to the Rams as a slot receiver, a running back and in the return game.
23. Minnesota Vikings: Terrance Williams, WR, Baylor
The Baylor product is a nightmare when he has the ball in his hands, and his speed is something that the Vikings can use to open the field for running back Adrian Peterson.
24. Indianapolis Colts: Jonathan Cooper, OG, North Carolina
Cooper is an elite senior interior lineman and a solid player that the Colts can add to their offense.
25. Seattle Seahawks: Quinton Patton, WR, Louisiana Tech
The Seahawks have their "X" receiver in Sidney Rice, but they need a solid complement on the other side of the field as well. Patton is one of college football's best senior wide receivers, and he would be a big upgrade to the Seahawks' passing attack.
26. Green Bay Packers: Zach Ertz, TE, Stanford
The Packers may be moving on from current tight end Jermichael Finley, and the Packers would need to replace his production in their offense. Ertz is a nice addition here.
27. Houston Texans: Oday Aboushi, OT, Virginia
The Texans have a need on the offensive line, and Aboushi fills that need. He is a big tackle with the frame to get even bigger.
28. Denver Broncos: Kawann Short, DT, Purdue
Short has the ability to penetrate gaps and eat space up for Denver's other defensive players.
29. Baltimore Ravens: Alec Ogletree, LB, Georgia
Ogletree is a player who can play in different alignments and be productive. He is a physical striker, and the Ravens are looking to replace the retiring legend Ray Lewis.
30. San Francisco 49ers: Brandon Jenkins, DE, Florida State
The 49ers are a difficult team to project players to because they have talent everywhere. Jenkins helps to get pressure on the quarterback from the linebacker position.
31. New England Patriots: Xavier Rhodes, CB, Florida State
Rhodes is a big cornerback who can play a very physical brand of football. The Patriots could use his size and skill in their secondary.
32. Atlanta Falcons: Corey Lemonier, DE, Auburn
The Falcons have a few aging players, and they need to address a few of these positions. Defensive end John Abraham's best days are behind him, and the addition of Lemonier helps the Falcons pass rush.
Nelson Chenault-USA TODAY Sports

33. Jacksonville Jaguars: Tyler Wilson, QB, Arkansas
I am not sure if the experiment with Blaine Gabbert is over, but if the Jaguars can add Wilson, they should. He is an excellent quarterback with a lot of upside.
34. Kansas City Chiefs: Kevin Minter, ILB, LSU
Minter is a big, athletic linebacker who can make plays from the inside linebacker position.
35. Philadelphia Eagles: Matt Elam, S, Florida
The Eagles did not get very good safety play in 2012, and Elam is an automatic upgrade.
36. Detroit Lions: Eric Reid, S, LSU
The Lions really need some help at the safety position. For starters, Amari Spievey has a very bad concussion, and there is some thought that he may not return. Reid would be an instant starter for the Lions.
37. Cincinnati Bengals (via Oakland Raiders): Giovani Bernard, RB, North Carolina
Bernard has explosion in his game that the Bengals do not get from their current running back group.
38. Arizona Cardinals: Mike Glennon, QB, North Carolina State
Glennon is a developmental player, but there are a lot of things to like in his game. He is very raw, but he is a player with very good upside, and there are concerns with the current Cardinals quarterback group.
39. Cleveland Browns
This pick was forfeited due to the selection of Josh Gordon in the supplemental draft in 2012.
40. New York Jets: DeAndre Hopkins, WR, Clemson
The Jets need a player who can make plays down the field. Hopkins can be that guy, as he is explosive and capable of hitting the home run for them.
41. Tennessee Titans: Khaseem Greene, LB, Rutgers
Green is a very solid outside linebacker and a very productive player. He can help the Titans linebacker group right away.
42. Buffalo Bills: Ryan Nassib, QB, Syracuse
The Bills need to develop a young quarterback, as current starter Ryan Fitzpatrick is not getting the job done. Nassib is moving up draft boards, and he is a player that can sit on the bench for a season and then take the job away from Fitzpatrick.
43. Miami Dolphins: Tyler Eifert, TE, Notre Dame
Quarterback Ryan Tannehill and the Dolphins really need a tight end to get the ball down the seams, and even more importantly, someone who can help in the red zone. Eifert fills a massive need and provides tremendous value for the Dolphins at this point in the draft.
44. Tampa Bay Buccaneers: David Amerson, CB/S, North Carolina State
Amerson played at cornerback in college, but a transition to safety would be best for him at the NFL level. If he is paired with Mark Barron, the Buccaneers would have a fantastic pair of safeties who can play the deep half of the field and step up to defend the run.
45. Carolina Panthers: Cordarrelle Patterson, WR, Tennessee
Patterson has a great blend of size, speed and athletic ability, and a team like the Panthers could really use him to stretch the field.
46. New Orleans Saints
This pick has been forfeited due to the Bountygate scandal.
47. San Diego Chargers: D.J. Fluker, OT, Alabama
Fluker is a dynamic right tackle with incredible size. He will stabilize the Chargers offensive line.
48. St. Louis Rams: Lane Johnson, OT, Oklahoma
Johnson fills a massive need for the Rams, and with Johnson they will have found their left tackle to play next to Warmack. The Rams need to solidify their offensive line and they have done that here with Johnson.
49. Dallas Cowboys: Sylvester Williams, DT, North Carolina
Williams is a player that can help the Cowboys up front on defense. He is a plug-and-play defensive tackle.
50. Pittsburgh Steelers: Tony Jefferson, S, Oklahoma
Jefferson has great physical skills and will step up and deliver a blow to a ball-carrier. He has great instincts and is athletic enough to make a difference immediately.
51. New York Giants: Justin Pugh, OT, Syracuse
The Giants have an aging group of offensive linemen, and the addition of Pugh helps the line get younger. He is a capable tackle and a player that the Giants can take their time with.
52. Chicago Bears: Ricky Wagner, OT, Wisconsin
The Bears need to find a way to keep their quarterback upright, and the addition of Wagner injects some young talent into the line.
53. Washington Redskins: Melvin White, CB, Louisiana-Lafayette
White is an upgrade for the secondary and has great size at 6'1" and 195 pounds. He is an athletic cornerback with very solid coverage skills.
54. Minnesota Vikings: Arthur Brown, LB, Kansas State
Brown can really run, and the linebacker group for the Vikings is aging. Brown is a nice addition here and provides great value.
55. Cincinnati Bengals: Dallas Thomas, OL, Tennessee
Thomas is a plug-and-play option for the Bengals along the interior of their offensive line. He is good value at this point in the draft.
56. Miami Dolphins (via Indianapolis): Sharrif Floyd, DT, Florida
Floyd is a very underrated football player and a plug-and-play piece for the Dolphins.
57. Green Bay Packers: Barrett Jones, C, Alabama
Jones has displayed the athletic ability to play all across the Alabama offensive line, but his real value comes when he is playing center.
58. Seattle Seahawks: Margus Hunt, DE, SMU
Hunt is an enormous football player with exceptionally long arms and good physical skills. He is another player who could step in and help right away.
59. Houston Texans: Da'Rick Rogers, WR, Tennessee Tech
The Texans need a player with some explosive skill to line up on the other side of Andre Johnson. Rogers is that player, and he has great size at 6'3" and 205 pounds with good athletic ability.
60. Denver Broncos: Datone Jones, DE, UCLA
Jones is a player who is very versatile. He can play in multiple positions in a variety of sets. Jones had a great senior season and is a good value late in Round 2.
61. Baltimore Ravens: Robert Alford, CB, Southeastern Louisiana
Alford is a small-school football player, but he is a baller. He will be participating in the Senior Bowl, and he will get to show off his skills on a the big stage. I fully expect him to show well against better competition, ultimately raising his draft stock. Simply put, Alford can flat-out play.
62. San Francisco 49ers: Marquess Wilson, WR, Washington State
Wilson is a dynamic player who excels in jump-ball situations and in spreading the field. Wilson is super thin and needs to add some bulk, but he is a very talented wide receiver.
63. New England Patriots: Brandon Williams, DT, Missouri Southern
Williams is a small-school product, but he is an athletic marvel. At 6'2" and 335 pounds, Williams is expected to run a sub-five-second 40-yard dash. He is a violent football player who set the school's sack record as a senior, playing all along the defensive line, but mainly from the nose.
Williams is a name to remember, as he is playing at the Senior Bowl, and a good performance there will send him rocketing up the boards, much like Dontari Poe last year after his combine performance.
64. Atlanta Falcons: Andre Ellington, RB, Clemson
The Falcons only have so much time left with current back Michael Turner. Backup running backs Jason Snelling and Jacquizz Rogers are adequate, but the Falcons need a primary running back to take Turner's job when he is done.