Fantasy Baseball: Projecting the First Player Taken at Each Position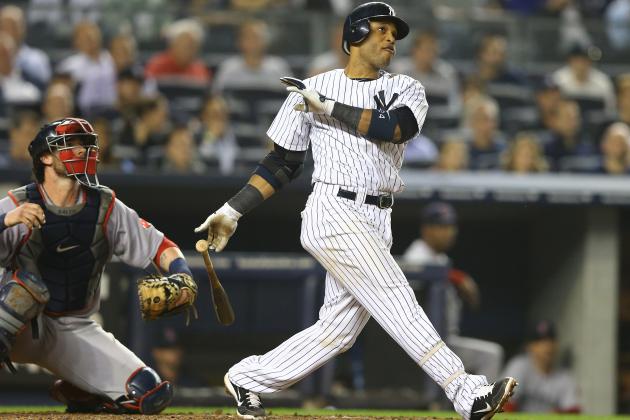 Al Bello/Getty Images
Robinson Cano is the top second baseman in fantasy baseball.
It's lonely at the top for these MLB stars entering fantasy baseball drafts as their position's top player.
There's still two months remaining to highlight all the late-round values, so how about spreading the love to the superstars who are the best at what they do?
Take a tip from someone else whose superior abilities trump the competition. Walter White, the protagonist turned villain from Breaking Bad, once asked, "Do you really want to live in a world without Coca-Cola?"
Well, do you really want to play in a fantasy baseball league without Robinson Cano as your second baseman?
These guys are the cream of the crop. You'll have to settle for RC Cola eventually, but it'd sure be nice to begin your draft with a refreshing can of Coke.
In some instances, the question isn't who will be the first player taken, but rather when the right time is to select him.
This overview speculates which players are likely to fall first most frequently in 2013 fantasy baseball drafts.
Begin Slideshow

»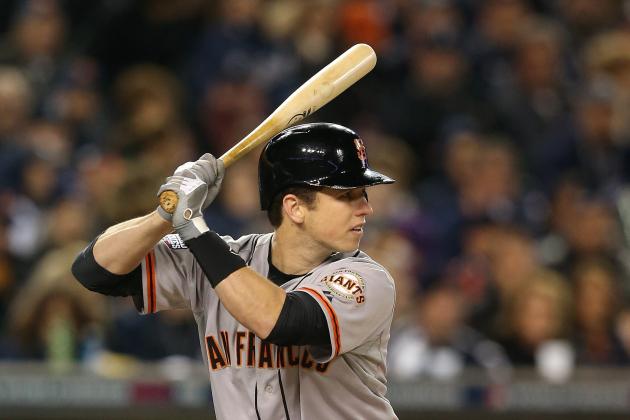 Ezra Shaw/Getty Images
Buster Posey will go very early in drafts this year.
This one's not really up for debate.
Fresh off seizing the 2012 National League MVP, Buster Posey is the clear choice as this year's No. 1 catcher. The crown is indisputably yours when you hit .336 with 24 home runs, 103 RBI and 78 runs.
Joe Mauer can't match the power, Matt Wieters' hype still exceeds the production, and Carlos Santana might never progress into a true stud unless your league counts on-base percentage instead of batting average.
Can Posey duplicate such unparalleled dominance over his position in 2013? Anticipate a little dip in the average, but he should still hit over .300 with at least 20 home runs.
Even with a drop-off, more than enough fantasy goodness should remain to keep Posey firmly on top of the catcher category.
With that out of the way, the dilemma of where to slot Posey in overall rankings still looms. Does he stack up as favorably against non-catchers?
Be careful how far you're willing to lunge for the top backstop. Many preliminary rankings tout him as a second-rounder, but he's more suited for third-round consideration.
After that, catcher gets very interesting. Cheat sheets will vary drastically following Posey's name.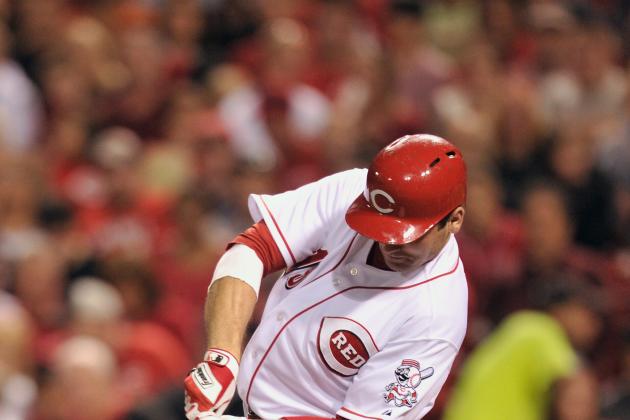 Jamie Sabau/Getty Images
Joey Votto is one of three first basemen worthy of a first-round pick.
A trio of star first basemen will vie for the No. 1 spot.
Joey Votto, Albert Pujols and Prince Fielder should all call the first round home in 2013 drafts, but which one earns the designation of having his name announced (or clicked) first?
With all of them existing in the same tier, the selection comes down to a matter of personal preference. Pujols has the track record, Fielder has the sky-high power potential, and Votto is the youngest of the bunch who will likely top the others in average and speed.
But this endorsement of Votto hinges on him regaining his power stroke that dissipated late last season. The 29-year-old has not cleared the fences since June 24.
A knee injury slowed down Votto, who hit 14 homers during the first three months and still finished 2012 with a .567 slugging percentage despite the late power outage. Had he stayed healthy, he would have prevented Posey from running away with the MVP trophy.
Although he'll probably still hit fewer homers than Pujols and Fielder, he'll make up for the disparity elsewhere. And he could easily match their tallies from last season by producing 30 round-trippers.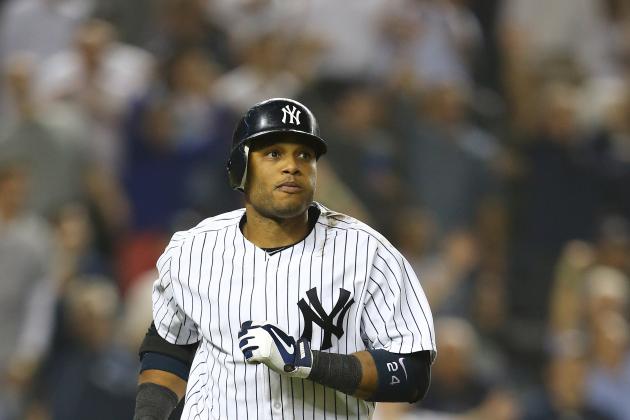 Al Bello/Getty Images
Cano should be the unanimous top pick at second base.
Another shoo-in as his position's top pick.
Cano's the king at second base, and nobody is coming for his crown anytime soon. His clear superiority to everyone else makes him a first-rounder worthy of top-five consideration.
Want someone who will play every day? Cano has missed six games in the last four seasons. Looking for a top slugger with a low floor? He's hit over .300 with at least 25 homers over those four years.
Cano, 30, is still progressing, coming off a season in which he posted a career-best walk rate, slugging percentage and OPS.
Once the fourth pick rolls around, it's not too early to mull over picking Cano, who definitely should not land outside the top 10.
Filling the second base slot might frustrate owners more than any other position this season. Ian Kinsler and Dustin Pedroia are both highly touted players, but neither is a flawless superstar.
If you don't obtain any second baseman early, your best hope is to bet on a resurgent season from Rickie Weeks, Dan Uggla or Chase Utley.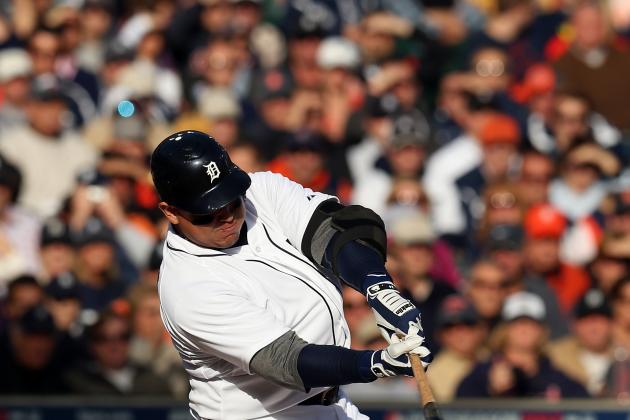 Jonathan Daniel/Getty Images
Triple Crown winner Miguel Cabrera is baseball's best power bat.
The position is deeper than usual at the top, but Miguel Cabrera still stands head and shoulders above the rest.
Cabrera crushed a career-high 44 homers and 139 RBI last year. He accompanied that with a .330/.393/.606 slash line, earning him the first Triple Crown since Carl Yastrzemski accomplished the feat in 1967.
If you take the worst numbers Cabrera has accumulated in each category through nine full seasons, you get a .292 hitter with 26 homers, 103 RBI, 85 runs and one stolen base (a bit surprising he hasn't gone one season with a goose egg in the steals column).
So combine his absolute worst numbers, and he's still really good. But none of those numbers were from the last four seasons, so that's not even an accurate worst-case scenario.
His sights are set higher, though, competing for a grander honor of top overall pick. While his four-category authority makes him a creditable option, the lack of speed should set him back to No. 2.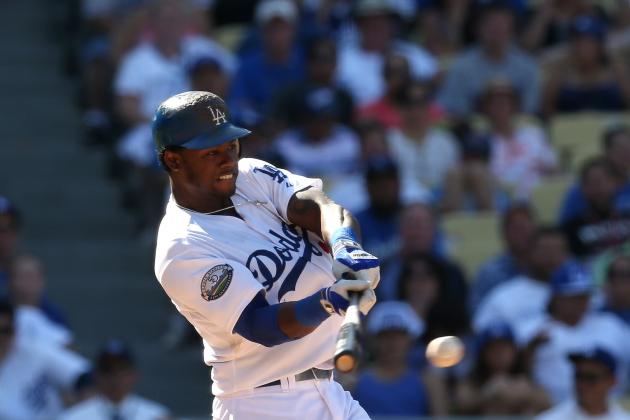 Stephen Dunn/Getty Images
Despite his struggles, Hanley Ramirez should still be the top shortstop.
There are four legitimate contenders for the top at shortstop.
Starlin Castro earns some votes, but his power hike is still unproven, and he stole bases at a highly ineffective rate. He should join the conversation only in dynasty leagues.
No longer the top speedster in baseball, Jose Reyes can still swipe 40 bags and notch 10 homers. Great, but great enough to keep him at the pinnacle of his position?
Troy Tulowitzki has been the man for years and could grab back his spot if he stays healthy. That's a big if, though.
Once a prime contender for the No. 1 overall pick, Hanley Ramirez is now holding onto top shortstop status for dear life.
After hitting .243 in 2011 and .257 last year, many drafters have already stripped the 29-year-old of that recognition. But don't give up on him just yet.
While Ramirez did not drag his .300 average out of hiding, he did rediscover his power, hitting 24 homers to give him his fifth 20/20 season in seven years.
Ramirez also receives a leg up on the competition because of his availability at another position. In addition to shortstop, owners can place him at third base, where he initially played to make room for Reyes.
But now shortstop is his again in Los Angeles, where he also gains an edge in the counting numbers with a stout supporting cast by his side.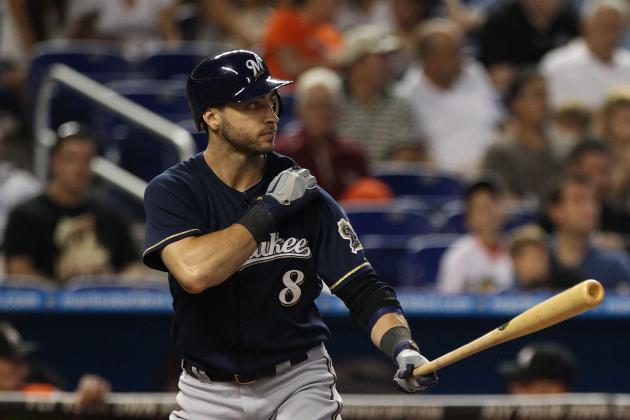 Marc Serota/Getty Images
Ryan Braun is the top outfielder, and overall player, in fantasy baseball.
Ryan Braun and Mike Trout will battle for the lead role in the outfield, and the winner can advance to make a case for No. 1 overall.
Before allotting careful deliberation over the issue, Trout might seem like the slam dunk choice. He hit .326 with 30 homers and 49 steals, and he's only 21 years old. What's not to like?
Sure, Trout's awesome, but Braun had a monster season of his own that adds to a prestigious resume.
Braun amassed a .319/.391/.595 slash line with 41 home runs, 112 RBI, 108 runs and 30 steals. Since he won the MVP the previous year and narrowly escaped a 50-game suspension for PEDs on a technicality, his success fell under the radar.
He's also held a spot at the top for a while, so his season did not offer the same excitement as Trout's rookie campaign. When hasn't Braun given fantasy owners exceptional production in all five categories?
There's some concern over his ability to deliver another 30-steal season, but Trout smacking 30 homers again is a much larger question mark.
So Braun is Coke, but Trout is Pepsi, which some consumers prefer.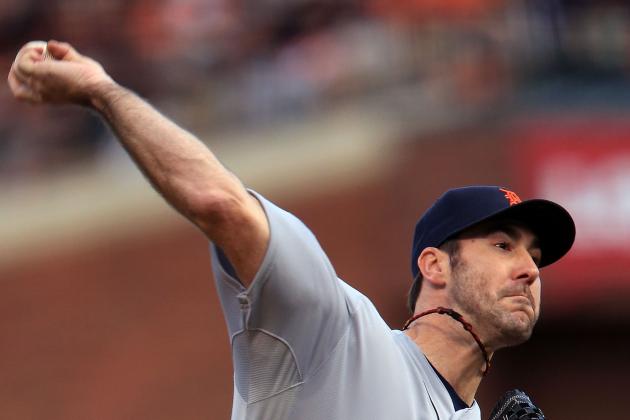 Doug Pensinger/Getty Images
Justin Verlander is a durable, reliable ace.
Eventually, someone will break from the pack and grab a pitcher after several star hitters find a team.
It might occur earlier than usual. There are a couple of aces whose dominance justifies consideration near the end of the first round.
Between Justin Verlander and Clayton Kershaw, who will go first?
While Kershaw is my choice for No. 1 by a slim margin, I'm in the minority. Verlander is much more likely to receive the No. 1 designation.
Verlander's high win totals over the years will sway many drafters. He's certainly earned them, but Kershaw should gross plenty of his own too with a revamped Dodgers offense backing him up.
But, hey, you should be just fine with either guy. Verlander has averaged 19 wins and 244 strikeouts with a 2.95 ERA over the past four seasons.
Since he's logged more than 200 innings in six consecutive seasons, the usual selling line used against pitchers is hard to implement on Verlander. He's every bit as reliable as a premier slugger.
Whoever snags Verlander could also start a domino effect, causing worried owners to jump for Kershaw, Felix Hernandez and other top hurlers.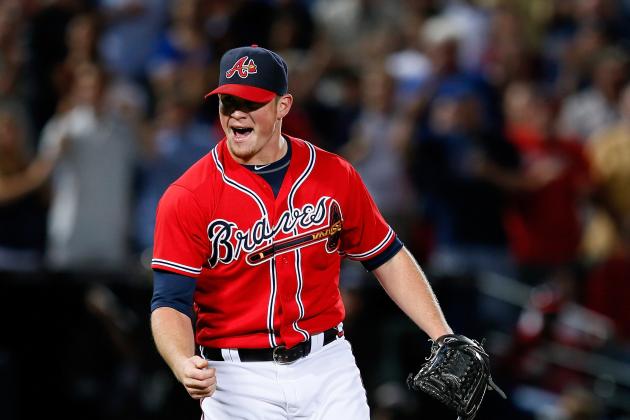 Kevin C. Cox/Getty Images
Should owners consider grabbing Craig Kimbrel early this year?
Craig Kimbrel could force many drafters to rethink the way they evaluate relief pitchers.
Most experienced fantasy gamers will stay away from closers in the early stages of the draft and pounce on cheaper options during the waning rounds. If that doesn't work out, there are always guys who pop up on the waiver wire.
Kimbrel, however, isn't your typical closer. He's a dominant force of nature who is leaps and bounds better than the rest (assuming Aroldis Chapman moves to the rotation).
Last season, Kimbrel posted a 1.01 ERA, 0.65 WHIP and 116 strikeouts in 62.2 innings pitched. He also saved 42 games, but jeez, that's a 16.67 K/9 ratio.
While it's hard to project that ERA and WHIP again, there's also no reason to view these stats suspiciously. Strikeout pitchers are much more adept at stranding runners to keep their ERAs low, and Kimbrel has slashed his walk rate significantly over the course of his three-year career.
Where will Kimbrel land in drafts this season? Is he the Rob Gronkowski of fantasy baseball, compelling everyone to discard conventional rules and reach for the star of a position usually ignored in the early rounds?
He currently sports a 58.97 average draft position at Mock Draft Central. At that point, it's time to consider breaking the rules and eying baseball's best closer.