New Orleans Hornets vs. Boston Celtics: Postgame Grades and Analysis for Boston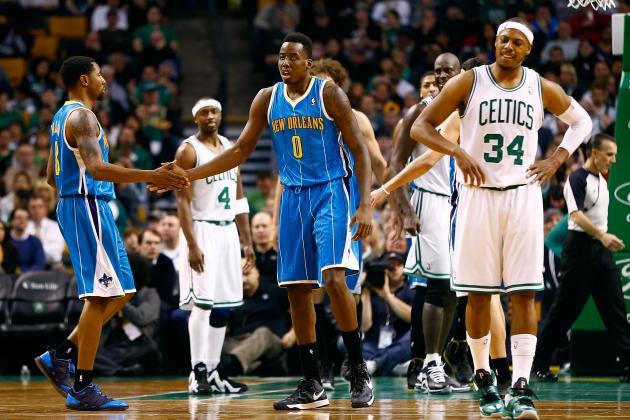 Jared Wickerham/Getty Images

The New Orleans Hornets put the brakes on a six-game Boston Celtics winning streak with an emphatic 90-78 win.
The effort was not there for the sleepy Celtics, as they fell to a storm of interior scoring from Robin Lopez and the New Orleans frontcourt. They dropped 48 points in the paint on Boston, while putting the clamps down defensively. Boston tallied only 15 points in the final frame.
Lopez tossed in 17 points, while Al-Farouq Aminu had a game-high 18. Greivis Vasquez absorbed the Avery Bradley buzz saw and came out the other side with 15 points and 11 rebounds.
In a losing effort for the home team, Kevin Garnett posted 15 points. There was little else to speak of for the Celtics, who were looking to make up some nice ground in the Eastern Conference playoff picture.
Boston falls to 20-18 and will take on the Chicago Bulls Friday night. New Orleans picked up the win to move to 13-26 on the season. They head home to face the Golden State Warriors Saturday.
Begin Slideshow

»
Rajon Rondo, PG, BOS: C+
Though he was flashy at times, this was just a ho-hum game from Rajon Rondo. Especially coming off of a triple-double against the Bobcats, Rondo should have been looking to again feast on the lowly Hornets.
He was largely able to slow Greivis Vasquez and Roger Mason in the backcourt, but some timely mistakes really hurt his team. An ill-advised jumper too early in the shot clock threw the Celtics out of rhythm while attempting their comeback.
Rondo finished with only seven points on 3-of-8 shooting and didn't aggressively go to the rim in the second half. He did finish with 11 assists, though it did his team little good.
Rondo should have sensed the way things were going at halftime and through the third quarter and taken some offense onto himself. Instead, he distributed, turned the ball over five times and the Celtics lost.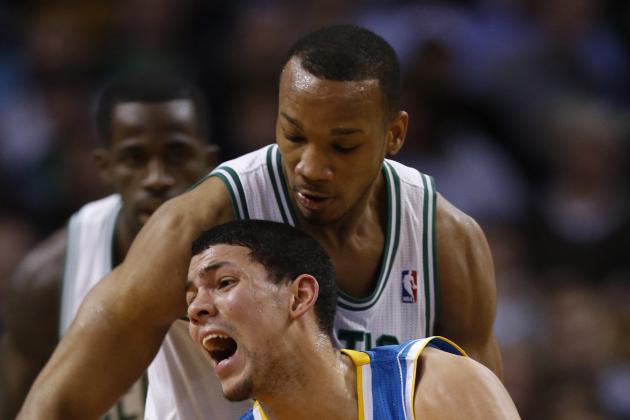 Greg M. Cooper-USA TODAY Sports

Avery Bradley, SG, BOS: D
Avery Bradley's defense was again heard from, but not consistently enough.
Greivis Vasquez, Bradley's main responsibility, shot just 5-of-16 from the field. Bradley hassled him all game long, but the Hornets' point guard made plays and showed real confidence in his game throughout.
Offensively, Bradley was unfortunately nonexistent. While he was on fire previously against Charlotte, it was a cold night at TD Garden Wednesday. Bradley finished 2-of-4 for just four points. He missed both of his threes, grabbed no rebounds and distributed just one assist in the game.
While he came away with three steals, he was forced to the bench in the fourth quarter. Jason Terry was giving Boston better and more successful offensive looks, and thus earned the crunchtime minutes.
Bradley's defense normally throws ball-handlers off their game. While Vasquez was clearly effected in his efficiency, he didn't let it get to him like a lot of guards have previously.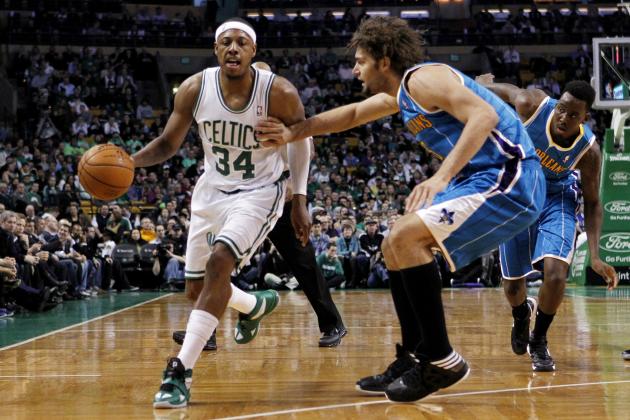 Greg M. Cooper-USA TODAY Sports

Paul Pierce, SF, BOS: C+
This was the second poor shooting night in a row for the Celtics' captain.
Paul Pierce finished just 5-of-16 for 12 points. On Monday night, he shot 6-of-16 from the field against the Bobcats. The difference in that game was Pierce played aggressively and attacked the basket. He shot eight free throws to only three against New Orleans. Those freebies helped him get to his average of 19 points per game and earned the Celtics a win.
It wasn't all bad from Pierce against the Hornets; he fought to help his team win in other ways. Knowing his shot wasn't falling early, he racked up 10 rebounds and four assists. Unfortunately, that type of effort goes for naught when no one else takes on the scoring burden.
It is tough to appreciate that type of performance when you know what is required of Pierce for the Celtics to win.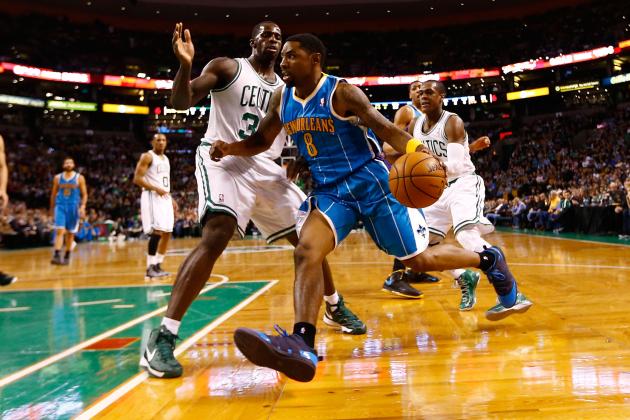 Jared Wickerham/Getty Images

Brandon Bass, PF, BOS: D+
Brandon Bass had a bright start to the night and was the Celtics' leading scorer for much of the game.
He started 3-of-4 for seven points in the first quarter, but from there was ineffective. He scored only two points the rest of the way and took only two more shots, finishing with nine points and seven rebounds.
Bass' interior defense was typically awful. Anytime any of the Hornets penetrators got through Rajon Rondo and Avery Bradley, they were allowed easy layups. Bass found himself out of position on a regular basis, contributing to Robin Lopez's big night.
The Hornets collected 48 points in the paint, out-rebounding Boston 48-33. Bass played 33 minutes at power forward, and it more and more seems like that is far too much time.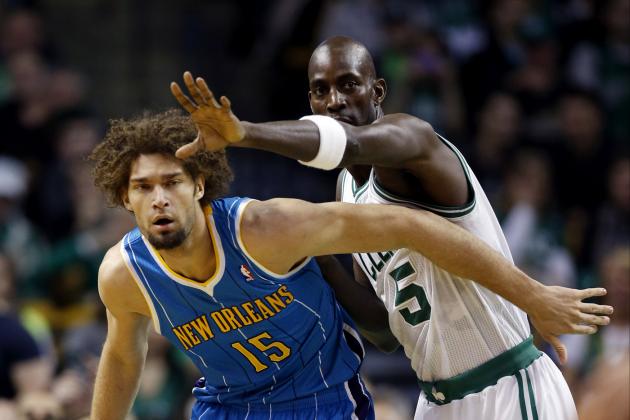 Greg M. Cooper-USA TODAY Sports

Kevin Garnett, C, BOS: B-
Kevin Garnett was the lone bright spot in the starting lineup for the Boston Celtics.
That bright spot wasn't even all that bright, though. Garnett had a team-high 15 points on 7-of-12 shooting, but grabbed only four rebounds.
Outside of scoring, there wasn't a whole lot to Garnett's game against the Hornets. His counterpart, Robin Lopez, went off for 17 points and six rebounds, four offensive. Like Bass, Garnett must take a chunk of responsibility for allowing 48 points in the painted area.
The team, but Garnett in particular, looked tired and sloppy. The Celtics center gave away three turnovers and attempted only one of his 12 shots in the paint. This was not his night.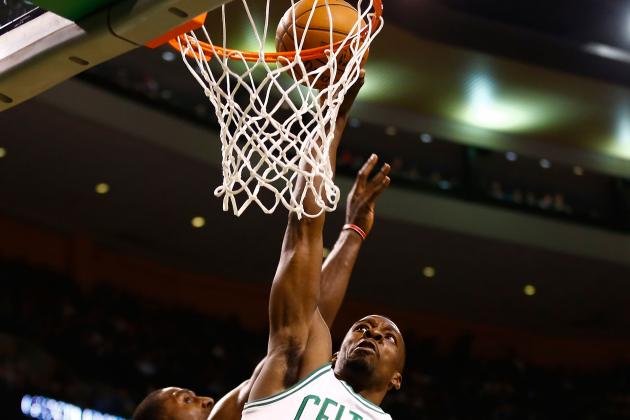 Jared Wickerham/Getty Images

Jeff Green, SF, BOS: D
Jeff Green's good streaks are fantastic. They are also short-lived, and when they come to a stop, it is a screeching halt.
Wednesday night, Green's streak of helping the Celtics off the bench came to a dramatic close. He finished with just four points and five rebounds, attempting only four shots in 25 minutes. He had played well and attempted eight or more shots in each of the four preceding games.
In games where Pierce doesn't score, but does other things like rebound and distribute, it is Jeff Green who must step up offensively. Nobody else is going to provide the type of offense that Green can, and when he doesn't, the Celtics will lose.
Jared Wickerham/Getty Images

Boston Celtics Bench: C
Jason Terry alone gets this unit a satisfactory grade. His 12 points, on 5-of-10 shooting, came at clutch moments when the Celtics were trying to regain control of this game. He hit a pair of important threes to get Boston back to within one possession, but got no help from his teammates from there.
Behind Terry, Courtney Lee shot just 1-of-5 and Jared Sullinger took the night off from his increasingly regular contributions, with only four points and two rebounds.
Leandro Barbosa grabbed seven points in three garbage-time minutes. If games like this become the norm, look for Barbosa to get more minutes, as he is a steady option off the bench, but with little upside.