5 Big Moves the Minnesota Vikings Could Make in 2013 Free Agency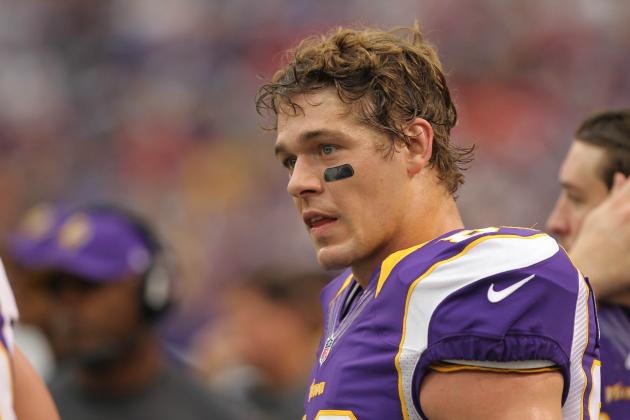 Brace Hemmelgarn-USA TODAY Sports
John Carlson was Minnesota's big offseason signing last year ... that didn't work out well.
According to Tom Pelissero of 1500 ESPN, the Minnesota Vikings should be roughly $12 million under the 2013 salary cap once the free-agency period begins.
In that same story, Pelissero points out that Vikings general manager Rick Spielman isn't going to go overboard this offseason. He intends to take a similar approach to the 2012 offseason, which was his first as Minnesota's general manager.
That offseason Minnesota's biggest splash was signing Seattle Seahawks tight end John Carlson to a five-year deal worth $25 million. That paid out eight receptions for 43 yards in 2012.
This offseason there is a SERIOUS need for help at the wide receiver position, so there is a chance Minnesota makes a big splash at that position.
With that in mind, here are five noteworthy moves Minnesota could make this offseason.
Begin Slideshow

»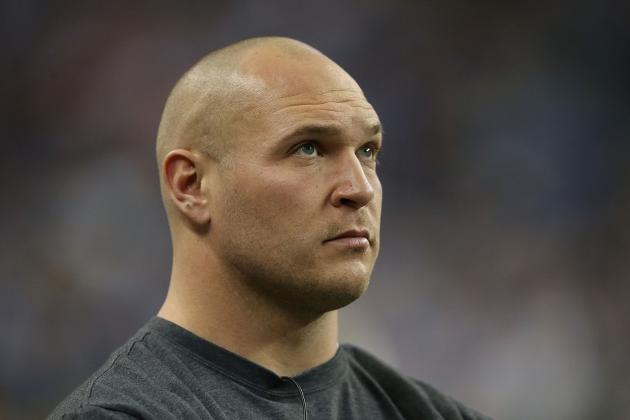 Leon Halip/Getty Images
Brian Urlacher isn't the Urlacher of old at 34 years old but would still be better than what Minnesota has currently at middle linebacker.
When all is said and done I expect Brian Urlacher to return to Chicago this offseason and finish his career there.
But, if negotiations fall through between his representation and Chicago, then he may wish to go the Brett Favre route and sign within the division in order to stick it to the Bears twice a year.
And Minnesota would be a good landing spot for him because the Vikings are coming off a playoff appearance and have a need for a standout middle linebacker.
Now, there are serious risks to signing Urlacher. He's coming off two injury-filled seasons over the past four years (although he had over 100 tackles the two seasons he played all 16 games) and he will be 35 when training camp commences in late July.
There's also concerns about how much money he would want. Minnesota has some money to spend, but there are limits on how much the team can afford while still filling needs elsewhere.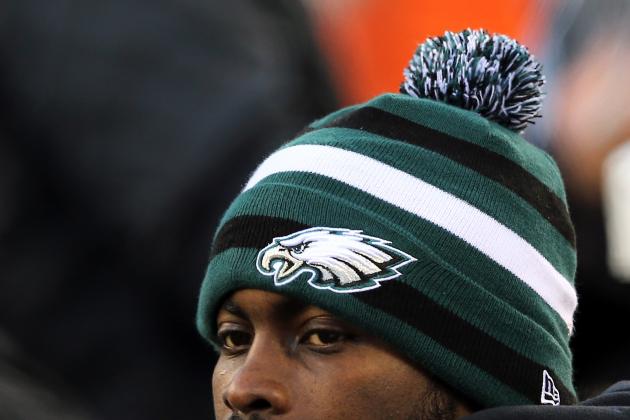 Elsa/Getty Images
Michael Vick was a disappointment in 2012 and isn't a free agent this offseason. It is likely that Philadelphia will ask him to take a pay cut to remain there.
This move would be contingent upon the Philadelphia Eagles releasing Michael Vick, as Vick is not currently a free agent.
His cap number for 2013 is very large ($15.5 million, according to Rotoworld), and the Eagles are expected to ask him to take a pay cut to stay.
Should he refuse, Minnesota could be an appealing place for him to land.
Christian Ponder is the starter entering 2013 and would likely be in line to start if Vick were signed. But coming off a postseason appearance in 2012 the coaching staff would have to be open to Vick starting if he played well in training camp.
The Vikings appear set to go into 2013 with Joe Webb as the backup, but that is a mistake. A veteran backup should be signed. If not Vick, then someone else.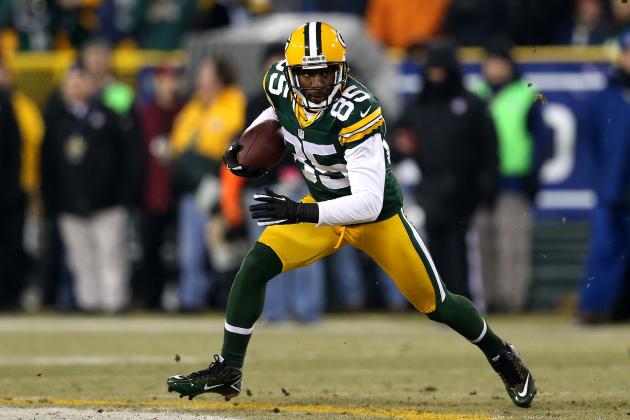 Jonathan Daniel/Getty Images
Greg Jennings seems to be the wide receiver most Minnesota fans want the Vikings to sign.
This is what all Viking fans are clamoring for.
They want to see Minnesota sign a top-tier wide receiver.
Greg Jennings, Dwayne Bowe, Mike Wallace and Victor Cruz are the four biggest names on the market (Wes Welker may also become a free agent after the New England Patriots' season too).
In a piece I wrote about Percy Harvin and the wide receiver position this offseason, readers gave a slight edge to Jennings in a vote regarding which of those four is most appealing.
My vote still goes to Dwayne Bowe, but Minnesota would be smart to at least talk to the representatives of all four of these players to see if anyone would want to don Purple and Gold.
There's a hole at the position with Harvin returning. There's a chasm should he be traded.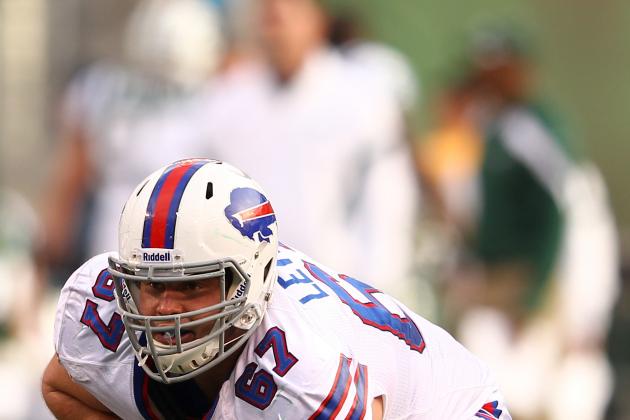 Al Bello/Getty Images
Andy Levitre is an up and coming left guard who hasn't missed a game since entering the league in 2009.
Everyone is in agreement that Charlie Johnson is an inadequate left guard.
Minnesota make the bold move of signing Steve Hutchinson in 2006 to a seven-year $49 million contract.
It shouldn't take that large of a contract to acquire the services of Andy Levitre, but he wouldn't come cheap.
Levitre is a four-year starter with Buffalo and hasn't missed a game during that stretch. He's been a starter since he entered the league in 2009 as a second-round pick from Oregon.
He's a good-sized guard (6'2" and 303 pounds) who's in his prime (he'll turn 27 in May).
Signing Levitre would give Minnesota one of the best left sides in football between Matt Kalil, John Sullivan and him.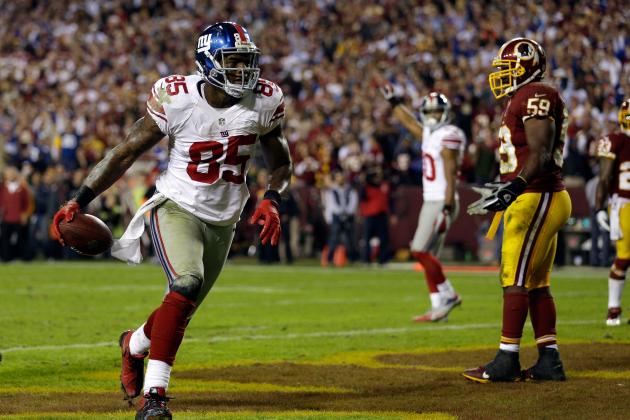 Rob Carr/Getty Images
Martellus Bennett is coming off the best season of his career (55 receptions for 626 yards and five touchdowns) and would team well with Kyle Rudolph.
As previously mentioned in this slideshow, Minnesota's major offseason acquisition last year was tight end John Carlson.
At this point that appears to be an inadequate use of $25 million.
Minnesota signed Carlson in the hopes that he would team with Kyle Rudolph to form a dangerous duo of pass-catching tight ends. Rudolph held up his end of the bargain (53 receptions for 493 yards and nine touchdowns) while Carlson was practically non-existent (eight receptions for 43 yards).
Rudolph demonstrated he's at his best around the line of scrimmage and in the red zone. A free agent who would play well next to Rudolph is New York's Martellus Bennett.
Bennett did most of his damage within 10 yards of the line of scrimmage, too. But Bennett demonstrated the ability to stretch the field more frequently than Rudolph.
Bennett turned 26 in January and would fit in well with Minnesota's youth movement as well as provide a legitimate receiving threat compared to Carlson (55 receptions for 626 yards and five touchdowns this season for Bennett).