3 Reasons to Root for Vitor Belfort at UFC on FX 7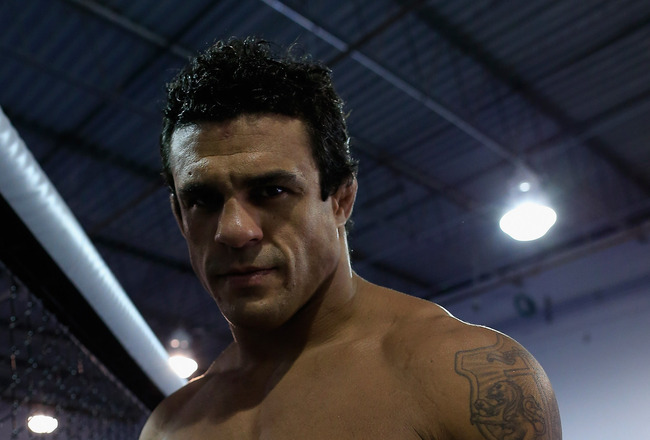 Chris Trotman/Getty Images
UFC on FX 7 features a middleweight clash of exciting fighters in the main event of the night.
Michael Bisping is primed to secure a title shot against middleweight kingpin Anderson Silva, should he win his fight.
Belfort will look to prevent Bisping from getting his shot by winning this fight by any means possible.
Let's take a look at three reasons to cheer for the Brazilian with dynamite in his hands.
He Could Play Spoiler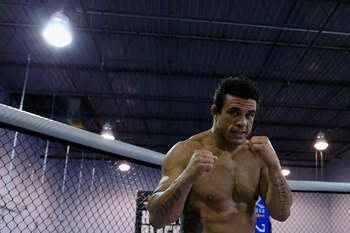 Chris Trotman/Getty Images
Michael Bisping is one win away from a title shot at Anderson Silva.
Belfort won't get another shot at Silva if he wins, so this perfectly sets him up to play spoiler.
Bisping has been working his entire UFC career to earn this shot. Belfort can send him back down the ladder, at least for the time being, with any kind of win.
Belfort has been in the big fights and knows what it takes to win.
If Bisping isn't ready for the pressure, Belfort could quickly take advantage and end his night.
Many People Can't Stand Bisping and Want a Belfort Win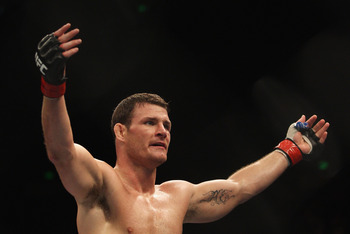 Mark Kolbe/Getty Images
Micheal Bisping has been an incredibly polarizing figure over his UFC career.
He is blunt, brash and a very good trash-talker. He tells it like it is, and if you don't agree with him, he doesn't care.
Because of this, his personality has turned many a fan to root against him in his fights.
Enter Belfort.
Those fans that just can't stand Bisping or his attitude automatically get a fighter to cheer for. They would love to see Belfort knock him out and send him back down the middleweight ladder.
If you're a not a Bisping fan, Belfort is definitely your man on Saturday night.
Fans Can Potentially Watch Belfort Get a Win in His Home Country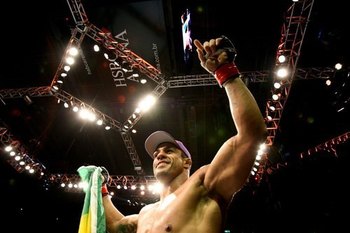 Photo courtesy of fiveouncesofpain.com
Fighters love to fight and win in their home country.
It gives them a boost when they get to fight in front of their family, friends and fellow countrymen.
Belfort has fought twice in his career in Brazil. He first fought his rival, Wanderlei Silva, at UFC Brazil and won by first-round knockout.
The second time was when he fought Anthony Johnson at UFC 142. He took advantage of a bad Johnson weight cut and tired him out before submitting him in the first round.
History is on Belfort's side in this coming bout.
Plus, when a Brazilian wins in his home country, crazy and emotional celebrations usually follow. And those are always a treat to watch.
Tweet me: @FuscoNation16
Keep Reading