Chelsea vs. Southampton: 6 Things We Learned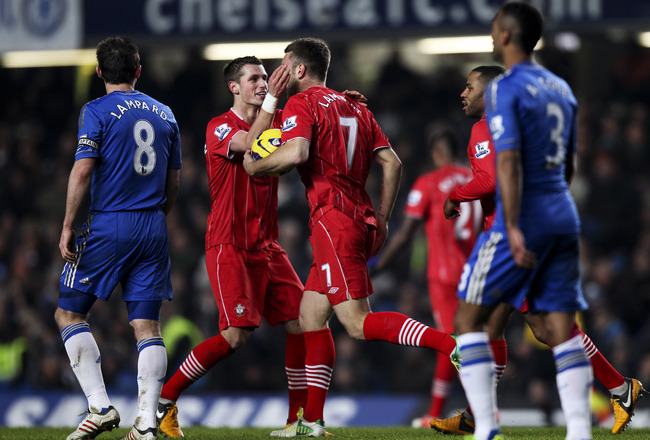 Ben Hoskins/Getty Images
Chelsea slipped up again at Stamford Bridge, meaning that the Blues have now taken just seven points in their last seven home matches.
Southampton profited from some dreadful Chelsea defending and should be praised for their spirit to believe that the game was still alive when 2-0 down.
It is even more remarkable when you consider that the Saints were thrashed 5-1 at St. Mary's by Chelsea in The FA Cup only a week ago.
Chelsea remain third, extending their lead over Spurs in fourth to two points. Southampton moved up a place in the table, leapfrogging Newcastle and securing a three-point cushion from the relegation zone.
Here are six things we learned from the game.
It's Not All Fernando Torres' Fault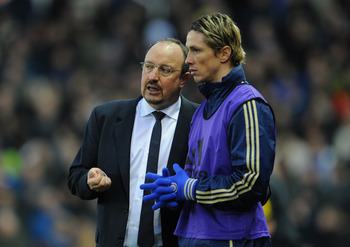 Michael Regan/Getty Images
Fernando Torres has been the a major reason for the grumbles that have come from the stands at Stamford Bridge in recent weeks.
The Spaniard started to pick up his form at the beginning of Rafael Benitez' tenure, but has now gone six games without a goal.
Demba Ba has since joined the Blues and the Senegalese has already found the net three times in three appearances for Chelsea, forcing Benitez to bench Torres.
Chelsea still struggled on Wednesday though, even if Ba was a vast improvement on what Torres usually brings to the role of leading the line ahead of the magic trio of attacking midfielders.
It is this so-called magic trio that should take a look at themselves, though, as if they crave the freedom to attack without the responsibility to track their opponents, they need to deliver enough chances and goals to compensate for their lack of defending.
Oscar, Juan Mata and Eden Hazard have delivered in fits and starts this season, but rarely have they all been on the same hymn sheet. Chelsea need them all to work in harmony, not just one at a time, as that usually means that the Blues are getting little to no contribution from one or more of the trio.
Frank Lampard and Ramires were vulnerable when Saints countered and this was largely due to that trio of attacking midfielders being careless in possession.
Mikel Is Sorely Missed and Undervalued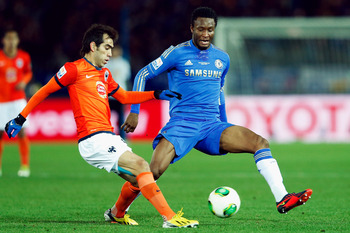 Lintao Zhang/Getty Images
Jon Obi Mikel is on African Cup of Nations duty with Nigeria right now, and Rafael Benitez must be cursing the timing of the tournament.
Ramires is far too prone to pushing forward to be a long-term solution as a defensive midfielder, especially as a duo. Frank Lampard's passing range is not good enough to fill that role, either.
Mikel keeps it simple with his range of passing, but his best quality is his willingness to show for the ball when the back four have possession.
Too often would Lampard and Ramires be too far up the field when David Luiz and Gary Cahill received the ball from Petr Cech, meaning that the centre-backs were forced into ambitious long balls that did not help Demba Ba, despite his physical presence.
A Change of Formation Could Be the Short-Term Solution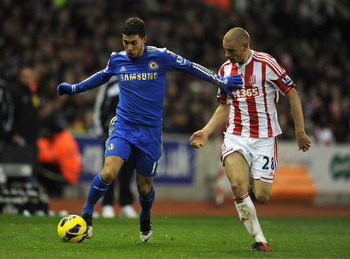 Chris Brunskill/Getty Images
Without a natural holding midfielder due to Jon Obi Mikel's absence at the African Cup of Nations, the Blues might have to return to a midfield trio for the time being.
Ramires would suit the right side of a trio very well, David Luiz could anchor the midfield and Frank Lampard would feel more comfortable on the left side, where he could roam forward and look to cut inside onto his right peg.
By sheer numbers, Chelsea could hold up the opposition better in transition and give themselves more time to recover numbers behind the ball.
The Blues would also increase their options when they play out from the back and limit the number of long passes that are aimed at the centre forward, be it Demba Ba or Fernando Torres.
Ba is a more physical striker than Torres, but the Senegalese is still more finesse than a battering ram and would also benefit from a tweak to the formation.
With a more patient buildup and added comfort in working the ball in deeper areas, Chelsea would entice the opposition out a little more and increase the number of opportunities for two of Eden Hazard, Oscar and Juan Mata to cut open the opposition.
Saints Have the Mentality to Survive
Clive Mason/Getty Images
Southampton have a lot of talented players, more of which later, but it's the mentality instilled by Nigel Adkins that will be key to their survival.
Their best technical players have yet to flourish fully this season, but the team are pulling in the right direction, and the results are evidence of this.
Unbeaten in five Premier League games now, Saints are generating a belief that they can pick up points in any game they are tasked with.
Not only were they 2-0 down away at Chelsea and came back to draw, but they also picked up a point at Fulham with a late equaliser from Ricky Lambert.
Of course, the points return could be even better after surrendering a 3-1 lead at Stoke, but defending doggedly for an hour as Villa piled on the pressure and a similar time at home to a dominant Arsenal side proves they can pick up points in a variety of ways.
The fact that they are not reliant on playing well and dominating matches in order to pick up points means that Saints can firmly believe that their destiny is in their own hands.
Saints Could Sparkle When Gaston Finally Settles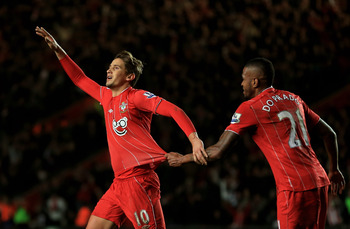 Richard Heathcote/Getty Images
Saints have put themselves in a position of solidarity in the lower half of mid-table, three points outside of the relegation zone and a superior goal difference to all of the sides below them.
Gaston Ramirez has only started and finishes a match once in the last seven matches, but there are signs that the Uruguayan is adjusting to life in the Premier League.
An outstanding player in Serie A, who worked sensationally in tandem with Alessandro Diamanti at Bologna, Ramirez will flourish if Saints build around him as their trequartista.
Adam Lallana, when he has returned from injury, can be equally adept at filling in from the left, which will allow Ramirez to score more goals through the middle.
It is ideal then that Saints are looking like they will be safe as we build towards the business end of the season, meaning that Nigel Adkins can continue to carry out the development plan for Ramirez, rather than shelve that in a desperate search for points.
Demba Ba Is Absolutely First Choice Now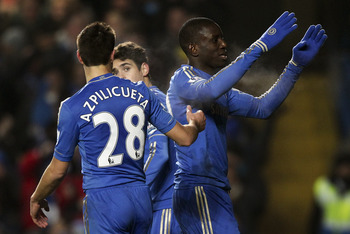 Ben Hoskins/Getty Images
Demba Ba should have been assured of a starting place at Chelsea when he signed for the club earlier this month.
Just looking at his form for Newcastle in comparison to Fernando Torres' form for the Blues would allow anybody to make the easy decision to select the Senegalese ahead of the Spaniard.
But with a £50 million price tag and many still having faith that he can return to the Torres of old, it is not that simple for Rafael Benitez to discard Roman Abramovich's prized asset.
Since Ba has scored three goals in three appearances for the Blues, it is only logical that he will keep his place for the Arsenal match this weekend.
The only question remains whether Benitez, in a bid to provide Torres with minutes on the pitch, attempts to put both strikers in the same team and revamp the formation.
Keep Reading

Chelsea: Like this team?